This Singapore social enterprise brought clean water to more than 88,000 people
According to the co-founders of Wateroam, the world is in need of water solutions, as it faces more natural disasters and emergencies. One such solution is their portable water filter.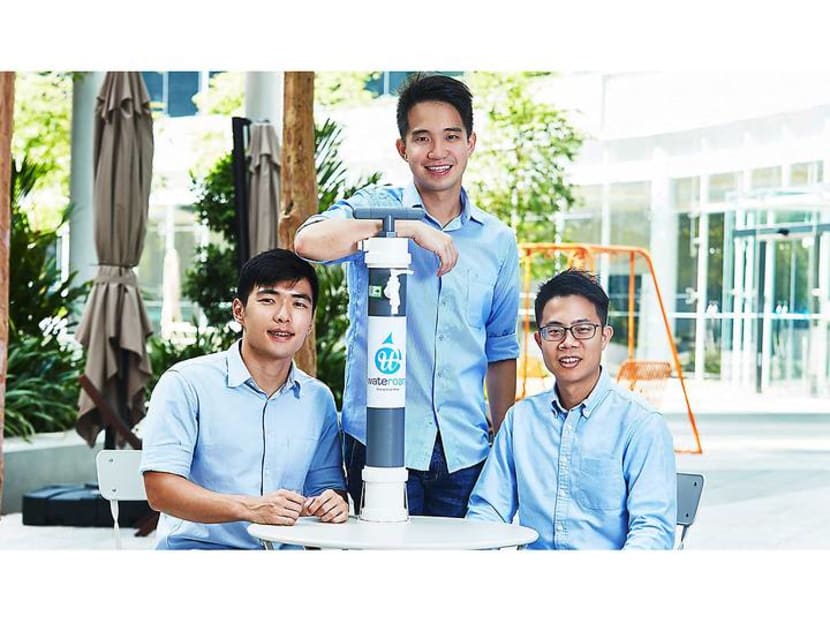 If there were an antidote to the general climate of volatility and anxiety that weighs on our current epoch, Wateroam's success story might fit the bill. It's got all the requisite feel-good elements of altruism, plotted with a running theme of innovation in the face of instability.
Established in 2014 by David Pong, 30, Lim Chong Tee, 28, and Vincent Loka, 26, the company has, through its portable water filtration system, supplied clean drinking water to more than 88,000 people in rural villages and disaster-struck zones across South-east Asia.
Its client list reads like a roster of Singapore's far-reaching humanitarian organisations, including the Singapore Red Cross, World Vision International Singapore and Mercy Relief. And amid the COVID-19 pandemic, the trio's goal of universal access to potable water that can help prevent the spread of diseases has a clear resonance.
Like many social enterprises, the impetus behind Wateroam was sparked by a life-changing encounter, or, as Oprah would proclaim, that "aha moment". This expression, used in relation to Pong, may seem like a frivolous flourish, though. The stoic former finance professional recalls how overseas volunteer trips confronted him with the challenges faced by people who consume water directly from wells and rivers.
"In one remote village, we witnessed someone almost drink from a cup with a tapeworm inside. I realised how the lack of clean drinking water is a critical issue Singaporeans don't see on a daily basis. We should do something about this, being privileged to live in a water hub with access to technology," he said.
The push came in 2013, when Pong, then holding multiple part-time gigs and smarting from unsuccessful sallies into business, was beset by malaise. "I was chasing the '5Cs' many in Singapore are geared towards achieving. Nothing wrong with that, but I felt there was something missing," he shared.
With the intent of "channelling his youth and energy into meaningful causes", he joined HydroPreneur, a Public Utilities Board initiative that nurtures water technology start-ups to improve global access to clean drinking water. There, he met Lim and Loka, two environmental engineering students whose passions ran parallel to his. The former shared similar encounters with communities living off the grid, while the latter has a penchant for tinkering with hardware to solve problems.
Through the programme, which connected them to venture capitalists and industry experts, they presented their winning idea for a portable filtration system. That's not to say their initial prototype was flawless. On early trips to test out their product in Indonesia and Cambodia, for instance, one of the team members suffered a slipped disc while lugging their unwieldy 40kg device through rough terrain.
So they continued refining their product. More than 10 iterations later, they arrived at their current masterpiece – a 4.2kg pump that can provide 100 people with clean water for up to two years. The design was conceived by Loka, who says he studied environmental engineering to help people, but never quite possessed business aptitude. "Our product has a level of intuitiveness, as most people living in rural areas are familiar with bicycle pumps," he explained.
The ROAMfilter Plus' genesis is a sum of parts. According to Pong, at the product's incipient stages, the team had to travel regularly to understand the diurnal challenges faced by their beneficiaries and test out solutions.
They also constantly sought grants and seed funding – disbursed by the likes of Spring Singapore (now Enterprise Singapore), DBS and Singapore International Foundation – to finance their trips and prototypes. Perhaps this is where the team's strategic acuity sets it firmly apart from other social enterprises that have fallen by the wayside.
Pong recounts initially reaching out to NGOs through LinkedIn, to identify communities in need. "Five years ago, the platform was not so popular, and a good way to get the attention of NGOs with clogged mailboxes," he explained.
Remarkably, about 80 per cent of the organisations they approached responded, and in 2014, Wateroam attained its first pilot partner – World Vision International Singapore.
The company's first mission was revealed on the night of New Year's Eve in 2014, as East Malaysia was deluged by heavy rains. Lim, Loka and Pong were called to immediately train relief workers from World Vision International Singapore – who were deployed the next day to assist flood victims – to use their portable filter.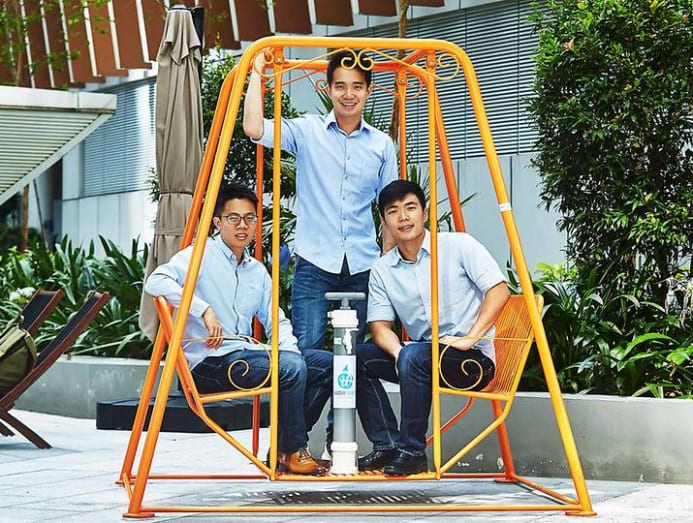 Since then, Wateroam has worked with more than 50 organisations. Most of them are NGOs and government agencies with the cultural awareness required to convince locals to adopt a new system. Among its beneficiaries are Rohingya refugees and victims of the 2018 Lombok earthquake. Their concerted efforts have earned plaudits from the United Nations, which, in 2016, named Loka a Young Leader for Sustainable Development Goals.
While the company broke even the same year and has managed to turn a profit, social impact is still an intrinsic part of its DNA.
"There's an unspeakable joy that can be derived from seeing communities collecting buckets of clean water together," said Lim. The most expressive of the group, he seems charged with the bright-eyed verve of someone a decade younger.
Lim shared that the trio still regularly works on the ground, which justifies the quotidian grind of running a company. "I feel most alive when I'm deployed on the field. Talking to the various partners, from grassroots leaders to doctors and relief workers, is invigorating," he said.
While such statements can easily be dismissed as hyperbole, Wateroam's steady ascent overturns perceptions of social enterprises being unrealistic or oblivious to the bottom line.
The start-up employs about 20 staff members – interns included – and continues to invest heavily in research and development. It's an anomaly in an industry that struggles with financial sustainability. According to Pong, the success of a social enterprise hinges on several factors, including a solid product that is relevant to market needs, a trustworthy team and investor confidence.
"For instance, getting into food recycling this year is attractive, because many businesses are concerned about food and plastic waste. Every season has its own challenges, but constantly adapting in a way that responds to consumers' demands can help sustain companies," he said.
Change is a constant for Wateroam, which is currently focused on leveraging digital technology to offer their clients better remote analytics of their system's performance. This comprises sensors that can reveal the quality of water produced.
Loka, however, asserts that their company's victories have been founded on a shared vision of balancing social impact with profitability. "Many social enterprises start off focusing on doing good, with profit as an afterthought. Disagreements over their end goal may cause companies to disband."
"There's an unspeakable joy that can be derived from seeing communities collecting buckets of clean water together." – Lim Chong Tee
BUSINESS UNDER A NEW LENS
Something all co-founders can agree on, though, is the tilt in perceptions towards social enterprises. For one, they are increasingly regarded as legitimate businesses. "I think this misconception that social enterprises are the same as non-profit organisations is gradually fading as bigger companies start to become more socially conscious," said Lim.
This shift that sees corporations adopting a more responsible ethos, Pong asserts, can be traced to consumer demand.
"People are starting to seek socially conscious practices in the businesses they support. This is driving businesses to consider social enterprise as part of their day-to-day operations, rather than a Corporate Social Responsibility project they do on the side," he said.
But what fuels the demand for this new model of heightened benevolence? "I do think there is a general change in perception towards societal well-being. In the past, we viewed the world as segregated pockets; first-world or third-world countries that were segmented into lower-, middle- and upper classes. There is now a realisation that we are more connected than we thought we were, and society can only truly flourish when everyone is able to lead a dignified life," said Lim.
The concept of universality doesn't come across as idealistic, when framed in the context of global emergencies. In fact, Wateroam is seeing a rise in demand for their products. "With climate change, there are a lot more natural disasters happening, so people will require new water solutions," explained Lim.
For now, the company is focused on helping to enhance disaster preparedness, particularly in Indonesia and the Philippines. For Loka, watching their efforts parlayed into improved living conditions for various communities has been a rewarding journey. "Beyond profit-making, I appreciate how business can be used as a force for good," he said.
"There is now a realisation that we are more connected than we thought we were, and society can only truly flourish when everyone is able to lead a dignified life." – Lim Chong Tee