What life is like for a Singaporean expat living in Switzerland
Maureen Yeo, regional director of Asia for Andermatt Swiss Alps, shares what her life is like in Fribourg, Switzerland, the place she has called home for the last four years and counting.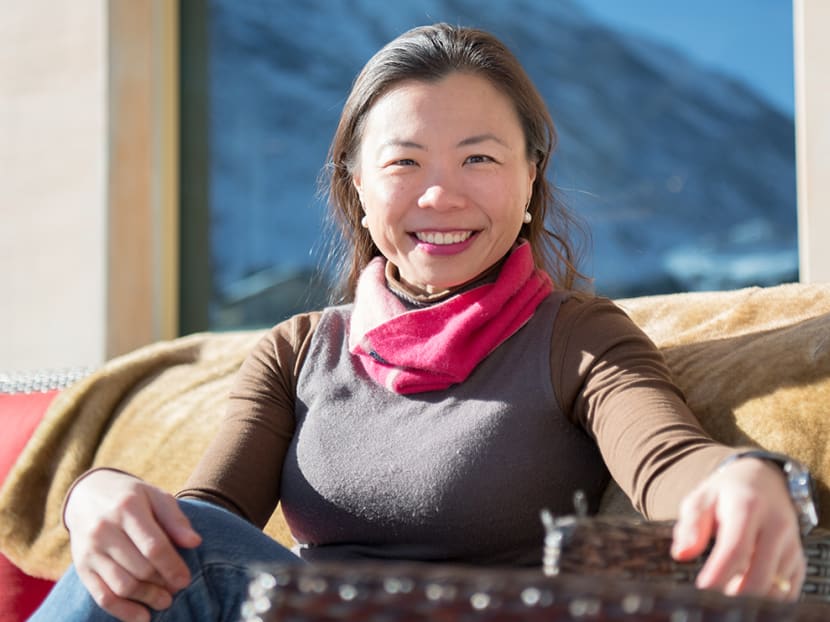 In these pandemic times, when travelling is no longer a straightforward affair, there are some of us who yearn to trade the hustle and bustle of Singapore city life (not forgetting the tropical heat) for a far-off vacation spot with epic natural landscapes.
Singaporean Maureen Yeo has spent more than a decade overseas and for the last four years, has called Switzerland, known for its mesmerising alpine scenery and stunning lakes, her home.
The 42-year-old studied to become a quantity surveyor at the National University of Singapore, but "never spent a day in the surveyor's office to do what I was trained", she said. Instead, Yeo started her career in marketing and communications at Suntec Singapore, before leaving the country to pursue a real estate career in Beijing, China.
There, she spent close to 10 years in the Knight Frank Beijing office first as a development consultant and later on, marketing and selling international properties to wealthy Chinese investors.
After more than 14 years in China, Yeo and her family relocated to Switzerland in 2017. She now lives in Fribourg, a medieval city located about two hours' drive from Zurich Airport, within the Gruyere district in Switzerland, famous for its cheese.
When she first arrived in Fribourg, Yeo found it difficult to find a job in the real estate industry, she admitted. "It was closed off to foreign investors and I spoke zero French or German."
In 2018, she attended a wedding at The Chedi Andermatt, a five-star luxury hotel located in the charming mountainous village of Andermatt. "I knew this place had so much potential and the fact it was open to international buyers meant I had a role to play," she shared. "I immediately asked my friend to make an introduction to the real estate team in Andermatt and that's how I got my current role!"
Located 90 minutes away from Zurich by car, Andermatt Swiss Alps is an integrated holiday resort encompassing hotels, chalet style ski villas, apartments, restaurants, shops, state-of-the-art spa facilities, golf courses, concert halls and more. Andermatt is also the only place in Switzerland where foreigners can buy property without being subjected to strict regulations.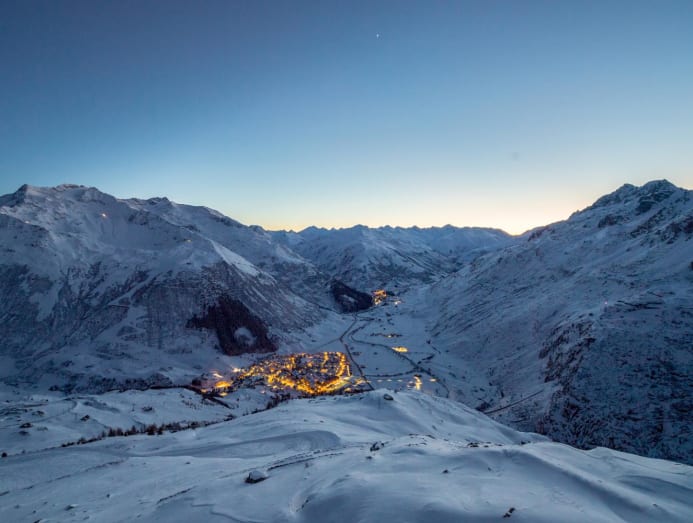 As regional director of Asia, Yeo "looks after the growth of Andermatt Swiss Alps within the Asia Pacific market", she shared. She also helps to drive inhouse marketing efforts and sales programmes.
These are busy times, too. According to Yeo, more Asian investors are snapping up holiday homes in Andermatt during the pandemic. "In fact, six per cent of our overall sales last year were to Asian investors and the Asia Pacific market was the biggest outside of Switzerland," she commented.
Aside from investors, Andermatt Swiss Alps has been steadily attracting tourists. After all, it is a year-round destination offering guests a myriad of outdoor activities from skiing in the winter to golf and trekking in the summer.
With the Singapore-Switzerland Vaccinated Travel Lane (VTL) in full swing, we chat with Yeo on her life in Switzerland, her recommended destinations as well as her favourite dining spots.
As they say, the best way to experience a new country is to do as the locals do.
Give us a glimpse of what a day in your life in Switzerland is like?
I love the great outdoors and exercising within nature. It was one aspect that really drew me to Switzerland. In the summer, I try to start most of my days by going for a run before getting my two children – aged 10 and 12 – ready for school and then starting the working day. As I currently live in Fribourg (which is about two-and-a-half hours away from Andermatt) I tend to work from home but aim to go up to Andermatt a couple of nights a week.
On my weekends or downtime, I love to go hiking in the mountains, swimming in the local public pools and in the winter, I aim to ski regularly with family, friends and colleagues. Over the last two years, my family and I have started ski-touring as it's a perfect way to avoid the crowds on the slopes.
I also enjoy cooking a whole host of Asian delicacies for my family and friends. It's great to be able to share some of my home comforts with people and I always enjoy hosting. As Switzerland can be quite an expensive place to eat out, we tend to do a lot from home!
What is it like living in Fribourg, famous for its cheese?
Well with cheese...it was not love at first sight. Growing up in Singapore, I only started tasting cheese when I was in my 20s – it was something that my family just never ate. Cheese is a major factor of traditional Swiss cuisine and so over the years I grew to like the taste and now it is a big part of my diet. Also, if you live in Fribourg, which is home to Gruyere cheese, you really need to like cheese!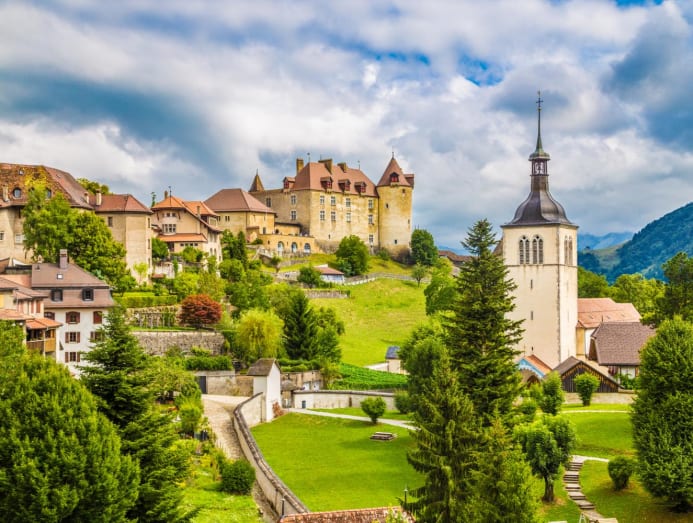 Fribourg is a beautiful medieval city. I live right in the centre of town, just a short walk to the train station, 20 minutes to the closest ski resort. Although it's a city, straight out of my door I can easily head towards my running trail, which consists of a route through the old medieval town, a forest and across the River Sarine.
The city is small but convenient as it has everything one needs. It has a great university, lots of industries for the young people and is surrounded by beautiful agricultural farms that produce the best cheese in the world!
People in Fribourg remind me of home in Singapore. They are very relaxed and easy going. I feel very at home and even though my French is bad, everyone always makes the effort to speak in English to me. When I first arrived in the city, my neighbours invited me for dinners and ski sessions and that's why I became so motivated to be a good skier and now that I can ski better, I am out every weekend.
What are some of your favourite memories of your time in Switzerland?
I love going to the little huts for some delicious local meals in the mountains while hiking or skiing. The meals are so hearty and the people are so genuine.
I also really enjoy going to the lakes of Zurich and Estavayer with my children in the summer where we do lots of fun water sports. We always enjoy stand-up paddle-boarding and lots of swimming in these lakes which are followed by drinks and pizzas on the lakeshores with friends and family.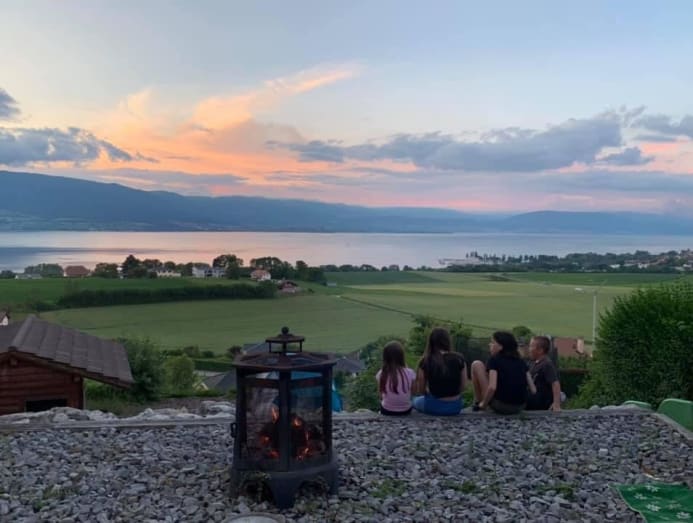 Also, we're lucky to be able to travel a lot around Europe by car. The lovely thing about living in Switzerland is that everywhere is close by and relatively affordable. I love going to Spain and Italy for great shopping and gourmet food.
For travellers visiting Switzerland, where would you recommend they visit?
In Fribourg, guests must visit Gruyere and go for the hot bath in Bain de la Greyere. I love it during winter, followed by a fondue meal.
Lucerne is my favourite city in Switzerland because it is just so beautiful. It has both the mountains and lakes and also the people here in this city are lovely.
One has to visit Andermatt of course, both in winter and summer! It is a hiking paradise in the summer and there are so many small lakes to visit. A must is a hike to the Four Headwaters Trail. This trek in the Gotthard-Massif mountain range will take hikers to the four sources of the Rhine, Reuss, Ticino and Rhone rivers. There are plenty of little mountain shelters along the route and hotels in nearby villages that can be used for overnight accommodation. This is when you can go to the little huts and enjoy local hospitality.
Zurich is the largest city in Switzerland and has lots of good restaurants and bars. Coming from Singapore, this is quite similar to our Little Red Dot, except there is the breathtaking Lake Zurich. I really enjoy sitting along the Limmat River for a cup of coffee or tea and looking out at the scenery.
For foodies, where should they dine?
In Zurich, every tourist should try the rustic Swiss food at Zeughauskeller. It is located in a medieval setting with authentic Swiss cuisines and draft beers.
In Fribourg, it would have to be Cafe du Gotthard! This is like my kopitam so everyone knows me and I only ever order one dish – the Pied Cochon that comes with rosti as it's so delicious!
In Andermatt, my favourite restaurant is Gutsch by Markus Neff. This restaurant is located 2,400m above ground and it is only open for lunch during the seasons. The food here is impeccable, and the service is excellent. Combined with the views of the mountains, the experience is just sublime!
Is it difficult being away from your family in Singapore? How do you keep in touch?
I left Singapore in 2004. As I get older, I really do miss Singapore more and more but I am blessed that in my role as regional director of Asia for Andermatt Swiss Alps, it allows me to go back home every quarter for work and to see my folks. Outside of that, we do lots of video calls to keep in touch.
What's the one thing you miss about Singapore when you're away? What's the first thing you do when you get back?
Hawker food of course! Whenever I'm back in Singapore, I always go to the local "pasar" with my parents for chee cheong fun with sweet black sauce for breakfast as soon as I land. For me, this dish beats all the cheese and truffles that I can get in Europe.