How Singaporean chef Cherish Finden became a grand dame of British pastry
Meet Cherish Finden, the award-winning Singaporean pastry chef based in London who has made cakes for Lady Gaga as well as for Queen Elizabeth's 90th birthday. Now installed at Pan Pacific London, she's introducing a slice of home with her signature Kopi Tiam Afternoon Tea.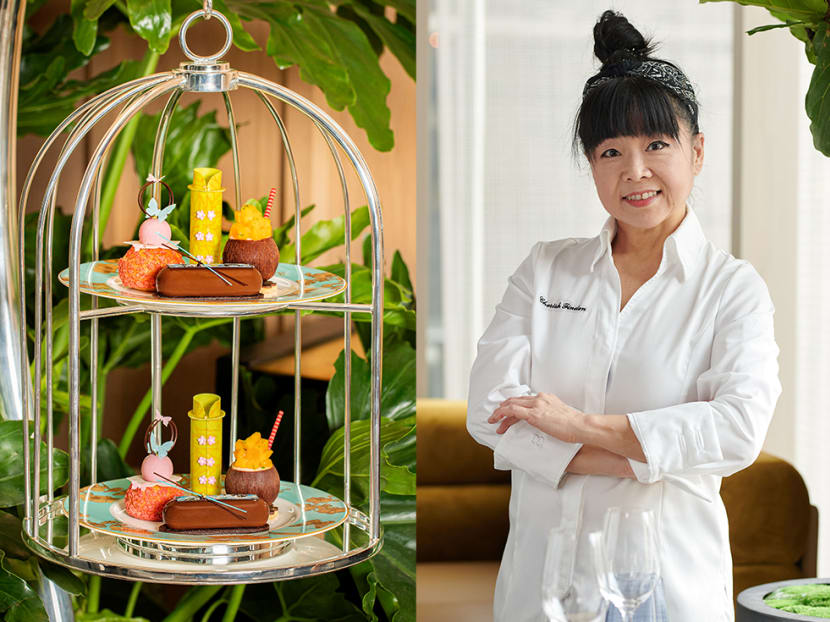 She's worked as an executive pastry chef in five-star hotels, won 25 medals from various international culinary competitions, and has made cakes for Lady Gaga as well as for Queen Elizabeth's 90th birthday. But if you ask pastry chef extraordinaire Cherish Finden what her fondest food memory is, it has nothing to do with her many accolades or rubbing elbows with celebrities.
"My Ah Ma (grandmother) would take me to the open-air Teochew opera show – a tradition I enjoyed with her every year. She always brought me to an exquisite Teochew fishball noodle stall for Singaporean street food. The fishball was cooked to perfection with the right amount of chilli sambal, and the mee poh was cooked al dente plus drizzled with fragrant garlic oil, spring onions and shallots…. I feel hungry just thinking about it," she said.
Craving the bold flavours of Singaporean cuisine is natural for Finden, who has been away for over 20 years and now calls London home. After working at several hotels in Singapore – including at the prestigious Raffles Hotel – she left in 2001 to make her name abroad, but not before representing the country at the World Pastry Cup competition in 2000, where she and her team clinched first prize.
Her biggest break was when she became executive pastry chef at The Langham in London, a post she held between 2009 to 2017. During her tenure, she garnered considerable attention and a slew of awards such as the Tea Guild's Top London Afternoon Tea award (2010) and Craft Guild of Chefs Pastry Chef of the Year in 2012 and 2015.
Reaching the top of her industry led to an opportunity of a lifetime: She was asked to be part of Bake Off: The Professionals, a sister show of the reality TV series The Great British Bake Off. Becoming a chef-judge on the show has undoubtedly made her a familiar name in the UK.
What makes Finden really stand out, however, is that despite her success and the trappings of being an on-camera celebrity chef, she remains a constant physical presence in the kitchen. She is so hands-on that you'll see her personally checking in on guests enjoying afternoon tea at The Orchid Lounge in Pan Pacific London, the brand's first property in Europe, where she currently serves as executive pastry chef.
Her journey with Pan Pacific began before the London outpost opened in September 2021; she actually worked in Pan Pacific Singapore back in 1991. She considers this role a "homecoming of sorts", and was adamant in bringing a slice of home to British soil epitomised by the signature Kopi Tiam Afternoon Tea, which offers Singaporean curry puffs, mushroom bao buns and her dainty, delicious dessert creations.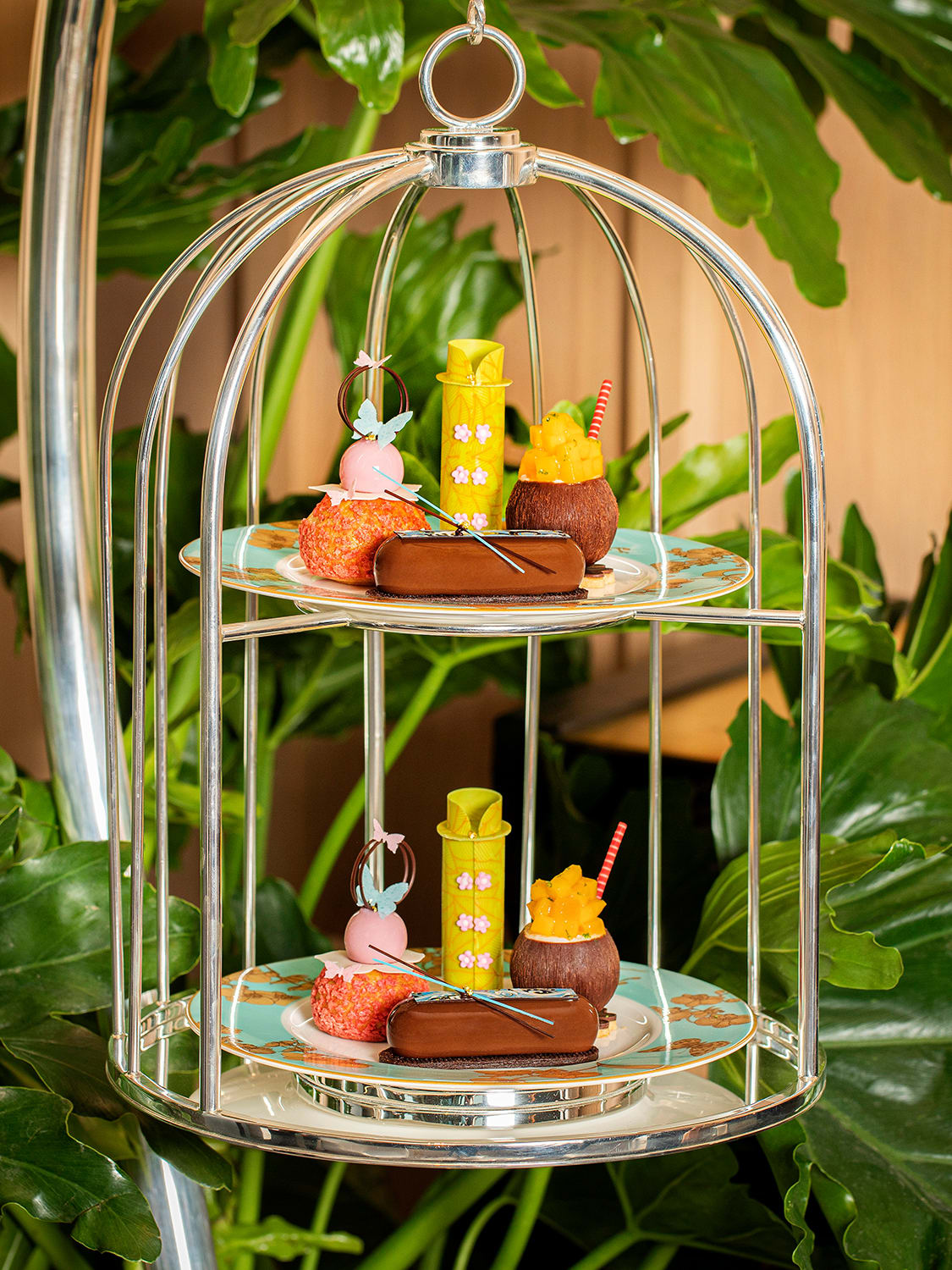 "I decided to take this position because I get to work with a talented team that allows me to express creativity," she said. When it comes to what she imparts to them, she recalls the lessons she herself has been taught through the years.  
"I'm a very hands-on chef. I like to tell the chefs I work with that you need to be very patient, clear and direct. It is important for me to identify mistakes and share with them tips on how to rectify and improve. The biggest room in the world is the room for improvement," she said.
"I'm a very hands-on chef. It is important for me to identify mistakes and share with [the chefs I work with] tips on how to rectify and improve. The biggest room in the world is the room for improvement." – Cherish Finden
Finden's uncompromising work ethic is rooted in the fact that she entered the kitchen at a  young age. During her childhood, her father was sick and her mother was working so Finden volunteered to be the home cook. "I remember when I was about nine or 10 years old, my mum gave me S$3 and I had to create a menu for the whole week. As a result, I'm super cost-conscious in the kitchen. I like to use up everything and not throw anything away."
Being cost-conscious isn't a quality that comes to mind when you think of Finden's creations. In 2019, she made news headlines for crafting the world's biggest and most expensive Easter egg (valued at £10,000; S$18,000) when she was the creative development chef at Godiva.
She known for her extravagantly designed desserts and flair when it comes to incorporating unconventional ingredients. "I love using ingredients from Asia including Goji berries, lemongrass, red dates, and gula melaka." This year, she plans to use more matcha, yuzu, and black sesame in her repertoire.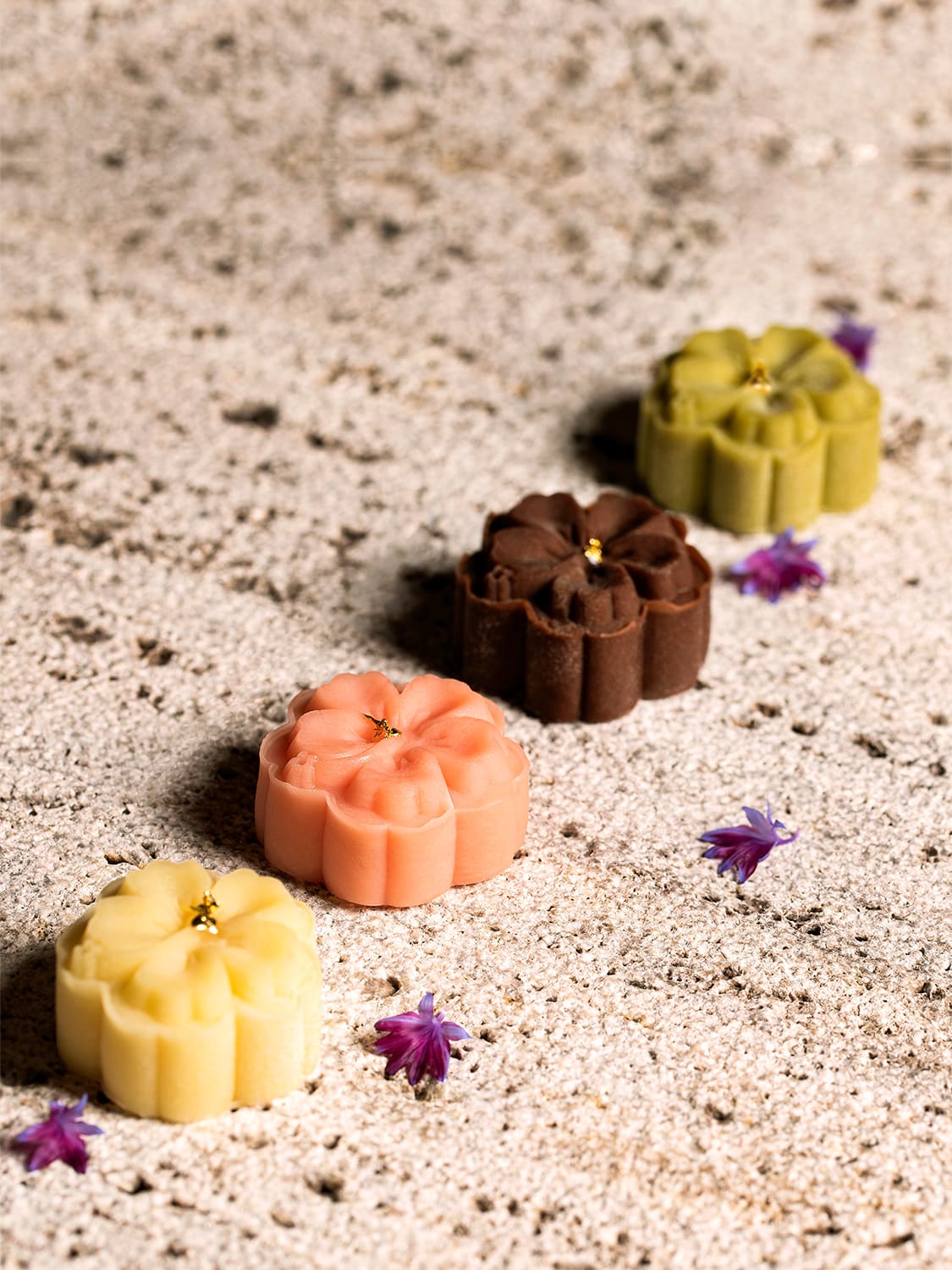 Finden admits that the constant churn of creating something new is part and parcel of the job, but is always a challenge. "For each recipe, I need to picture the story and steps clearly. Every component is important to make something perfectly: The texture, the profile… these are the elements of how you build a cake, which determines the end result."
For one of the grand dames of British pastry, the inspiration for recipes comes from everywhere. One of the highlights of her career so far was serving afternoon tea for patients at a dementia care home in the UK, an experience that led to one of her personal favourite recipes.
"My mum has dementia and I decided to volunteer to bake a full afternoon tea for 60 people in a care home. It was a fun day and I had Beth Brooker, my ex-sous chef from the Langham Hotel, to help me. Mary, a resident in the care home, was amazing. She remembered the whole recipe for a cake and kindly shared it with me. To this day, I still use Mary's lemon drizzle recipe," she shared.
While Finden is at the forefront of the pastry scene in the UK, and arguably globally, she's not keeping still. "Trends change every year. It is very important not to preoccupy yourself with trends but to think ahead and create for tomorrow."
She sees a growing support for local markets and a greater consciousness about health, wellbeing and sustainability. These are the movements she's identified as a compass to guide her future creations. And if the past is anything to go by, we're assured that Finden has something hyper-local, healthy and most definitely delicious up her sleeve.