SK-II CEO: We're using artificial intelligence to transform the way you shop
Welcome to the "phygital" age, says Sandeep Seth, where offline retail stores harness the benefits of online technology to give power back to the consumer.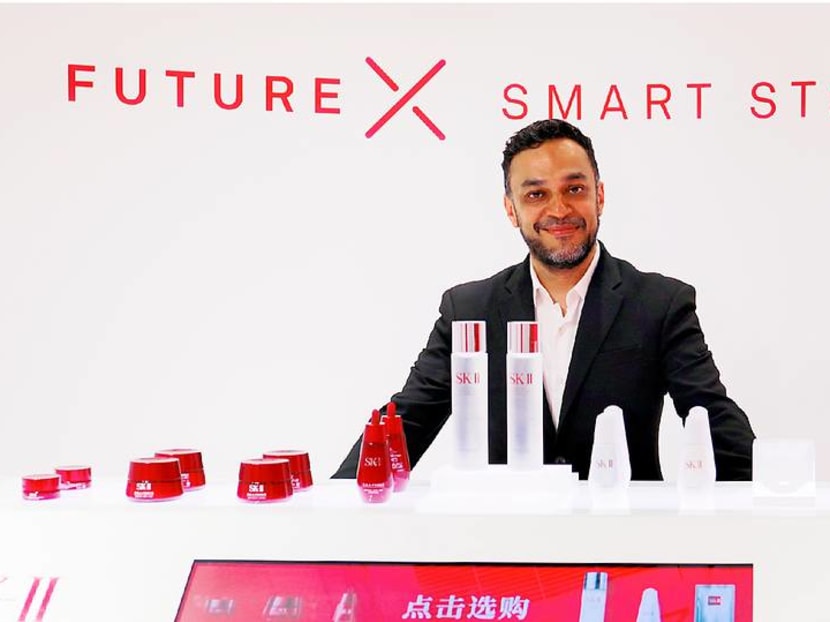 Japanese skincare brand SK-II has been described in many ways – luxe, transformative, miraculous, even. But "cool" is not usually a word used on this well-established brand with a heritage of almost 40 years.
Not until recently, that is, when the brand began unveiling high-tech, smart concepts for stores it's been quietly and steadily developing.
It began with the SK-II Future X Smart Store that was first launched in Tokyo in May 2018, then Shanghai and Singapore later in the same year. These stores showcased multiple AI technologies the brand has harnessed, including facial recognition and computer vision, to create a new "phygital" – a portmanteau combining "physical" and "digital" – retail experience for its customers.
Inside the pop-up store was the beauty experience of the future: Visitors had their skin type analysed via a facial scan in private booths, and received the results via a smart bracelet that brought up the details on an interactive "skincare wall". They would then proceed to a smart beauty bar where they could browse products recommended for their specific skin condition privately via responsive digital screens.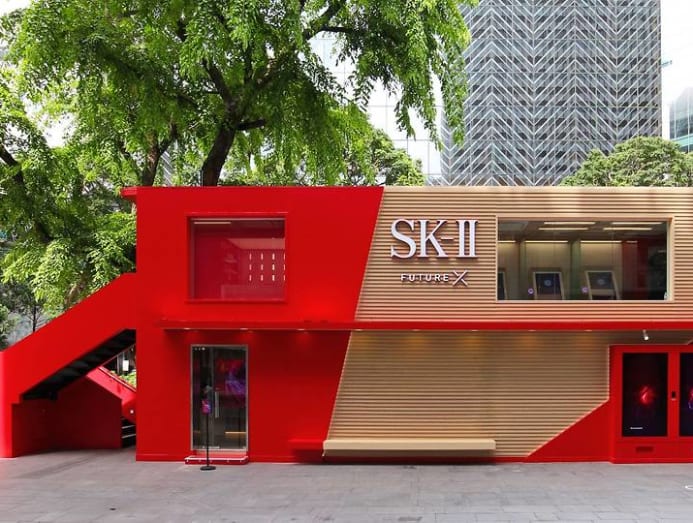 Most significantly, visitors had autonomous control over the entire experience and were able to do everything independently with little guidance from a sales assistant. According to the CEO of SK-II worldwide, Sandeep Seth, this was exactly what the brand had set out to accomplish with these innovations: Power to the consumer.
"The biggest consumer problem we are trying to solve is that shoppers feel intimidated nowadays going into a department store, so we are trying to create an environment that places control back in their hands."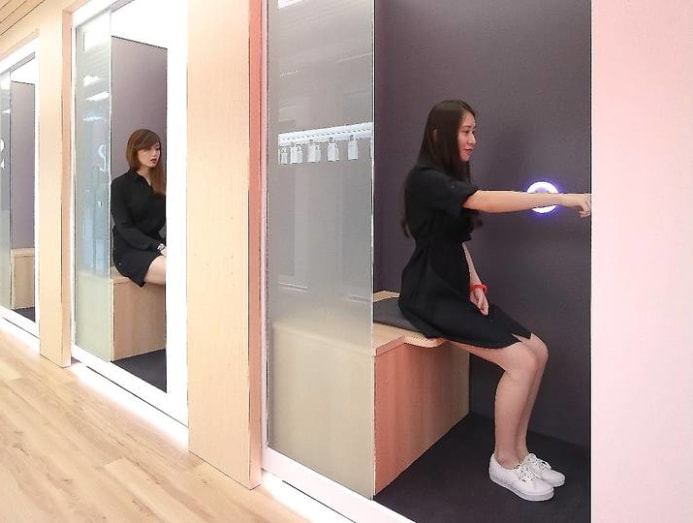 "We had a very positive response – those who had experienced the Future X Smart Store felt that it was a very empowering shopping environment, where they could understand their skin without being kind of judged… Without being pressured to buy," he said.
LEAVE ME ALONE – UNTIL I NEED YOU
A straw poll of women of all ages, who frequently shop at various department-store beauty counters in Singapore, confirmed Seth's observation. Most still preferred to purchase skincare or makeup from physical stores because they needed to see and experience the product in person – but did not feel comfortable when sales assistants "hovered" around them constantly.
Does this spell the end for salespeople in the retail environment? "Absolutely not. In fact, we do not foresee any reduction in our sales force," said Seth.
"Look, I want to be left alone and look through everything on my own – but when I want to talk to someone, that person should be there."
"What I expect is that technology will [allow sales staff] to perform a very different task. Today, a lot of manual, operational work is done by people – this work can be passed on to technology so that the sales staff can actually start behaving like a companion, a concierge or influencer [instead], and engage more in warm conversation with customers."
He went on to point out an interesting fact that the brand's "phygital" efforts uncovered: "Even though people love the technology, they [still] want the human interface. So it's very clear that [most customers are thinking], 'Look, I want to be left alone and look through everything on my own – but when I want to talk to someone, that person should be there.' And that was good. We were expecting that."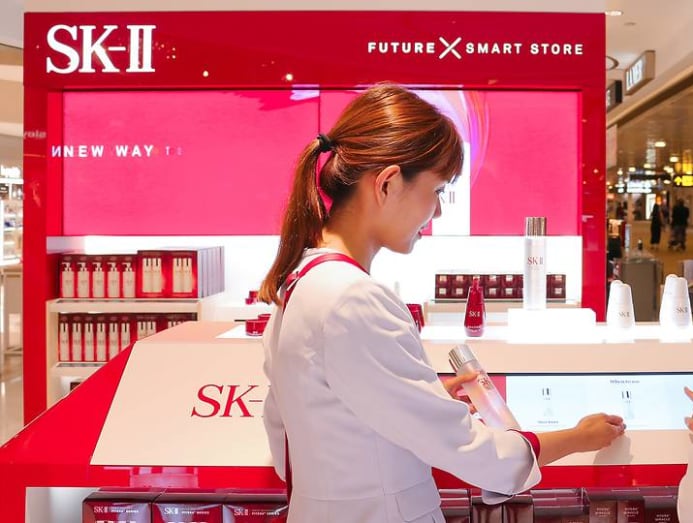 The technologies showcased in the pop-up have yet to be officially deployed across all shop floors, but they are being piloted in real retail environments in Japan and China, and are likely to be taken to other markets around 2020.
In the meantime, customers can get a taste of the SK-II phygital experience at the Shilla Duty Free shop at Changi Airport Terminal 2, where a variation of the Future X Smart Store was recently launched.
BREAKING DOWN BARRIERS
Designed with time-pressed travellers in mind, this version of the Smart Store combines technologies to help them locate, learn about and buy SK-II products in the shortest time possible, given that they have a flight to catch.
The counter features a Discovery Bar, a digital interface that shoppers can explore and learn more about products; a Smart Product Scan that utilises image recognition technology to help them locate a specific product they're looking for; and finally Skincare GPS, which guides the shopper to the exact location of that product by lighting up the shelf it is placed on.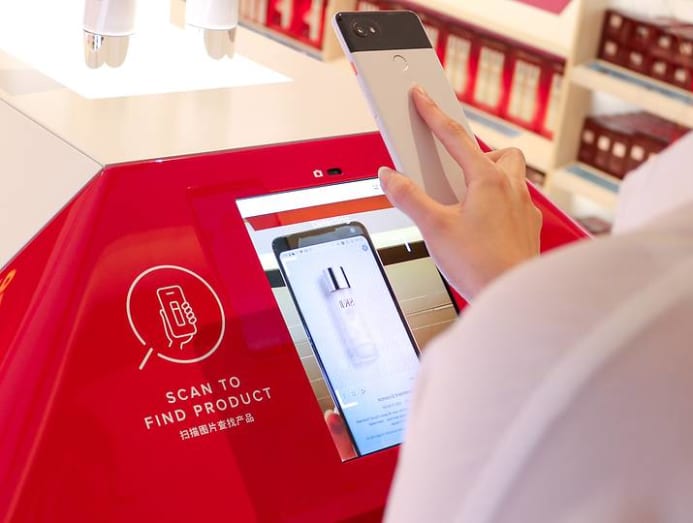 Seth told CNA Luxury that this smart travel-retail counter was built to cater to specific buying behaviours of travellers. For example, many of them bring photos of the products they require to the counter, which can now be speedily identified by the Smart Product Scan function when sales staff are unavailable.
"It can also help them get past probable language barriers in foreign airports. In a nutshell, it's about quick browsing and self-navigation in a grab-and-go kind of environment," he said.
According to Seth, the rate at which technology is evolving is going to change the beauty and retail industry in ways we can't predict. "I honestly don't even know what is going to be the next new thing in the next three to six months. We started with facial recognition as the core technology [in 2018] and then we added motion-sensing, augmented reality… And now we already have eye-tracking capabilities. Virtual reality and voice control can play a big role in the coming future."
"I think that beauty will definitely be at the cutting edge of the 'phygital' experience," said Seth. "Beauty is very personal… That's why beauty will harness a lot more technology moving forward. There's going to be exponential growth in terms of how SK-II and other beauty brands are going to leverage technology in the next two or three years."