The artist who brought the sound of Singapore to the Venice Biennale
CNA Luxury meets Song-Ming Ang in Venice – the artist who went from copying Justin Bieber's autograph to showing at the world's most prestigious art event.
With its iconic gondolas, water canals, quaint bridges and Renaissance buildings, Venice is eye-candy for the tourist – a city so visually packed with details you can't help but look and look.
But for Singaporean artist Song-Ming Ang, it's also a place you listen to.
"When you're by the coast, you hear the waves all the time, crashing against the shore. In spring, you hear the whistling of strong winds and rattling window shutters. When you're in the very narrow alleys, the sound is slightly claustrophobic and you hear people talking upstairs," he shared – before being interrupted by a helicopter roaring overhead.
Singapore is taking part at this year's Venice Biennale, the biggest international art event of 2019, with the exhibition Music For Everyone: Variations On A Theme. Created by artist Song-Ming Ang, with curator Michelle Ho, its title was inspired by the Music For Everyone concert series organised by the then-Ministry of Culture during the 1970s and 1980s.
"It's coming from the top, too!" said Ang, with a laugh. "How can you not listen?"
WHAT IS 'MUSIC FOR EVERYONE'?
Sounds – and the act of listening – play a huge part in the 38-year-old Singaporean artist's practice. And as the country's representative at the prestigious Venice Biennale art event, it's no surprise Ang has included music in his exhibition.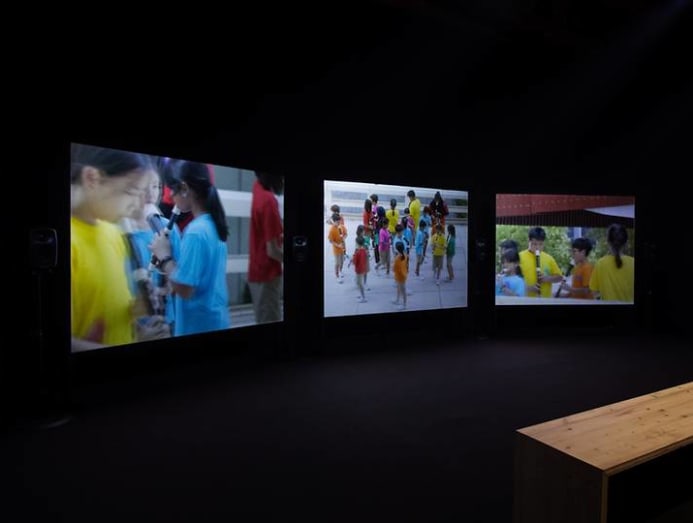 At the Singapore Pavilion, located on the second floor of one of the buildings at the Italian city's old Arsenale complex, the quirky and melancholic tune of recorders is one of the first things visitors will notice upon entering. It's the sound coming from a three-channel video of Singaporean children playing and having fun with a very familiar instrument from childhood.

Part-child's play and nostalgia, part-Singapore music history lesson, Music For Everyone: Variations On A Theme, which was presented by Ang and Singaporean curator Michelle Ho, explores what this phrase could mean to different people.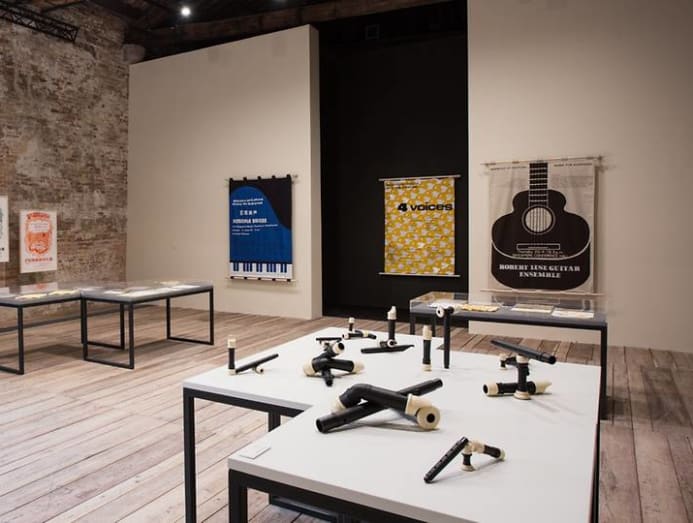 From the top-down efforts of the government (the title was taken from a popular concert series in the 70s and 80s by the then-Ministry of Culture to promote nation-building) to more organic ways of approaching music (children creating their own music, recorders playfully reassembled into sculptures and music manuscripts folded or crumpled), it's a deceptively simple show with some nuanced views about the role of music in people's lives.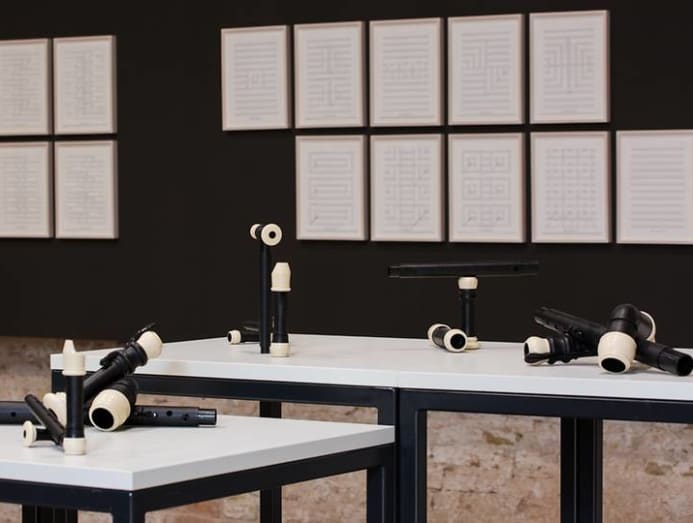 Which is something that Ang, who received the Young Artist Award in 2011, has been preoccupied with for quite some time. "I think a lot about contexts in which we consume music, how music reaches us."
LOOK MA, I'M IN A BAND
As a teenager in the late 90s, Ang recalled listening to Britpop and indie music bands like Sonic Youth. "There was a fertile scene in Singapore, too – Livonia was around, Concave Scream was still playing, Humpback Oak was releasing really great albums. I remember going to the Substation a lot," he said.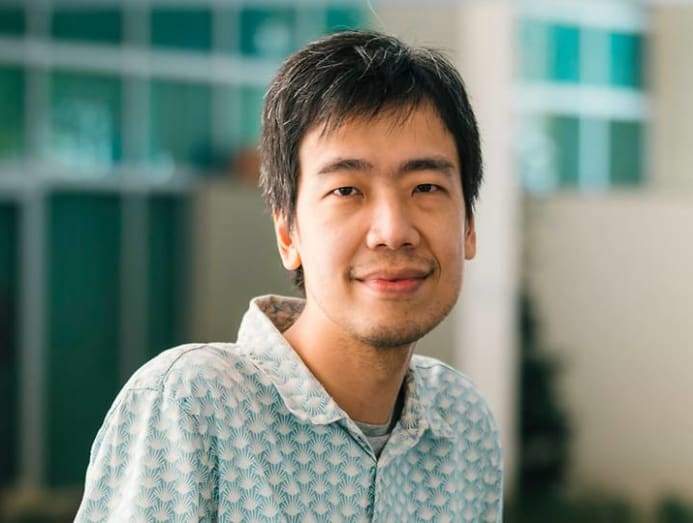 He was also part of an experimental band called Hearing Hill, while also creating solo music on his laptop under the moniker Circadian.
"Our first concert was at Mountbatten CC," he recalled. "We were playing a punk and noise gig. That was our crowd – people who made extreme underground music."
That said, their improvisatory rock music was occasionally too much for some. "There was once, we played at the Substation and got flamed at an online forum after that. Like, 'What was this band doing?' or "Like that, my mother can also do!'. Which was our point, thank you very much!" he recalled, with a laugh.
FROM MUSIC TO ART (AND PING-PONG BALLS)
For Ang, the turning point from making music to making art about music came in the early 2000s. "I started checking out jazz and classical music, and I got interested in world or ethnic music," he said.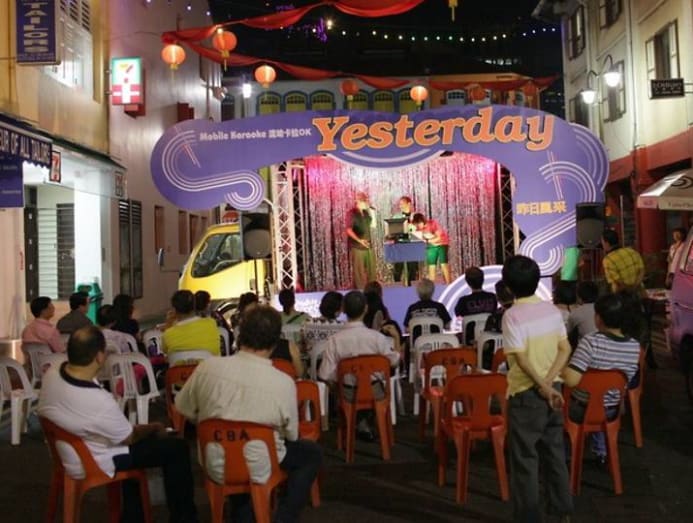 As a literature major at National University of Singapore, he was also exposed to critical theory. "I realised that actually, apart from performing, composing, listening and consuming music, it's something you can think about from an anthropological perspective."
His first ever artwork was in 2003, where he installed a proper band set-up – and encouraged people to grow ping pong balls at them, creating amplified sounds when these hit the plugged-in instruments.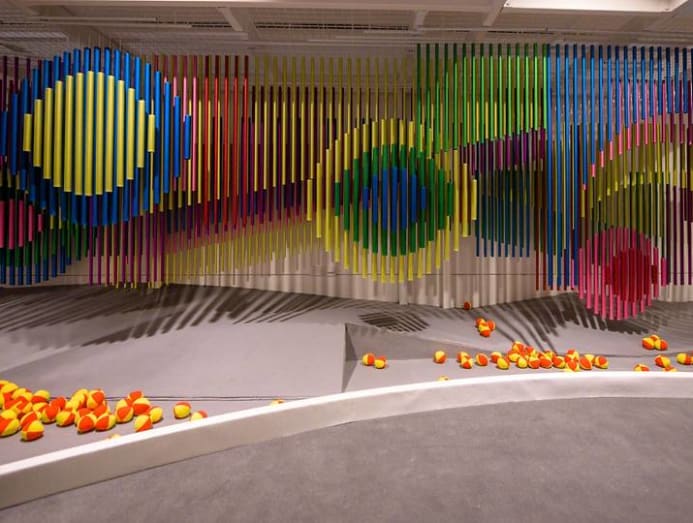 "I just thought it was interesting to do something with the language of rock music, with electric guitars, and at the same time make it accessible," he shared.
Incidentally, a new version of that work will part of the National Gallery Singapore's Children's Biennale, which opens this week. But this time, instead of band equipment, he's installed thousands of steel pipes of different colours and sizes – onto which visitors can throw 350 ping pong balls to make music (or noise).
'BOLIAO' ART ABOUT BIEBER AND BACH
To date, his music- or sound-inspired artworks have run the gamut. Ang has taken on the world of classical music by, for example, trying to play a Bach piece backward (on a harpsichord for the first time), assembling a piano from scratch and recreating a music stand with glass.
He's looked at the participatory nature of music by holding listening parties, creating a mobile karaoke installation that went around Singapore or doing a video about adults singing their primary school songs.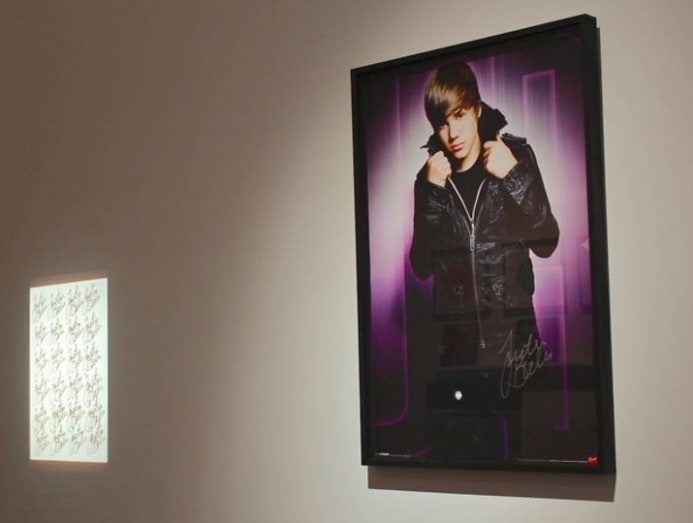 Pop and alternative? He once did a series of watercolour paintings based on Belle & Sebastian album covers, and once had a project where he tried to learn Justin Bieber's autograph over three months – before fake-signing a poster.
A lot of his works can be seen as light-hearted, often humorous or as he himself described them "boliao – very silly, pointless and borderline absurd."  But the light tone of many of these belie the serious nature of his practice.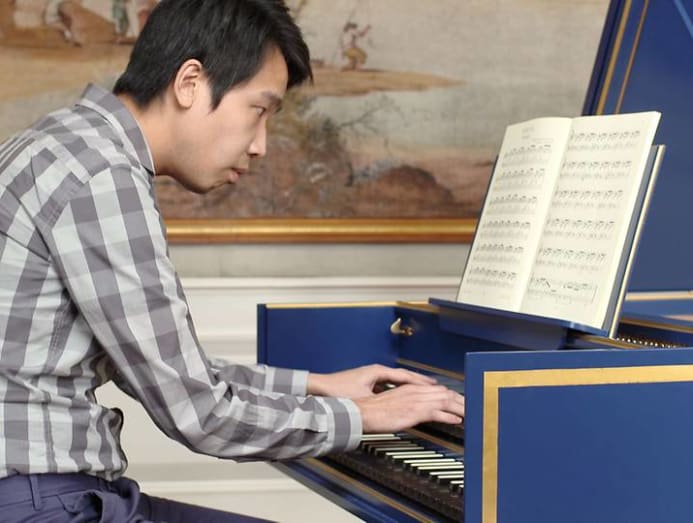 "I think part of my job (as an artist) is to see how I can bring a new perspective to an old subject. How can you re-perform an old school song in an interesting way? How can you look at a recorder in a new way? How do you understand Justin Bieber in a new way – who is Justin Bieber, anyway? He's a construct, a packaged idol but he's also blood and flesh."
A LOT OF MUSIC – IF YOU KNOW WHERE TO LOOK
While Ang now mostly makes art about music, he occasionally still plays and creates music in the conventional sense.
For a piece he did for the President's Young Talents exhibit in 2015 – a video of his parents bringing him a guitar from Singapore to Berlin, where he's half-based with his wife and child – he created the soundtrack with that same guitar.
Last year, he was part of a collaborative project in Melbourne called A Song To Change The World, where he played live, which is also making its way to Japan's Aichi Triennale in August. "I did it as part of the art that I make so I don't do it as a musician – although I've been thinking about going back to making music or re-releasing some of my old stuff."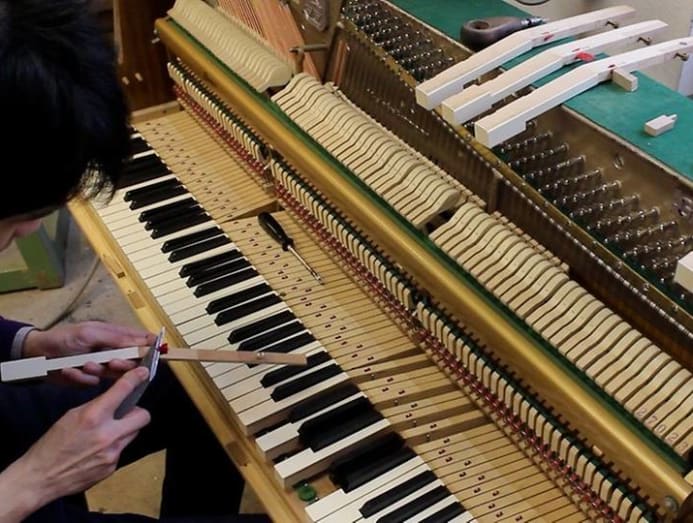 Ang might not be playing music that much these days, but he's still plugged into the scene. When asked if anything has changed from the days of the Music For Everyone concert series that he tackled in the Venice Biennale,
"There's a lot of music and a lot of art in Singapore – if people spend their time not just on the surface. You've got the Esplanade, Singapore Symphony Orchestra, Singapore Chinese Orchestra, but also concerts going on in very underground venues that people don't know about. There are events, initiatives, infrastructure put in place by the government, but at the same time, things that are just independently created – if you know where to look."
Or perhaps, more importantly, listen.