The Soup Spoon co-founder Anna Lim on overcoming business setbacks to create a thriving restaurant chain
Two decades on, Anna Lim reflects on the ups and downs of The Soup Spoon's journey – and shares the secret to the company's sustained success.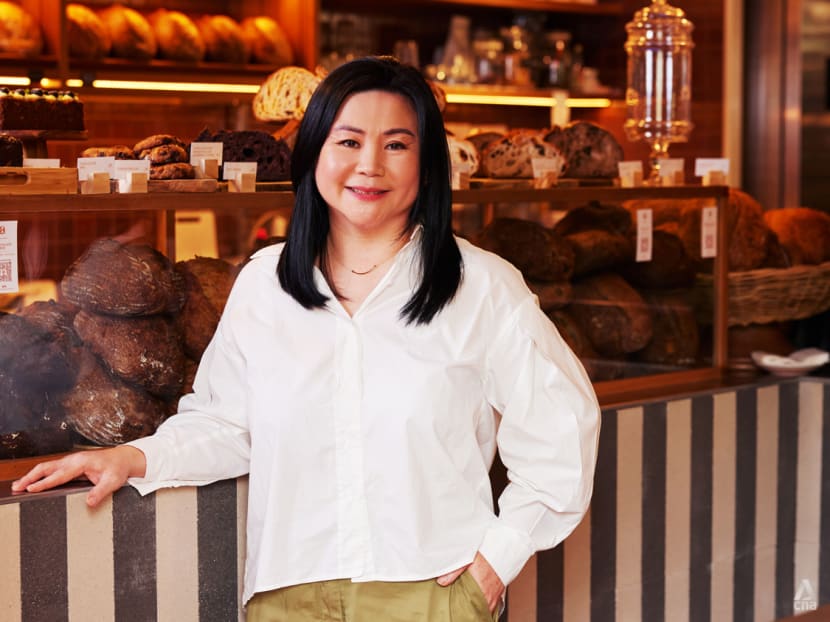 It may be slightly over 20 years since The Soup Spoon was born, but for one of its co-founders Anna Lim, the memories from the early days of the business are still "very raw and fresh".
After all, starting a business from the ground up is never easy. Furthermore, she didn't come from an F&B background. "The Soup Spoon was just something we wanted to do," Lim added.
Lim, 47, founded The Soup Spoon in 2002 together with her husband, Andrew Chan, and their friend from university, Benedict Leow. Back then, the trio were in their late 20s. Lim had been working as an embryologist, but when the time came to further her studies in the field by taking up a Master's course, she began to question her career path. Going ahead with her Master's meant that she would have been bonded for a few years with the hospital she was working for. "So I made the decision that I wanted to do something different," Lim shared.
At the time, Lim, an avid cook, spent much of her time experimenting with different soup recipes in her kitchen. "Growing up, soup has always been a part of our Asian culture. While I was studying in Australia, a staple in my diet was soup and stews from the can. I figured that we could make a better version of that," recalled the mother of two.
She eventually took the leap to quit her job and started The Soup Spoon. The company began as a home-based business, but the trio later invested S$250,000 to open their first retail outlet in Raffles City in June 2002. What followed was a journey of trials and tribulations, with several learnings along the way.
STARTING FROM THE GROUND UP
For many Singaporeans, The Soup Spoon hardly needs introduction. With a total of 29 outlets around the country, it is known for its nourishing and nutritious bowls of soup, made with no preservatives and no MSG. Favourites include the Boston Clam Chowder, Meatless Minestrone, Tokyo Chicken Stew and SG Chicken & Mushroom Ragout.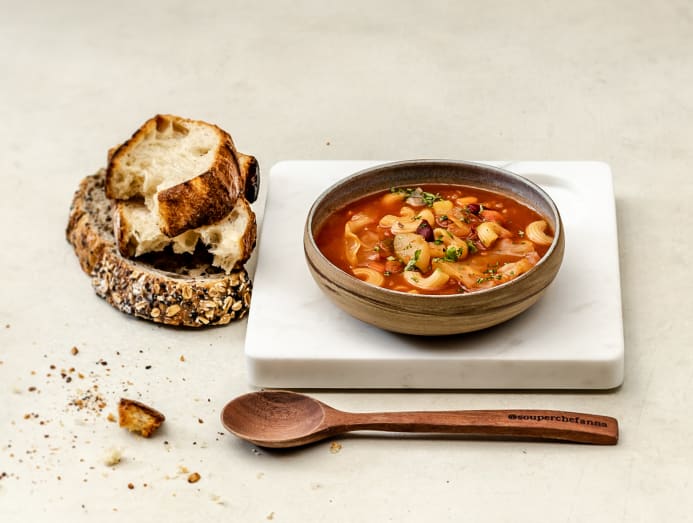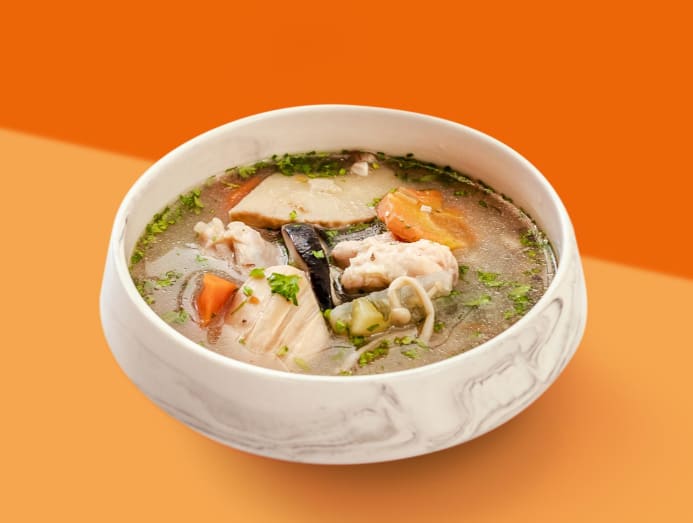 Lim takes on the role of "Souperchef", where she is responsible for crafting the menu and coming up with unique and creative flavours. She describes the first few years of operating the outlet in Raffles City as "really tough". After closing, she found herself peeling potatoes at the shop late into the night. Instead of going home, she would sleep in the kitchen in order to open the shop on time in the morning.
Once, she fell asleep at a traffic light while driving the company van. "I was so embarrassed because there were all these people standing in front of my windscreen. Someone had opened the door, reached in and shook me awake," she recalled.
One of the company's darkest moments include the time when, in a bid to diversify their target market to include families and children, it opened its second outlet in United Square shopping mall in 2003. On hindsight, the opening of the United Square outlet was ill-timed and badly planned. That was the year that the SARS outbreak hit Singapore, resulting in many business closures in the mall. As a result, there was hardly any crowd at the shop. The company ended up losing S$100,000 and had to let many of their staff members go.
"In all honesty, we could blame it on SARS. But I will say that it was naivety and a lack of market research on our part in thinking that children and families were our target audience. We were dead wrong," Lim admitted.
A year and a half later, the company gave up their United Square outlet to McDonald's. To make ends meet, they ventured into catering. Determined to soldier on, they opened their next outlet at Raffles Place in 2005, once again targeting the time-starved, working crowd, who simply wanted a fuss-free yet healthy meal in the middle of the workday.
"True enough, it was the right fit for us. From there, we opened a third outlet, a fourth outlet and so on. Our growth has been very organic over the last 20 years. Along the way, there are always learnings. That's why we must keep disrupting ourselves by constantly innovating," Lim quipped.
BECOMING THE "STARBUCKS OF SOUP"
Aside from its 29 outlets in Singapore, The Soup Spoon also has franchise outlets in Taiwan. Its popular take-home soup packs – prepared using a High Pressure Processing (HPP) machine that extends its shelf life by four months – are also distributed in supermarkets in Vietnam, Hong Kong and Brunei.
The Soup Spoon gained its halal certification in 2019, another major milestone for the company. Since October 2016, it had been producing its soups in a halal production facility. "That really helped us a lot in terms of sales, because we suddenly had a new market that we never knew existed. Our Muslim customers have always been very supportive," shared Lim.
Ask Lim about the ultimate vision for The Soup Spoon and her answer has always been the same – she wants the company to be the "Starbucks of soup". As the biggest coffee chain in the world, Starbucks is a "global benchmark" for what The Soup Spoon can be. "Starbucks changed the way people drink coffee," said Lim. "Before Starbucks came along, people were drinking freeze dried coffee. Starbucks created that 'third space' where people could sit down and enjoy a cup of coffee while having conversations with friends."
While Campbell's invented the canned soup in 1895, "beyond that, no one has actually done anything else in the soup category", Lim continued. "There are a lot of mom-and-pop shops selling soup around the world, but there's nothing at the scale of how Starbucks transformed the whole business of coffee.
"When we first started The Soup Spoon, soup was just an appetiser, a starter you eat before your meal. So that has always been our vision, to transform the way people consume soup." 
A "BETTER FOR ME" PHILOSOPHY
With global expansion on her mind, in October 2022, Lim opened Anna's, a sourdough cafe and retail concept located in Punggol's Oasis Terraces. Lim describes the cafe as a "prototype for what we imagine The Soup Spoon can be when we go overseas".
The idea for Anna's was sparked during pandemic lockdowns in Singapore. At that time, Lim picked up baking. And when everyone else started making sourdough bread, she hopped on the trend too and made her own starter. After several months of trying to perfect her recipe, she began sharing her loaves with family, friends and neighbours.
Soon, she became intrigued to learn more about the health benefits of sourdough. "I felt there was more to it. I wanted to understand the science behind the bacteria used in the starter. What happens during bulk fermentation? What is the effect of temperature?" Lim mused.
She then took up a sourdough nutrition and digestibility diploma course with Vanessa Kimbell, a specialist sourdough baker who runs The Sourdough School.
For Lim, Anna's is "a passion project that became a reality". Here, Lim is shining the spotlight on the nutritional benefits of sourdough. All loaves are baked daily using freshly milled flour, and each loaf is hand laminated. "I'm doing exactly what a home baker does. That's a very important philosophy we believe in. Even when we cook the soups at The Soup Spoon, we cook exactly how we would at home, just with bigger pots and more ingredients," shared Lim.
On the menu at Anna's are brunch items such as breakfast platters, cheese toasties and avocado toasts, served alongside a selection of soups. Besides the signature Anna's House Sourdough, there are also flavoured loaves such as Chocolate Rye, Sunburst and Turkish Delight, as well as sweet bakes like the Chocolate Chip Marshmallow Raspberry Cookie and Earl Grey Fig cake with Honey.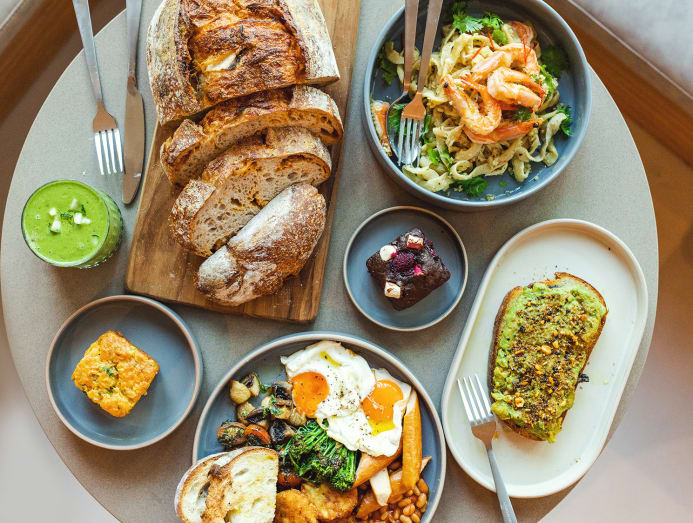 At the retail section, sourdough and baking enthusiasts can pick up starter kits, ancient grains, dried botanicals and freshly milled flour. Home cooks can also purchase a range of ready to heat and ready to eat sauces and soups.
QR codes are located throughout the cafe for visitors to learn more about the health benefits of various menu items and ingredients for sale. 
The process of conceptualising Anna's inspired Lim to come up with a new overarching philosophy for her brands, including The Soup Spoon. "With COVID-19 especially, people are taking better care of themselves. So what we're trying to do at Anna's, and even at The Soup Spoon, is to showcase products that are 'better for me', where everything you eat is better for your mental and physical health."
In between balancing a new cafe opening and running the existing Soup Spoon chain, Lim also dedicates time to working on meaningful passion projects. In collaboration with Enterprise Singapore, Tan Tock Seng Hospital and Nanyang Polytechnic, The Soup Spoon has been working on a food and nutrition project for the elderly, particularly for patients with dysphagia.
"We created a whole series of easy-to-chew soups and stews for patients who can't swallow," shared Lim. The project took three years to complete. "When we get emails from customers on how our food has helped their family members during their recovery, we are very heartened that we're doing something for this group of patients."
NO SHORTCUTS TO SUCCESS
Anyone in Singapore's competitive F&B scene will know surviving two decades in the business is no small feat. Which begs the question – what has been The Soup Spoon's key to sustaining its success all these years?
For Lim, the secret ingredient has always been consistency. It is why The Soup Spoon's nourishing bowls of soups have always been a form of comfort food for many of its customers.
"Every bowl of soup that we serve has to taste the same yesterday, today and tomorrow. We make sure that the recipe is consistent every single time. Even when we want to make any changes ─ sometimes we run out of ingredients ─ we discuss it as a team. If we can't come up with something, we simply don't sell the dish," Lim stated.
She also reads every single customer feedback sent to the company's email. "Whether it's good or bad feedback, we must improve. If we made a mistake, we own up to it because we are not perfect," she insisted.
And if there's one thing that she's learned throughout her entrepreneurship journey, it's that there are "no shortcuts to success". Reflecting on the ups and downs of The Soup Spoon's journey, Lim said: "We've come a long way, from our humble beginnings with just a 500 sq ft shop in Raffles City, to where we are today with 29 outlets. We still make mistakes, but it's a learning experience.
"I wouldn't change anything that has happened. Because all these obstacles  have made the company what it is today."
"When we first started The Soup Spoon, soup was just an appetiser, a starter you eat before your meal. So that has always been our vision, to transform the way people consume soup."