Spa Esprit's Cynthia Chua on lockdown in Paris: 'It was stressful and horrible'
What is it like being quarantined in the most romantic city in the world? Spa Esprit Group CEO Cynthia Chua tells all.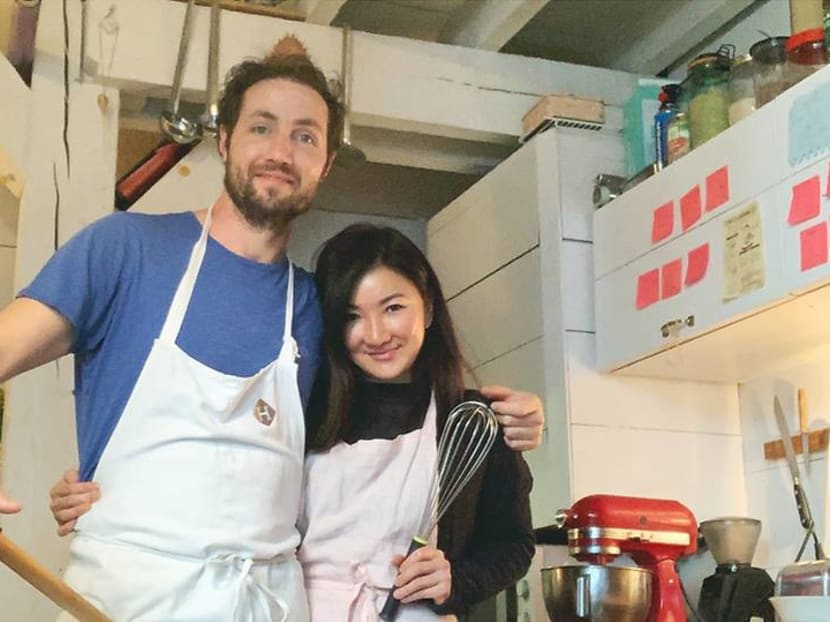 Speaking with CNA Luxury from her apartment in Paris, where the founder and CEO of the Spa Esprit Group has been sheltering in place since March, Cynthia Chua opened up about what quarantine life is like in the City of Lights, and how she's been managing her lifestyle empire from afar.
"I feel like I've gone through war," she declared.
"I feel like I've been punched in the face, slapped on the cheek, strangled by the neck. It was stressful and horrible. But I'm very thankful I've got my super warriors on the frontline," she continued, with signature candour.
In a way, the 48-year-old entrepreneur has been preparing for this day.
Five years ago, Chua began establishing the infrastructure necessary to enable her to oversee the business comprised of 17 beauty and F&B brands, including the much-loved Tiong Bahru Bakery chain (home of Singapore's best croissants, according to some), from overseas – oscillating between Singapore and Paris every quarter.
"I've been travelling a lot and covering more of the international portfolio including London and New York, and my partner is French," she explained.
In January, the couple returned to Paris after spending three months in Singapore.
"Two weeks later, we started hearing about the virus in Wuhan, and that cases were multiplying in Singapore, but also that Singapore was coping well initially. My team in Singapore were asking how things were here and I told them it's normal; no one was wearing masks. It's very different when you're far from it… you're detached," Chua recalled.
But by March, the first wave of COVID-19 cases had spread across Europe, most dramatically in Italy.
"Paris began buzzing and oh my god, they decided to lockdown and the situation switched completely," she shared.
"It was very chaotic. My partner and I had plans to visit [France's] agricultural regions as part of the business, but we were afraid to fly around because of all the uncertainty and additional quarantine measures that might be imposed."
So the pair decided to stay put in Paris.
What has quarantine life been like in the most romantic city of the world for the self-professed free spirit?
"If you want to go out, you have to wear a mask and fill in a piece of paper or you'll get fined. You see police patrolling and you need to bring your passport or ID everywhere you go. Walking the streets of Paris and not seeing anything open… the vibe is completely different," Chua described.
THE PULSE OF THE PEOPLE
Leading a team through the worst crisis in recent history – remotely, at that – is no easy feat and Chua believes in "feeling the heartbeat of the people", above all.
"My spirit is always with them," she said. "It's often very easy for a leader sitting on top to decide on cost-cutting without getting the ground vibe of how people are feeling."
"It's a very, very difficult period and we have to be very careful about how we manage the situation in the different cities we operate in, as each city is coping with the pandemic differently," she noted.
Back home, Chua's brother is holding fort as CEO for the beauty portfolio while she still takes care of the F&B business – one of the hardest hit casualties of the COVID-19 crisis.
"There's the economic situation, there's the business, and there's the staff. We have to be very nimble in managing the situation, and transparent in communicating with staff. We have created a special hotline that staff can call if they need help," Chua added.
"It's often very easy for a leader sitting on top to decide on cost-cutting without getting the ground vibe of how people are feeling." – Cynthia Chua
She says she feels very blessed to have a team of strong leaders and very good staff she can count on, and checks in with the various teams on the ground every three to four hours via FaceTime and Zoom.
When the crisis hit, the team acted swiftly to adapt to the new normal, restructure the business, and recreate jobs for the majority of staff.
Remarkably, only two individuals have had to be laid off in the entire group thus far.
"We were able to absorb most of the staff, and it was a difficult decision to lay off two of our staff who are very dear to us, as we decided not to renew the lease for one of our brands. I tried calling all our brands to ask if they could take them on but they just couldn't absorb the manpower during this time," she explained.
Regrettably, Chua had to make the tough decision to forego renewing the lease for Ding Dong in Amoy Street, as its survivability was a big question mark given the restaurant's CBD location and the protracted WFH situation she foresees.
Now that Phase 1 of the post-circuit breaker period has been announced and businesses are allowed to reopen in stages, Chua is calling for more transparency in how certain sectors are deemed more essential than others.
"Why is pet grooming allowed when personal care for humans is not? Phase 2 is another four to six weeks and many businesses are not clear whether they will even be eligible to reopen during Phase 2. This is creating a lot of anxiety in the market," she said, as beauty salons, a signification portion of the group's portfolio, remain shut.
"We were able to absorb most of the staff, and it was a difficult decision to lay off two of our staff who are very dear to us." – Cynthia Chua
OF BIRDHOUSES, SOURDOUGH STARTERS AND AEROBICISES
While the business has been badly bruised and battered, Chua has been keeping her spirits up by keeping her hands busy in quarantine.
She has built two birdhouses – a traditional looking structure she named Freedom House and a more "modern" design she coined Communal House, reflecting the communal spirit for which Chua is known.
"During this lockdown, I've been hearing birds chirping more. Perhaps it's because the city is quiet or I'm more sensitive during this time. We have a nice outdoor terrace so we built these birdhouses and put crumbs in them and when the birds really came to play with it, I was so happy," she shared.
"I've been wanting to get into it but because we're travelling so much, I couldn't really have a sourdough starter baby because you need to feed it. So we started our sourdough starter and have been experimenting. The first one was not good, the second one was almost there, the third one was okay and the fourth one was wow."
And Chua wouldn't be one of Singapore's most feted trendsetters credited with shaping the city's F&B scene if she didn't churn her newfound passion into enterprise.
"We have a new vision: To turn Singapore into a sourdough nation and equip everybody with the skillset of how to make a good sourdough. It's my new mania and a bread academy will definitely be coming!"
It certainly helps when your partner is a professional French chef, and the most romantic thing he's done in quarantine was trying to make roti prata and xiao long bao using sourdough for Chua, who's really missing the food back home after spending five consecutive months (and counting) in Paris.
"Both turned out well," she assured.
To keep mentally and physically fit, the restless entrepreneur has been aerobicising, rowing on a rowing machine, and doing yoga via livestreamed classes.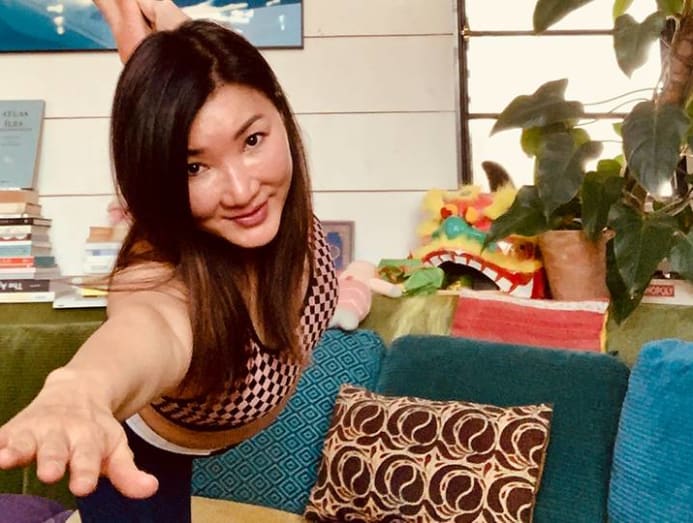 "I'm from the Jane Fonda era," she joked.
"And I've recently fallen in love with jumping jacks so when I feel a bit frustrated, I switch on my music and jump and I just feel so good. Cardio is important as it keeps your heart healthy. I think my fitness regime is better in a lockdown," she quipped.
Chua is also finally learning French through the Duolingo app coupled with textbooks and online videos.
"I practice with my partner Ben, and he won't talk to me if I don't speak French sometimes."
Her favourite French phrase?
"C'est le reve."
"It means, 'It's a dream'. So when I have the best cheese with my natural wine… C'est le reve."
It sure sounds like a dream to be quarantined with a French chef.
"Cardio is important as it keeps your heart healthy. I think my fitness regime is better in a lockdown." – Cynthia Chua