The founder of SukkhaCitta – an ethical fashion brand – wants to break the poverty cycle of rural village women
Denica Riadini-Flesch started Indonesian farm-to-closet fashion label SukkhaCitta to empower craftswomen living in Indonesia's rural villages, while sparking a change in the fashion industry.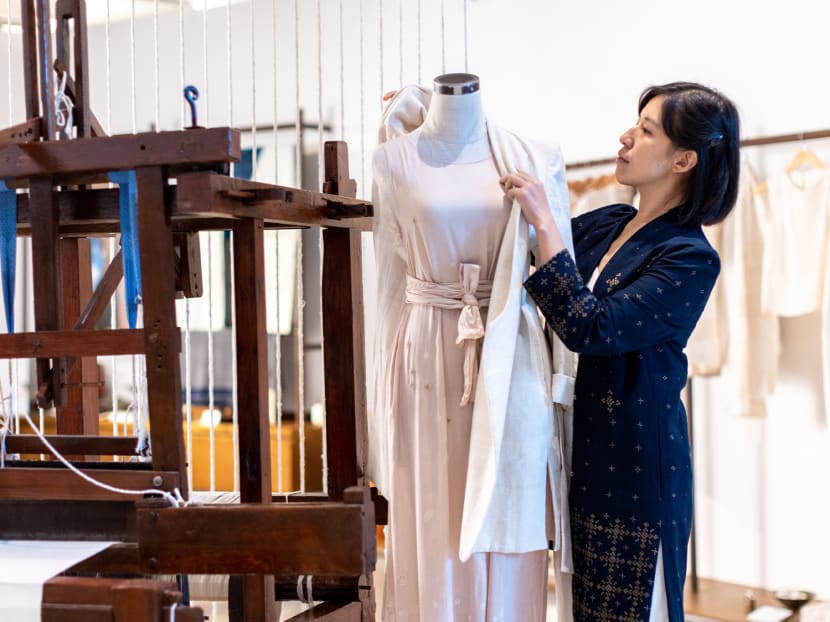 As a trained development economist, Denica Riadini-Flesch, 32, never thought that she would one day be an entrepreneur, let alone one in fashion. But the self-professed "nerd" is the founder of Indonesian ethical fashion brand, SukkhaCitta, which she launched in 2016.
It was her time working for a large international organisation that planted the seed for the birth of SukkhaCitta. Her work often called for visits to rural villages in Indonesia, where she met with village women – whom she affectionately calls "ibus" – who make clothes by hand, but were stuck in a poverty cycle.
"As someone who grew up in a city, this was literally the first time I discovered that there is a journey behind something that we wear," recalled Riadini-Flesch, who is based in Jakarta. "I used to think that clothes just appear in shops. You buy them, then you throw it out."
Due to the complex nature of the garment industry, and the many layers of middlemen in between, it was difficult for these village women to earn a living wage despite working 12 hours a day. "That gave me a really huge heartbreak, realising that all this time, I was somehow part of the problem because I didn't know that the lives of these women were impacted by my choices," added Riadini-Flesch. "I wanted to make a change, or at least be part of the solution, in creating a bridge between consumers and artisans."
FROM FARM TO CLOSET
SukkhaCitta is billed as a "farm-to-closet" clothing brand, which pays its artisans a fair living wage for crafting exquisitely detailed, quality clothing through traditional crafts. It is also a B Corp-certified social enterprise, an indication of its commitment to social and environmental sustainability. 
The name SukkhaCitta means happiness in Bahasa Indonesia, and it is a reflection of Riadini-Flesch's own pursuit for contentment. "When I visited the villages for the first time, I started questioning, what is it that truly brings us joy? For me, it's contribution and connection, being a part of something bigger and finding meaning in what I do."
The founding of SukkhaCitta was also spurred by a personal health crisis. Prior to starting the brand, Riadini-Flesch had discovered a tumour in her back. Although it turned out to be benign, it was a "wake-up call". "I asked myself, what did I want to do with my life? What legacy did I want to leave behind?"
The mission of SukkhaCitta is two-fold. Aside from changing the lives of the village women, it also seeks to create a positive impact on the environment. Through her journey with SukkhaCitta, Riadini-Flesch discovered the harmful effects of the garment industry. "There is a huge connection between fashion and climate, and the key is in the materials. We don't realise that 70 per cent of the clothes we wear are made from plastic," she said.
Then there is the issue of synthetic dyes that not only pollute the rivers where they are disposed, but also pose health risks to the craftswomen working with them. Cotton cultivation and its devastating effects on the environment is another problem the brand hopes to solve.
All SukkhaCitta garments are dyed naturally. Riadini-Flesch also discovered that the solution to harmful cotton cultivation lied in an age-old Indonesian farming technique called "tumpang sari", where multiple crops are grown on the same land. This technique offers several environmental benefits, including reducing the need for chemical pesticides and synthetic fertilisers, as well as increasing the efficiency of water usage. The brand has pledged to use 100 per cent regenerative cotton by 2025, on top of regenerating 1,000 ha of land.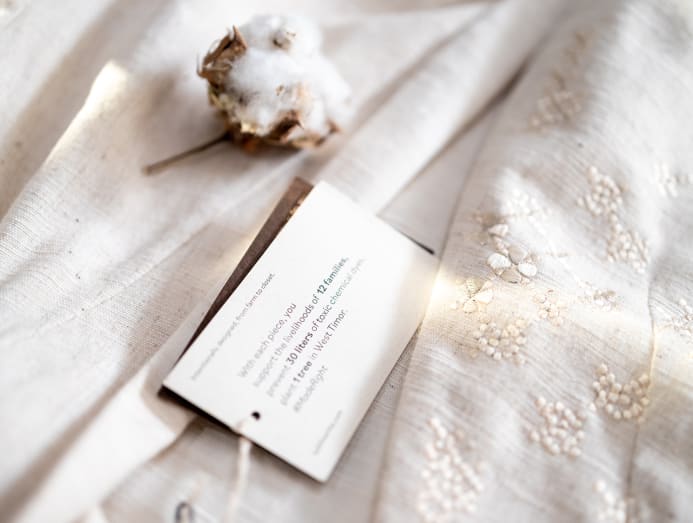 In order to promote long-term change, SukkhaCitta has also opened several craft schools, called Rumah SukkhaCitta, where women can learn crafts such as handweaving, sewing, embroidery, hand batik and natural dyeing. "There is a huge risk all over Asia of us losing our heritage craft techniques, because these techniques are usually passed on from mothers to daughters," explained Riadini-Flesch. "But what is happening in Indonesia and around Asia is that mothers no longer want their daughters to continue learning these crafts because they want them to have a better life."
In these craft schools, women from the older generation train the younger generation through an apprenticeship system. The schools also provide training in basic business skills. When SukkhaCitta first started, the average age of its artisans was 60 years old. Today, it is 28 years old. "This gives us hope that there is a place for heritage crafts to live on in the modern world. In a patriarchal country like Indonesia where women don't leave their homes when they get married, we can impact more women because they can now earn an independent income by practicing their indigenous crafts, without having to leave their village."
'DOING THINGS RIGHT COMES AT A COST'
SukkaCitta's journey, naturally, hasn't been an easy one. Riadini-Flesch describes the biggest challenge so far is changing the mindsets of consumers. "Whenever you try to do something that's outside of the status quo, you will face a lot of challenges and resistance," she reflected. "Doing things right comes at a cost, and it's a long process that's reflected in our price points."
For the average consumer, a piece of SukkhaCitta clothing doesn't come cheap. A structured top, for example, can cost around S$170, while a kebaya vest can cost almost S$300. An evening dress can cost over S$470.
Consumers are "used to clothes being as cheap as their coffee", but this is where customer education comes in, said Riadini-Flesch. The brand often hosts pop-ups and exhibitions to share about SukkaCitta's mission and process.
Price tag aside, one has to admit that SukkhaCitta's clothing are well-designed. The brand employs a team of designers. "At the beginning, everything we made was nerd shirts, nerd plants, nerd clothes," chuckled Riadini-Flesch. "But had I been a fashion designer, SukkhaCitta would be very different," she acknowledged. "The fact that I was able to look at problems in the fashion industry from a different point of view is what makes SukkhaCitta what it is."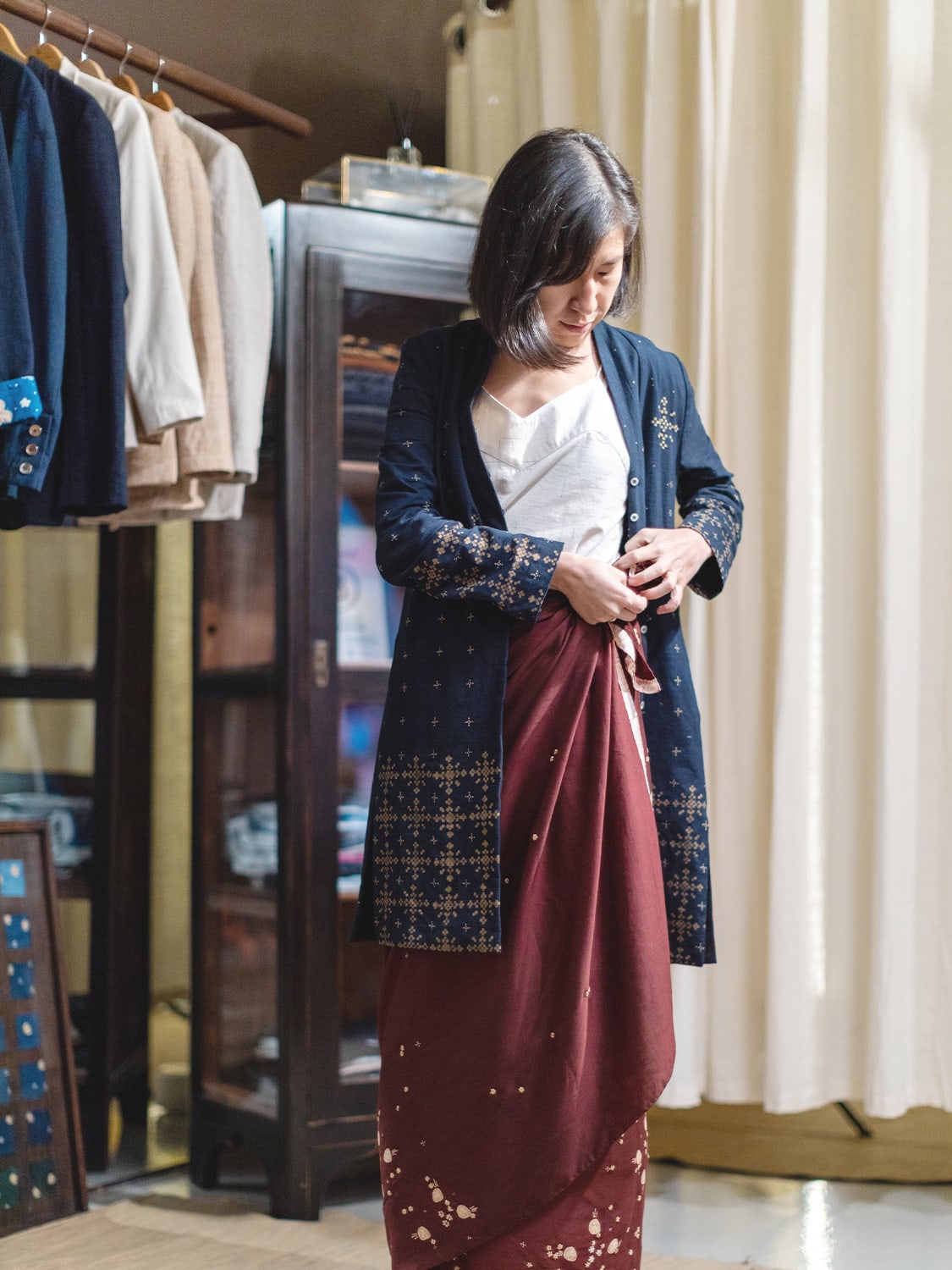 AN ONGOING JOURNEY
Riadini-Flesch's work with SukkhaCitta has garnered her several awards over the years – including first prize at the 2023 Cartier Women's Initiative for the South Asia & Central Asia region. But it is not the accolades that motivates her. In fact, there is no "ultimate vision" for SukkhaCitta, Riadini-Flesch revealed. "One thing that has become clear for me is that there is no end destination for SukkhaCitta. It's a continuous journey of progressing from one problem to the next and looking for solutions," she shared.
Her more immediate plans for the company include scaling their efforts in regenerative cotton farming. "We now work with 140 smallholder farmers all around Indonesia, simultaneously in seven villages. Our mission is to regenerate 1,000 ha of land by 2030," she shared. "We will also start introducing our materials to other fashion brands who want to be a part of this journey and make it easy for them source such fabrics."
Riadini-Flesch believes that the success of SukkhaCitta is not defined by "conventional metrics". "For me, success for SukkhaCitta is achieved when we help our consumers live better with less. It is when we inspire other businesses to use some of our ideas in their own supply chains. That's more important than just existing as one brand."
"Our vision of success is constantly being redefined as we find more problems on the ground," she continued. "It will be a constant search to do better."
"Our vision of success is constantly being redefined as we find more problems on the ground. It will be a constant search to do better."