Why sustainable tourism should mean more than ditching single-use plastic bottles
For savvy travellers, Song Saa Private Island is a by-word for sustainable eco-tourism. Co-founder Melita Hunter shares how the luxury travel industry can step up and lead the way for a more globally eco-conscious way to travel.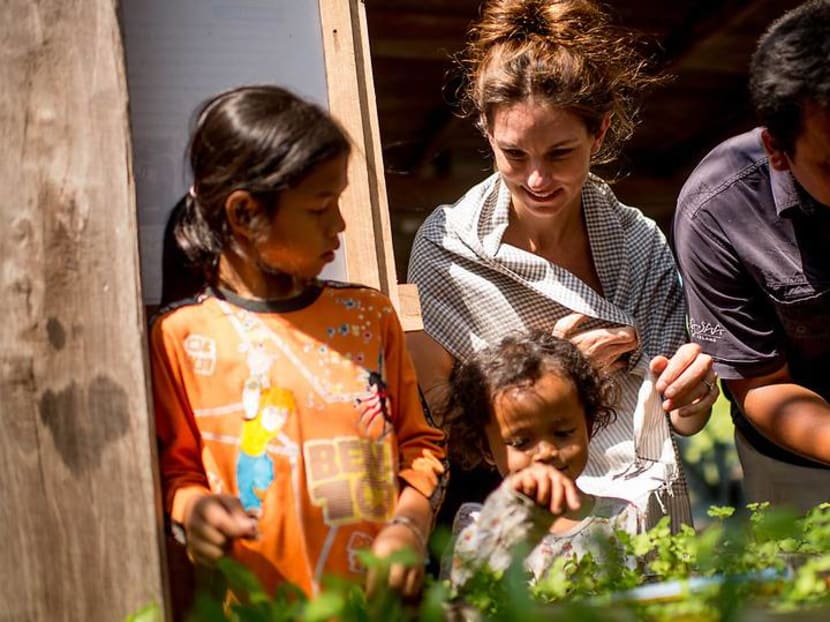 Rory and Melita Hunter describe themselves as accidental hoteliers. Indeed, nothing in their CVs prepared them for setting up their resort, Song Saa Private Island, in 2010 (the resort opened in 2012). Their outsider status, however, has allowed them to see things differently from traditional hoteliers, and encouraged them to try new ideas, especially those centred on sustainability and eco-tourism.
One such initiative was the Song Saa Foundation, a non-profit established in 2013 to protect the habitats of the resort's surrounding Koh Rong Archipelago and improve the welfare of its communities.
Over the years, the Hunters have worked on a bewildering range of projects that, among others, aim to restore and regenerate Cambodia's natural environments including re-wilding indigenous fauna and flora; restore rainforest and wetland ecosystems; provide free healthcare to the local community; conserve Khmer heritage; and improve the wellbeing of local communities.
Here, London-born, Sydney-raised Melita shares their journey.
"The industry focuses heavily on the bottom line. It puts constant pressure on management to make decisions based on financial outcomes, often foregoing initiatives that would otherwise have longer-term financial benefits and positive impact for the environment." – Melita Hunter
WHAT BROUGHT YOU AND RORY TO CAMBODIA?
We hadn't planned on moving to Cambodia in 2004 to start a business. It was more of a stopover for an adventure on our way to New York. Rory had a senior role at Saatchi & Saatchi when an opportunity arose to run an advertising agency in Cambodia.
I had my own design business and had worked in the creative industry as an organic designer and stylist specialising in using organic and recycled materials for interiors, art installations, set design and events. 
BUT YOU ENDED UP STAYING!
We loved the thought of an adventure, so we planned to spend a year here before moving on. But we completely fell in love with Cambodia and quickly realised there were some amazing development opportunities. So, we decided to set up a business and started our mission to find something special to co-create.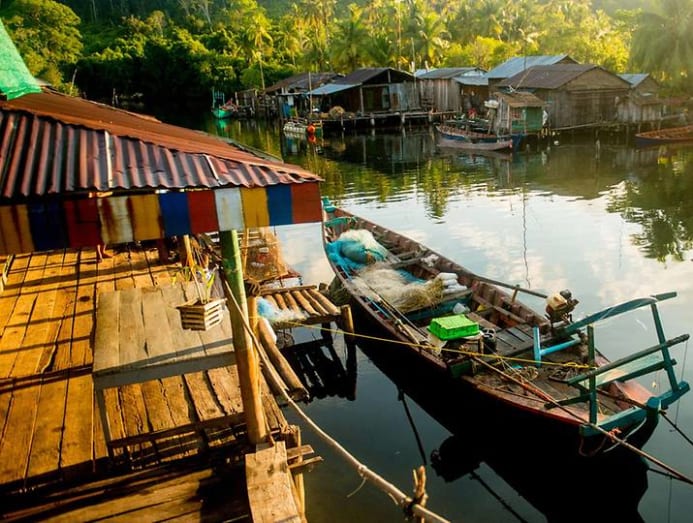 AND THAT WAS SONG SAA PRIVATE ISLAND?
We didn't set out to develop a private island. It was only when we rented a fishing boat for two weeks and discovered this amazing archipelago – complete with turquoise waters and pure white sand beaches that stretched for miles, virgin rainforests, waterfalls, coconut plantations, and extremely warm and welcoming locals – that we began contemplating a private island project.
WHAT DID SUSTAINABILITY MEAN TO YOU THEN? 
To me, sustainability has never been the 'be-all and end-all'. I feel very strongly that we need to move on from aiming to achieve just sustainability. My goal is to focus on creating net positive impact and ensuring every project we work on is 'regenerative': Both environmentally and in our community. Humans have already done so much damage to the planet as it is and, really, at this stage, we need to examine everything we do, from beginning to end.
HOW HAS THAT IDEA EVOLVED FOR YOU AND RORY?
It's not just about being sustainable, but about taking the entire concept of what it means to be green and regenerative and applying it as the first and foremost priority in every decision we make, no matter how big or small. We need to establish positive impact from the get-go and not make up for any negative impacts. We can't be reactive and apply simple sustainability goals as an afterthought.
SPECIFICALLY, HOW ARE THESE INITIATIVES MANIFESTED PHYSICALLY ON THE ISLAND?
Throughout the design of the island, everything blends into the environment and feels as though it was always meant to be there. Whenever possible, we use recycled and locally sourced materials to avoid contributing to deforestation, and to minimise our carbon footprint. Our designs are always about zero waste and minimal energy use – or even surplus energy production.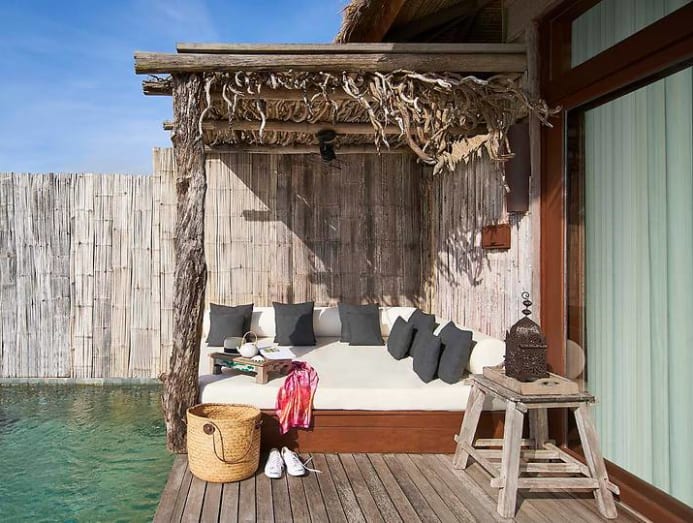 These are all built-in elements that have been uncommon in the hospitality industry due to the higher initial costs. They may not make business sense to some, but they're actually beneficial to the environment and will cut costs in the long run.
Throughout the guest experience, we also minimise wastage of consumables, such as ensuring no single-use plastic, and using bamboo straws, organic fabrics weaved from locally harvested lotus roots, and hand-made ceramics by local artisans trained and hired by our design brand, Song Saa Design.
TELL US MORE ABOUT YOUR RESORT'S WIDER SUSTAINABILITY PROGRAMME.
With both the Song Saa Marine Reserve and the Song Saa Foundation, we have always been about doing business in a way that gives back to its ecosystem first.
We spend as much effort on our Foundation initiatives as we do for the design, development and operation of the resort, with the united goal of creating positive impact in all that we do. Through it, we manage a range of environmental and community initiatives throughout the Koh Rong Archipelago. 
The team conducts pioneering conservation and community projects, such as coral reef survey dives, artificial coral reef programmes; creates a viable coconut oil enterprise; plants sea grass and mangroves to reduce carbon dioxide and greenhouse gases; and conducts environmental education for our youth programmes such as the Song Saa sea turtles.
HOW HAVE LUXURY TRAVEL PATTERNS EVOLVED IN THE PAST DECADE?
Luxury travellers are evolving and becoming more socially conscious. They seek deeper fulfilment and enrichment from their journeys. So, rather than the traditional sightseeing and resort experiences, they crave experiences that are harmonious with nature and the socio-cultural surroundings. This change has increased demand in the sustainable tourism market and it drives the whole tourism industry to take a fundamental shift to promote sustainability.
WHAT DO ECO-HOTELS OFTEN GET WRONG WITH THEIR SUSTAINABILITY PROGRAMMES?
The industry focuses heavily on the bottom line. It puts constant pressure on management to make decisions based on financial outcomes, often foregoing initiatives that would otherwise have longer-term financial benefits and positive impact for the environment.
WHICH HOTELIER OR HOTEL DO YOU ADMIRE FOR THEIR WORK IN SUSTAINABILITY?
North Island, Seychelles is one. It has been dedicated to sustainable tourism and island conservation for over 20 years and they have introduced the Noah's Ark rehabilitation programme for indigenous fauna and flora, which is incredibly meaningful.
Naked Stables in China is also amazing. It's the first to achieve LEED Platinum certification [in the country]. Its thoughtful design ensures as little disturbance as possible to the existing environment.
WHAT CAN BE DONE TO MAKE SUSTAINABLE TRAVEL MORE ACCESSIBLE TO A WIDER RANGE OF TOURISTS?
Being eco-conscious is a lifestyle, not a purchasing decision. We can choose to refill and reuse shampoo bottles instead of buying single-use containers. Tourists can choose to be more sustainable in the way they travel, including the form of transport. They can choose eco-friendly accommodations, or go to local markets and support local economies. Each of these small initiatives counts and creates ripple effects.
The industry as a whole should also unify its approach so that together we can achieve lower costs and increased accessibility to green initiatives, as well as share our knowledge and experience to further develop best practices. It's also important that we use tourism as a force for good to contribute to regeneration efforts, appreciate and support the local economy and environment, and leave a positive impact.
WHAT'S NEXT FOR YOU ON THE SUSTAINABILITY FRONT?
Our latest venture is Song Saa Reserve in the Siem Reap region (35 minutes from Siem Reap International Airport). It's a 400-hectare eco-tourism project, which will be a high-end, environmentally and socially conscious tourism development with the country's first ethically-led mixed-use resort.
This project scales up our ethos and approach and allows Cambodia to show the world how tourism, done right, is a powerful means for lifting people out of poverty and protecting the environment, while delivering lifetime experiences to global travellers and attractive returns to our shareholders. We are very excited about it! 
"We need to establish positive impact from the get-go and not make up for any negative impacts. We can't be reactive and apply simple sustainability goals as an afterthought." – Melita Hunter