A chef's journey from rural orphanage to head of a high-end hotel restaurant
Nipaporn Doungiaisantisuk did not know it then, but being sent away to live in an orphanage was the first step towards a culinary career far from her native hill tribe in rural Thailand.
Five-year-old Nipaporn Doungiaisantisuk took her father's hand and left their highland village in the Wawee District of Chiang Rai. They were going to visit her new school, he explained, and she followed with a spring in her step, delighted at the prospect of a new adventure.
At the school, her father and teachers chatted about her future in words she couldn't understand since she only spoke the dialect of her Akha hill tribe. When they were done, he told her to wait outside while he went to use the toilet. That was the last she would see of him for an entire year.
"I waited, had a snack and wondered why he was taking so long. Then evening came and I realised he was gone. He had slipped out from a different exit and I was all alone," she recalled.
Tuk, as she is now more affectionately known, wailed and stomped her feet as any five-year-old would. Why would her father leave her in this strange place? Did her mother know about this? When was she going home? No one had answers. No one understood her. No one in the orphanage spoke Akha.
"At first I was angry with my parents for sending me away, but as I grew up I realised that they did it because they wanted me to have an education and a good future," she said.
"One year later, when my father came to pick me up for my annual visit home, I was so happy to see him that I forgot to be angry and I jumped up to hug him. But over the years, my teachers always remembered my father because he was always late picking me up," she added cheerfully.
Tuk lived in that orphanage for 12 years, where she quickly learned to speak Thai while receiving an education. She grew so used to life there that by the time she reached secondary school, she barely made the annual trip home to visit her family.
School was engaging enough, but it was kitchen work that really captured her attention. Every day she quietly watched the kitchen come to life as the teachers prepared meals for the children. Once they noticed, the teachers roped her in to help at mealtimes. Tuk grew to become so adept in the kitchen that when guests arrived at the orphanage, her teachers left her in charge of the food.
"At first I was angry with my parents for sending me away, but as I grew up I realised that they did it because they wanted me to have an education and a good future." – Nipaporn Doungiaisantisuk
ON THE GO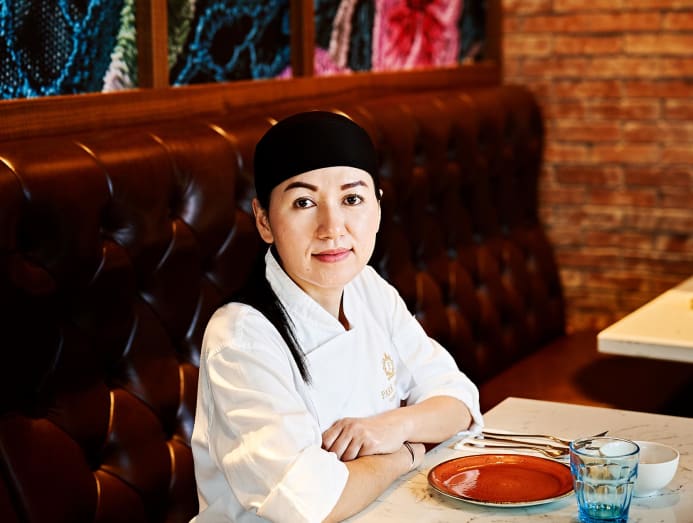 At university in Chiang Mai, Tuk studied Business English, a wise major for a future designed to blossom beyond the confines of provincial Thailand. Yet a restlessness pervaded her academic endeavours.
"I began to see that if I only studied English, this would be the rest of my life," she said, pressing her arms rigidly to her side to suggest standing stock still. "But if I learnt to cook, then I would be in motion, which is how I like to be."
During her third year of university, she enrolled at Chiang Mai Thai Cookery School and spent any free time she had outside of both schools working at a restaurant to pay off her student loans. She got a job at her cookery school after graduating, accompanying English-speaking tourists on morning market tours and teaching them how to make classic Thai dishes.
Three years later, she went to work for a government school where many students came from surrounding hill tribes, just like she did. There, she planned meals and headed quality control, but more than that, she was a constant comforting presence for the young children whom she understood deeply.
"The other teachers were married so they went home at the end of the day," she explained. "I am single so I stayed in the school with the kids. I loved them very much because they were a mirror to my childhood. I knew how to treat them and communicate with them."
After two years, Tuk finally returned home to her family in Akha to help an aunt open a hill tribe store. One fateful day, a customer she was chatting with mentioned that he was opening a Thai restaurant in Malaysia and was looking to hire a native chef.
"I said I was interested, even though I didn't have restaurant experience," she said. They kept in touch by email and before long, she landed a job as a kitchen helper at Tamarind Hill in Kuala Lumpur in 2008.
A WORLD AWAY
Tuk's is not the typical life trajectory of a woman from a Thai hill tribe. Many go on to marry and have families, and then devote themselves to caring for them. Her own mother woke at 4am every day to make a fire, prepare breakfast, feed the animals and pound rice with her feet, all with a baby boy strapped to her chest. The rest of the day was spent bent over in the paddy fields tending to the rice and corn.
"I am not married because I have a bad attitude," Tuk, now 39, said half-jokingly. "Even though I was so young, I always wondered why my mother did all this on her own. Why did no one help her? But this is just how it is."
Tuk's earliest food memories are of making nam prik pao or chilli paste in the pre-dawn hours with her mother, pounding the chillies, garlic and tomatoes with a mortar and pestle, which they would eat with hot steamed rice and vegetables throughout the day. This combination of rice, spice paste and boiled vegetables remains her favourite food, a warm comfort at the end of a busy day in her restaurant kitchen.
Now the Thai Speciality Chef at Park Hotel Farrer Park, where she helms Thai restaurant Blue Jasmine, Tuk parlays her childhood memories and culinary experience to a menu of Thai classics that span the regions of her home country. "There are not many Thai restaurants in Singapore's hotels, so I hope that I bring a real taste of Thailand to visitors here," she said.
While she admits to not feeling at home in Chiang Rai having moved away at such a young age, she says that it is still where she will retire.
"My family is there. I wouldn't say I'm very close to my parents and siblings, but they are my family. I have bought a house and some land there, so hopefully one day, I will go home and open a small business and spend time with my family. But while I have the energy now, I want to do and learn more."
Till then, the flavours of this plucky 39-year-old's life experiences will continue to spice up the menu that is currently available for takeaway while the "circuit breaker" keeps us at home.
"I wouldn't say I'm very close to my parents and siblings, but they are my family. I have bought a house and some land there, so hopefully one day, I will go home and open a small business and spend time with my family." – Nipaporn Doungiaisantisuk