Tiger Beer chief: Soon you can tap your own draft beer at home
The system, says Andy Hewson, managing director of Asia Pacific Breweries Singapore, "is a bit like one of those Nespresso machines, with a footprint the size of an A4 paper", and keeps the beer fresh for 30 days.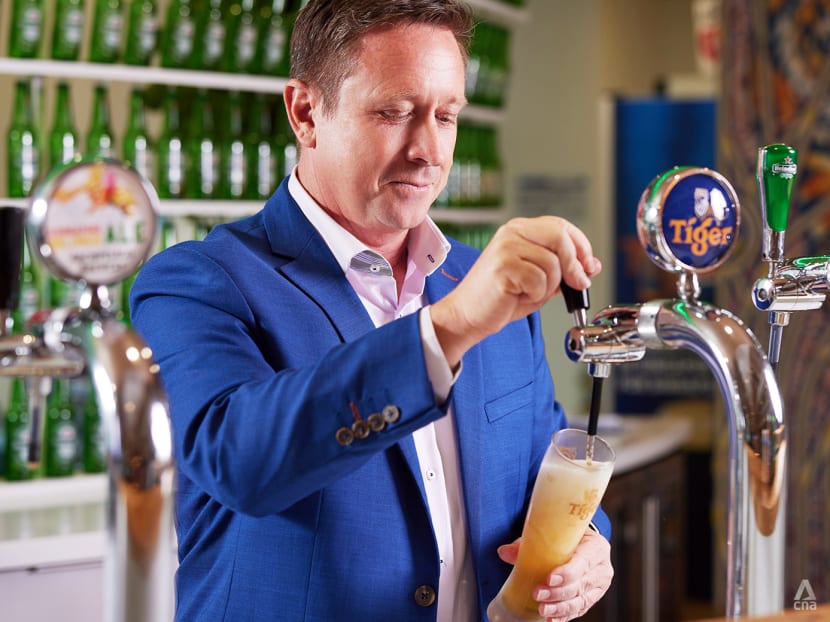 Cab rides for Andy Hewson often remind him why he is incredibly lucky to do what he does for a living. Whenever the Australian tells the taxi driver that he works for Singapore's iconic Tiger Beer, he receives an enthusiastic comeback.
"I get such an emotional response," said Hewson, 48, managing director of Asia Pacific Breweries Singapore (APBS). "It's such a privilege for me to lead this local beer brand."
Tiger Beer turns 90 next year – 2022 is also the Chinese zodiac's Year of the Tiger – a milestone that Hewson is looking forward to. "I didn't give birth to Tiger Beer but I'm like the stepfather who loves it unconditionally. I'm super excited. I see my job as continuing the legacy that was created by our [predecessors] at APBS," said Hewson.
He fondly remembers his first encounter with Tiger Beer during a family vacation in Singapore when he was a child: The quart 633ml bottles at a kopitiam had made an impression on him. His dad had joked that the reason behind the big bottles was because the locals loved the beer too much.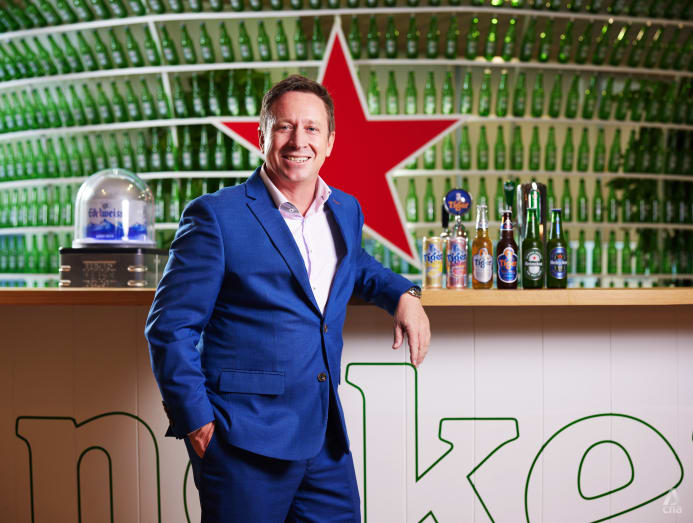 Before joining APBS in 2018, Hewson had a storied career in the FMCG and alcoholic beverage industries. After stints with dairy product manufacturer Goodman Fielder and spirits giants Diageo and Brown Forman, he joined The Heineken Company in 2011 as a manager of one of the beer company's breweries in the Solomon Islands.
"It was a bold move for me to leave my comfort zone of Sydney and stretch out to a developing country where there's a high level of poverty and unemployment," recalled Hewson, who grew up in Lake Macquarie, a coastal town in New South Wales. "[It was] a really eye-opening journey that I think helped developed my soul." In 2014, he was promoted to managing director of Grande Brasserie de Nouvelle-Caledonie, a Heineken subsidiary in the French-administered territories of New Caledonia. Four years later, he arrived in Singapore to helm APBS.
"It's such a privilege for me to lead this local beer brand." – Andy Hewson
APBS was originally founded as Malayan Breweries in 1931, the result of a joint venture between Amsterdam-based brewer The Heineken Company and local aerated water manufacturer Fraser & Neave. In 2012, Heineken acquired APBS, marking a new chapter for the local brewery.
"You can imagine that back then [in the 1930s], you needed a lot of refrigeration to brew beer, and we were brewing beer with ice blocks. Heineken was one of the first brewers to make beer around the equator," said Hewson. "APBS is like the jewel of our business in the Asia-Pacific. We export Tiger Beer and other beers from Singapore to about 50 other countries around the world.
"In the beer industry, it's all about human connection. Our company is a very people-centred business," he added. The company also has a philanthropic arm, APB Foundation, which was established in 1994. Last year, it donated S$75,000 to the Migrant Workers' Assistance Fund (MWAF). The money was used to support migrant workers whose daily necessities and livelihoods were affected by the circuit breaker restrictions.
SAME TIGER, DIFFERENT STRIPES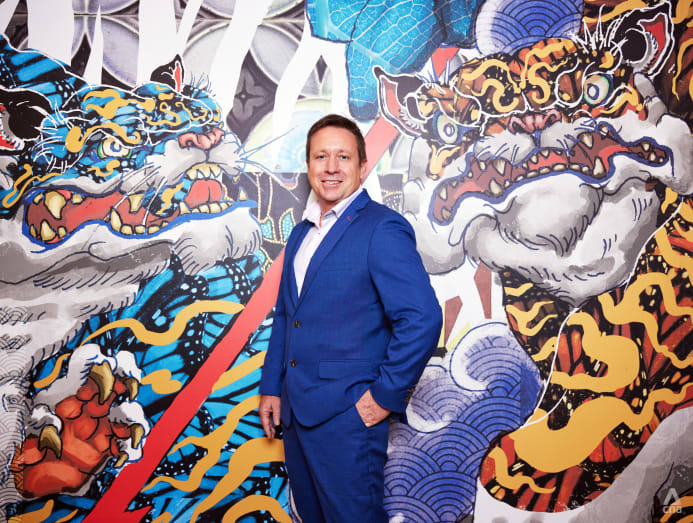 Coming from beer-crazy Australia, Hewson highlighted a difference between the drinking cultures in his home country and Singapore: The Aussies have always had a lot of pride for their local beers; in Singapore, this preference for local hops has only recently begun to take root.
"Until a few years ago, Singaporeans were looking overseas for their beer ideas; they looked at what's happening in Europe or in the craft beer scene elsewhere," opined Hewson. "What's happening lately is people are falling back in love with local beers. This trend is emerging; the similarity [with Australia's beer culture] is starting to come through."
To cater to changing consumer tastes, APBS has been focusing on turning Tiger Beer from a single product brand into a multi-variant brand, said Hewson. For example, Tiger Crystal, which was relaunched a year and a half ago, is "a sessionable or easy-drinking lager that is lower on bitterness". It is brewed using a -1°C cold filtration process to preserve its flavours and aromas.
Hewson said Tiger Crystal is designed for a Singaporean or Southeast Asian palate, in particular for a younger generation of drinkers who are more accustomed to sweeter flavours in their diet. According to Hewson, the beer has been a success. Other sessionable beers APBS has launched include Tiger Orchid Brew, an orchid-infused beer; and Tiger Radler, a category of low alcohol beers mixed with fruit juice, which were first introduced in 2013.
"I didn't give birth to Tiger Beer but I'm like the stepfather who loves it unconditionally." – Andy Hewson
"The upside of working for a global company like Heineken is we have 500 brands around the world, and under those brands we have thousands of recipes. Sometimes we can take a recipe and adapt it locally, as was the case with Tiger Radler," said Hewson. "For example, we launched Radler Pomelo, a flavour that can't be found anywhere else in the world."
Hewson said a new local flavour will be added to the Radler line-up come Christmas time, although he could not reveal the flavour now. The latest addition to APBS' stable of imported beers, which include Erdinger from Germany and Kirin from Japan, is Edelweiss, an Austrian wheat beer brewed with mountain herbs.
The introduction of Edelweiss was a response to the trend for sweeter beers, a category that is supported by wheat beers, said Hewson. "Edelweiss has this beautiful floral aroma and taste. Female drinkers would love this more than the traditional lager," he said. APBS is also planning a joint collaboration with Brass Lion Distillery, a local distillery known for its gins with Asian flavours.
Hewson hinted that the project will be about "mixing spirits and beer together". "We think the next chapter of the alcohol scene in Singapore is all about local beers and spirits. We will have the first Southeast Asian craft brewers emerging out of Singapore," he said.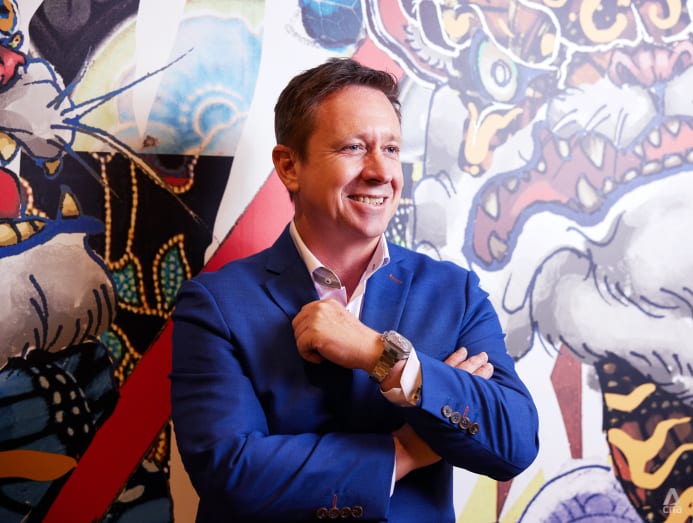 TAP YOUR OWN BEER AT HOME
Beers aside, APBS is also planning to sell Blade, an 8-litre compact countertop draft system, to consumers in late December. It will offer Heineken or Edelweiss for the system. Soon you can tap your own beer at home.
"It's a mini draft beer system that is a bit like one of those Nespresso machines, with a footprint the size of an A4 paper," said Hewson on Blade. "It keeps the beer fresh for 30 days."
Currently, APBS is promoting Blade to small restaurants and bars in the hope that the technology will allow them to have "a point of differentiation". "About 80 to 90 per cent of all beer consumed in bars in Singapore is via draft. Consumers see [draft beer] as fresher and higher in quality. So restaurants without draft systems are at a disadvantage," he said.
"We felt we needed to offer this technology to the F&B businesses first, especially since the industry is having a tough time at the moment. The next step is to offer Blade to VIP customers and households. We do think there are people like me who love to entertain at home and can quite easily finish 8 litres of beer in 30 days."
"Until a few years ago, Singaporeans were looking overseas for their beer ideas… What's happening lately is people are falling back in love with local beers." – Andy Hewson