The F&B entrepreneurs behind Singapore's popular Muslim-friendly eateries
The Black Hole Group has been quietly making waves in Singapore's casual dining scene with restaurants and cafes such as Tipo, Working Title and The Great Mischief. This is their story.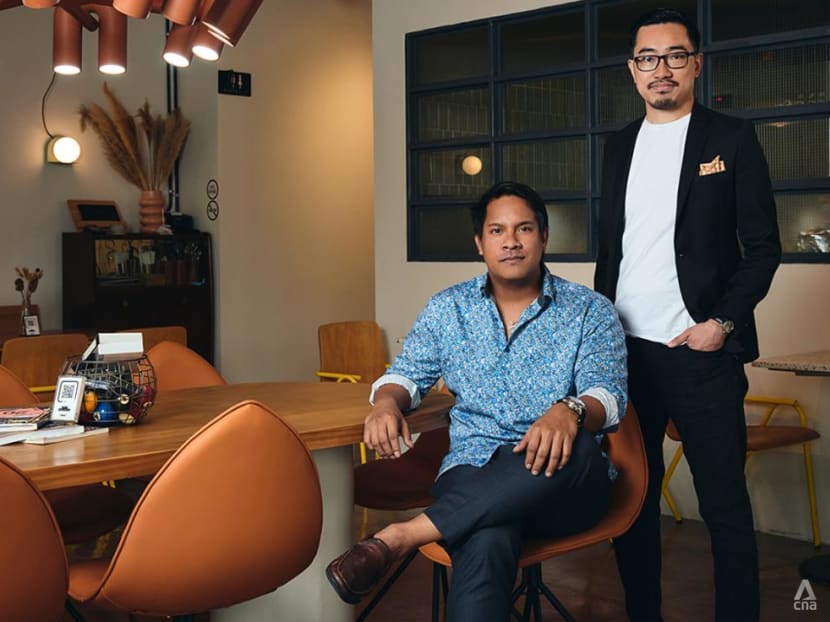 It all began in 2012 with a single hostel. Former junior college classmates Mustaffa Kamal and Calvin Seah, who were both 27 years old at the time, had gotten together to open the now-defunct Shophouse, a five-storey backpacker hostel located in Arab Street.  
The ground floor of the hostel was rented out to a separate cafe operator but when that agreement abruptly came to an end, the pair found themselves with an empty space to fill.
Within a month, they ended up opening their own cafe selling gourmet burgers and artisanal coffee, learning how to cook from scratch. They gave the cafe the temporary name of Working Title, which eventually stuck.
It didn't matter that neither of them had any F&B experience. They were determined to make it work. To save on costs, the pair salvaged furniture from back alleys, repurposing them for use at the cafe. 
They hired Sufi Hassan as the cafe's operations manager, who was then only 22 years old. After studying in the UK for a period of time, Sufi returned to Singapore and joined the pair in their entrepreneurial journey.
Together, the trio would go on to open several Muslim-friendly F&B concepts across Singapore. These include popular handmade pasta restaurant Tipo Pasta Bar and Mexican taqueria Afterwit on North Bridge Road, Greek restaurant Ela in Bukit Batok, and Catalan-inspired restaurant The Great Mischief at the National Gallery.
Ranging from Greek and Italian to Mexican and Spanish cuisine, the Group's concepts are so diverse that it's not immediately obvious that they belong to the same company. The brands are all housed under The Black Hole Group, with Mustaffa as chief executive officer, Seah as chief financial officer, and Sufi as chief operating officer.
So, how did a single, tiny hostel cafe birth an F&B group with seven brands and 10 outlets under its belt?
'WE ENJOY CREATION'
I meet with Seah and Sufi one weekday afternoon in February at the Working Title Riverside, the group's latest outlet that had just opened days before. Mustaffa was out of town at the time of this interview.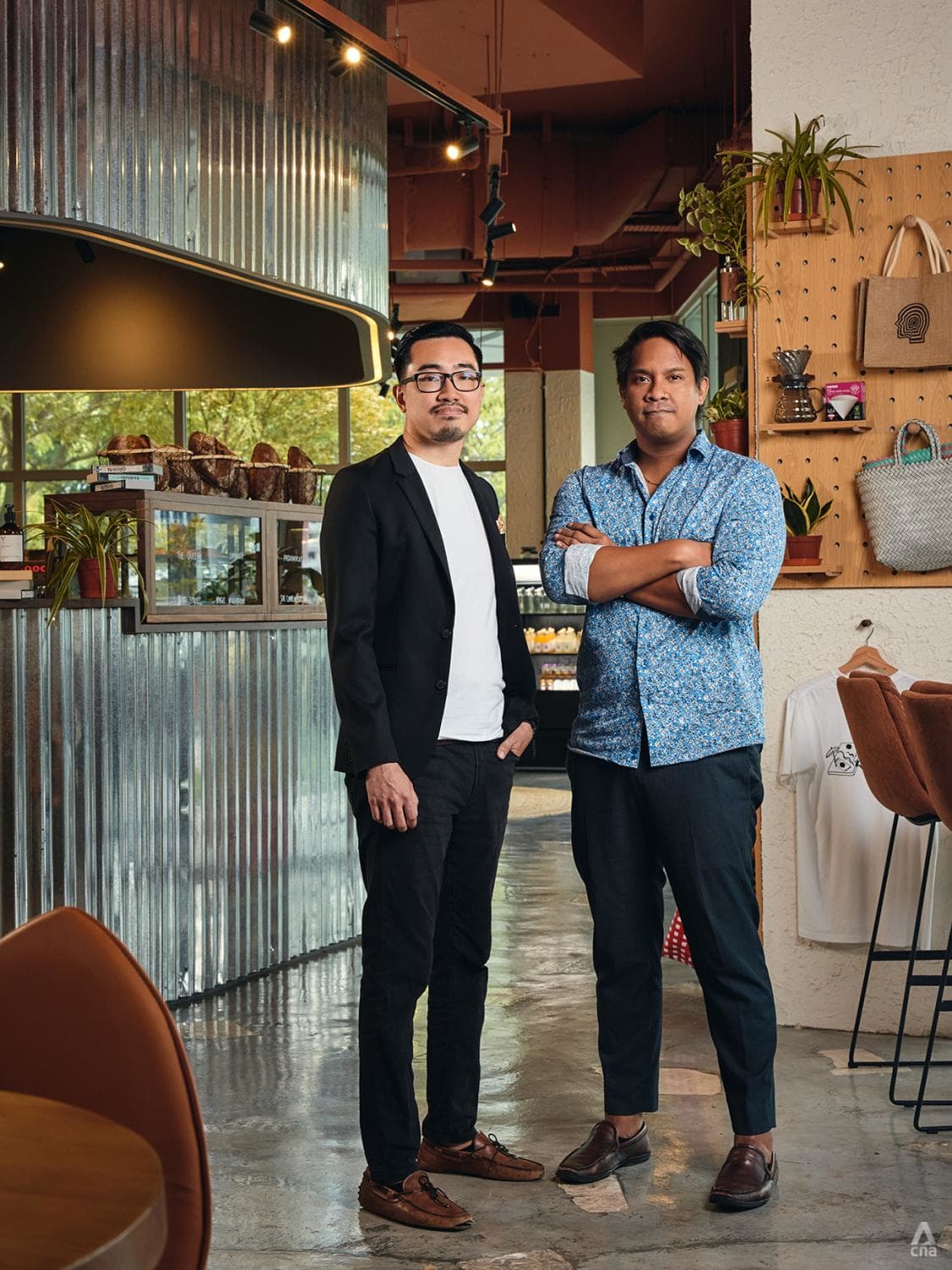 Located on the ground floor of Kallang Riverside Condominium, the restaurant is a symbol of just how far the F&B group has come. It's a stark contrast to the original Working Title outlet, which closed its doors in 2018.
Here, natural light spills in. The high ceiling is painted a joyful shade of brick. There are photo-worthy spots in every corner, with funky lighting punctuating the vast space. Graphic illustrations line its walls. Outside, there's a pet-friendly alfresco dining area. There is also a nursing room for mums, bicycle racks for cyclists, and a prayer room for Muslim diners.
In Seah's words, the new outlet is "what Working Title wished it could be". "For all our outlets, something we always ask ourselves is how can we make a concept as complete as possible? Because it's not just about the food. It's also the ambience, the decor, the music that pulls everything together."
Indeed, diners at several of The Black Hole Group's concepts immediately notice the amount of thought and effort put into the design of its spaces. Back when The Great Mischief first opened at the National Gallery in September 2021, its pastel-hued interiors, plush scallop chairs and terrazzo tables were trending on Instagram and TikTok.
"We base ourselves on three main pillars – quality, experience and artisanal. Customer experience is important to us, it makes a difference in the kind of tables, for example, that we put into a space," lent Sufi. "As for artisanal, we enjoy creation, and creation from scratch. So at Tipo Pasta Bar, making our own pasta allows us to be really in control of flavours. At Working Title, we make our own burger patties."
All its brands follow halal guidelines in order to be Muslim-friendly. "Personally, I felt like the Muslim community in Singapore were being shortchanged in terms of the quality of food and the kind of variety that we have," said Sufi.
"We've always seen ourselves as inclusive. As a non-Muslim myself, people always think that halal food is for Muslims. But actually, because it's halal, it's for everybody," added Seah. "When we come up with a new menu, we always do our research to try to cater to everyone. This includes vegans, vegetarians, people who like fish, people who like chicken."
"We've always seen ourselves as inclusive. When we come up with a new menu, we always do our research to try to cater to everyone." – Calvin Seah
AN EXPERIMENTAL CULTURE
For those curious to know how the name The Black Hole Group came about, Sufi shares that it was inspired by the staff themselves. "Back at the original Working Title, we would see staff working past their shift hours, or coming back on their days off just to hang out. We used to joke that it sucked people in."
Several of the company's current staff members were part-timers at the first outlet. "That's the special thing about The Black Hole Group. Our part-time staff were young students who were willing to start somewhere. We took in anyone, even those who didn't know how to cook. That formed a learning culture in the company," said Sufi.
It's a culture that harkens back to the early days of The Black Hole Group, when Seah and Mustaffa first opened Working Title. The team may have had close to zero experience in the F&B industry, but Seah believes it has turned out to be one of their strengths. "We had no boundaries, no baggage. There was no one to tell us how to make a good burger. This still helps us today in terms of having no boundaries when it comes to creating new dishes."
"We don't consider ourselves professionals in any way," Sufi added. "Everything that we've done, we've had no reference as to how it was done before. But what we really value in our staff is the willingness to delve into it and find out what we didn't know."
When Tipo Pasta Bar first opened, it was one of the first Muslim-friendly restaurants in Singapore to allow diners to build their own pasta. Now at Working Title Riverside, the team is running its own bakery for the first time.
Sufi commented: "We've always seen our business as experimental. It's okay for us to try, it's okay for us to fail. The important part is how we keep improving from there."
"We've always seen our business as experimental. It's okay for us to try, it's okay for us to fail." – Sufi Hassan
NO WINNING FORMULA
The pandemic may have put a dark cloud over the F&B industry, but to emerge from these difficult times, The Black Hole Group is pressing ahead with its expansion plans. Aside from launching new concepts during an ongoing pandemic, the team also revived existing brands with refreshed menus and refurbished spaces.
There are plans to open two more outlets in the next quarter, and another two more at the end of 2022. Regional expansion is also on the cards. "The consensus was that we had to grow to survive. Maintaining status quo would have crippled us," Seah shared.
When asked if starting out as F&B entrepreneurs at a relatively young age has made them more ambitious, Seah answered with a laugh, "Foolish is the word".
"We're young enough to be foolish, not knowing what's ahead. But with foolishness comes resilience and grit, committing to what we've promised ourselves to get into," Sufi chipped in.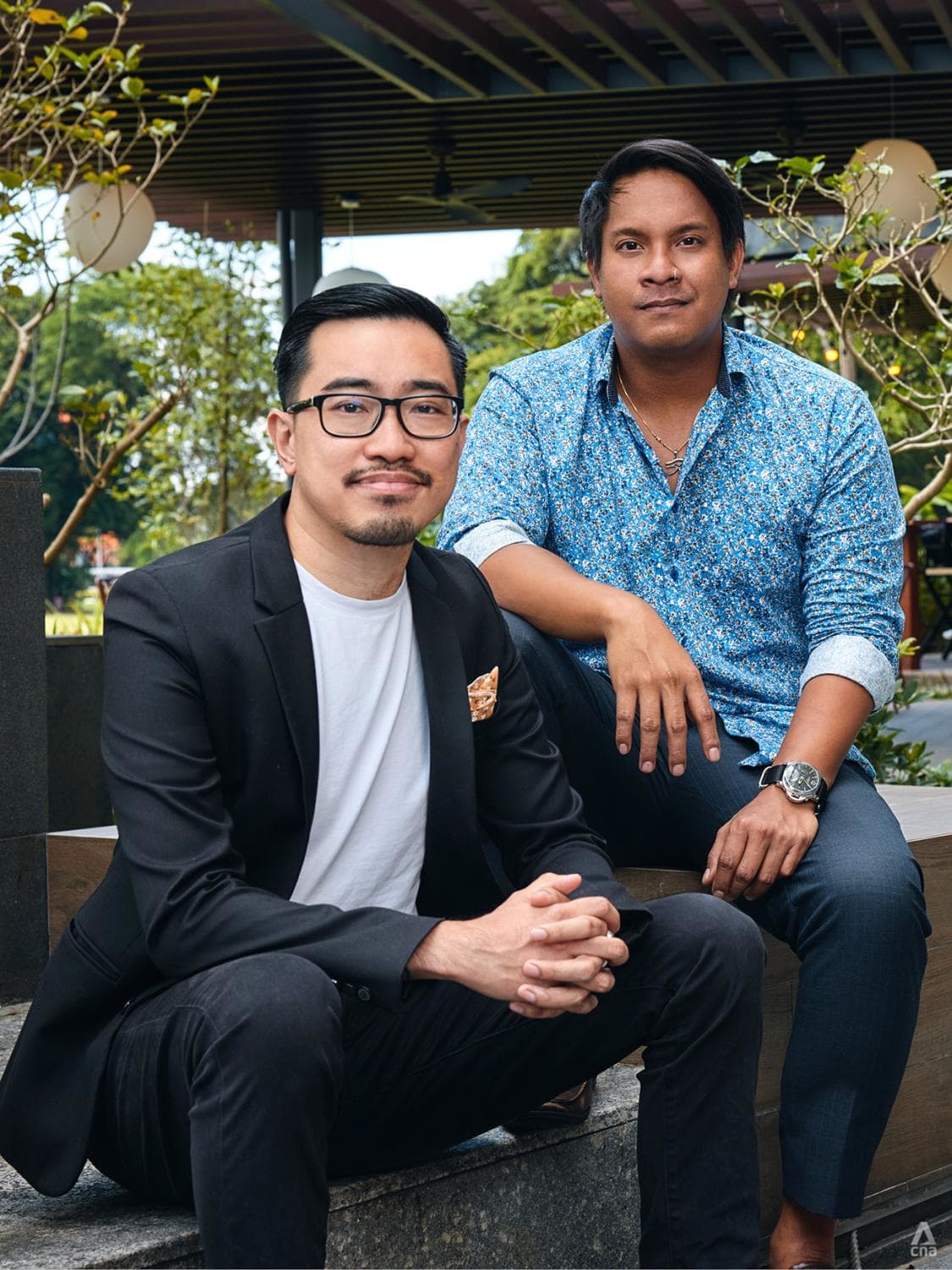 The team envisions The Black Hole Group as a "world-class lifestyle brand". They see "endless opportunities" beyond F&B and dream of opening their own artisanal grocery, arts studio and boutique hotel.
In the meantime, whether it's the menu, cuisine, or design of the space, diners can count on each of The Black Hole Group's outlets to be unique. As F&B entrepreneurs, the trio do not believe in starting up a chain of the same restaurant based on one concept that works.
"With a chain restaurant, it's easy to replicate. But we don't like to rehash the winning formula. The winning formula always changes. Figuring out what works is the sadistic yet enjoyable part. It's what keeps us on our toes, keeps us awake at night," said Seah.
As Sufi summarised, "With all the joy comes equally all the struggles. And the struggle is real."
"We don't like to rehash the winning formula. The winning formula always changes." – Calvin Seah