Tok Tok, Rumours Beach Club: The entrepreneur bringing Indonesian flavours to Singapore's dining scene
Mark Soetantyo leads the culinary arm of his Singapore-based family business, Blue Waves. He shares his vision of taking Indonesian cuisine to the next level.
If you're a frequent visitor to Sentosa's Rumours Beach Club, you may have spotted its owner occasionally by the poolside.  
The man is none other than 37-year-old Mark Soetantyo. He's the CEO of Blue Waves Group, the parent company of Rumours Beach Club. Founded by Soetantyo's father and headquartered in Singapore, Blue Waves Group has a wide-ranging portfolio in processed food manufacturing, F&B, milk production, hospitality and retail. Its business presence stretches across Singapore, Indonesia, Australia and Japan. 
Soetantyo – also known as Pak Mark to his staff and colleagues – also leads the group's culinary arm, Blue Waves. Aside from Rumours Beach Club, brands under the group include Indonesian eateries Tok Tok Indonesian Restaurant, Tok Tok Indonesian Soup House and Kota88 in Singapore. It also owns the Singapore franchise license for Hokkaido coffee cafe Baristart, which currently has two outlets in Tanjong Pagar and Sentosa's Siloso Beach.
Soetantyo grew up in Jakarta before moving to Sydney, Australia for university. Upon completing his studies, he ended up staying in the Australian coast for ten years, where he established a career as a freelance graphic designer. In 2016, he relocated to Singapore to help out in the family business.
FAMILY DUTY
I meet with Soetantyo on a weekday afternoon at the Kota88 restaurant on East Coast Road. The Indonesian Chinese restaurant serves dishes such as nasi campur babi (pork mixed rice), mie goreng special Kota88 (special fried noodles with beef, pork and Chinese sausage) and sate babi (Chinese Indonesian style pork satay).
It is designed to resemble an old school Chinese eatery with modern touches. At the bar, there's a flashing neon sign in Mandarin, which translates to "eat till you are satisfied". 
Kota88 is one of the unique Indonesian concepts that Soetantyo has introduced to Singapore. While Singaporeans are familiar with dishes such as nasi padang and ayam penyet, there are many different types of Indonesian cuisine to explore, he said.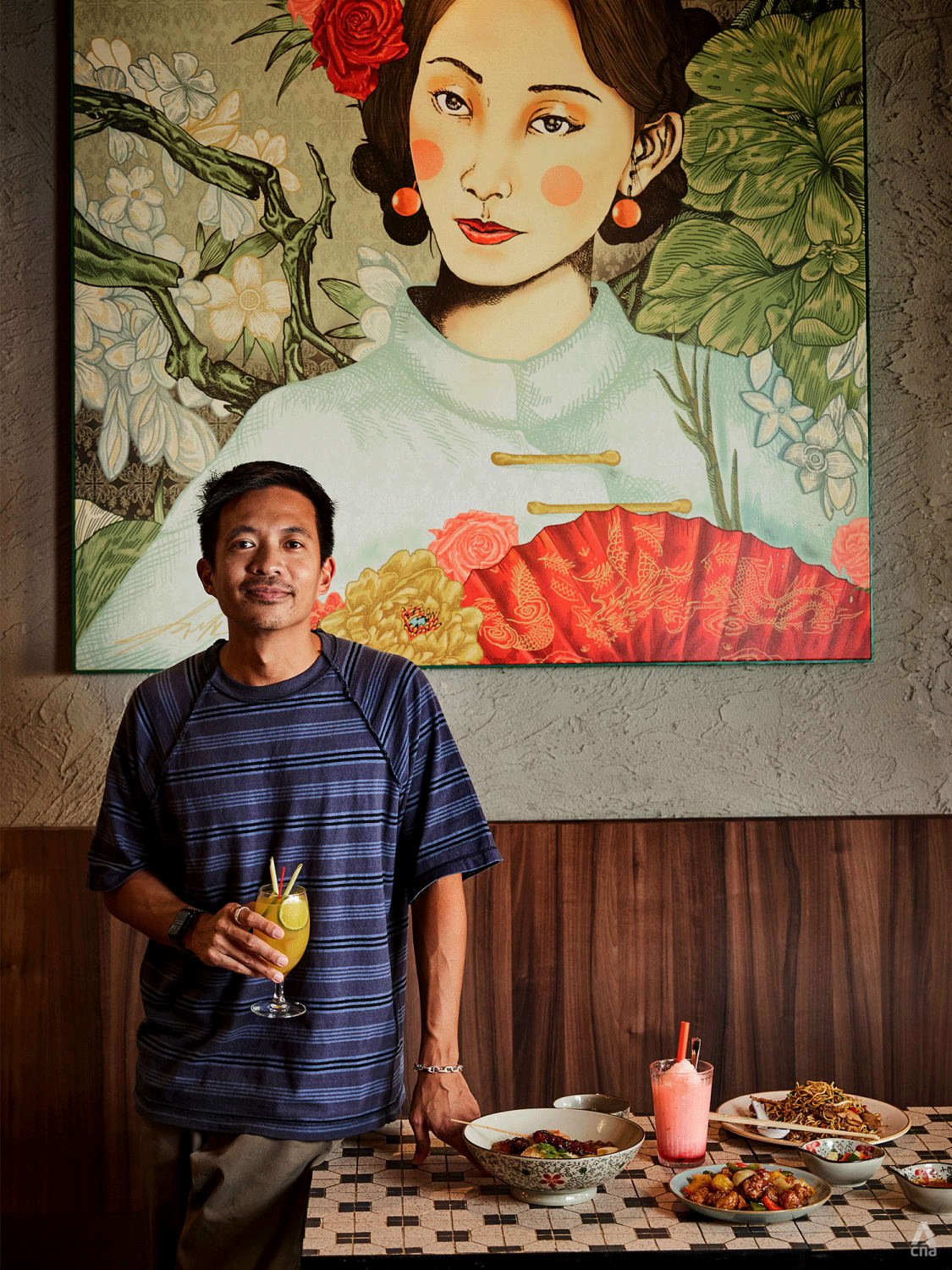 Dressed casually in a T-shirt and sweats, Soetantyo shared with me that at first, he was hesitant to join the family business. Back when he was still in Australia, "there were always moments where my father would ask, when are you moving back to Indonesia or Singapore to help with the business? As a young adult, I tried to rebel and do my own thing."
Eventually, a sense of responsibility took over. When he moved to Singapore to join the business, he was in his early 30s.
"I think it comes with age and maturity when I realised that you know, it's a family business, there's no harm or risk to be involved," Soetantyo, the oldest of three children, said. His brother is also currently involved in the business on the management side, while his youngest sister is a chef who runs an Indonesian restaurant in Australia.
THAT INDONESIAN TWIST
In a way, food has always been in his blood. Soetantyo recalled that growing up, his parents had always been involved in the F&B scene. In the 1990s, back when fast food chains McDonald's and Burger King were expanding in Asia and the burger trend began taking off, his mother launched her own burger restaurant in Indonesia. It didn't do very well but in 1996, his parents started Italian restaurant Toscana, which still exists in Jakarta today.
After joining the business, one of the first things that Soetantyo wanted to do was to incorporate his passion for coffee. Back in Jakarta, the avid coffee drinker had opened up his own coffee shop together with some friends, although he is no longer heavily involved in the business.
While on a search for coffee during a business trip in Sapporo, Hokkaido, he chanced upon Baristart Coffee. "What surprised me was that instead of asking me the type of coffee beans I wanted, they asked me what type of milk I wanted," he said.
In Japan, Baristart is known for its use of high-quality Hokkaido milk in all its offerings. A chance meeting with the brand's founder resulted in a business partnership which saw Blue Waves opening up two Baristart outlets in Singapore.
Rumours Beach Club came about when the group was approached to operate a beach club in Sentosa. It opened its doors in 2019 but while the Rumours brand is relatively new in Singapore, it has existed in Bali for almost 15 years as a casual sports bar. The beach club in Singapore aims to bring the Bali beach vibe and experience to Sentosa, catering to everyone from party-goers to families. It serves Jimbaran cuisine and features three swimming pools, a VIP area, beachfront area and more.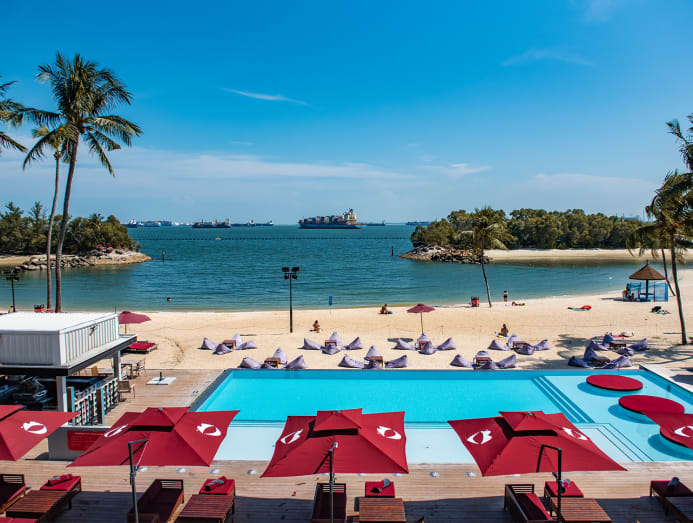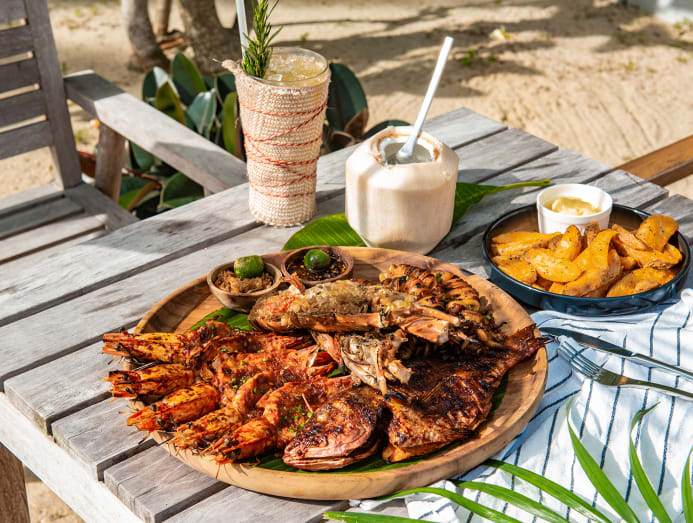 Meanwhile, Tok Tok Indonesian Restaurant, located on Joo Chiat Road, is a family dining concept with signature dishes such as batagor (fried tofu), ayam bakar bertutu (Balinese grilled chicken) and soto betawi (Jakarta beef soup). Tok Tok Indonesian Soup House, located in 313 Somerset, serves a variety of traditional Indonesian street food. 
Prior to its closure in February, the group also ran Sama Sama, a restaurant in Jewel Changi Airport serving Indonesian home-style comfort food.
On what ties all the concepts together, Soetantyo said it's the Indonesian influence. "Every F&B operator wants to be the best. But what makes us different is the Indonesian twist, not just in our food offerings, but in terms of our service. Those who have been to Indonesia, to Bali, Jogja, Lombok and more, are always amazed by the service, where the staff are always smiling. That's what we're trying to bring into Singapore, that sense of hospitality," he shared.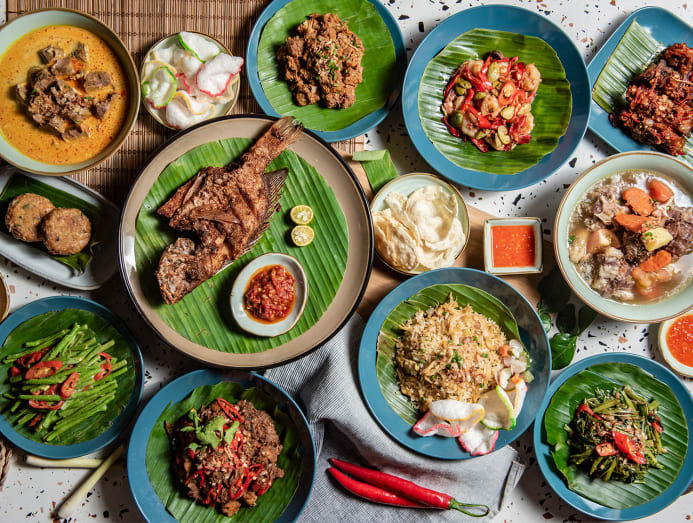 One of Soetantyo's goals is to take Indonesian cuisine to the next level. "It's quite a challenge for us as people associate Indonesian food with affordable food. But we can really push Indonesian cuisine to the next level in terms of the ingredients, cooking techniques and everything else. It can be a Michelin-star level of cooking. In Singapore, the closest thing to that is Peranakan cuisine. Indonesian cuisine still has a long way to go, but we are trying."
CREATIVE PURSUITS
One of the perks of running a beach club is the ability to laze by the poolside anytime you want. But Soetantyo admitted that casual visits sometimes turn into work meetings. "It's a mixed feeling because sometimes I want to go there just to relax, but I end up working. I need to wear a disguise when I go there," he said with a laugh.
The father of two is also fond of bringing his two young children, aged six and two, to the club. Weekends for the busy entrepreneur are usually filled with family time. If time permits, he works on some of his creative passion projects outside of the family business, including his own streetwear label, Nothing.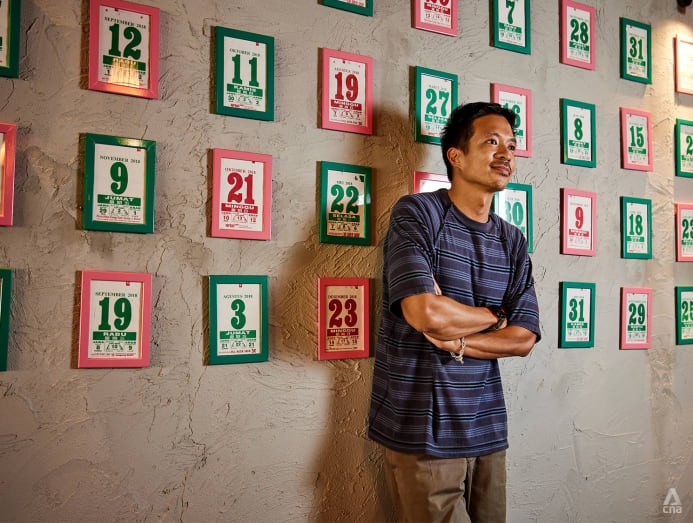 "I've always been interested in design, fashion and architecture. When you have a nine to five job, sometimes you need to refresh your mind. Working on these projects is like a form of stress relief for me," he shared. "Although sometimes when I am working on them, they make me stressed. But it's a different kind of stress!" he added.
In fact, Soetantyo's background in graphic design has come in handy with the business. According to his staff, he plays an active role in the company's marketing efforts. He is also heavily involved in discussions on the design of the group's restaurants.
Despite leaving his design career behind to help with the business, Soetantyo believes there are parallels in the creative industry and the F&B scene. "The F&B industry involves a lot of creativity, in the kitchen as well as in the service. It's both interesting and challenging at the same time. It's kind of addictive, how chaotic and hectic it is."
SIZE DOESN'T MATTER
Having just emerged from the throes of the pandemic, Soetantyo shared that the company is taking the time to take stock of where they're at. "When I first moved here in 2016, we grew quite fast. We were quite ambitious in terms of expanding the group. But COVID taught us to slow down and really make sure our concept, business plan and everything is on point."
Instead of aggressively starting new brands, the focus for now is to look at perfecting and building upon its existing concepts. "There are a lot of opportunities within our current brands. There are a few possibilities," Soetantyo said.
For one, the team is currently in the midst of expanding Baristart around Asia. A Baristart coffee roastery is also scheduled to open in Singapore in 2023. Soetantyo is also mulling the idea of opening a "different kind" of Rumours club, this time on the main island. Meanwhile, the existing Rumours Beach Club in Sentosa is undergoing renovation, scheduled to complete in end September 2022. 
Upcoming plans will depend on the pandemic situation, Soetantyo shared. "We're currently in a new normal, with restrictions just relaxed and borders now open. We're looking at what's going to happen in the next six, eight months to a year. If the situation is okay, we'll start rolling our plans."
When asked about the overall vision of the company, Soetantyo had this to say: "I don't want to be cliched, but as with many F&B operators here in Singapore, the goal is to be one of the best. Not necessarily in size, but in terms of concepts. It doesn't really matter if we have 50 restaurants or five – as long as they are really unique, people want to try them, and they keep coming back."