Udders' husband-and-wife duo on what it takes to create a successful Singaporean ice cream brand
What started as a hole-in-the-wall ice cream shop in Novena has now evolved to become a household name in Singapore. The founders of Udders reflect on their 16-year journey and detail what's next for the homegrown brand.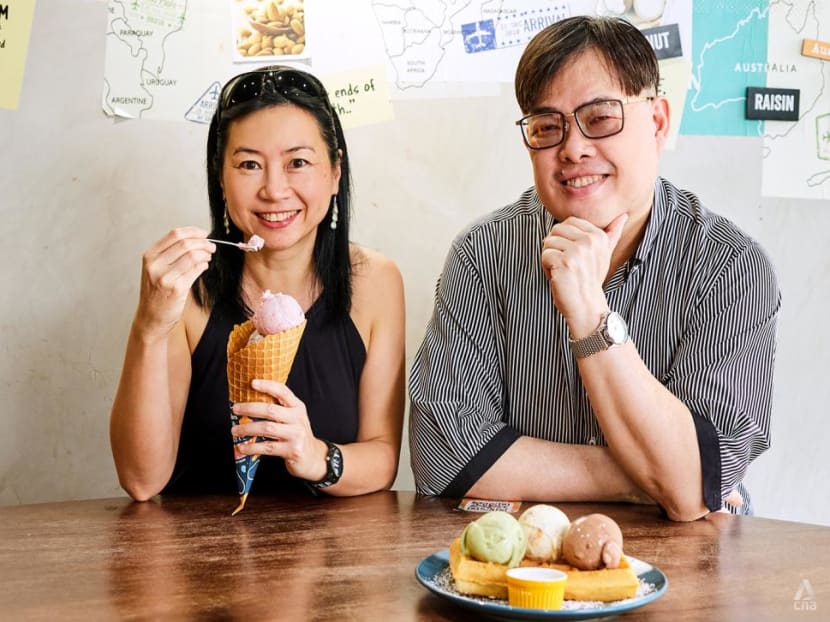 In my teenage days, my friends and I regularly found ourselves at Udders' ice cream parlour after school hours and on weekends. As Easties, the Siglap outlet was our go-to hang out place, where many fond memories were made, and many scoops of ice cream were eaten.
Founded in 2007 by husband-and-wife duo David Yim and Wong Peck Lin, Udders is known for its bold and unusual flavours. In particular, my favourite was the Snickers, Mars, Honeycomb and Vanilla flavour, but the alcoholic concoctions, the likes of Rum Rum Raisin and Bailey's & Bourbon, were also popular with Singaporeans in general.
Sixteen years since its first outlet was opened in Novena, Udders is still thriving. In fact, it's a sprawling business with six outlets and 350 retail points across Singapore and Jakarta, Indonesia.
All that despite having to compete with a spate of new local ice cream brands that have popped up in recent years. The secret to the brand's sustained success? Learning on the go, relentless innovation and marching to the beat of their own drum.
MAKING THE WORLD A BETTER PLACE
The journey towards building Udders to what it is today was one filled with hard work and determination. Prior to starting the ice cream business, neither Yim nor Wong had any experience in F&B. At the time, Yim was working as a teacher while Wong was a consultant.
"We really learned on the job. The first four months before we started, we spent many hours a day making a lot of ice cream in our kitchen. We were eating ice cream till the early hours of the morning. That first four months was a bit crazy, but at the end of it, we were able to finalise 12 flavours, and that's how we started our first shop," Wong recalled.
The pair was driven by a desire to "do something different from our usual corporate jobs", Wong added. "There were three reasons why we wanted to start Udders. The first was to create something aligned with our personalities. The second was to create a business that could afford us financial freedom. And the third is to bless our staff with the financial returns we generate from the business."
Fun fact: Before the couple eventually decided on ice cream, they were toying with the idea of starting a burger place.
"It was food for me," shared Yim. "It just so happened that the ice cream machine I ordered came first before the burger maker did. So I started experimenting on ice cream. When the burger maker came, I just didn't have time."
Call it fate, but the decision certainly paid off. "One of the reasons why we chose to do ice cream was because it's a product that can be enjoyed by anyone around the world. It travels well across borders and can be scientifically controlled. It's not dependent on a chef, which is good for expansion. We could see the brand scaling," Wong explained.
Beyond practicality, ice cream also brings joy to people, which is why the founders believe in the importance of having fun with the brand, as encapsulated in its signature bright orange hue, quirky branding and cheeky slogans.
"Life can be hard for some people, it can be very serious. But with ice cream and with the brand, if we can just help people to forget their troubles for a moment, I think we would have made our little contribution to making the world a better place," Wong mused.
GROWING THROUGH THE YEARS
Today, Wong oversees branding, marketing, business development and sales while Yim is in charge of outlet operations and product development. The pair fondly remember the early days of Udders. "Our first shop [in Novena] was really small. It was only about 20 seats, 500 sq ft," said Wong.
"That's including the toilet," Yim quipped as Wong continued, "Oh yes, so excluding toilet, about 400 sq ft."
That tiny, hole-in-the-wall ice-cream shop has now evolved into a well-recognised homegrown brand. While this writer's favourite Siglap outlet shut its doors in 2019, Udders' retail footprint currently includes six stores across the island.
In 2018, the company expanded into manufacturing. Udders ice cream pints are currently available at supermarkets such as Giant, Sheng Siong and Fairprice Finest, as well as convenience stores such as Cheers.
They are also available in the air on board Jetstar and Singapore Airlines flights. The latter is a "dream come true" for the founders. Commented Wong: "That was a big milestone for us. It was a long shot but we are glad it came through because it's our national carrier, which happens to be one of the best in the world."
Wong calls this expansion a "big shift in everything". "We were going from just running shops to running a manufacturing operation. The logistics was a bit crazy, because we were now sending our products everywhere," she said.
Having charted significant growth over the years, is there a recipe to the success of Udders? "We continually invest in R&D and product development," shared Wong. To keep abreast of trends, the company continuously comes up with new flavours, including vegan flavours, low calories flavours and halal flavours. "It is very important for us to be able to keep the business fresh and interesting."
FROM COOKIES & CREAM TO "KIMCHI"
Indeed, Udders' online website touts more than 100 flavours. They range from standard flavours such as Cookies & Cream and Awesomely Chocolate, to more unusual flavours with an Asian twist, such as Singapore Chendol, Thai Iced Tea and Muah Chee.
Coming up with a new flavour can take between 10 and 50 tries and sometimes several years, "depending on how determined we are to get it right", Yim revealed. "Our Botak Coconut flavour took around 50 tries. I tried 20 versions before giving up. We waited another two years before trying again. Finally in the third round, we succeeded."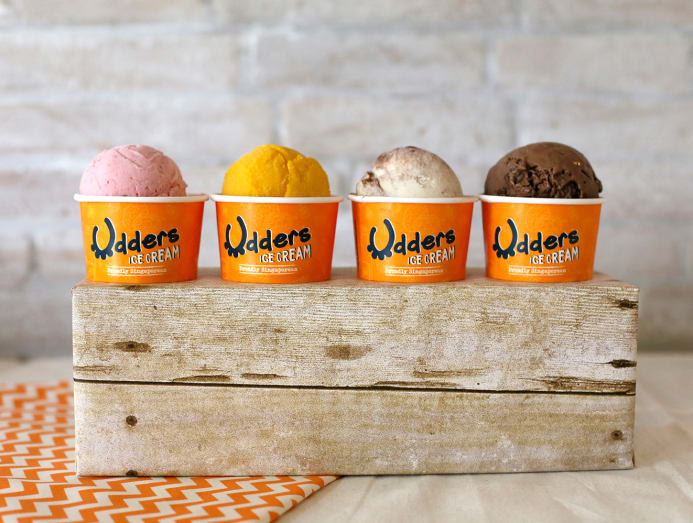 Udders also regularly collaborates with local brands. Its collaboration with beauty brand Kinohimitsu sparked the creation of what is touted as the world's first collagen ice cream. The company also teamed up with Brewerkz to come up with beer-infused ice cream flavours.
The team is not afraid to experiment with any flavour under the sun, even down to the truly bizarre. They once came up with a kimchi ice cream flavour, which was served to journalists at the Media Centre of 2018's Trump-Kim Summit in Singapore. "Kimchi started off as a joke. Our chefs are quite cheeky. One of their aims in life is to freak David out," Wong laughed. But to the team's surprise, the flavour was well-received by Korean journalists at the summit.
"We are inspired by whatever we eat and the whole point is to just try. The flavours may or may not work. In fact, most of the time, they do not come to fruition. But the important thing is that we tried," said Yim.
NEXT STOP, SOUTHEAST ASIA
Having established itself on home ground, the next stop in the journey of Udders is expansion into overseas markets, starting with the Southeast Asian region.
In January 2022, the company opened its first international outlet in Jakarta, Indonesia. The double-storey ice cream parlour is a trendy yet comfortable space featuring swing chairs and a golden spiral staircase. It offers almost 30 Udders flavours, including flavours created specifically for the Indonesian market. These include Fermented Cassava with Cheese and Sumatran Coffee.
Wong describes Indonesia as a "natural market" for Singapore brands to expand into. "Indonesians are pretty familiar with some of the stuff that goes on in the Singapore scene," she explained. "Pre-COVID, they used to travel here often, whether for medical, business or studies."
At present, the company also exports its ice cream to Malaysia and Vietnam, with China in the pipeline.
"We're hoping that our overseas expansion will pollinate more ideas back here. As we gain more experience in Indonesia, Philippines, China and Vietnam, the ideas that we generate will contribute to the dynamism of the company as we continue to keep the brand top of mind and exciting," said Wong.
"A TOTAL COMMITMENT"
Working closely together as husband and wife no doubt has its pros and cons. How would the couple describe their experience? "It can be a bit of a disadvantage at times, because work tends to carry into family discussions, even with our kids," Yim admitted.
"I think we try to draw a line. Otherwise, it just never ends," Wong added. There are also benefits to being a husband-and-wife duo, she continued. "There's a total commitment to work things out. There will always be differences, even amongst business owners who are not married because we're all different people. But for us, we are committed to seeing our differences as a strength."
Udders is the couple's third baby, as they are also parents to a 21-year-old son and a 16-year-old daughter. Do they see their kids taking over the business one day? "I don't think so," Wong believes. "My son is looking to go into medicine. My daughter is still too young. She only likes to eat ice cream, she won't enjoy running an ice cream business!"
LESSONS IN ENTREPRENEURSHIP
On what the couple has learned throughout their 16-year entrepreneurship journey, Wong says it's the importance of "listening to your own inner voice". "In running a business, there's a lot of things going on. People can say different things and it can get really confusing. But at the same time, we have our own internal compass that we should follow. Otherwise, you're just going to be the same as everyone else."
Yim believes that one should "keep learning, never be satisfied or keep still". With many uncertainties in the business world, it is also important to be "comfortable in the uncomfortable", Wong added. "It's quite scary [to start a business]. We started Udders quite late. We were 36 years old and by then, we had been employees with our own corporate and teaching jobs, which was a more peaceful life," she admitted.
But the couple has no regrets. How do they feel about turning Udders into a household name? "It's quite an honour to be one of the earliest local ice cream brands. Back when we started in 2007, the main players in the market were your American brands," Wong replied.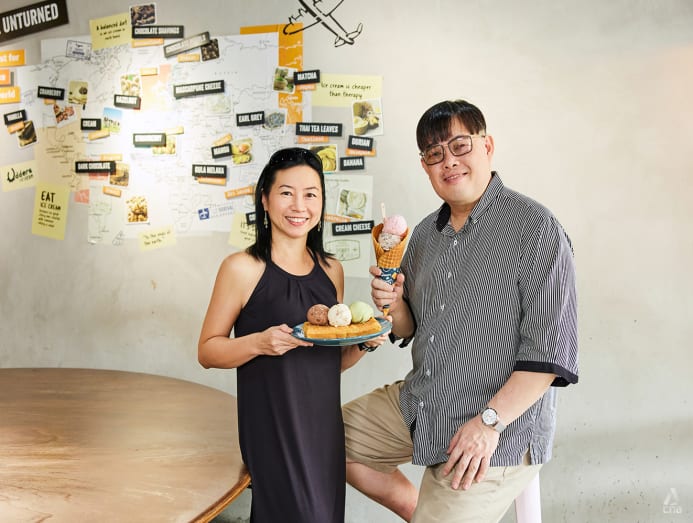 During that time, there wasn't a category called "local ice cream", but now, one can find a plethora of homegrown ice cream parlours serving up all sorts of creative concoctions, from exotic flavours to botanical creations and vegan offerings.
Wong reflected: "I'm glad we ventured into this space when it was very new, and that it has basically become a category in itself."
This Or That With The Founders Of Udders
Brunch or supper?
Wong: Brunch! if you eat too much during brunch, you can work it off because it's still quite early. But if it's supper, I have to go to sleep, then I feel very bad.
Yim: It's neither for me. I am trying very hard to have only one meal a day, and that's dinner.
Early mornings or late nights?
Wong: It used to be late nights, but now it's early mornings. I feel better when I sleep and wake up early. When I wake up while the world is quiet, I also have the chance to do my little ritual, which is to write down one thing I'm grateful for and popping it into the cookie jar.
Yim: Late nights for me. My hobby is dabbling in the US stock market, and it opens at night.
Wong: A very practical reason!
Chilli crab or chicken rice?
Wong: Chicken rice. I don't like spice and the shells might crack my teeth. I think I'm a simple girl and chicken rice is simple, everyday food.
Yim: Chilli crab. It has stronger flavour and stronger taste. This translates back to our ice cream flavours where our philosophy is that they must be strong and intense.
Coffee or tea?
Wong: Coffee. It has a stronger taste. I love the smell of it when it's brewing. It has been such a big part of my life since law school. I am probably addicted!
Yim: Neither.
Wong: He can't take any caffeine or he'll get heart palpitations.
Ice cream or cake?
Wong: Oh dear, mine is cake. (laughs)
Yim: Same, it's cake. Because I eat ice cream every day for R&D! So having cake is like a treat for me.
Wong: For me, I've always been a cake lover. I'm allergic to a lot of things like pastry and chocolate and certain fruits like durian. But cakes, I'm okay. My favourite cake is carrot cake.