From Casio to Rolex to indies, this watch collector is always in the mood to wear them all
Kevin Tan will happily wear a Submariner one day and Casio or Seiko the next. Some 30 years and almost 400 watches later, this collector still believes in marching to the beat of his own drum.
Kevin Tan is a card-carrying member of numerous geekdoms. In one corner of his home rests a life-size replica of Iron Man's Hulkbuster helmet. In another, a piece of Michael Schumacher's car from his final Formula 1 season in 2012. A miniature Romero Britto Merlion and a print of Salvador Dali's melting clock allude to his passion for art.
"I even have a door handle from an Omega boutique that was closing down," Tan shared with a laugh.
If there ever was a such a thing as a discerning hoarder, Tan was it. His home is a veritable museum of random things that appear to be tied together by nothing more than his own passing whims. But one collection in particular speaks to Tan's most singular and persistent passion: Horology.
Tan, who spends his days looking after a team of traders at a commodities firm and moderating popular watch community WatchProSite, has close to 400 tickers to his name, and has been slowly amassing his vast collection since he was 16 years old. His very first mechanical watch was a vintage Titoni Airmaster from the 1970s, which he got "for the princely sum of S$70 or S$80" from a shop in People's Park Complex.
"Back then, everyone was wearing [Casio] G-Shocks but I wanted something more romantic. That Airmaster was almost 20 years old when I bought it. So I was the only guy in school wearing an old man's watch," he said. "I wanted something different from what everyone else wanted, and that has been a constant feature of my collecting life."
It's true – Tan isn't precious about anything that's in vogue. Aside from the Airmaster, the only other watch he would keep as an heirloom is his grandfather's Omega Speedmaster Moonwatch Calibre 861.
"My grandfather had a choice between an Omega or a Rolex as his retirement gift, and I'm glad he picked the Speedmaster. Because if he had ended up with a Paul Newman Daytona, I would have happily put it up for auction." These days, Rolex Daytona watches with the "Paul Newman" style of dials are so rare and in-demand that they can go for over S$1 million for a gold model on the secondhand market.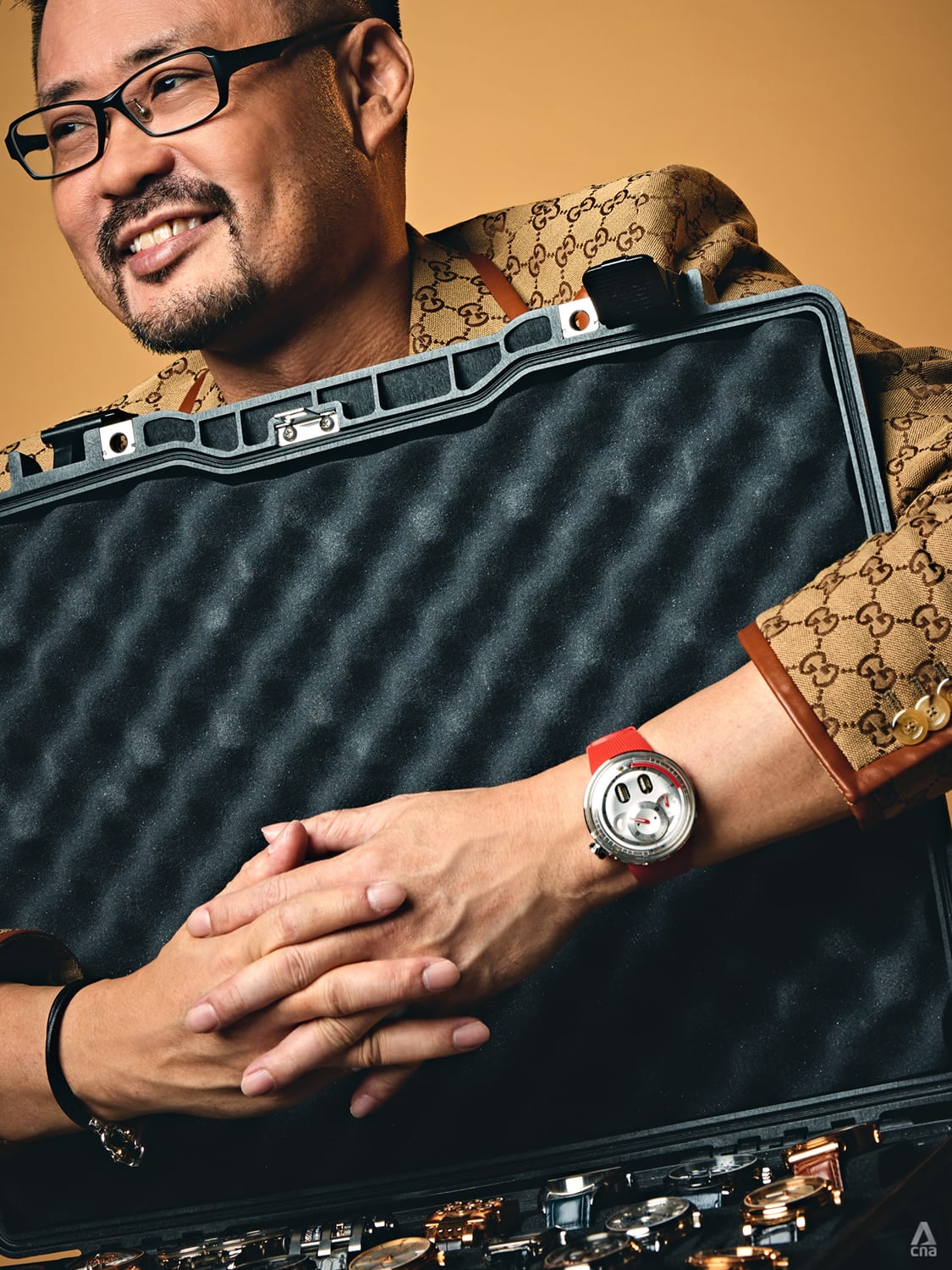 But Tan prefers to collect watches thematically. "I'm a James Bond fan, so I like all the James Bond watches, even the cheap, badly designed ones from Pierce Brosnan's era," he explained. "And when I started working, I was going through a chronograph phase, so every time I saved up S$5,000 I would buy one. So I ended up with a lot of S$5,000 Zenith and Maurice Lacroix chronographs."
Of course, as his budget for watches grew, so too did his ability to seek out those brands that lay outside of mainstream fawning like FP Journe and MB&F. "Back in the old days, wearing a [Audemars Piguet] Royal Oak was something you could be proud of. Now you walk into your office lift and everyone has one. It's one of the reasons I started collecting independent brands."
That isn't to say he doesn't own any of the industry's greatest hits. "I just don't need to collect the newest models or the 'must-haves'," he explained. "Sometimes I'll be in the mood to wear a Rolex Submariner or a Patek Philippe Nautilus, but I also wear a lot of Seiko, Casio and Tag Heuer watches. Watches are a great democratiser. You can get great quality across various price points, which isn't something you can do say for things like cars or wine. You won't find a Ferrari guy driving a Toyota Corolla, because you just can't expect a Corolla to perform at the same level."
Despite the diversity of his collection, his most memorable timepieces tend to be the Ferrari-equivalents of watchmaking.
"I waited seven or eight years for Harry Winston to deliver my Opus 3, and when it arrived at my hotel in Europe it was delivered by two men dressed like riot police, who then offered to help me open the specially packaged delivery box," said Tan.
Not wanting to have the box opened in the hotel lobby, he assured the deliverymen that he would take it up to his room and open it himself – except he had no idea how to. "It was made of some high-density plastic and I broke a nail trying to open it. I eventually had to ask the hotel to give me a steak knife and I spent an entire day sawing it open. Imagine having your dream watch in front of you but unable to access it!"
These days, Tan lamented how the wait for a long-coveted watch has less to do with the difficulty in making it, and more to do with demand-incurred waitlists. "I waited four years for my Hajime Asaoka Tsunami because Asaoka is a watchmaker that makes everything by hand. But now you might have to wait that long for a simple Royal Oak or Daytona."
Four hundred watches is no small number, so Tan admitted he doesn't wear all of them (though not for lack of trying), and there have even been times he's bought the same watch twice because he forgot he already had one.
"But I remember the vast majority of the ones I own because I bought them as milestones, or in moments of exuberance and even folly," he quipped. "I've also bought watches for stupid reasons – for a dare, because I lost a bet, peer pressure or just to show off."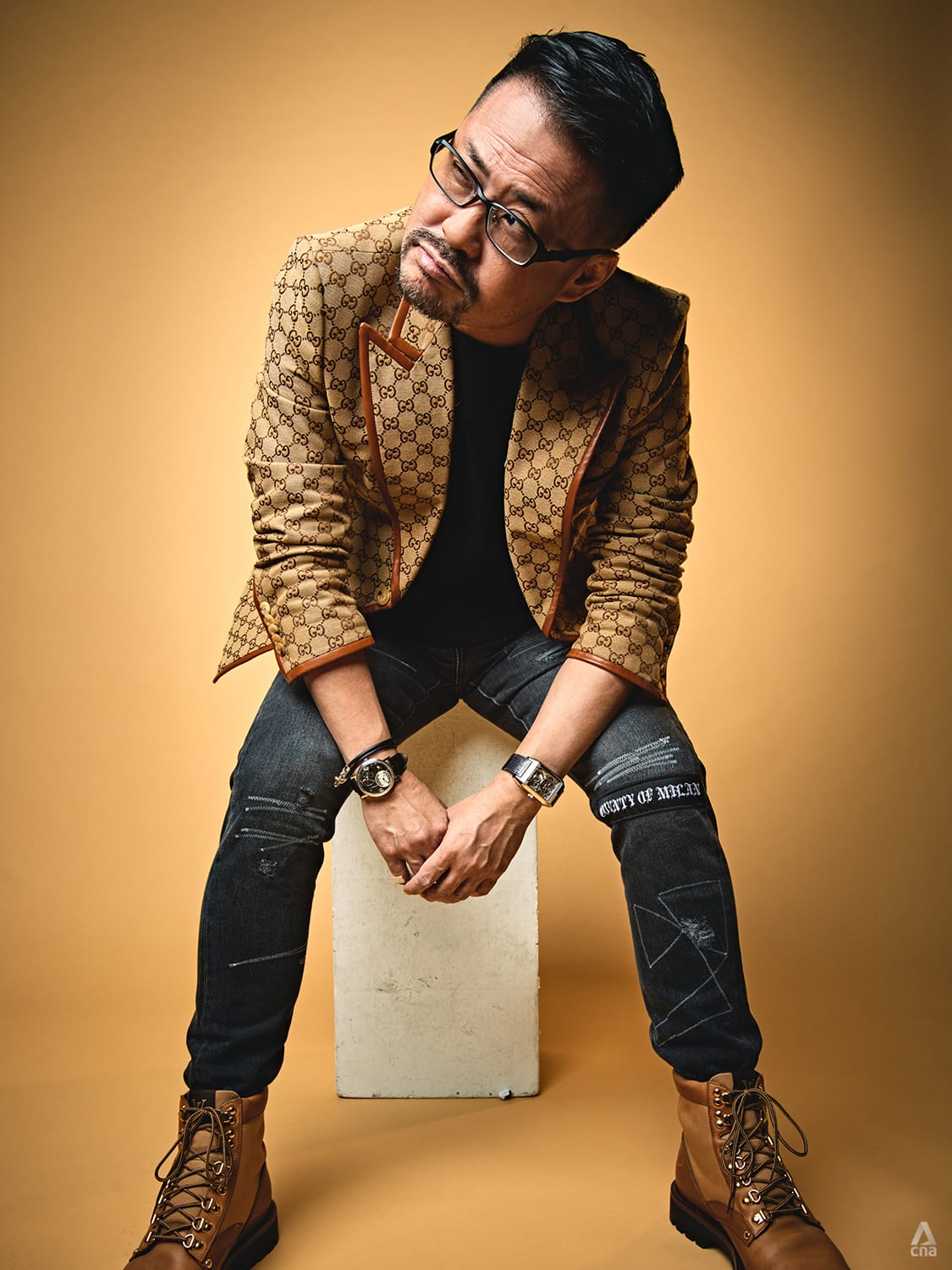 What he won't do, however, is to buy a watch just because it's the "it" watch of the moment, like the Patek Philippe Nautilus Ref 5711 or the new Gerald Genta Arena Retrograde Mickey Mouse.
"I've pretty much collected everything I've wanted to collect, but I would really like the A. Lange & Sohne Triple Split. I appreciate how it is a logical progression from the Double Split, Datograph and 1815 Chronograph," he explains. "I base my collecting on five 'P's: philosophy, people, product, process and pricing. The only thing keeping me from the Triple Split now is the last 'P'!"