How a kampung boy started an award-winning studio selling collectible Marvel, DC statues and figurines
Singaporean Ben Ang is the CEO and co-founder of XM Studios, an internationally renowned studio that makes collectible statues of pop culture characters. But the road to success hasn't been easy for the comic book fan. This is his story.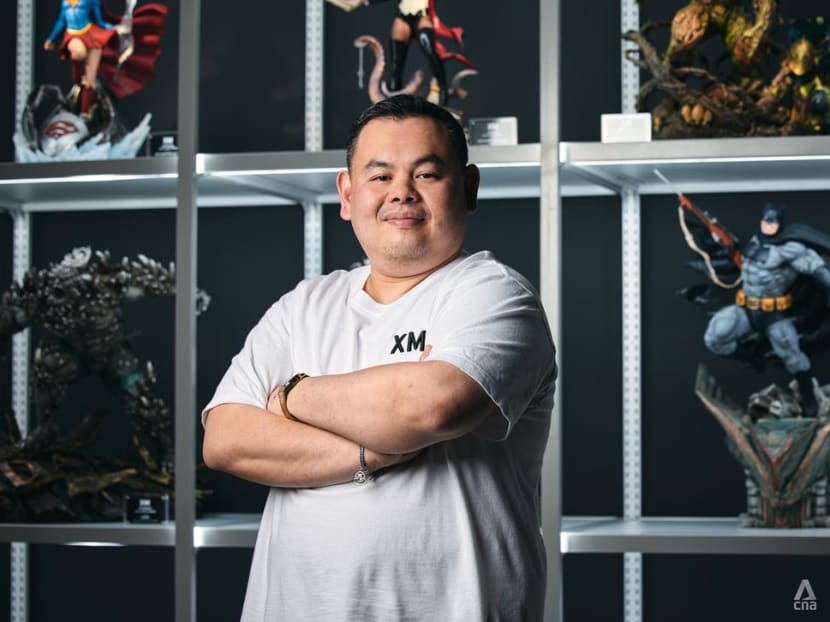 XM Studios' recently opened flagship store in Kitchener Complex is a dream space for toy collectors. On display throughout the sprawling 19,000 sq ft store is the company's extensive collection of statues, created since its inception a decade ago.   
There are Marvel-themed pods featuring statues of fan favourite characters Captain America, Thor, Iron Man and more. A DC-themed pod houses XM's Batman Samurai line. Over at the Transformers pod, XM's Optimus Prime and Megatron busts spanning almost a metre high are on display.
The store also houses an event space, a boutique retailing streetwear, limited edition and vintage designer items, as well as an in-house gelato and coffee bar. It is at the gelato bar where Ang and I settle in for a chat.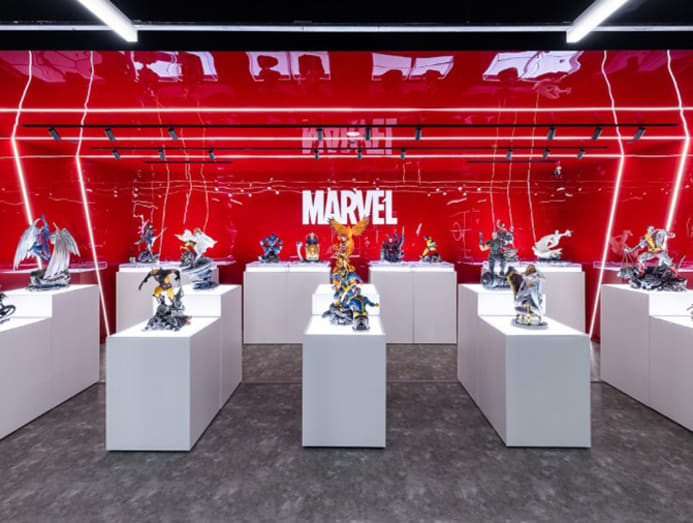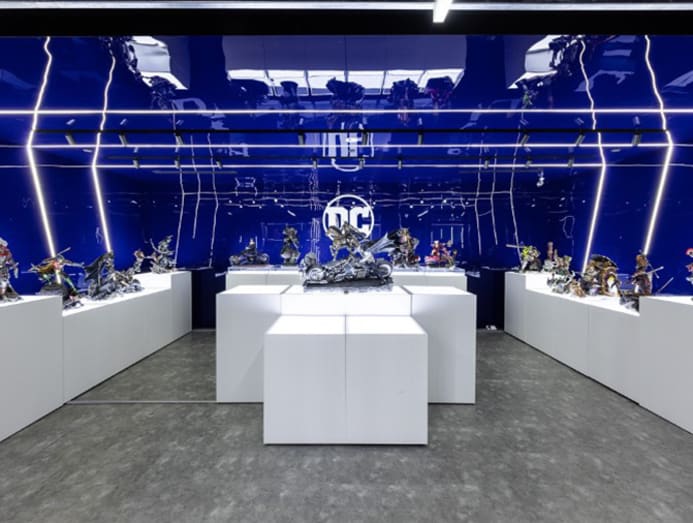 "Every day I walk through the space at least 30 or 40 times," Ang tells me. In many ways, the flagship store is a dream come true for the entrepreneur and self-taught artist, a symbol of just how far his company has come. And it all started with a simple dream.
FROM COMIC BOOKS TO LUXURY COLLECTIBLES
Ang's love affair with comic books started at a young age. "I used to read manga, English comics and Hong Kong comics," he said. In 1995, Ang, who had dropped out of school, ran a small comic bookstore in Chinatown together with his older brother, Seng. On the side, they also picked up airbrush painting.
Two years later, a friend approached the brothers with an offer to take over a hobby store in Bras Basah. "But the rent was quite expensive. Seng then said that our mum had just given him S$1,000 for his polytechnic school fees. So we used the money to pay the rent," Ang chuckled.
Eventually, their mother found out after a call from Seng's school. "But she was very supportive. The worst was when my father found out!" Ang said with laugh. After sitting down for a talk, the brothers eventually convinced their father that they could see a viable career with the hobby store.
But reality told a different story. The brothers were ploughing their trade in a niche industry and couldn't rely on sales revenue to make ends meet. They offered airbrush painting classes and took on external landscape painting projects.
Customers had urged the brothers to venture into making their own licensed products, but it wasn't until they returned from a painting job in VivoCity that Ang seriously considered it. "It was a very physical job. We had to put up our own scaffolding, we had to climb. I asked Seng, 'what are we going to do one day if we can't climb anymore?' He said he would become a taxi driver," Ang recalled.
Determined not to let their artistic experience go to waste, Ang began looking for licensors to work with. Their big break came in 2013 when Disney agreed to offer the company a one-year license to make Marvel figurines.
To be able to afford the hefty licensing fees, the brothers pulled together funds from family and friends and began making prototypes. To attract customers, they took up a small booth at Singapore Comic Con, held at Suntec City, selling each figurine at S$900.
"At that time, statues typically sell for S$400. So for a brand that no one has ever heard of to sell at S$900, people thought we were crazy. But I believed in the quality of our work," said Ang.
The brothers ended up selling a total of 900 figurines and soon went into production. Later on, they were granted a license by Warner Brothers to create an original Batman Samurai line, reimagining the Dark Knight in feudal Japan. "The line was very successful when we launched it," said Ang. "We proved to our licensors that we were capable of producing quality products of their intellectual properties." 
In 2014, XM Studios was voted by online community Statueforum as the Best Statue Company Of The Year. The company's Captain America Premium Collectibles Statue was also voted as the Best Large Scale Statue Of The Year. 
Aside from Disney and Warner Bros, XM is now a major licensee for Hasbro, Godzilla, Ultraman and Sanrio. Its figurines are amongst the most sought-after by collectors worldwide, each piece painstakingly painted by hand.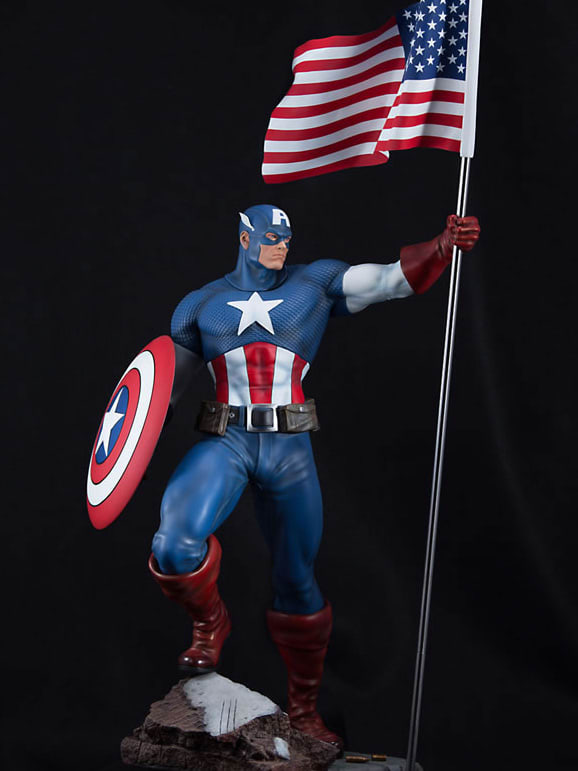 Prices start from S$600 and can go up to S$6,000, depending on the scale and complexity of the piece. But Ang was quick to clarify: "I don't take retail price as a gauge of how expensive a statue is. What type of feeling does it bring to a collector when he looks at it? [If it evokes] fun and memories, I think that's priceless."
HARD WORK PAYS OFF
In a sense, Ang's journey with XM Studios has been a giant leap of faith since the beginning. Through the years, he has been guided by a piece of advice that his mother shared. "My mum used to tell me, son, it's okay if we are poor. Even if you are cleaner, if you can be the best sweeper, one day, you will become successful. Just keep doing what you're doing best."
Ang, the youngest of three sons, grew up in a kampung in Kranji and describes having a "happy childhood". "I love the kampung days. It was a lot of fun. Every day, we were cycling, playing on the fields, playing outdoors. Now if I want to see a goat, I have to bring my son to a farm!" the father of two chuckled.
Ang didn't embark on a traditional education route either. Although he dropped out of polytechnic, he was "good in academics", he said. "The only thing I wasn't good at was English. Growing up in a small kampung, we only spoke Hokkien or Chinese. I scored either As or Bs for my other subjects and managed to get into poly. But because I failed English, I couldn't choose a good course."
Instead, Ang took up mechanical engineering. But a lack of interest in his course of study led him to drop out after two years. His brother Seng also eventually dropped out of his electrical engineering course.
"My brother and I proved to people that you don't need to be talented," he believes. "Hard work pays off. If people spend five hours [working on something], you should spend 10, 15 hours on it. Don't lose faith and you will be successful."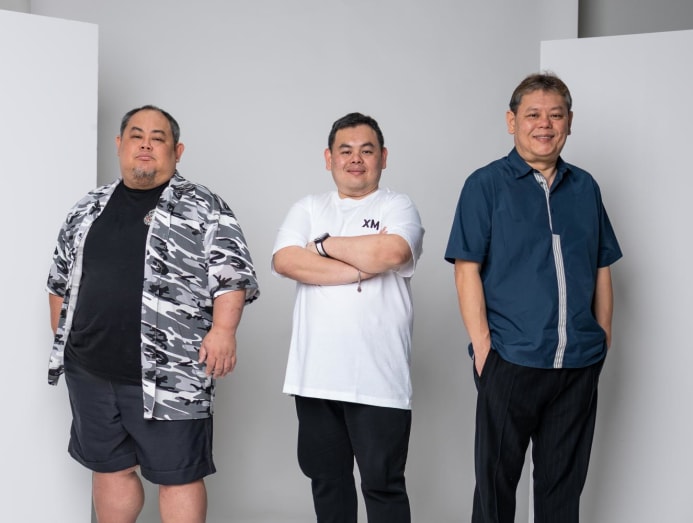 INSPRING CREATIVES AND BREAKING BOUNDARIES
Ang now hopes that his story can serve as motivation for others. He envisions the company's flagship store as a space to inspire a new generation of artists and creatives. "We will be working with design schools to offer internships or to showcase their students' artworks here," he revealed. "There's definitely a lot of people like Seng and I out there, who are creative but don't know what to do."
Future plans for the company include establishing flagship stores in countries outside of Singapore. At present, 30 per cent of its customers come from US and Europe, 30 per cent from China and 40 per cent from Southeast Asia, of which 10 per cent are from Singapore. "I definitely want to have a gallery in every country," said Ang. 
Now that XM Studios has garnered an international reputation, Ang believes that the real challenge is competing against itself. "A lot of people ask me who our competitors are. I say we are our own competitors. The challenge for us is how can we make our next best statue. How can we do a better Captain America, a better Iron Man? How can we break boundaries and change the industry?"
The studio is now expanding its product line by creating figurines in the fine arts space, having recently signed a license with the Van Gogh Museum. "That's not going to be easy, because how do you create a collectibles of paintings? It's something new that we'll be bringing to the community."
Ang is also looking at venturing into the NFT space, but prefers to bide his time in order to understand the market better. "It's a new space, so I don't want to just jump into it. We want to have a good plan," he reasoned.
THE PURSUIT OF PERFECTION
Ask Ang which of XM Studios' statues is his favourite and he'll tell you that it's impossible to choose. "It's like asking me which is my favourite child! Every single one is my favourite!" he quipped.
His favourite comic book character, however, is Doraemon. He recalls being particularly fascinated by the robot cat's ability to conjure up all sorts of imaginative gadgets out of its pocket.
XM has yet to make a Doraemon statue but "as much as I want to do it, once I start working on it, I don't know if my feelings will change", Ang admits.
After all, with each statue released by XM Studios, Ang strives for perfection. "Every time I walk down the gallery, even though I see the same pieces every day, I always discover something new. And then I will ask myself, if I were to redo this, can I make it better?"
It is precisely this level of perfection that has retained the company's loyal fans. And for Ang, it is the joy that XM's statues bring to collectors across generations that keeps him going.
"I have older collectors who buy a statue from us to display at home. And then they have a son or grandson who starts to admire the statue, and they have a great time bonding over it. I think I will continue to make collectibles, as long as there is someone out there who loves them," he said with a smile.