The Japanese who loved yakiniku so much he opened a restaurant in Singapore with no F&B experience
Former advertising executive Suguru Ishida and his wife, Tomoko, celebrate the eighth anniversary of their restaurant Yakiniquest with a new location in Mandarin Gallery.
Two thousand. That's the number of yakiniku restaurants Suguru Ishida has visited over a span of 15 years.
What started as a childhood favourite dining place and an after-work supper option for the former advertising executive and his wife Tomoko morphed into a passion for seeking the best grilled beef in Japan and overseas with their foodie buddies. Each meal was reviewed and meticulously documented on their blog yakiniquest.com, which has become the grilled beef bible for those in the know.
The passion runs so deep that when a friend offered the opportunity to open a yakiniku restaurant in Singapore, Ishida left his job in a heartbeat – and without a shred of F&B experience – to launch Yakiniquest, one of Singapore's first yakiniku restaurants, in Boat Quay in 2014.
Tomoko joined him the year after, and the couple has not looked back since. In January, Yakiniquest moved to Mandarin Gallery. Its swankier 2,000 sq ft premises seats 64 diners and has four private rooms, one of which overlooks the bustling sidewalks of Orchard Road.
"I've liked yakiniku since I was a kid, but when I started working in a Japanese advertising company I liked it even more," the jovial Ishida shared with CNA Luxury. "We had crazy working hours until midnight after which I'd be looking for something to eat. At that time, it was either ramen or yakiniku."
But why the specific interest in yakiniku and not other forms of Japanese cuisine? Ishida pondered for a while before replying: "Yakiniku is the most exciting food for me. Sushi and ramen are famous, but I think most foreigners don't know that yakiniku is also famous in Japan and that most Japanese love it."
Besides his home country, he has visited restaurants in New York, Taiwan, Thailand and Singapore. In most of these places, one thing that bothered Ishida was that the technical precision required for cooking different beef cuts was underrated.
"None of them was good enough for me, so I thought maybe I should open a restaurant outside of Japan to change people's opinion about yakiniku. People think yakiniku looks very simple and easy, that all you need is good beef and they can do it by themselves. They don't take it seriously."
Ishida's goal is for diners to learn about the different parts of the cow and enjoy each cut at its best, paired with homemade sauces, which is why trained staff do the grilling at Yakiniquest.
If you are lucky enough to have the grill guru serve your table, as this writer did, you are in for an intriguing gourmet treat.
Ishida can tell if the meat is ready not only by observing the change in its colour, but also by listening to the sizzle. "Sometimes I walk past a table and hear the sizzle, I know the meat is almost done," he said modestly of his superpower. And you'd believe him wholeheartedly, from the deft way he flipped and folded each slice on the smokeless ceramic charcoal gas stove to deliver the perfect doneness for each cut onto our plates.
The restaurant only serves omakase menus starting from S$88 for a "Chic" lunch set with six different cuts of beef, to the top-end "The Omakase" menu from S$280 per person.
For the S$128 "Appetite" omakase lunch, we tasted seven different cuts of beef. Besides the usual striploin and ribeye, there were also cuts like Sankaku Bara (chuck shoulder) and Nakaochi Karubi (also known as beef rib finger, the meat between the bones of beef ribs) made crispy and slightly charred and paired with an unconventional dashi broth.
The tender Australian beef tongue was served with leeks, seasoned in salt, pepper and sesame oil, which made it even more moreish. A dash of white pepper enhanced a lean shoulder cut, and try as we might, the signature wagyu aburi sushi and "yakisuki" were gone too soon. A few quick dabs on the grill, and the slightly pink zabuton slice was draped over vinegared rice. We popped it in one mouthful and savoured the softness of the meat as its fragrant oils oozed into the grains. After that, a sweet dipping sauce with egg yolk transformed the "yakisuki" beef into a creamy party in the mouth.
The set also came with a choice of beef curry rice (simple but incredibly homely and delicious) or light cold noodles, and a homemade hojicha ice cream. The cuts vary each day according to availability, but the signatures are always part of the menu.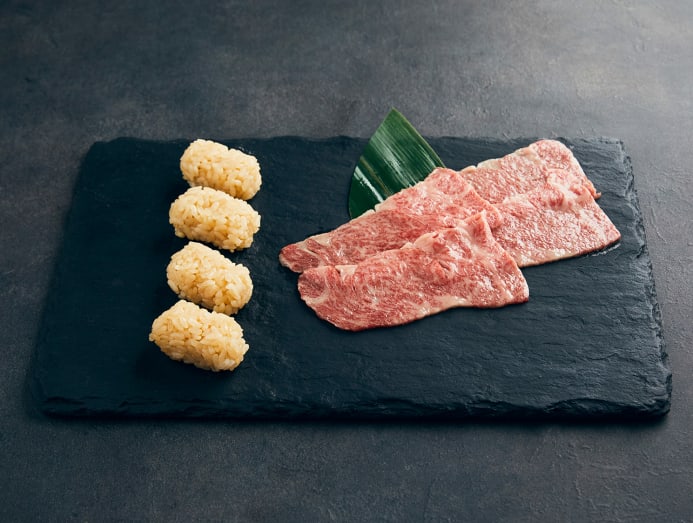 Ishida will be opening a more wallet-friendly casual concept Yakiniku Sizzle by Yakiniquest in Kuala Lumpur's Mitsui Shopping Park LaLaport shopping mall, where diners would be doing their own grilling. He shared: "I want to spread my love for yakiniku throughout the world. My goal is to open restaurants in the US, Europe and other regions."
After living and breathing yakiniku 24/7, what do the couple like to eat on their off days? The answer hardly surprises. "Sushi, tonkatsu, Italian, Chinese, Song Fa bak kut teh, and of course beef," quipped Ishida. "Because beef never makes you fat."