Architecture should heal our souls: Yip Yuen Hong, President's Design Award winner
Attention-seeking, self-indulgent design is out. Soul-lifting architecture that helps humanity make sense of life is in, believes veteran architect Yip Yuen Hong, designer of the new Jervois Prive in Tanglin.
"Architecture," said Yip Yuen Hong, "is a balance sheet between art and science."
Speaking at the showflat of his latest project, Jervois Prive in Tanglin, the four-time President's Design Award-winning architect waxed philosophical with CNA Luxury on the difference between the artist and the architect.
"An artist may carve something and people either like it or hate it, and then they walk away. But with architecture, people need to inhabit the space. So, we have to strike a balance."
If a design is too grounded in science, that just won't do for Yip. Neither is being "totally artistic" in approach, which the principal architect and founder of Singapore-based ipli Architects deems "not responsible".
In Yip's estimation, an architect's job is to therefore satisfy the science while injecting a sense of artistry that will "stir your spirit and create a little bit of magic… hopefully."
Ah, yes. In the Singapore context, one could indeed suppose an oasis in the heart of the urban jungle to carry a certain kind of magic. At the very least, it makes for an enchanting premise.
The sanctuary that is Jervois Prive sits on a former nutmeg plantation where, back in the day, rich merchants built large bungalows on sprawling estates. Yip was tasked with creating a luxurious living environment ensconced by lush greenery, while being just minutes away from the bustle of Orchard Road and the CBD.
Prive, after all, means private in French. And for its maiden residential development, Midas Land was intent on retaining the sense of privacy and prestige of the exclusive Tanglin neighbourhood surrounded by Good Class Bungalows, high-end residences and foreign embassies in the prime District 10 location.
The five-storey, 45-unit freehold condominium houses one-bedders (from 549 sq. ft. starting at S$1.62 million), two-bedroom apartments (from 689 sq. ft. starting at S$2.01 million) and three-bedroom units (from 1,109 sq. ft. starting at S$3.18 million). It is expected to be completed by the first half of 2022, with the first residents scheduled to move in in early 2023.
LUXURY & LIVEABILITY
"One of the main challenges of designing housing is that it needs to be subtle, as it's for people to build their lives around. That's where it differs from designing, say, an art gallery where you can be a bit more funky, a bit more acrobatic. So you can't be fashionable. Architecture should be timeless; simple but beautifully-executed buildings," Yip explained.
The veteran architect was handpicked by Midas' co-founders Dawn Lim and Mike Ho to imbue the 27,109 sq. ft. site with his signature minimalist and timeless style. The former, a trained architect whose family owns construction and property conglomerate Chip Eng Seng Corporation, and the latter, a former client of Yip's whose Good Class Bungalow in the same district he had incidentally designed several years ago. The stellar team behind Jervois Prive also includes celebrity interior designer Peter Tay and landscape architect Salad Dressing.
Shaded in a monochromatic palette of greys and black, the luxury development is modelled after the old black-and-white colonial-styled estates that form part of the heritage of the Tanglin precinct.
Its eco-modern design and concept call to mind the recent rise of residential developments that are taking a page out of The Jungle Book and further greening our Garden City.
There's EDEN at Draycott Park, conceptualised by British architect Thomas Heatherwick as a private garden in the sky, as well as Yip's own earlier project, Martin Modern at Robertson Quay, where 80 per cent of the land area is dedicated to a botanical symphony of 15 manicured gardens, plus a three-storey gardenscape crowning the rooftop of each of the two towers, altogether home to 200 species of plants and 50 species of trees.
Is this eco-appropriation a bid to be on-trend?
"Architecture should never follow any trend," he dismissed. "Everybody is going green but we've actually been doing green for the longest time. It's really not so much about looking good but about creating an environment conducive for the people living there," he reiterated.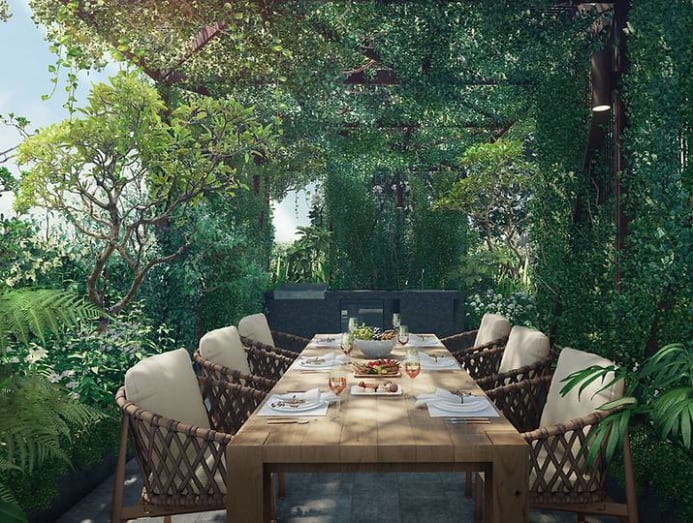 The notion of soul is one that Yip invites into the conversation fairly frequently. First, he decides it is neither his place nor his duty to create it.
"I can't create soul; it's the people who live in the space that create it. I can create the backdrop for people to build their lives upon," he said.
"Magical" is another intangible that the philosophical 60-year-old with a gentle demeanour and scholarly guise often speaks of. He finds himself most susceptible to the charm of books, referring to them as his "salvation".
"They tell you that life is not always black and white. Sometimes, it's a bit grey. Architecture is the same; it's actually not so clear-cut. It's also a bit grey sometimes. I think all creative processes are like this," he surmised.
And if he weren't an architect, Yip might have channelled his creativity to prose. "Novels, maybe," mused the fan of authors Haruki Murakami and Gabriel Garcia Marquez.
Likening the fantastical nature of their literary works to architecture, he added: "It's similar in a sense; you need to be grounded in reality but sometimes you need to be more magical and dreamy so that it lifts the soul."
LESS IS MORE
As a veteran technically more senior than Singapore herself, Yip has literally witnessed Singapore's cityscape evolve through the decades. He holds but a few gripes concerning the architectural industry today.
"Life in Singapore is so expensive so when we create anything, it's for the single purpose of making money. While we can't deny that we need to make money, we need some kind of architecture to heal our souls," he said.
And despite his string of accolades, awards hold little interest for Yip, apart from the fact that they are a necessary pursuit for the purpose of securing business in this meritocratic society.
"I actually never set out to win awards whenever I do something," he maintained. "I don't have any earth-shattering idea to save the world through architecture. I feel like I'm just a little sculptor hacking away at a piece of stone trying to find my way… Then, hopefully, whatever is created gives people some joy."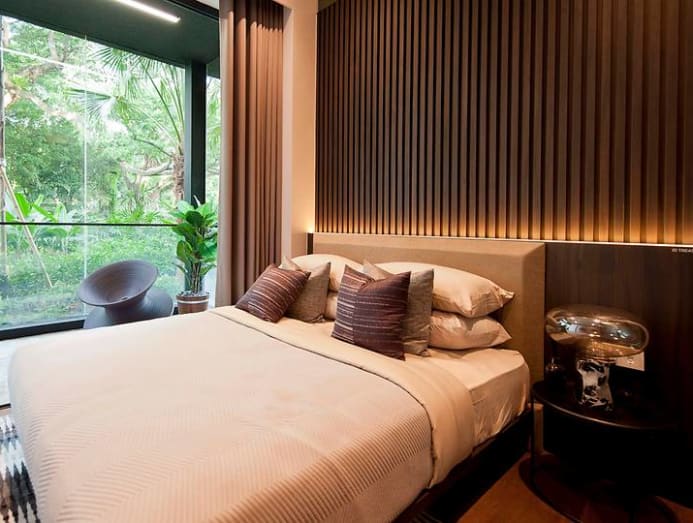 "You just solve whatever it is you need to solve and in the process, something interesting will be created. That's our main task; nothing more, nothing less," he shared.
He does, however, regret the current state of the industry.
"Unfortunately, I feel that architecture is more about aesthetics and money these days, and a lot of it is about craving for attention, which is sad," he observed.
Yip's advice for young architects, therefore, is to refrain from self-indulgence.
"Architecture involves a lot of money, first and foremost, so design based on what is needed. Don't design more than is necessary. It's not morally correct to just add on to make it exciting and interesting," he advised.
Revisiting a notion omnipresent throughout the conversation, he added: "Our job is to solve problems and create a better environment for people. It's not about thinking, 'I wanna create an iconic building' or 'I wanna win a super fantastic award'. Ultimately, architecture is a backdrop; a vehicle for us to make sense of our very difficult and sometimes nonsensical life."
"Ultimately, architecture is a backdrop; a vehicle for us to make sense of our very difficult and sometimes nonsensical life." – Yip Yuen Hong