Meet the restaurateur creating plant-based versions of Singaporean food
Vegan chicken rice or fried kway teow, anyone? Yuan Oeij, chairman of The Prive Group, is slowly but surely expanding his restaurants' repertoire of meatless meals. And soon there will be takeaway options too.
It sure looks like a fancy plate of chicken rice. The meat, rice and condiments are neatly plated on separate dishes and arranged artfully on a tray. I inhale the tantalising aroma of sesame oil, ginger and chilli and bite into a slice of chicken, savouring its tender, chewy texture. The fluffy brown rice has a nutty flavour that pairs nicely with the chicken and condiments. The light broth is a great palate cleanser.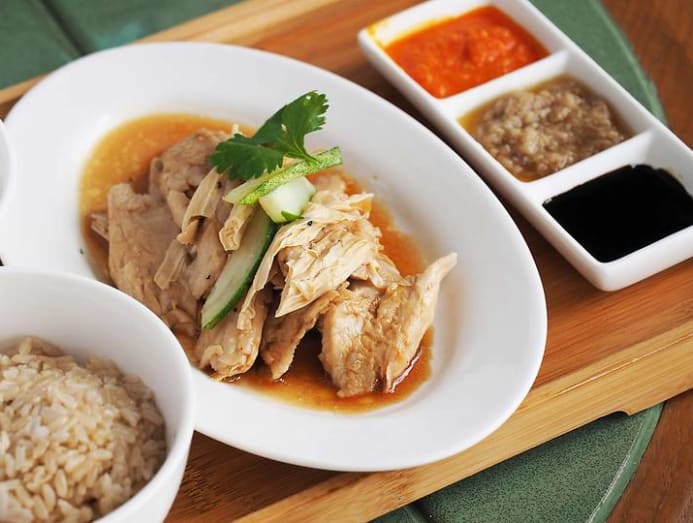 If I didn't know any better, I would have thought I was tucking into a plate of real chicken rice. Instead, this is the vegan version of chicken rice at Prive, which substitutes chicken with Heura, a plant-based alternative that has a fibrous structure mimicking the mouthfeel of chomping into meat. Still, the resemblance to the real thing is remarkable but more essentially, the food is delicious and I polish off the entire serving.
Indeed, the casual dining hangout which has in recent years garnered acclaim for its excellent (real) chicken rice now has an authentic plant-based "chicken" rice on its menu too.
It is the brainchild of Yuan Oeij, chairman of The Prive Group, whose range of F&B establishments include Prive cafes islandwide, seafood-centric Bayswater Kitchen and contemporary Chinese restaurant Empress. (In light of the government's latest "Circuit Breaker" directives, the Group is in the midst of setting up their takeaway/delivery menu for Prive, while Bayswater Kitchen and Empress are closed until May).
"Veganism is more of a philosophy of reducing animal suffering and not exploiting animals. The reason I became vegan is because I did not want to be a part of this, at least in my personal lifestyle choices." – Yuan Oeij
In a way, the growing plant-based menu at Prive and Empress is a reflection of Oeij's personal journey to veganism. "I used to pride myself on being able to tell restaurants I eat anything, the more adventurous the better – bring on the intestines and testicles! I was not one of the fussy ones," quipped Oeij.
Those with longer memories might remember Oeij as the chef-owner of Brown Sugar bistro from the mid-noughties as well as the nightlife maestro behind the Stereolab and Mink nightclubs at Pan Pacific hotel. In his earlier days, he would travel the world to wine and dine at top restaurants where he sampled the finest and most exotic food that chefs could dream up.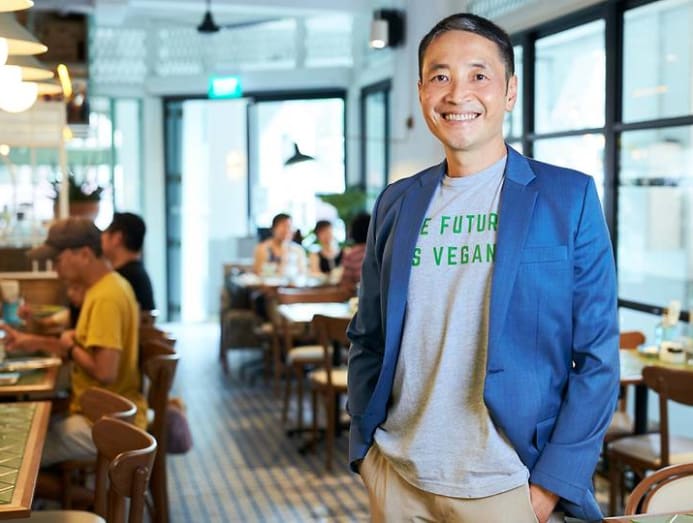 But in 2018, the restaurateur began gradually transitioning to a vegan diet, in part due to the influence of his wife, who had started to eat less meat. Over the course of two years, he removed meat, dairy, chicken, eggs and finally seafood from his diet to become fully vegan by mid-2019.
As a health and fitness aficionado and animal lover, Oeij had long been aware of the benefits of eating less meat as well as the suffering caused by the animal farming industry. However, the self-professed food lover previously only made "half-hearted attempts at reducing meat consumption".
In recent years, visits to animal farms where he interacted with young animals marked for slaughter and also delightful chance encounters with wild animals, such as the free-ranging red junglefowl at the Singapore Botanic Gardens, convinced him to commit fully to veganism.
Then, cravings for specific Singaporean dishes like chicken rice and beef hor fun kicked in. It was not the meat that he missed, Oeij said, but rather the flavours of these dishes. "Chicken rice, lamb biryani, bak kut teh – these were some of my top favourites because of my childhood memories of eating them. So I started to make plant-based versions of these dishes," he said.
This is why besides commonly seen items like Impossible burger or meatball spaghetti, diners will also notice meatless interpretations of local food at Prive and Empress. These include fried kway teow with Impossible meatballs, Impossible gyoza and laksa with plant-based seafood. He is the first to admit that these dishes are not a perfect substitute for the originals, but says they at least provide diners with a guilt-free taste of nostalgic favourites.
"My aim is to make dishes that are better for the world and are more appealing to everyone, including vegans and non-vegans. I want people to be curious about the dishes on the menu and order them and discover that they are good alternatives," he said.
Despite his strong convictions, his eateries will continue to offer both meat and meat-less options for the foreseeable future. The savvy businessman in him acknowledges that the market still views vegan food establishments as a niche offering.
"Chicken rice, lamb biryani, bak kut teh – these were some of my top favourites because of my childhood memories of eating them. So I started to make plant-based versions of these dishes." – Yuan Oeij
But being all-inclusive also gives more diners a chance to enjoy plant-based options. "Because we have customers of all dietary preferences, we are able to do better by exposing them to vegan options and be a place where vegans and non-vegans can dine together," he said.
Of course, there are critics who say that plant-based meat alternatives are unhealthy too. To which Oeij countered, "Don't see them as health food, they are still processed. But they serve a huge purpose and make it easier for people to transit towards eating more responsibly. I would also argue that animal products are damaging to your health and meat alternatives are certainly better for the environment."
Up next, manufacturers like Australia-based Fable are already creating alternatives made with natural ingredients, like shiitake mushrooms, he noted.
He is also gradually introducing more healthy whole-foods based vegan dishes to his restaurants.
For example, a recent menu addition at Prive, Papa's Plant Protein Burger is made with chickpeas, black beans and lentils. Another dish, Tracy's Favourite Salad, which is named after his wife, was created when the couple visited their Jewel Changi Airport outlet after a trip and had it whipped up based on ingredients available in the kitchen. This whopper-sized salad comprises over 20 superfood ingredients, including kale, smashed avocado, quinoa and goji berries.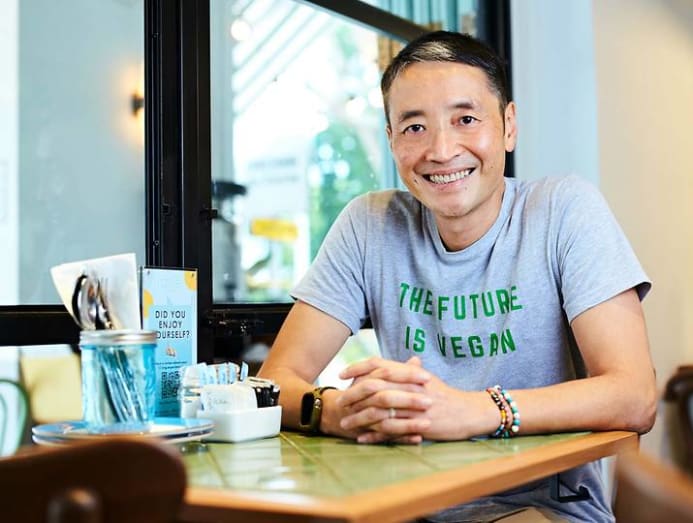 Additionally, inspired by a practice he experienced at a restaurant in Los Angeles, he kickstarted a #randomactsofkindness project at Prive, where staff are encouraged to pay it forward by showing kindness to those in need. They have since assisted lost tourists, an injured cyclist and a homeless person, even spurring on other diners to contribute in their own ways. The company will also be going out of pocket to ensure their staff's needs are taken care of during this difficult time.
These actions have resonated with the community, which in turn have shored up business, particularly in these difficult COVID-19 times when many businesses are experiencing a reduced demand.
"Even though we don't articulate it, people are starting to see us as making a stand and this is a huge draw," he said. "In doing all this, I also need to ensure that it makes sense for the business and it is rewarding that I am able to fulfil this vision and help individuals and society."