Inside the 'crazy' and eclectic home of luxury hotel designer Bill Bensley in Thailand
Baan Botanica, the exuberant Bangkok home of the renowned designer and his partner, is a treasure trove of exotic plants and unique mementos from their travels around the world.
It is an understatement to say that the Bangkok home of luxury hotel designer Bill Bensley is a feast for the senses – because it is so much more than that.
"The style and approach for Baan Botanica in Indonesian is called 'lebih gila, lebih baik'," quipped Bensley. "The crazier the better. It has no bounds, it has no limits."
Indeed, the wildly maximalist 34,400 sq ft space, which is home to Bensley and his partner, designer and horticulturist Jirachai Rengthong – as well as their pack of Jack Russell dogs – does appear a little "crazy" at first glance. However, there is a method to this seeming madness.
He is, after all, one of the world's most well-known resort architects, having designed about 200 luxury properties across 40 countries through the course of his career.
His design practice, which is based out of Bangkok, boasts an ever-growing list of high-profile projects that includes the Capella Hanoi, Rosewood Luang Prabang and Shinta Mani Wild in Cambodia – all of which bear his signature immersively exuberant decor style that somehow manages to still look coherent and pulled together.
Naturally, his home Baan Botanica is his mind palace. Lavishly filled with a bright clash of colours and contrasting textures, the abode is overflowing with all manner of treasures that the couple has collected over their years of globetrotting, from precious antiques and rare furniture to unique art pieces and quirky bric-a-brac.
For example, the master bedroom is adorned with a rare 18th century carved wooden arch from the Dutch Embassy while two carved wooden lions flank the bedposts – adding to the sense of grandeur in the room.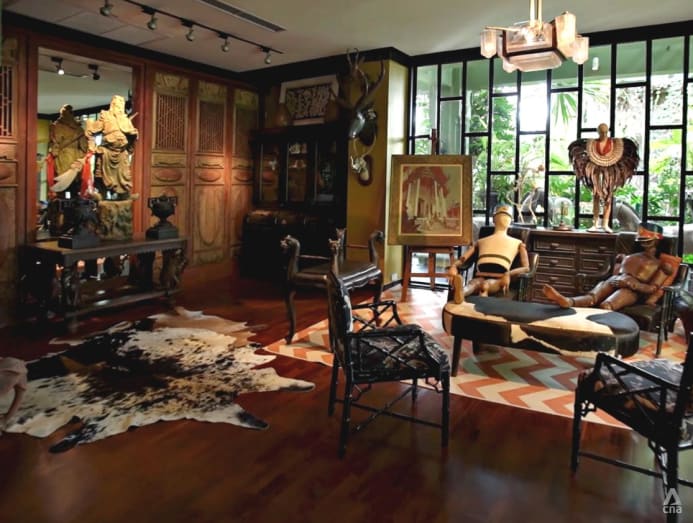 What he loves is the sense of character that these old, vintage items impart to the space. "Almost everything that we have here is recycled. Something that is old has this gravitas that you cannot replace by the things that are brand new today," he said.
"In Baan Botanica, it is like a constantly revolving showcase of the latest things and the best of the antiques we have been fishing for over the last 20 years."
His sense of humour certainly shines through. With a chuckle, he introduced a guest room, christened "The Horny Room".
"There's something like a couple of dozen beautifully carved, mostly Burmese, wooden carved deer heads, antelope heads and antelope racks," he said. One mount might look out of place but "together as a group it becomes very successful" as a vignette that guests can linger over and admire.
The California-born Bensley first bought the house in 1997 from an American named Billy Bones, acknowledging that it was the owner's name that first attracted him to this house. "When we started this many years ago, we took over basically a shell. The house was very different then. Now it's a virtual tamed jungle if you will," he said.
Today, the house also doubles up as their laboratory of sorts, where they test out new and interesting design ideas that may eventually make it to other projects they work on.
"Every single year, we go through major renovations because we use this house as a place for experimentation. We're architects, we're landscape architects so if we have a new idea, we'll try it out here first," he said.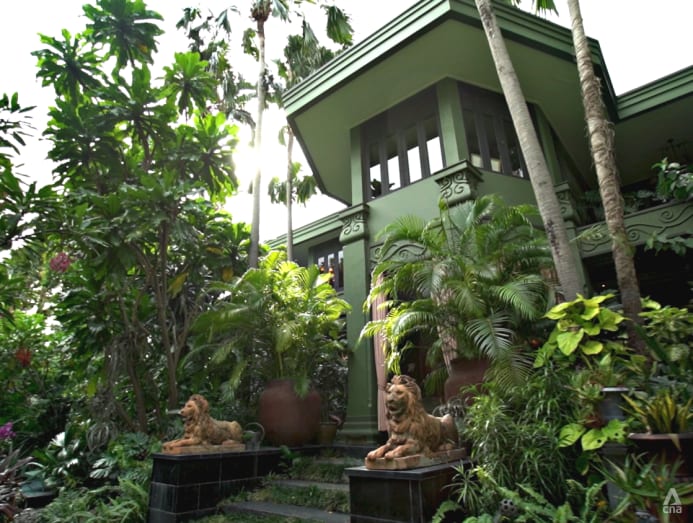 Besides the main house, the sprawling grounds also house 17 lush pocket gardens and 11 standalone structures, which include guest rooms, work rooms and even an art studio where Bensley can be found on weekends painting on huge canvases.
The designer, who is also one of the pioneers in the eco-luxe movement, takes particular pride in the landscaping of his gardens, each of which evokes a different atmosphere. There are elegant courtyards, traditional Balinese water gardens and even party lawns awaiting discovery. Their secret to achieving this is by installing gates in each garden, which prompts guests to move through small passages, creating the sense of being transported into different themed worlds.
"It is all about what you see every day and how you appreciate things that you see," said Rengthong. "I wanted to create a surprise for visitors, our friends and whoever may have never been to our house. You do not see the garden – you have to look around for it and sometimes you might get lost."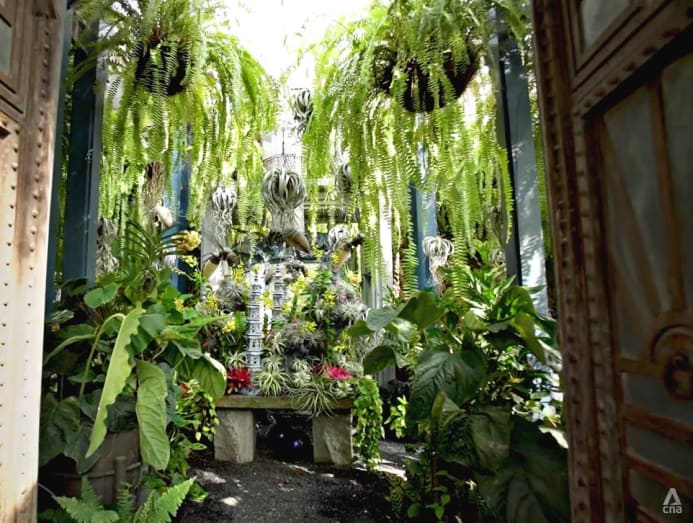 Together, the duo have also cultivated hundreds, perhaps thousands, of tropical plants in their sanctuaries. Plant parents will likely go gaga at the abundance of plant life in Baan Botanica, from unique agaves to colourful heliconias and more than 25 species of plumerias that bear flower, ranging from the huge white and yellow varietals to tiny red ones. In addition, Rengthong also keeps a nursery to breed Aglaonema plants, where he has already developed almost two hundred new strains.
Like the rest of the house, the gardens are also layered with decorative items, ranging from fountains and water features to pavilions, pergolas and pagodas. In a testament to Thai craftsmanship, many of these are sourced from local artisans.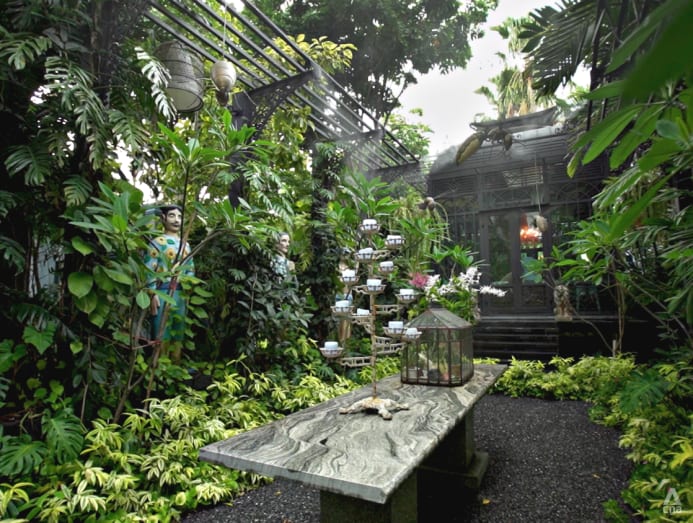 "Whenever we come home from work, when we arrive at the main door, we feel such a difference. It is so calming to see our home full of trees and plants," said Rengthong.
It is a sentiment that Bensley wholeheartedly echoes. He said: "For me, Baan Botanica is a cornucopia of the finest antiques and art and animals that I have ever come across in the last 25 years."
Baan Botanica is the maximalist 34,400 sq ft Bangkok home of hotel designer Bill Bensley and horticulturist Jirachai Rengthong. It may appear a little crazy but there's a method to the seeming madness – it houses precious antiques, rare furniture, unique art pieces and is a sanctuary to 1,500 plant and flower species.
Adapted from the series Remarkable Living (Amazing Spaces).