This home in Thailand brought a multigenerational family closer together during lockdowns
The eight-bedroom property in the southern suburbs of Bangkok is shaped like a plus sign and designed by Somdoon Architects to have communal and private spaces for harmonious living.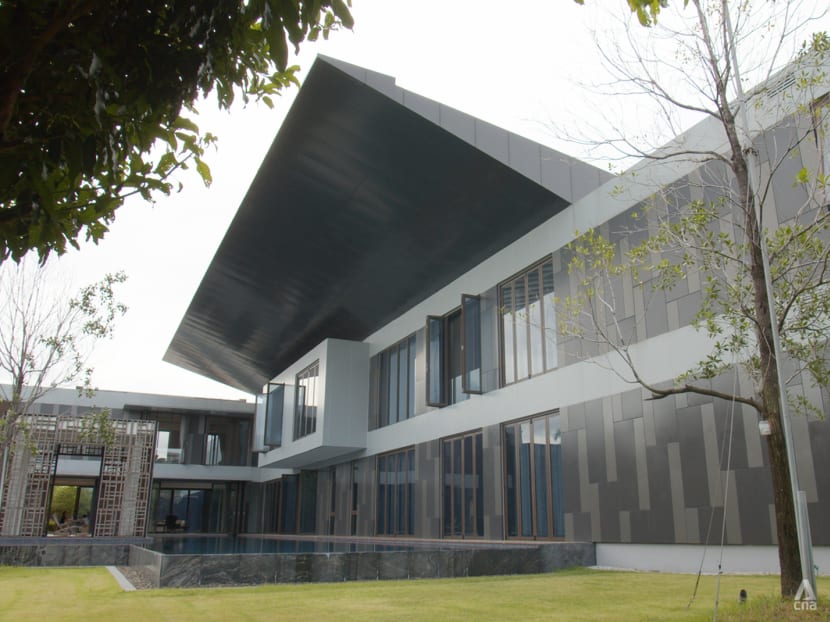 For a Thai-Chinese family, the notion of three generations living under one roof is a common tradition. But when jewellery business owner Sarawuth Donsukul first thought of having his entire extended family living together, he had some reservations.
"When I first asked everyone to move in, I was a little bit nervous because the two families have never lived together. I wondered if my wife could live with my family," he shared. "The benefit is that my parents can pass on wisdom to my children, and this will cultivate the perspective that the family is not just father, mother and children."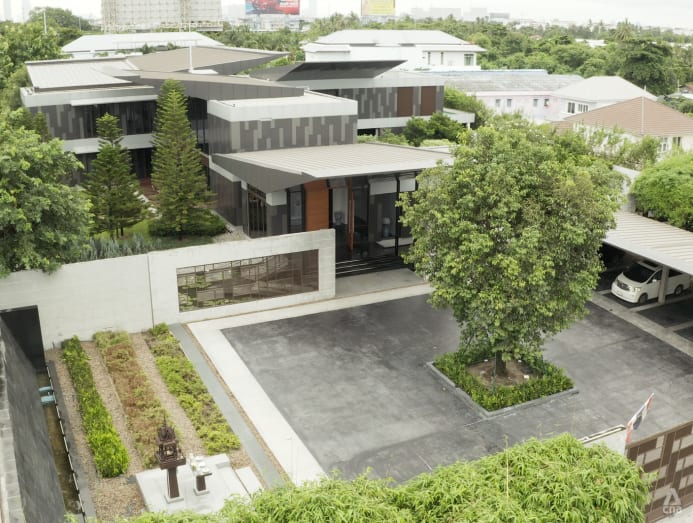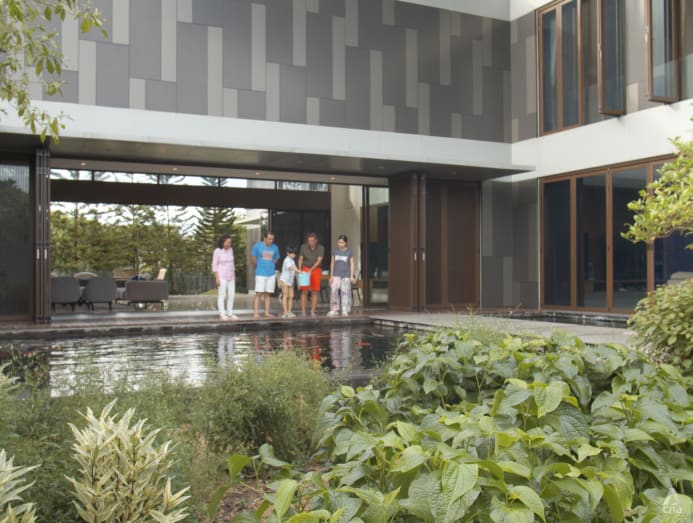 Donsukul approached Somdoon Architects to build a modern tropical home with private and semi-private areas so that the three generations could live together without conflict.
There were two challenges in designing the eight-bedroom property, which is called the Plus House or Donsuk House ("donsuk" means "making happiness" in Thai). Somdoon's design principal Punpong "Peng" Wiwatkul had to create functional areas that fit the family's needs and balance the sharing space. The other was to have a balance of ventilation and views in the sprawling 23,000 sq ft property.
This Thai businessman initially had reservations about living with his extended family. In this video, find out how he overcame his hesitancy through his home's design. (Video: Freestate Productions)
The rooms are designed such that they are open on both sides for wind flow. The living and dining rooms and communal spaces are located on the ground floor while the rooms for Donsukul's two sisters and his children are on the second. Donsukul also had a library specially built to house his 3,000 comic books.
He shared: "I love reading comics so much and that's why I built this library as my private space. The room is also for my kids to experience what I had imagined since childhood and let them know what I liked as a child as well."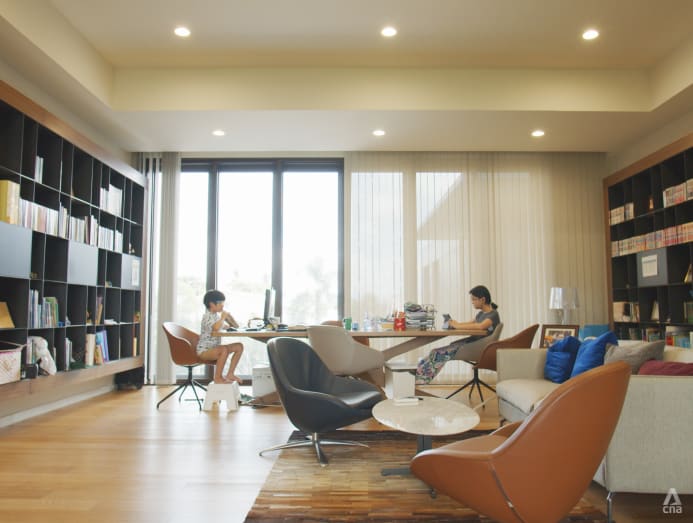 While the interiors are mostly neutral and minimalist, statement sculptural features add visual interest. The loop staircase to the upper floors, which can be lit up at night, is in the centre of the "plus" sign in the house layout. Wiwatkul explained: "We designed it like a sculpture so that when people walk past it, they see the stairs as such in the middle of the house."
A diamond-shaped "grain" installation was also created as a nod to the family business. Donsukul explained: "Rice Diamond is the concept design for the dining room. Our family is in the jewellery business so the designer made a grain of rice into a diamond-shaped sculpture, which translates to 'richness comes from the career we embark on'."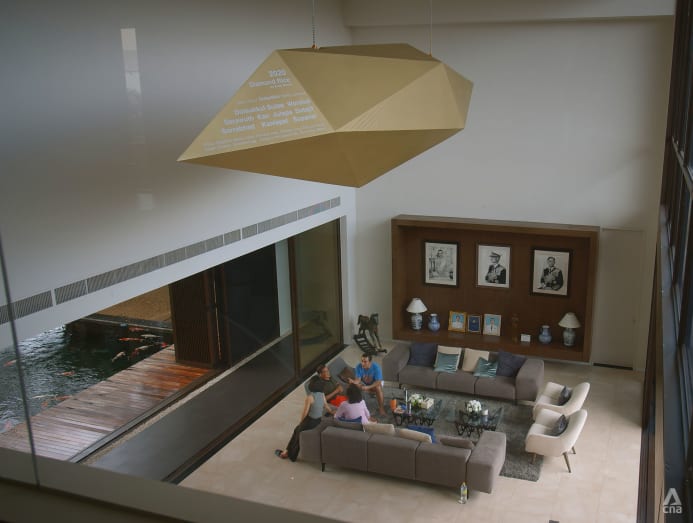 Outside, the swimming pool forms a focal point of the house as it connects to the gym and library. "When we first designed the house plan, the kids were not good swimmers. I thought the pool needed to be visibly seen from wherever someone might be watching," Donsukul explained. The gardens are landscaped with different species of plants and trees so that the family can experience the sights and scents of the four seasons even though they are in the tropics.
Moving into their new home during the pandemic caused Donsukul's family to make full use of it – from swimming and gardening to cooking and baking. Whether it was individual relaxation or group bonding, there was always an area for everyone's needs. And even though everyone could be in different corners of the house, the family would gather for meals at an agreed time.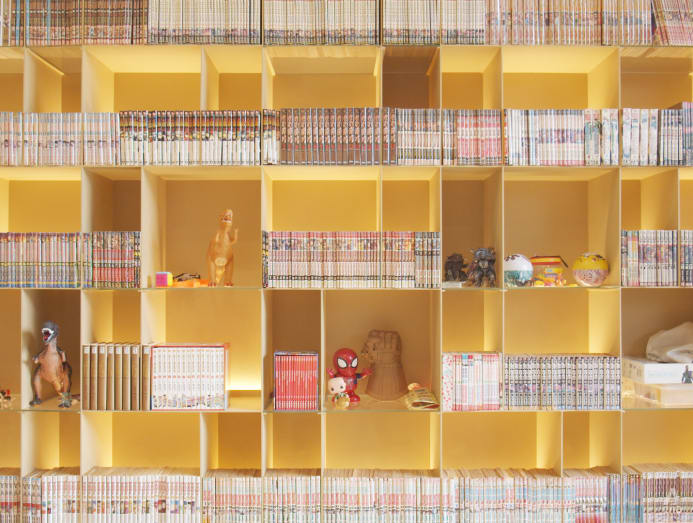 Donsukul said: "One day when my kids have their own families, I hope they'd maintain strong connections as they've seen how we connect with our parents. When they grow up, they'd adopt the same values from this family."
Adapted from the series Remarkable Living (Season 4).