The home of this top fashion designer from India is a reflection of his creative influences
Just like his exuberant apparel designs, the sumptuous interiors of popular couturier Tarun Tahiliani's New Delhi home is a treasure trove of colours, textures and patterns.
As one of India's most renowned fashion designers, couturier Tarun Tahiliani's lavish creations have been worn by glamorous celebrities including actress Priyanka Chopra and Bollywood actress Katrina Kaif.
And just like his signature designs, his home in New Delhi, India is a kaleidoscopic reflection of the vast array of his creative influences ranging from antique furniture to interesting art and fascinating decorative pieces that come together to create a feast for the senses.
"I think home is what you think of as a womb. You can let go. You sink. You sleep. You regenerate. You share. You laugh. You create your most wonderful memories," said Tarun.
The four-bedroom house sits on a sprawling 7,500 sq ft estate in South Delhi and was built in the 1990s. Tarun's son, Jahan Tahilian said that his father's best friend – who is also his godfather - had bought the land in 1997 but his godmother said she did not feel comfortable living in such a secluded area. On the flipside, Tarun found himself drawn to its distance from the city and wanted a home he could retreat to. So, he bought over half the land and built two identical houses for both families.
"It is such a therapy, in a city as crazy as Delhi with the traffic, the pollution, the chaos, the heat, to escape into this oasis and to have a piece of land that you could fashion the way you want and design from scratch," Tarun said.
To create a lush garden sanctuary, he hired a landscape designer specialising in indigenous plants to work on the sprawling grounds. Since then, more than 7,500 trees and flowers have been planted, turning the land into a thriving green lung.
"I love the idea of having gardens in many rooms; I do not like seasonal planting," the designer said. "I have all these Indian trees - let them go into flower when they will. Things flower when they are meant to."
There is one tree on the property that is of special significance - a grand Acacia tree on the porch. It was the only Acacia tree on the property when he first bought the land and he gave special instructions to build around it, Tarun recalled.
Growing up during the British Raj, Tarun was exposed to colonial architecture and drew on some of the style's key hallmarks for the home - although he does say wryly that he prefers not to call his own home "colonial inspired".
That said, he agrees that the British homes built then had a certain flow that made them suitable for the hot Indian climate. "These houses were built with high ceilings, they had courtyards, were cooler and were built cleverly as there was no air conditioning back then," said Tarun.
His own house, though, has many more glass windows compared to traditional British ones as he "wanted to feel the gardens inside", he added.
For the interiors, Tarun drew on many of the same elements that inspire his design direction, including India's rich heritage of artisanal craftsmanship, antiques, art and sumptuous textiles.
"I've always associated beautiful homes with a lot of art. I love the colours, I love the textures. It transports you and it's got somebody's soul in it," he said. "As I got into fashion, I went to parts of India that I had never dreamt that I would go to. My whole idea of beauty changed and I began to understand why as Indians we did things in a certain way. My eye began to change both for pattern, for colour and for texture."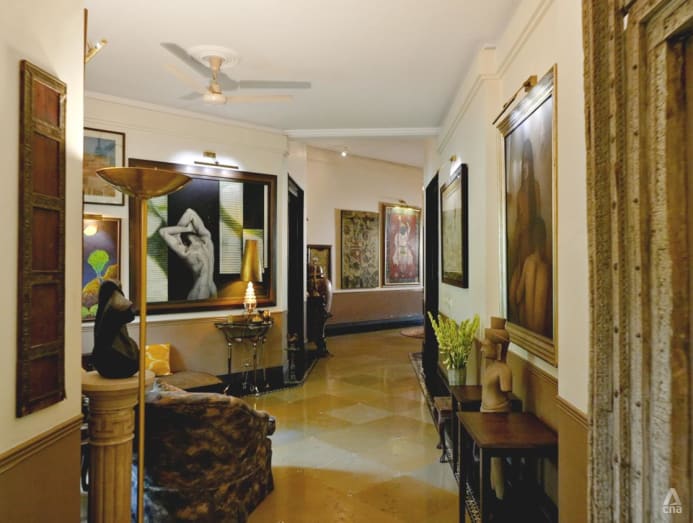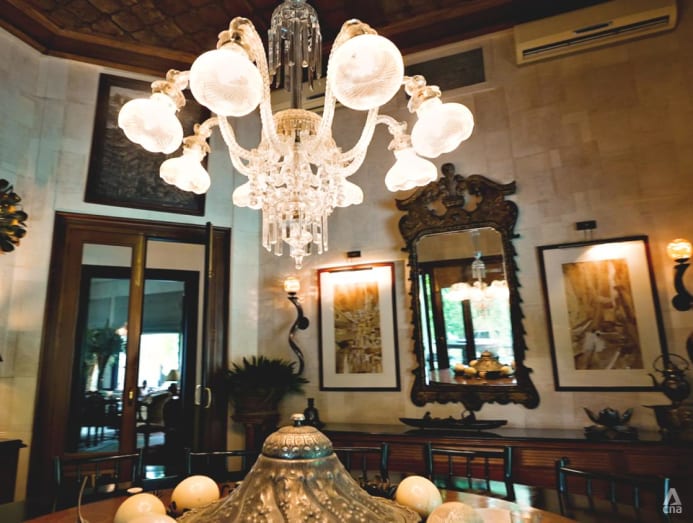 To reflect the wide range of crafts that can be found in India, he worked with various Indian artisans to create different elements in the house. "Everything has a story, everything's been picked by me," he said.
For example, some of the wall panels have been wallpapered in stone sheets of silk paper created by local Indian artisans. Over in the dining area, the ceiling is made from reclaimed wood originally from a heritage Haveli, an ancient Indian architectural structure that dates back to the 1600s.
He observed: "There's such a beautiful variety of things, old and new, that are done in India. One of my purposes, because I feel we were brought up so disconnected from what the essence of this country really had to offer, is to keep trying to push the boundary of how to make India modern and contemporary."
This philosophy of "India modern" can be seen in the items that adorn the interiors, such as the cushions in the living room made using spare material from his latest fashion show, which was described as one of the "hottest trends of the year".
The home also offers insight into the designer's creative process. "Every design is a visceral process. And it is inevitable the T-shirts will influence the cushions, then the cushions will come in and influence the next thing," he said.
His son Jahan described it best when he said: "The house is his own kind of testing ground - his own synthesis of space and his own experiences of what he has seen and where he has been, things that he has touched and felt that he has loved."
Nowhere can this be seen more clearly than in Tarun's "man cave" home office, where he spends his time sketching and developing ideas for new collections.
Hanging above his writing desk is a unique sculpture of a shark, which he bought on a dive trip to the Galapagos Islands. On that trip, his boat hit a reef and nearly sank.
While others may prefer to banish the memory of this near-death experience to the recesses of their minds, Tarun takes the opposite view. He said: "I do love it. It is a reminder that life is worth living but that it can be snatched in a moment, so live it fully."
It is this love for life that he hopes to inspire in others as well. He said: "I always tell people, my children, follow your passions and do not have an agenda. Just do it."
Indian couturier Tarun Tahiliani's home is a kaleidoscopic reflection of the vast array of his creative influences ranging from antique furniture to interesting art and fascinating decorative pieces that come together to create a feast for the senses.
Adapted from the series Remarkable Living (Amazing Spaces).