Meet Tokyo's top artist shoemaker: There's an 18-month waitlist and he also makes unusual shoe sculptures
More than a bespoke footwear designer, Noriyuki Misawa is known for his skill in creating shoes that are works of art in their own right, whether they're inspired by a violin or have names such as Mouse Attacks Shoe or Crust.
If you are already familiar with Christian Louboutin, Salvatore Ferragamo and Roger Vivier, it is time to add one more name to your lexicon of shoemakers to know. Enter Noriyuki Misawa, one of Japan's top bespoke shoe designers.
His signature leather footwear have graced the feet of members of Japan's Imperial household and he counts celebrities such as actor Adrien Brody and director Spike Lee among his clients.
What sets him apart from many shoemakers is his approach to infusing his designs with elements of intricately detailed art such as a shoe made using gold leaf on leather, which is inspired by the violin, or soles that are decorated with 3,000 brass nails.
"When I first found that shoes could be made (by hand), that was something new to me and I became interested. What is charming about shoes to me is their functional beauty and the beauty of their shapes and forms," said Misawa. He first began learning about shoemaking in Asakusa, a neighbourhood in Tokyo where much of Japan's shoemaking industry is still based today.
His mother was an art lover who influenced his own artistic passion so that after he graduated with a degree in English literature, he decided to forge his own path as a shoemaker.
"I chose the path to become an artisan when everyone around me was looking for a job. No one could understand me and no one did the same. I felt extremely lonely," he reflected.
After studying shoemaking in Japan for about a decade, he mastered the craft but felt there was something missing. "It lacked a sense of originality and I was very troubled over that. I thought that since my world was too narrow, I should travel abroad," he said.
So the 28-year-old Misawa moved to Vienna, Austria, to hone his craft by working at a traditional shoemaking workshop. He also had a stint with Simone Springer, a shoe designer for fashion brands.
"It was a way to make shoes that was completely different from the traditional shoemaking I was used to. To think that there was someone taking up the challenge of making shoes so creatively – I was really inspired by it," he said. "I thought to myself, 'I must also start making shoes that are me'."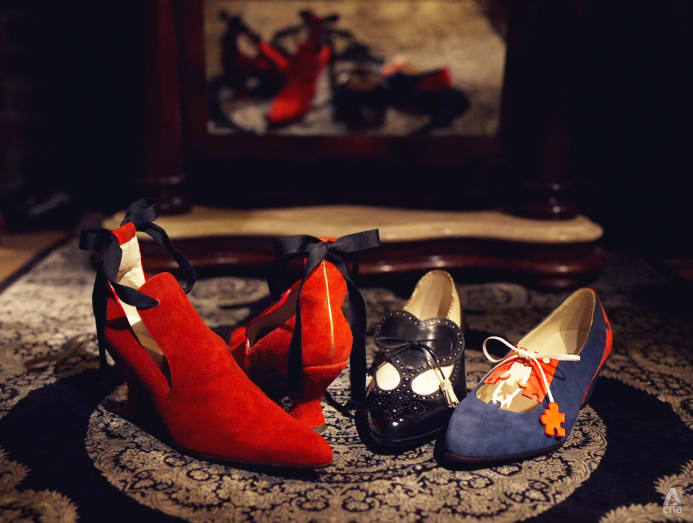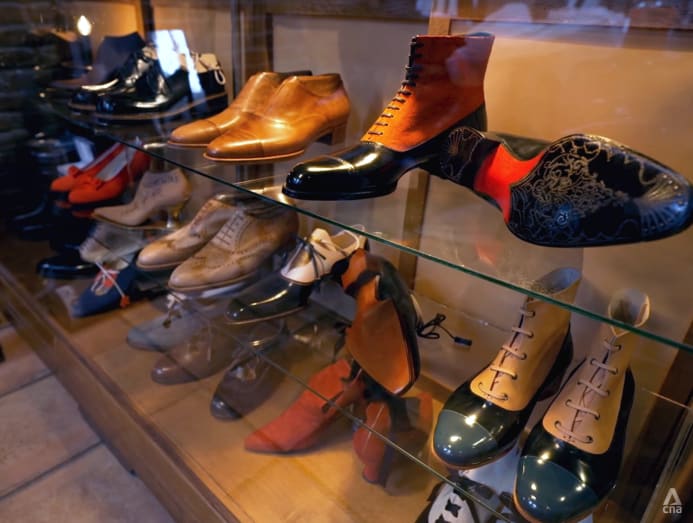 Being immersed in the artistic and cultural heritage of the city of Vienna also inspired him in his quest to define his style of shoemaking. "That was when I first thought about wanting to do something that fuses shoes with art," he reflected.
To do so, he studied art with a teacher for four years to learn techniques such as applying gold leaves to leather. He said: "I was simply shocked by the fact that such techniques existed. I instantly felt that they could be utilised in shoemaking." For instance, this technique is used in Music, his design inspired by the violin.
When he returned from Vienna in 2011, he launched a bespoke atelier in the outskirts of Asakusa and gradually built a name for his unique approach to shoemaking. These days, there is an 18-month waitlist for a bespoke order and it takes him six months to complete a pair.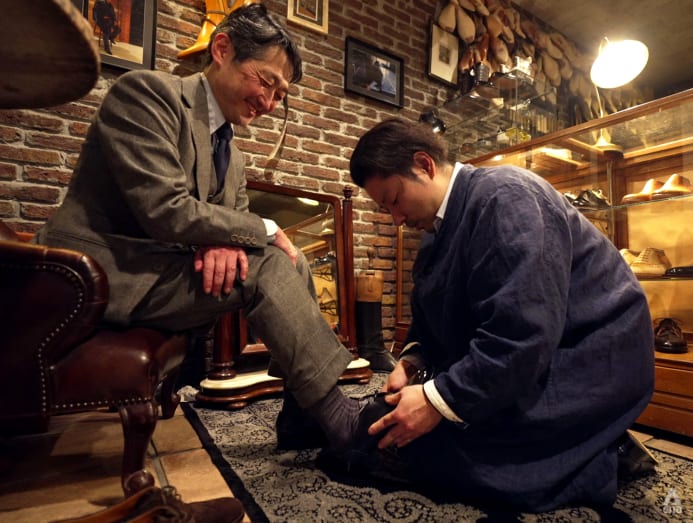 "I have recently begun to feel like I am now able to skilfully add a sense of art to classic shoes. I can finally fuse shoemaking and art at a high level, or at least in a way that I personally deem to be satisfactory," he said.
Besides shoes that clients wear, he is also known for creating actual works of art that come in the form of sculptural footwear. However, while these imaginative creations may look like shoes, they are probably not quite wearable.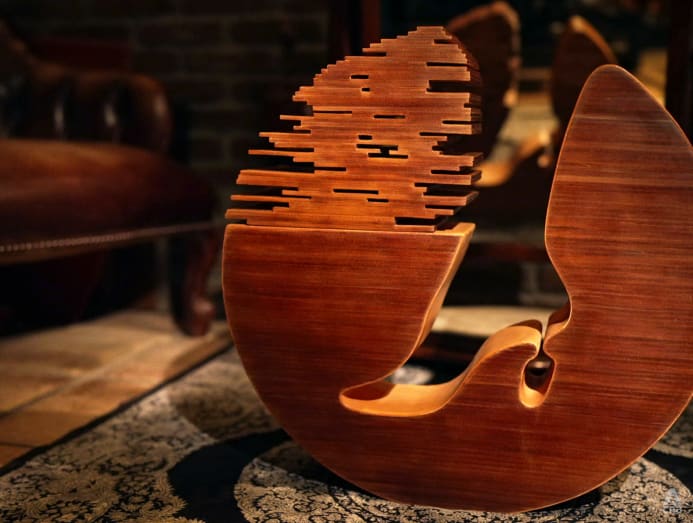 Take for example Foot's Nest, a leather sculpture made of layers of leather that showcases the silhouette of a shoe. He explained, "Normally, the heel part of a shoe is made from layers of leather. You put layers and layers of leather and polish it in the end. I used the same technique to build this art. It was a lot of work," he said.
It took him two months to complete the project and it was awarded the Best Overall Winner in the 2022 Global Footwear Awards.
To him, the effort was well worth it. "For things that require a lot of time which normally repels people, it instead makes me feel like attempting it. I am passionately aggressive, it is like I am always irritated about something. Things like that become a source of energy for me," he said.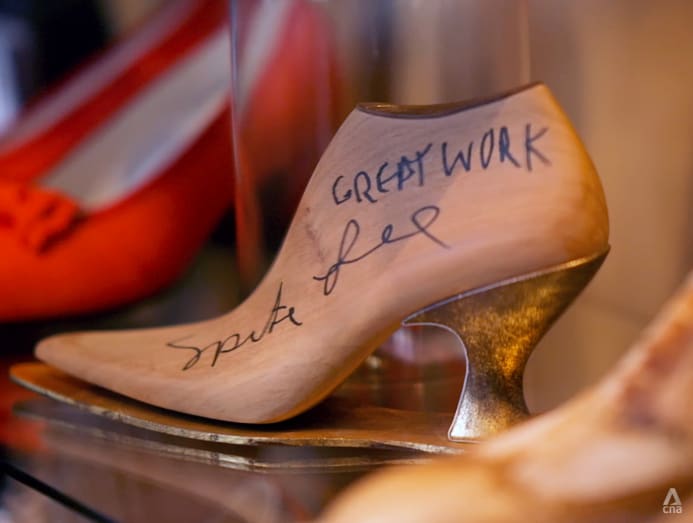 The shoe maestro has created over 20 shoe-inspired artworks and has held exhibitions in Tokyo, Sapporo, Cannes, New York and London. According to his Instagram account, he is slated to hold an exhibition in Singapore this year.
Some of his avant garde shoe sculptures include Crust, a deconstructed shoe and Mouse Attacks Shoe, an artwork which features large holes as if an animal has bitten large chunks out of it.
"Making artistic pieces is just my personal project. I do not do it for anyone else but just for myself," he said.
Noriyuki Mizawa is well-known bespoke shoemaker in Japan, whose made-to-measure creations are worn by members of the imperial household and celebrities such as director Spike Lee and actor Adrien Brody.
When he is in need of inspiration, he often heads to the National Museum of Western Art in Ueno Park, Tokyo to bask in the beauty of some of the world's most prized artwork.
"I simply like that quiet atmosphere where you are surrounded by famous drawings. Looking at these famous pieces and feeling the history of these art pieces, helps me to think about what kind of art pieces I have to make. My life goal is to create never-before-seen shoe designs that will leave their mark on history."