This family home in South Delhi sits on a sprawling 50,000 sq ft estate
From a movie theatre to an outdoor bar, this spacious house in India has a lot of free-flowing spaces that are perfect for entertaining family and friends.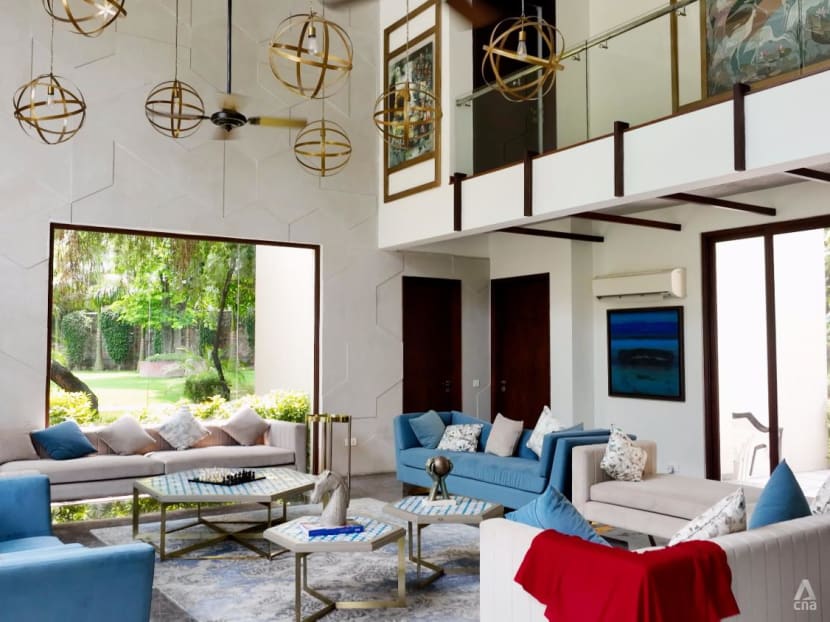 For Kunal and Pallavi Prasad, home is not just a place built of wood or bricks. "Home is where people care for each other. When you step inside your house after a day of hard work, they are there waiting for you. That kind of love and unconditional support comforts me and that is home," said Pallavi.
In 2016, following years of searching for the perfect space to lay down their roots, the couple finally bought a spacious 50,000 sq ft estate in Chhatarpur where they could build their dream home to live in. "It is the only space in Delhi where we have all these big, huge lands. When we first saw this space, I fell in love with it and I wanted to build my dream house on this piece of land," said Kunal.
The six-bedroom bungalow, which is surrounded by lush green grounds, has been constructed to reflect the couple's needs. "We created spaces which are important to us," said Kunal, who noted that none of the original 150 trees were destroyed during the construction.
"As a family, all of us are very fond of the outdoors and we want to swim, cycle, jog and do yoga," said Kunal. And the property is packed with features for their enjoyment, from a large swimming pool situated just outside the house to well-manicured paths and even a trampoline for their daughter.
During the pandemic, when it was difficult to swim in public spaces, the various facilities within the compound also became a refuge for the family, where they could still enjoy their favourite outdoor pastime. Pallavi said: "All these activities really brought us together as a family."
Kunal agreed and added: "For my daughter to grow up in these open places, is one of the dreams that a lot of parents would hope for their kids." Also located on the estate is a beautiful gazebo where Kunal practises yoga. His love of yoga inspired the design of this space, which features a falling leaf design achieved by imprinting real leaves onto the concrete.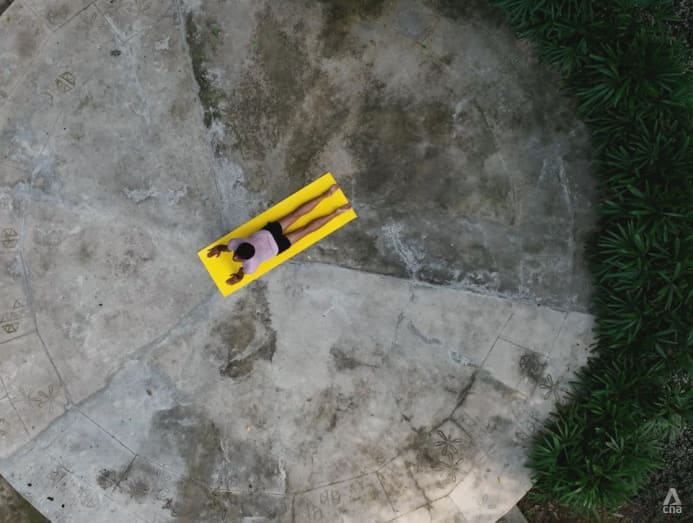 "We built that gazebo surrounded by the trees so that part of the house does not get any sun. There is shade all throughout the day. It is really one of the ideal retreats to practise yoga," he said. "Yoga has completely changed me as a human being. This place probably brings that culture of being a yogi much more alive."
Pallavi, whose passion is cooking, loves tending to her vegetable garden where more than 45 different types of produce including pumpkins, tomatoes and jackfruits are grown. The wide range of produce meets up to 30 per cent of the family's food requirements. "I love exploring with a lot of ingredients so it becomes important for me to get the right vegetables. So if we have the space, why not grow them in-house," she said.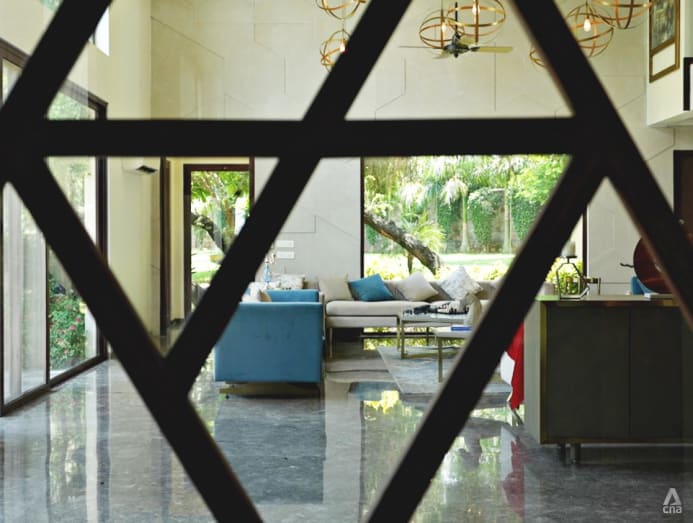 The home is designed to stand in harmony with its natural surroundings, with a nod to minimalist and raw sensibilities, featuring "simpler materials" such as exposed bricks and concrete.
"My design style is 'contemporary modern'. There are a lot of free-flowing spaces and an open facade integrating the outside with the inside. If you look at the entirety of the structure, it is very horizontal," said Kunal.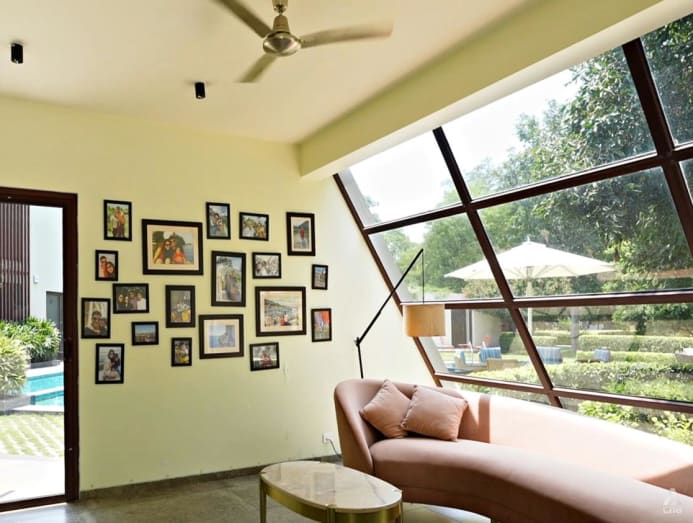 With large floor-to-ceiling glass windows in almost every room that offer panoramic views of the outdoors, it is no wonder Pallivi treasures her me-time at home. "I love the main living room of the house. I really enjoy sitting here and taking in the beauty outside," she said. "We have seen birds hatching from eggs and peacocks come by and knocking on those glass windows. It is very cosy and it is a very warm place to be in."
Organic patterns, geometry and shapes are recurring themes throughout the home. One such example is their daughter's bookshelf, which is shaped like the branches of a tree. "We built a library for her; books take up a lot of space. We keep buying a lot of books for her because she is a voracious reader and can finish one novel in two days," said Pallavi, beaming with pride.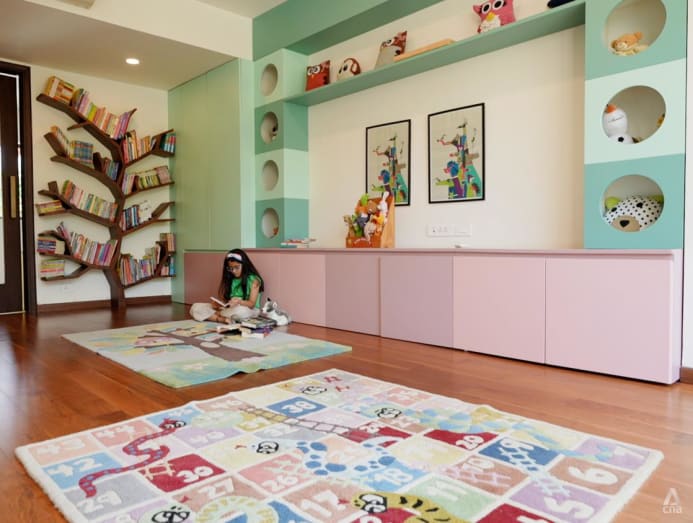 The house is also conceptualised to incorporate many of the luxuries of modern living such as a home movie theatre, games room with a pool table and even a spacious outdoor bar where guests can mingle and relax.
"We wanted to create areas where we can entertain our friends. Friends are an integral part of who you are," said Kunal. "My wife also loves to host people – she is a very gracious, generous host."
Pallavi is in her element most when she is serving up a feast for their close friends and family. She shared: "We have never thought of it as just our place. We love our friends and there are a lot of spaces in our home which they can enjoy. And we spend a lot of quality time together with them too."
For a couple who came from humble beginnings and had limited space to enjoy when they were young, this airy, relaxed home is something they never imagined they would have. This is one of the reasons why they have no qualms sharing their home with others. "This space comes alive when people are there. I have to share my success and joy with my friends, family and people who matter to me," said Kunal.
Reflecting on the importance of having these deep roots, he added: "Social fabric is one thing which really distinguishes India as a society from a lot of other places. This home perfectly reflects what we are as individuals and as a family probably, and that is the virtue we stand by."
The six-bedroom bungalow sits on a sprawling 50,000 sq ft estate in Chhatarpur in New Delhi, with organic patterns, geometry and shapes being a recurring theme throughout the whole house.
Adapted from the series Remarkable Living (Amazing Spaces).