Why Seongsu-dong is Seoul's next 'secret' hotspot to add to your travel bucket list
Once an industrial area filled with old warehouses, Seongsu-dong is now a revitalised destination in Seoul that is frequented by cool in-the-know creatives.
From trendy Itaewon and vibrant Hongdae to glamorous Gangnam, many are familiar with Seoul's iconic neighbourhoods. But if you are eager to uncover a hidden gem in the South Korean capital, head to Seongsu-dong instead.
Located in the eastern part of Seoul, this semi-industrial area was previously home to many small and medium-sized factories.
"When I visited Seongsu-dong eight years ago, there were many factories that had been there for a long time. There wasn't anybody there. But in my eyes, if I could create an interesting story, people might take an interest and start coming here," said Hong Dong-hee, one of the first entrepreneurs to envision how this old neighbourhood could be reinvented. "And I thought, what is the thing that can bring people together?"
So in 2018, Hong bought a 50-year-old dye factory and transformed the premises into an industrial-chic cafe that still bears many of the original building's architectural details.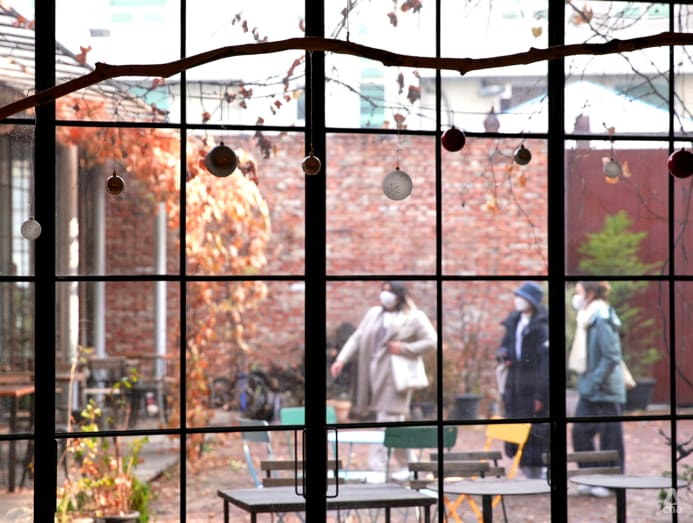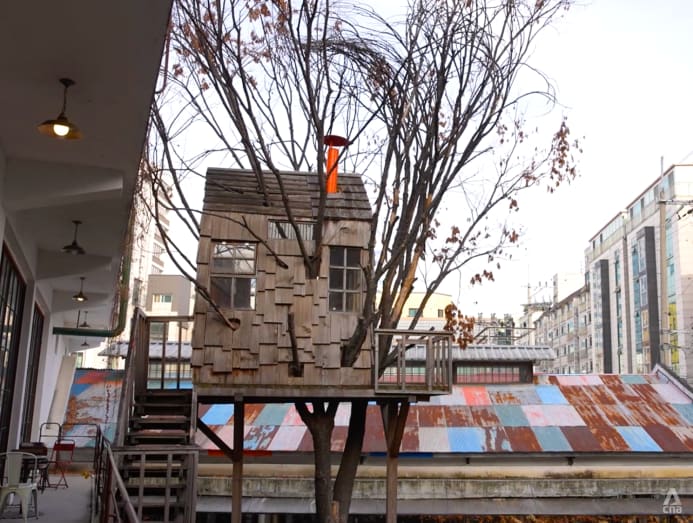 "If you look at the roof from the inside, that is what it has looked like for the last 50 years. Should I say it's the beauty of time – the depth that time carries within it? In all this time, many things must have happened and I wanted to preserve these stories while at the same time creating new stories," he said.
"The place draws in people in a more subtle and natural way. If I painted the roof and made it very pretty, while it might be pretty, it might not draw in people naturally. It might not touch their hearts."
Over the past few years, an increasing number of cafes and specialty shops have also occupied many of these industrial spaces, while keeping to a similarly utilitarian aesthetic that evokes the neighbourhood's working class origins.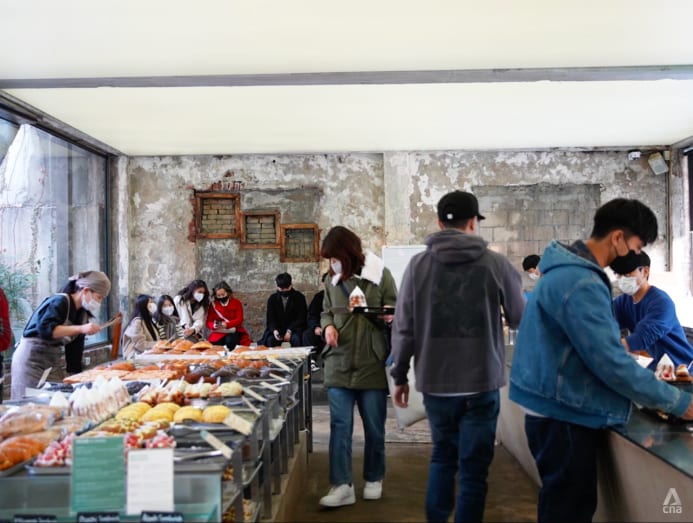 But even though the facades may look almost derelict in some cases, these are among some of the most popular hangout spots for cool Seoulites.
Besides event venues, galleries and retail spaces for cult brands, this neighbourhood also draws entrepreneurs seeking to launch interesting business concepts on a smaller budget compared to large, international brands.
"The biggest issue in Seoul is the rent, so instead of having the workshop in the city centre, we set it up in the outskirts," said Oh Sa-gab, owner of woodworking workshop Waple.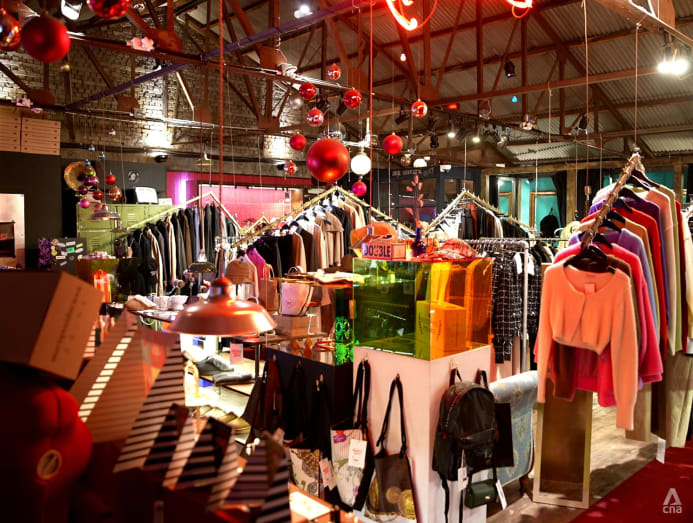 He chose to situate his workshop in Seongsu-dong as it has become a popular area in Seoul hence increasing the visibility of his business, he added. Since setting up in Seongsu-dong, the studio has seen an increase in the number of people signing up for workshops.
"The hardest part of running my woodworking workshop was attracting students. People often think that you must be dexterous to start woodworking. However, our workshop is not for large, difficult pieces of furniture. Many people sign up for our DIY workshops to make these 'easy' pieces that can be easily assembled," he said. These pieces include wooden smartphone speakers or cooking utensils.
There is also a restorative element to working and creating an object with one's hands that draws people back for more. Oh said, "Physically touching wood and touching nature can heal us. We are moving at a breakneck speed in this digital age so we need something analogue in our lives to counterbalance this."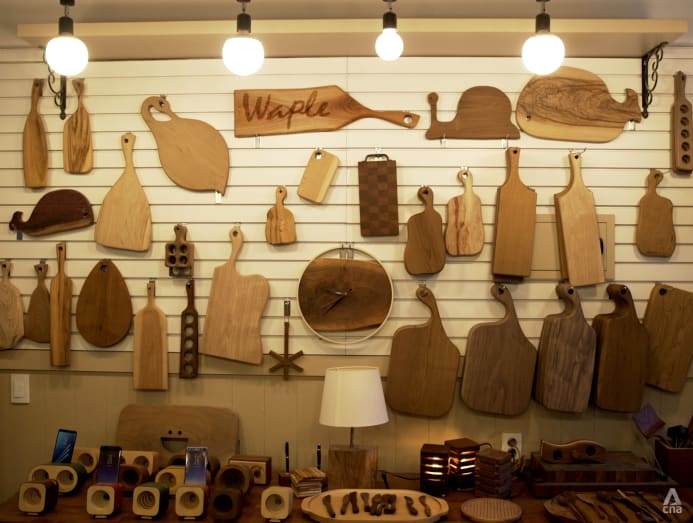 Even though the district is now populated with cool cafes and other trendy establishments, the neighbourhood's manufacturing origins can still be found if you know where to look.
For instance, Yu Hong-sik is a shoemaker well known among those with discerning taste for one-of-a-kind shoe designs. He has worked in Seongsu-dong for 23 years and while the area once had 1,200 shoemakers, the number has since dwindled drastically.
"Large factories appeared, where shoes of the same design are mass-produced by machines. A large number of low-price shoes are also imported from China, so our shoemaking industry was eliminated by natural selection," said Yu.
He credits his longevity to his singular approach to shoemaking. "I've made some 'strange' shoes since I was young. My teacher would ask me, 'Hey, who would wear those shoes?' But I've managed to survive until now because of these unique shoes," he said.
Today, he works out of a small atelier and draws satisfaction from making shoes for customers who appreciate the artisanship that goes into the process of creating handmade footwear. He reflected, "I still find this job fun so I will continue to lay the leather and to hone my skills. It gives me strength so I cannot stop."
As with any up-and-coming neighbourhood in a big city, there is always a possibility that gentrification may drive away the very same creative minds that were drawn to its gritty charm in the first place. But for now, the balance between old and new has made Seongsu-dong one of Seoul's favourite hidden gems.
"We had been to Hongdae and Gangnam and it was a little boisterous. This area is more quiet and calm, and we can do things together, so we like it here," said one passerby.
Another couple told CNA Luxury: "When the weather is good, it is nice to take a walk here, and I find it fun to discover the little shops here and there."
Located in the eastern part of Seoul, Seongsu-dong was once home to small and medium-sized factories. Today, you've got cafes and specialty shops that have become popular places to visit
For those who have invested in revitalising Seongsu-dong, seeing this infusion of life back into the neighbourhood is its own reward. "Whenever I see a city that is full of liveliness, I feel happy. Whatever kind of space it is, the important thing is having people mix around with one another," said Hong.
"In the end, it is the people who are the most important. I think Seongsu-dong will be a place where the past, present and future, exist and flow together in an interesting manner."