A Singapore family home built on a steep slope and irregular plot of land
Initially, this family of five had reservations about how they could construct a house on their land. But design principal Darlene Smyth allayed their concerns with a design that works with, not against, the site constraints.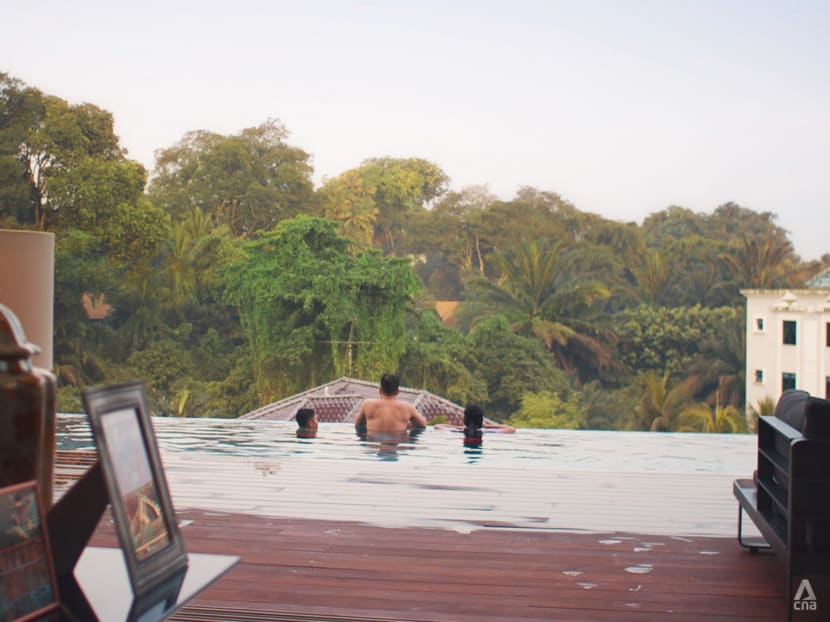 It took over a year before homeowner Wang Yi Shi found her dream house.
The 9,000 sq ft bungalow sits on an elevated cul-de-sac site, surrounded by lush foliage and overlooking unblocked panoramic views.
Wang shared: "We were looking for a very square, regular flat piece of land. While we were very excited about it, we also had a fair amount of reservation given the odd shape and the steep slope that this land was on. We were not sure how feasible it would be to build a house on this piece of land."
She worked with A D Lab's design principal Darlene Smyth to create a resort feel with the home's tropical settings. Smyth was thrilled by the house's spectacular views, as it was a rare find in Singapore.
Smyth said: "I was very excited when they bought this piece of land. It not only flares out horizontally but it also flares out vertically, because the ground drops about three storeys toward the back of the site, giving a real panorama view of the landscape."
The modern home is defined by clean lines and stacking blocks. As the owner was very concerned about maximising the site's slopes, Smyth terraced several decks and usable spaces down the slope and included a gym and some social spaces below so that the grand vista could be viewed from multiple vantage points.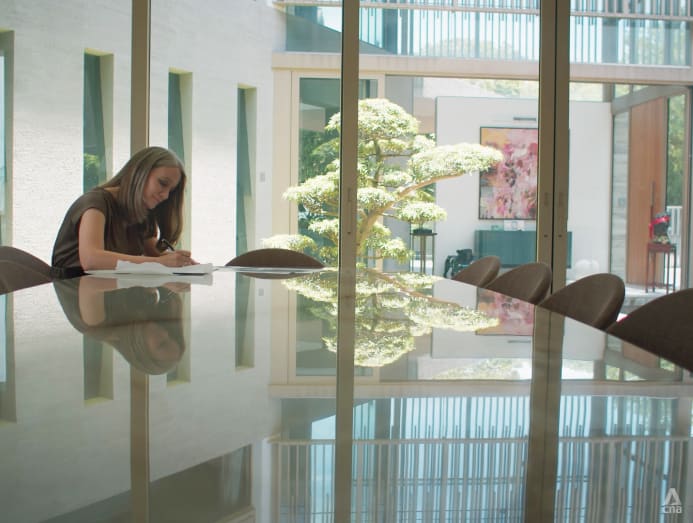 Initially, the owners of this bungalow – a family of five – had reservations about how they could construct a house on their land. But design principal Darlene Smyth allayed their concerns with a design that works with, not against, the site constraints. (Video: Freestate Productions)
"I noticed that this family was very busy. I wanted to make this place for them a haven, somewhere that they could be separated from the city, from their hectic life, where they could really focus on the family and focus on enjoying this beautiful piece of land that they bought," Smyth added.
Visitors enter the home through a light and airy entrance pavilion that feels as if it is part of the natural landscape. They then amble through a narrow corridor with slit openings that offer a limited view of the courtyard.
Smyth explained: "Our design intent was to elongate the process of moving through the site, so that at the final living room space, you were open to the fantastic views beyond."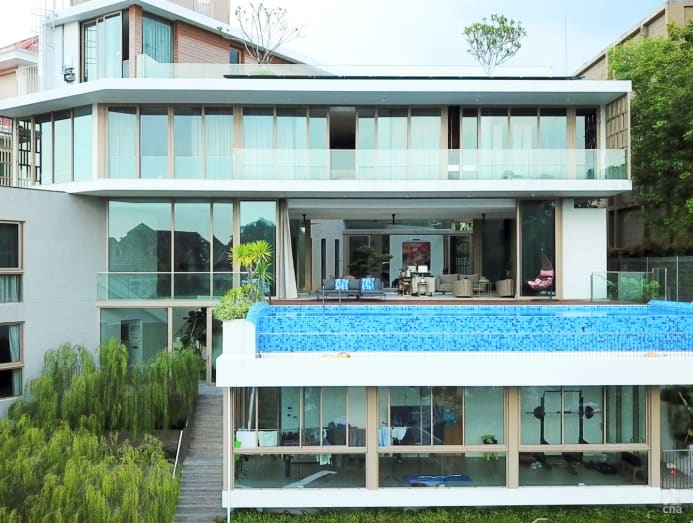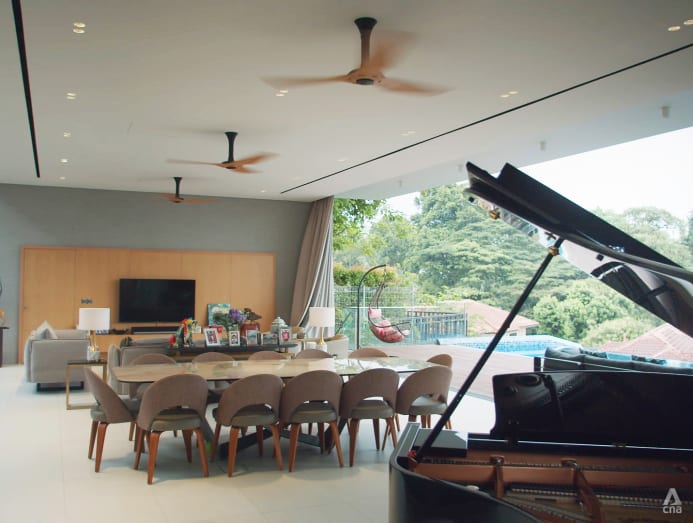 The inner courtyard maximises the air flow and houses the family's oriental garden, with a large bonsai tree next to a koi pond. The children also like to play with the pet rabbit here in the evenings. Wang said: "Koi symbolise good luck, abundance and perseverance. I think it brings a touch of tranquillity to the house. The koi have grown quite a lot in the last two to three years that we've lived here. It's nice watching them grow and their colours do change over the months."
Music and art feature large in this home. Muted interiors provide the backdrop for the homeowners' art collection, which include paintings that are colourful, textured and have a little three-dimensional effect. Most of the pieces were made by artists from Asian countries such as Vietnam, Singapore and Thailand, and were bought during travels or gifted by friends.
As the family like to have music while they're entertaining, a grand piano takes pride of place in the living room, which was combined with the dining area to form an expansive space. Next to it is the infinity pool, which was inspired by well-known modern tropical architect Geoffrey Bawa's designs in Sri Lanka and made to appear like it's vanishing into the surrounding greenery.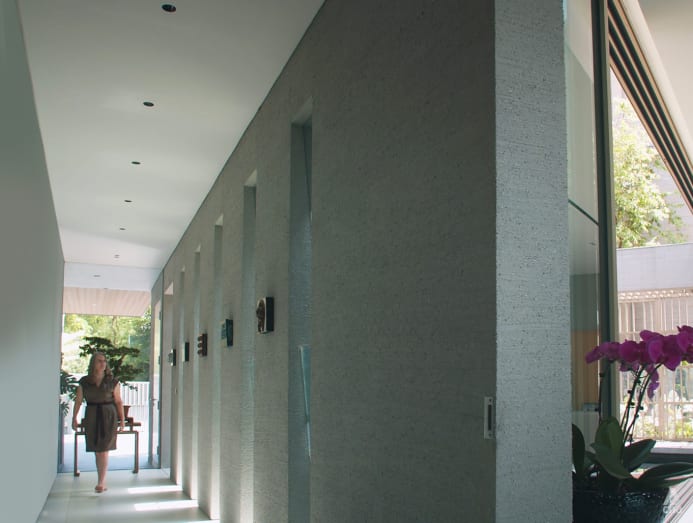 "What we really have is a living-cum-dining area rather than two separate spaces. It's almost like a grand hall where we could enjoy watching TV or dine with our family or entertain our friends," said Wang.
Smyth also thoughtfully designed the layout of the bedrooms such that each has a piece of the splendid view outside. There is also a large deck that spans the building's facade where the family can sit outside and chill to the views. The master bedroom and son's room are on the second floor, while the third level comprises the daughters' room and a roof terrace with a 360-degree view of its surroundings.
With such soothing vistas, it is unsurprising that Wang looks forward to returning home every day. She said: "This house has really become a restful oasis for me and my family. I think it's a place that we can grow together, learn together and enjoy for a great many years."