A bungalow that was once home to former President Ong Teng Cheong
In building a new house for new owners, architect Carl Lim was keen to preserve a slice of history, so he repurposed some of the window grilles from the late President's home, which now serve as decorative panels at the entrance.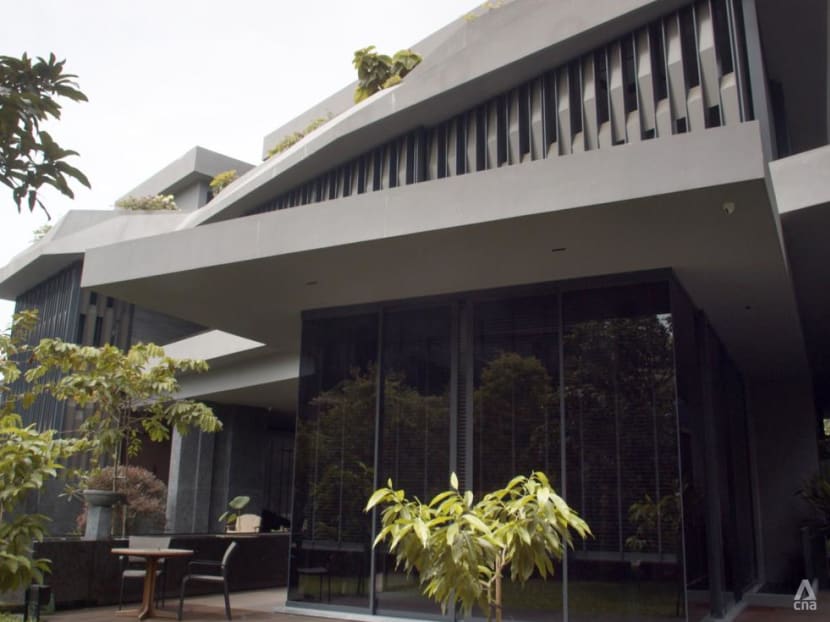 Czarl Architects' founder Carl Lim believes that every object has a story to tell, and unpredictability in architecture and design evokes thoughtful conversations.
So when he was approached to work on a four-storey, five-bedroom home for a couple where the husband wanted something masculine yet open with surprising corners, his interest was piqued. He became more excited when he found out from archival drawings that the 16,000 sq ft property had once belonged to former Singapore President Ong Teng Cheong.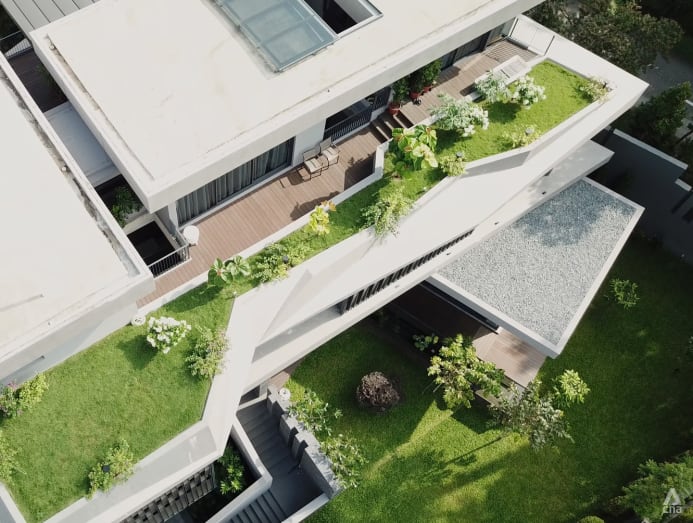 Lim, who had worked for the late president's architectural firm Ong&Ong in his younger days, wanted to retain certain aspects of the house for a continuation of its history. He shared: "We managed to salvage some of the window grills from the old house and use them as the decorative panel at the main entrance foyer."
While building this four-storey home for a couple in Singapore, architect Carl Lim wanted to preserve a slice of history by salvaging window grills used in the old house. Built like a stacking village, the house also features different blocks that are connected by courtyards and water features.
To surmount the property's challenging triangular, multi-terrain grounds, Lim designed the house as a stacking village, which was also inspired from its former layout. The Brutalist-inspired house now stands out for its rough, unfinished surfaces, emphasis on materials as well as minimalist construction style.
He explained: "It's a villa that has different parts of it sitting separately from one another yet connected as well. We wanted this idea of duplicating that and repeating it on the multiple layers, to have a house that is broken up into different blocks in such a way that they are separated, but connected by courtyards and water features, and also allow for natural ventilation as well."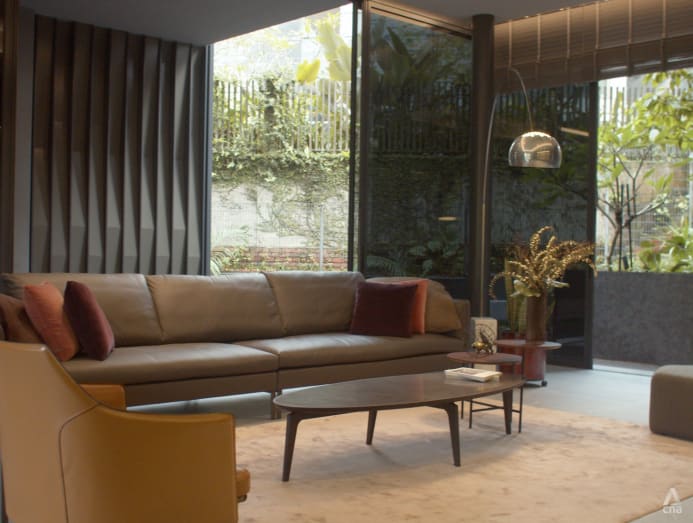 The homeowners, who moved in in 2021, love the house's open plan where they have expansive views of the surrounding greenery. The ground-floor living and dining areas for entertaining guests are linked by passageways with water features, while the second floor consists of guest bedrooms and a semi-indoor swimming pool. A sliding trellis, when drawn shut, gives the couple privacy as they relax in the pool. When drawn open, it offers panoramic views of the garden as well as the rooftops in the neighbourhood.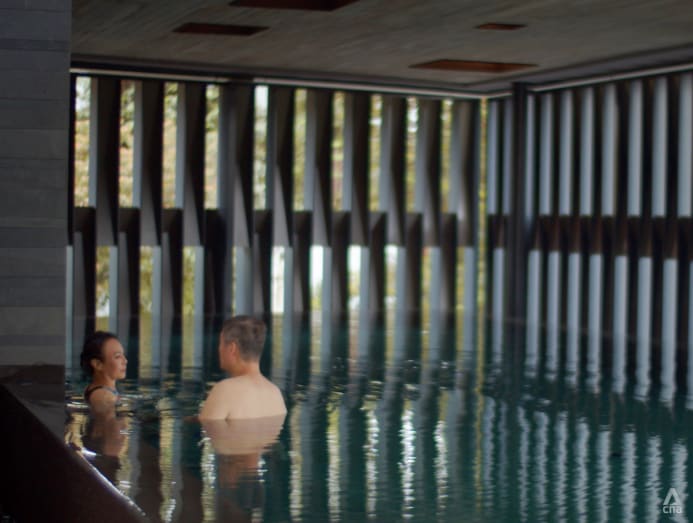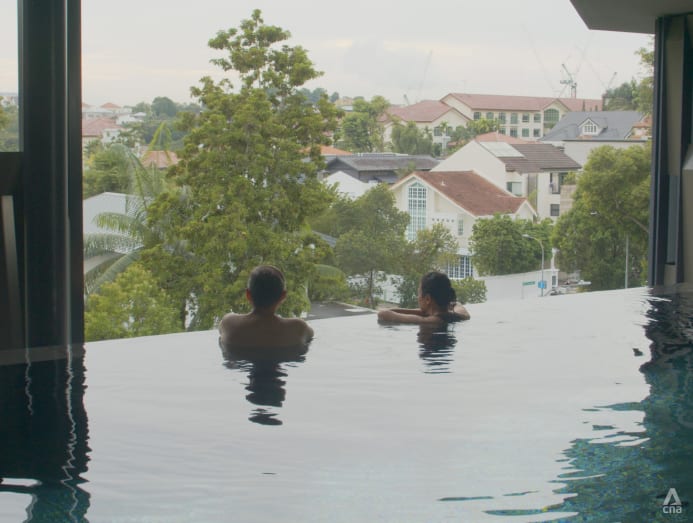 Instead of perceiving the irregularly shaped bungalow as an impediment, Lim worked that aspect to his advantage by installing a statement triangular staircase that extends from the basement to the attic where the master bedroom is located.
He shared: "The shape of the staircase is very organic. In terms of carpentry, it is very hard to achieve that sort of curve so we made some on-site decisions on the placement of the handrails as it turns (upwards)."
At the top floor, the master bedroom and sky garden become a breezy spot for the couple to enjoy a glass of wine or two when all the windows are opened. Besides being a privacy screen, the sky terrace allows the wife, a retired banker, to enjoy her favourite hobby: Gardening. The couple also often spend their weekends shopping in nurseries for plants to cultivate in their garden.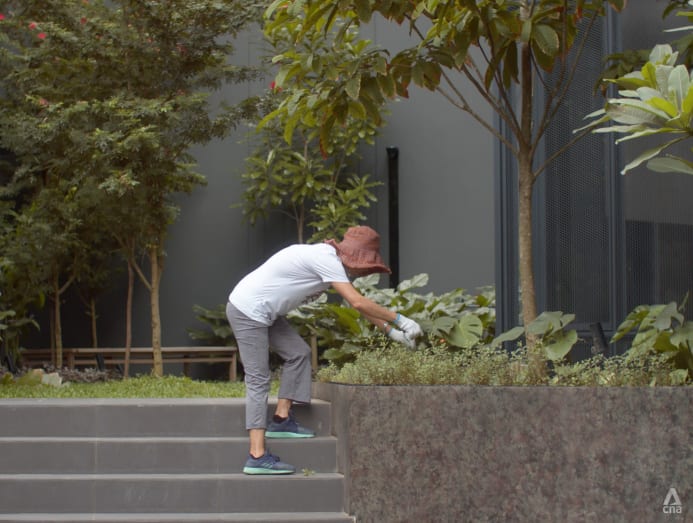 Having been through myriad design changes and on-site challenges as a result of COVID-19, the couple feel a sense of accomplishment at seeing their home project complete. The husband commented: "What I really love about this house is the spirit, how all the qualities that I would look for in a house – the spaciousness, the interesting corners, the breeziness and coolness – all come together. It just makes me happy."