This collector from Hong Kong has more than 1,000 pairs of vintage Adidas sneakers. Here's how his journey started
A childhood nostalgia for Adidas sneakers inspired sneakerhead Eddie Chang to amass one of the city's most impressive collections of vintage kicks.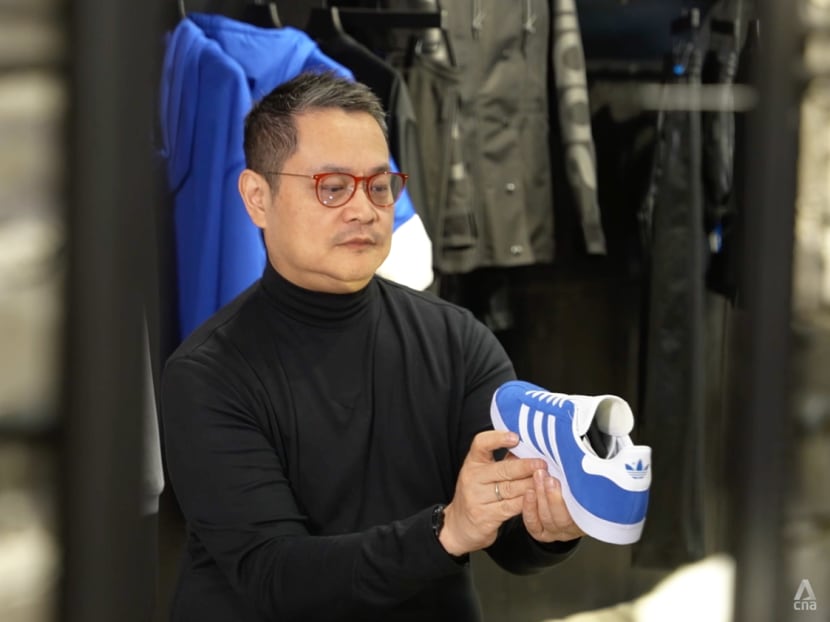 Sneakerheads are a dime a dozen these days but what sets Eddie Chang apart from the rest is how he has curated his collection. The 56-year-old leadership trainer has spent the past 20 years or so hunting down vintage and rare Adidas sneakers in an attempt to archive the design history of the German footwear maker.
His love for the three stripes began as a child when his mother brought him to Sneakers Street in Hong Kong to buy his first pair of Adidas shoes ‒ the Madrid. "Every kid wanted to have a pair and that is how it was imprinted in my teenage mind and remains until this day," he recalled.
His next pair of Adidas shoes came much later in life during a business trip in the 1990s. He chanced upon a pair of mint condition vintage Gazelle shoes at a vintage store and could not resist acquiring them.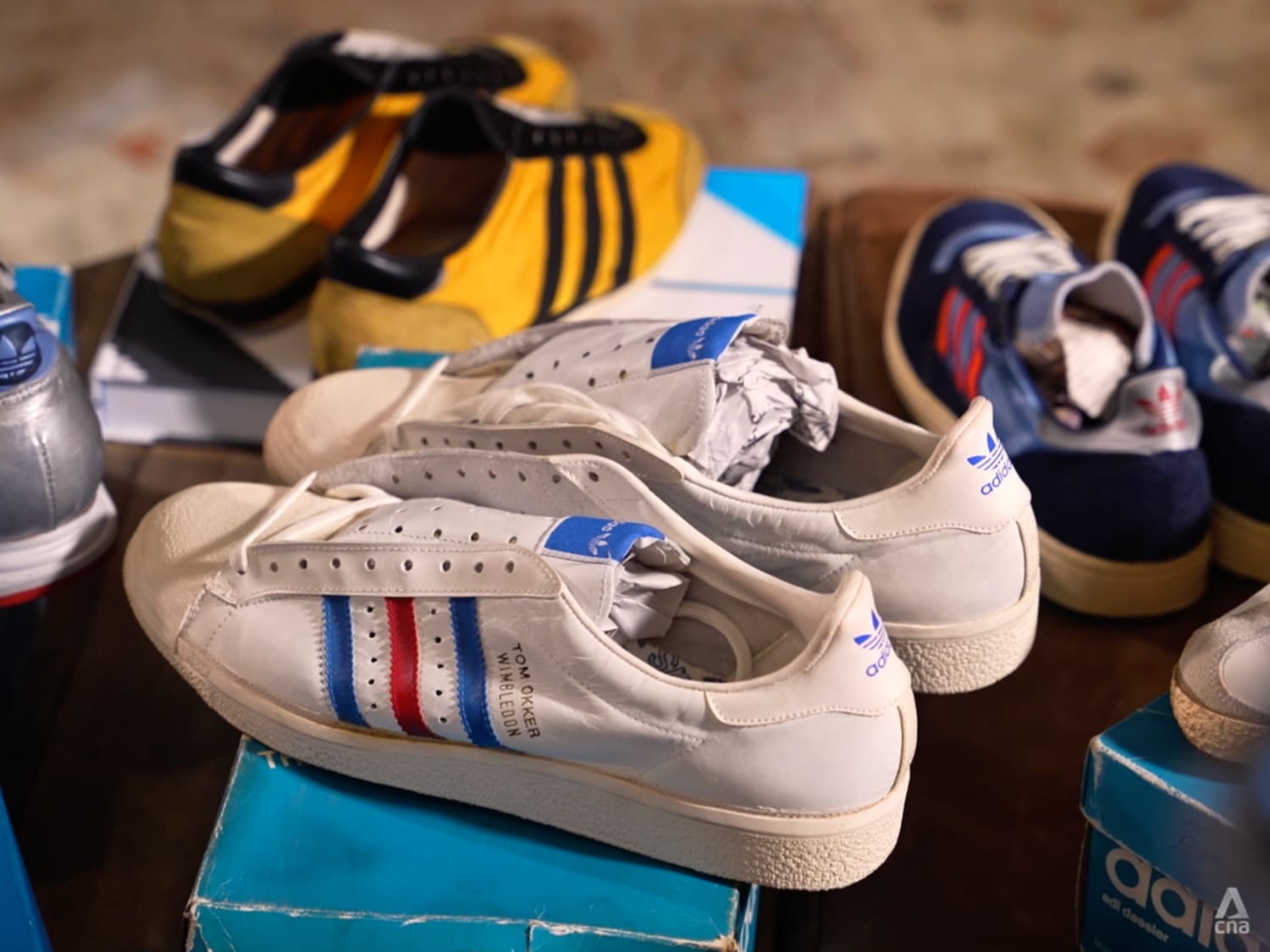 That purchase unleashed the floodgates and his obsession for vintage sneakers grew, fuelled by the popularity of eBay, which made it easier for him to source and purchase specific models he wanted.
"So I had the Gazelle in blue and I wanted to get them in red so I went onto eBay and began to dig into the auctions to see what's out there," he said.
Instead of buying them to wear, he decided he wanted to build a collection for posterity. "You get 'crazy' looking out for the next pair that pops up. It is not that I have to wear the sneakers, it is that I just got to have it. Slowly, it became a collection."
Some of the rare models Chang owns include the Rom sneakers with oxhide uppers and a reinforced heel counter that was released to commemorate the Rome Olympics as well as the Dallas running shoe, which is the only pair known to exist today. He said: "I am very lucky to have this brand new (pair) from 1984 or 85. At that time Adidas named their running shoes after American cities because jogging is a big thing in the United States."
Another interesting find is the Micropacer, which was the first shoe that introduced the concept of fitness tracking back in 1984. "In those days we did not even have personal computers and these were the first shoes that had a computer in the form of a pedometer to count the steps and miles you had run on it," he said.
In 2003, Chang took a hiatus from collecting after amassing more than 120 pairs of vintage shoes. But in 2016, he got a second wind after discovering a global community of Adidas sneaker enthusiasts on social media.
His first post featured a pair of Wimbledon kicks that were made in the 70s. Within 24 hours, he received queries from people in Italy, Belgium, France and England asking if the shoes were for sale.
"I said, no, actually I want to buy more," he chuckled. "I thought I was the odd one collecting old shoes but I started to meet a lot of friends on the Internet. Everyone has his own small collections and each one had a few of those very special, one-of-a-kind shoes."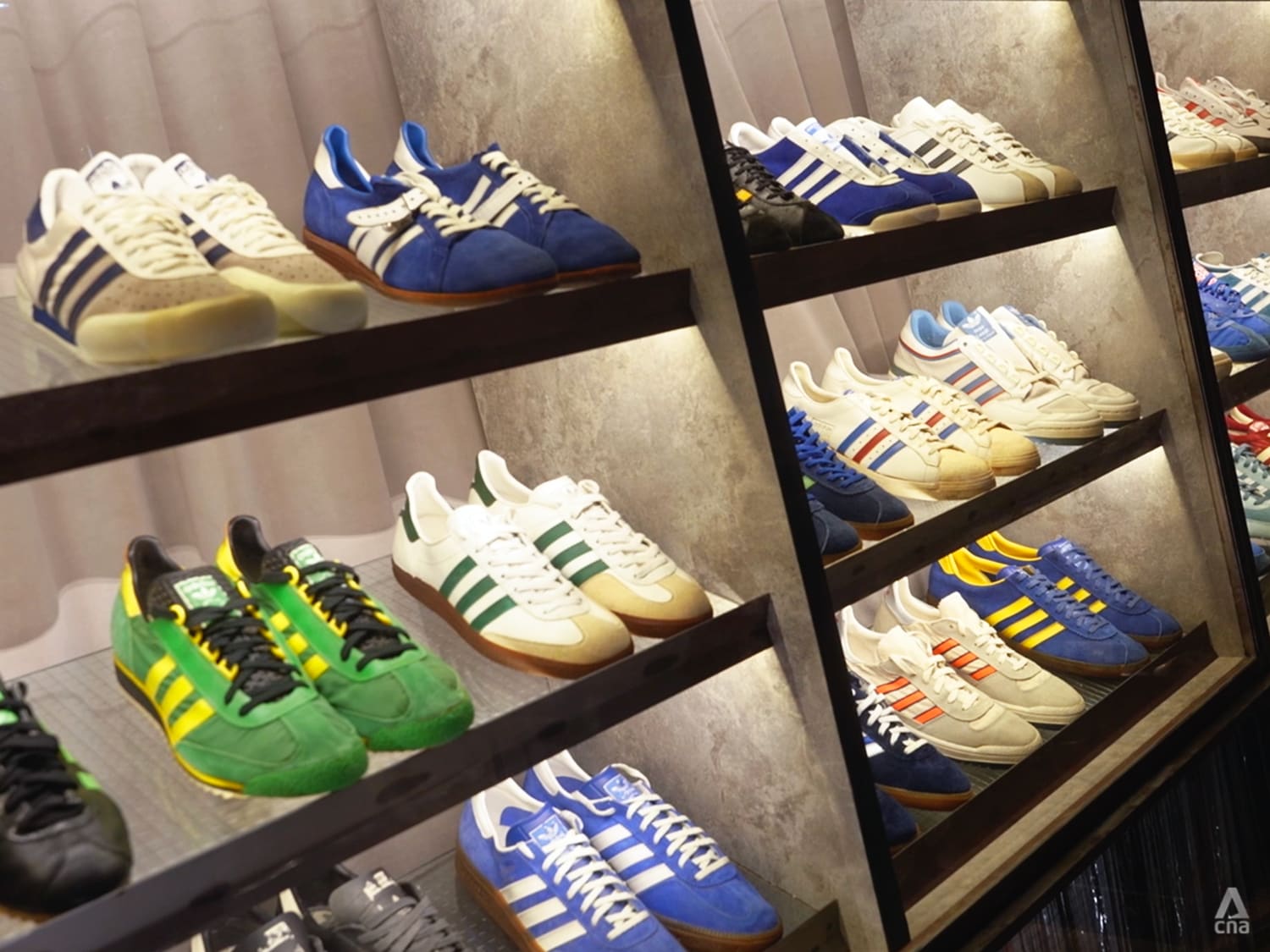 Since then he has focused on rare vintage and limited edition Adidas shoes that are brand new that come in a box and as much as possible, in his shoe size. One thing Chang enjoys most about vintage collecting is finding out how and why each model was made. 
A repository of many interesting sneaker facts, he said: "Back in the old days, the stripes were not for decoration. They were actually meant to hold the shape of the shoe so that the athlete's foot would not sway too much while running or doing sports."
To share this knowledge, he loaned some of his vintage shoes for an exhibition at the Adidas Originals flagship store at Tsim Sha Tsui and also produced a book to tell the brand's history in collaboration with 60 other Adidas collectors. He owns about half of the 1,200 collectibles featured in the book.
Chan has also moved his collection to a "man cave" where they can be stored and displayed properly. He admitted: "One of my wife's biggest headaches was space so she was quite happy that I finally moved to this cave with a thousand pairs of shoes."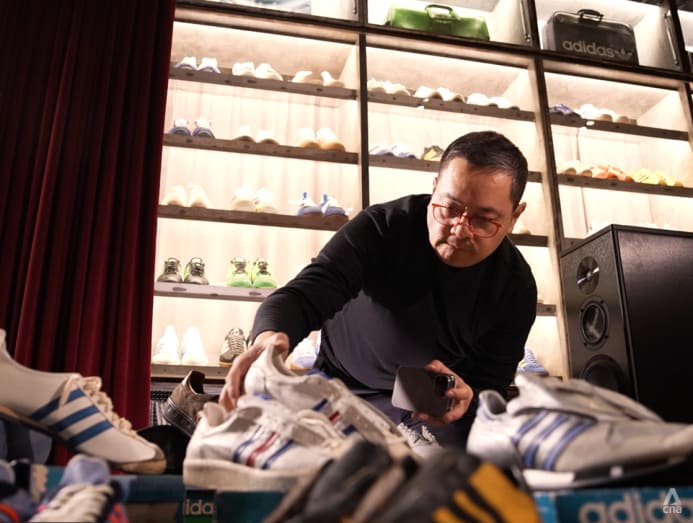 His daughter and son are more ambivalent about his sneaker collecting hobby and are undecided about what they would do if they were to inherit his collection eventually. "I said, 'Just don't throw them away'," he said a little ruefully.
Unlike other vintage collectors, Chang also adds interesting new models to his collection. "Every now and then there are some breakthroughs in technology. I feel obliged to keep a pair because that could be an important part of history in the long run," he said.
Eddie Chang has spent the past 20 years or so hunting down vintage and rare Adidas sneakers in an attempt to archive the design history of the German footwear maker. To date, he owns more than a 1,000 pair of sneakers. Here's how his journey started.
"I see myself as keeping a record of the brand's heritage ‒ what it originally was and what makes them so successful."