In Kyoto, a restaurant that's been serving freshly foraged food for four generations
Hisato Nakahigashi, chef-owner of the two Michelin-starred Miyamasou restaurant, serves up a different menu every day, depending on the morning's bounty.
Located in the mountainous region of Hanase, in a scenic town an hour's drive away from Japan's ancient former imperial capital Kyoto, is centuries-old restaurant and ryokan Miyamasou.

Hisato Nakahigashi, chef-owner of the two Michelin-starred Miyamasou restaurant in Kyoto prefecture, also believes in combining science with tradition.
Surrounded by forests and babbling brooks, it serves up elaborate traditional multi-course Japanese feasts known as kaiseki, using ingredients so local, they were foraged solely from the grounds surrounding the property.
It's even rumoured to have inspired Danish chef Rene Redzepi to open Noma, the New Nordic restaurant in Copenhagen that regularly tops "world's best restaurant" lists.
Its chef-owner Hisato Nakahigashi is a fourth-generation descendant of Miyamasou's founder. He forages fresh ingredients daily for his two-Michelin-starred restaurant.
"I grew up running around the hills and fields here. I was familiar with the term 'tsumigusa' [freshly-picked] even as a child. I used to pick wild plants in spring or catch ayu [sweetfish] in the river in summer. I enjoyed playing in nature while doing that," he said.
"I can feel the atmosphere of the forest. Even as I walk along the same path, I notice different wild plants. As I forage them, I'll consider what to cook for the day. So the food changes slightly every day," he continued.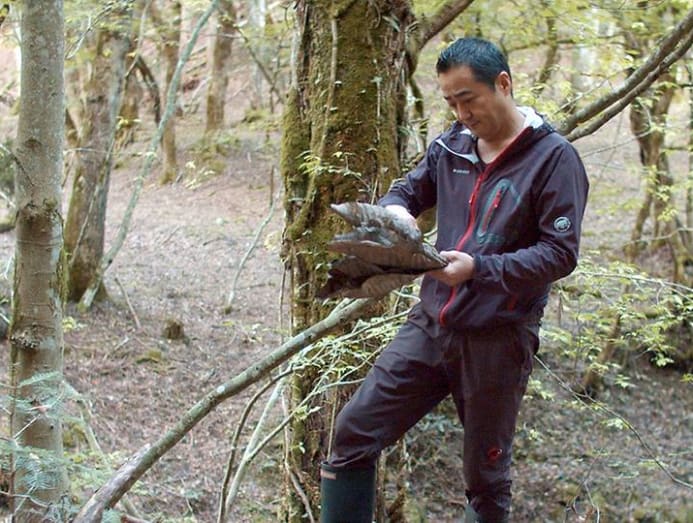 This approach to using freshly foraged produce is a long-held family tradition. Nakahigashi is also inspired by temple cuisine and the aristocratic culture of the Heian period, which ran from 794 to 1185 CE.
This "golden period" in Japanese history was when the Japanese Imperial court was at its most powerful; Buddhism, Taoism and other Chinese influences were at their height; and Japanese art, especially poetry and literature, flourished.
It was also during this time that Japanese nobles developed an appreciation for nature, which influenced how they consumed their food. This approach to food became known as tsumigusa.
Nakahigashi's passion for food, and previous stints at restaurants in Paris and Tokyo, have helped him develop his own take on tsumigusa, fusing science and tradition.
"Instead of making just tasty food, we understand the molecular nature of the ingredients that will ensure all the ingredients are truly utilised," he said, demonstrating the process of preparing his Gingko Miso dish. "We first mix two kinds of miso, add some seasoning and the umami from dried mushrooms. After mixing everything together, we will boil them for five to six hours. Gingko is the ingredient for this season. This is a leaf from the Magnolia tree. It is dried and its colour is dark at this time of the year. It can be placed directly on the fire."
Senior chef Shuji Mizuno has been working at Miyamasou for the past 40 years, and even worked with Nakahigashi's father, before he worked with Nakahigashi. "There is a phrase 'on-ko-chi-shin' in Japanese. It means to review the old and create something new. Hisato brings fresh perspectives. I have discovered many things working with him. It's interesting," said Mizuno.
For example, Ayu is usually grilled with salt and eaten in summer. But at Miyamasou, the fish is served later in the year during autumn, which brings an added bonus: Roe. The miso-marinated fish is grilled not once, but twice. The first time round, a scorched note is achieved. And the second time round, it is infused with the woody aroma of cedar wood. The result is a perfect harmony of autumn flavours.
"Every dish we serve is seasonal. It is about celebrating life itself, what nature offers the world, and for nature to flourish again the next year. It is a style of cooking that allows you to play with nature, so that it is expressed as a dish," said Nakahigashi.
The respect for nature and the refined style of Heian food culture is reflected not only in Miyamasou's cuisine, but also its decor.
"Japanese people want to feel surrounded by nature even when they are indoors. We consider that as beauty. Because of that, we display seasonal flowers in the room," said Nakahigashi.
"Driving for an hour away from ordinary life, I can feel the seasonal atmosphere while dining in nature. The way the scenery changes according to the season and time of day. It is a wonderful way to experience this place," a diner commented.
"Miyamasou maximises what nature offers to us so our guests can have authentic food. It is not organic, it is actually wild. It is not cultivated, but natural," said Nakahigashi.
Adapted from the series Remarkable Living. Watch full episodes on CNA, every Sunday at 8.30pm.