A very rare visit to the Hermes workshop turning scrap into whimsical treasure
'I didn't know I could do it as a job," said petit h creative director Godefroy de Virieu. And here he is, creating one-of-a-kind curiosities coveted the world over.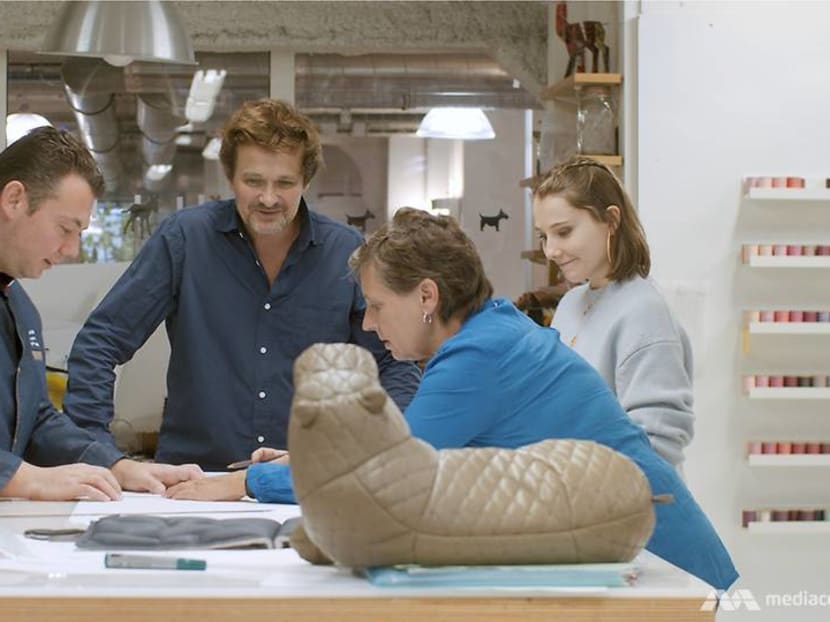 An eco-conscious pioneer in the luxury business, Hermes's petit h division continues to focus on sustainability while crafting ever more innovative products.
Back then, Godefroy de Virieu joined Petit h as a designer. "When I was in school, I wasn't paying attention. I got bored very easily. That gave me time to think about creating things, which was where my inspiration arose," he recalled. "To create objects – I did not know I could do it as a job; I was studying economics and should have worked in the finance sector, but I hated that."
"She [Pascale] saw that Hermes is a green brand, but all these materials were being thrown away and not used anymore. She decided to take all these materials and bring it to this workshop and ask the craftsmen and artisans to create dialogue around these materials, to create some new things," he explained.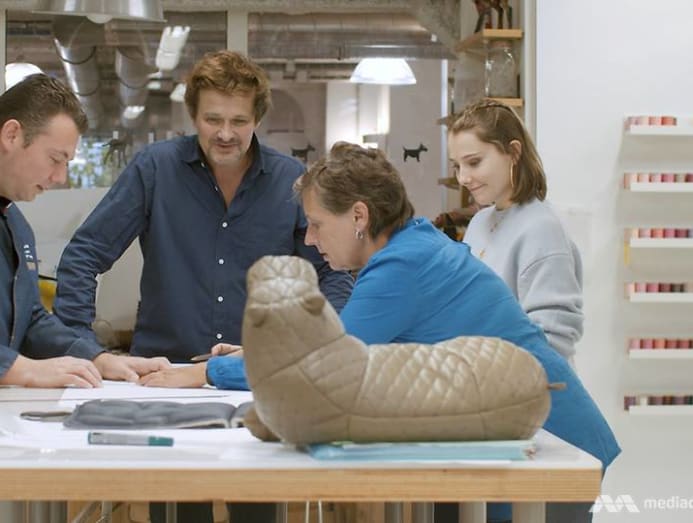 New things, such as bag charms, Christmas ornaments (made from Hermes silks), cuckoo clocks, mobiles, life-sized horse sculptures in leather, advent calendars, miniature, ornamental sailing boats in silk, crocodile, and wood, and even a one-of-a-kind Origami Monkey Shape Sculpture with Shelves (which, despite being made of scrap leather, carries a price tag of US$167,300; S$227,770).
"We don't actually know where we will go when we start working. We follow the material, we follow the idea, we follow the dialogue," said de Virieu, who took over as Creative Director of petit h in 2018.
The team continues to focus on sustainability while designing ever more innovative products.
De Virieu said he was very impressed by the quality of the leather that petit h works with. "Looking closely, you can find wrinkles on some of it. And these parts were not used, they were thrown away because they couldn't make a purse or a bag with this leather. So I wanted to make paper weights, that can be used on your desk and to create a family of mushrooms that would weigh down the folders," said de Virieu of the fungi-inspired paperweights he designed 10 years ago, and which are still in production.
The production process is one of collaboration between designer and craftsman, and is a constant to-and-fro.
"We have many discussions about what precisely he [de Virieu] wants until finally, we have something that he is happy with and then I'm able to develop a technical approach to make it work," explained craftsman Julien Desclouds, who has worked at petit h for the past decade.
"As a craftsperson, I really like the texture of the material when you're working with it, you really get to feel the materials and there's something a bit childlike about it; it's fun. The most exciting part is actually taking material from a flat object and then ending up with this final product."
Petit h products can be found in the Hermes store on Rue de Sevres in Paris, and are sold seasonally within Hermes stores in Europe, Australia and Singapore.
"They are useful objects; you can use them every day, and you can bring them with you. So it was a very new and very simple idea, but this was an ingenious idea," said de Virieu.
Adapted from the series Remarkable Living. Watch full episodes on CNA, every Sunday at 8.30pm.