Take a peek inside the home of one of Singapore's top interior designers
In his five-bedroom, 7,000 sq. ft. bungalow, interior designer Roy Teo marries old-world charm with modern pragmatism.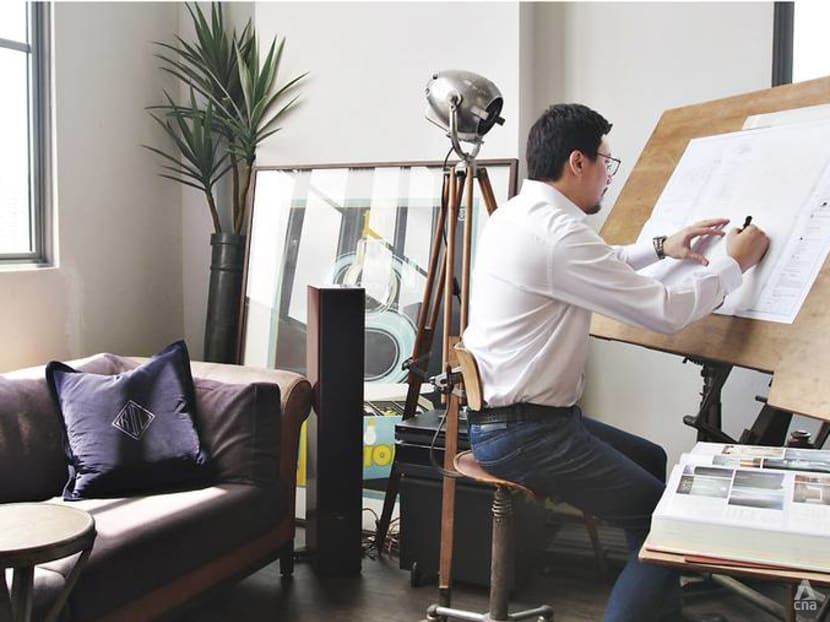 Before you meet Roy Teo in the flesh, he wants you to acquaint yourself with his personality through his home – a luxuriant enclave that blends contemporary architecture with vintage-inspired fittings.
"The home should personify the master in his absence. Even without meeting the owner, you should be able to feel what this person is all about," said Teo.
The man behind the distinctive neo-Gothic building on Jalan Kilang, The Mill, Teo is the founder and creative director of Kri:eit Associates – a premier interior design consultancy firm in Singapore with a collection of luxurious bespoke projects.
Unlike The Mill, Teo's award-winning bungalow built in 2011 – which he shares with his daughter Alexis – is a little more reflective of his personal style and love for all things vintage.
"Growing up, I used to be in awe of how beautiful colonial homes were created. I'm a believer that if the interior personifies you and so much effort has gone into creating it, it should be at least timeless to a certain degree," he justified.
Ever wanted to peek inside an interior designer's own home? In this video (filmed before the COVID-19 pandemic), watch how Roy Teo, creative director of Kri:eit Associates, marries old-world charm with modern pragmatism in his five-bedroom, 7,000 sq. ft. bungalow.
As you enter the driveway of this luxurious property, the perfectly-manicured garden sets the scene for a cosy tropical sanctuary where living areas blend harmoniously with nature. The estate was named Best Asia Pacific Residential Property at the 2011 International Property Awards.
Upon entering the two-storey, 7,000 sq. ft. bungalow, the mood dramatically changes as you're greeted by darkened walls, hard lines and glass panels.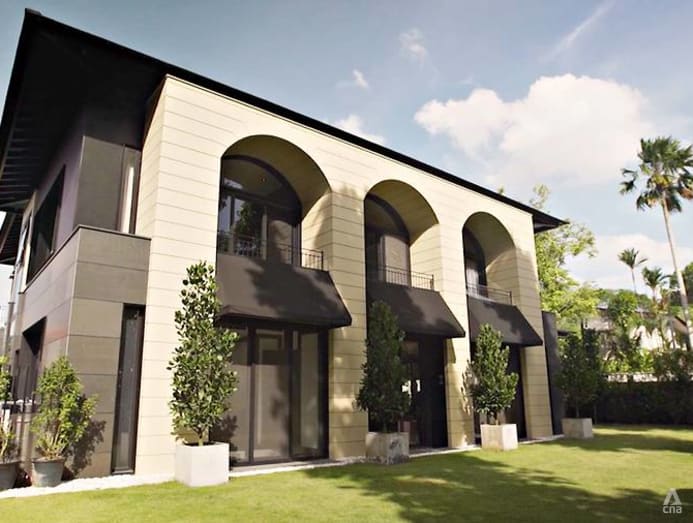 Throughout the residence, you'll notice a consistent palette of black, white and natural travertine stone, signifying Teo's dedication to consistency and desire for a classic, timeless home.
"I feel that most good designs are entrenched in tradition. But yet we live in a more modern world and we appreciate clean lines as well. So the task for me was to marry the two together under one roof," he explained.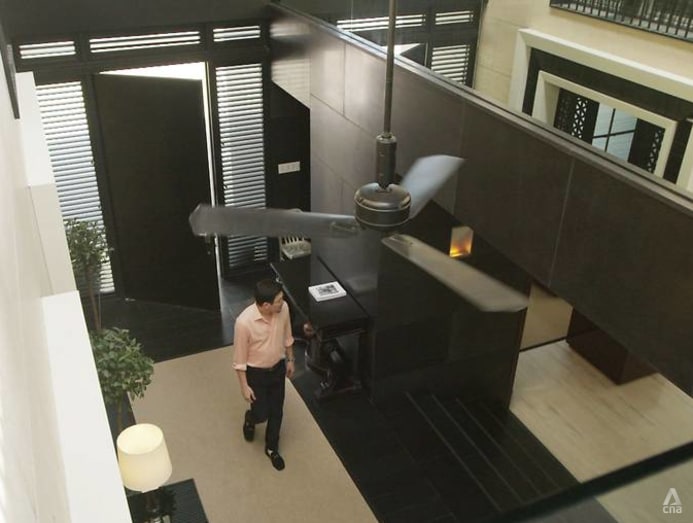 The house's greatest feature is a louvred gallery that links the various living spaces together. Taking centrestage and lending a divine dose of glitz is a bespoke chrome grand piano created by Yamaha Tokyo.
A special illumination system by Erco was also built into the frame of the gallery to provide special-effects lighting that gorgeously washes over the travertine wall.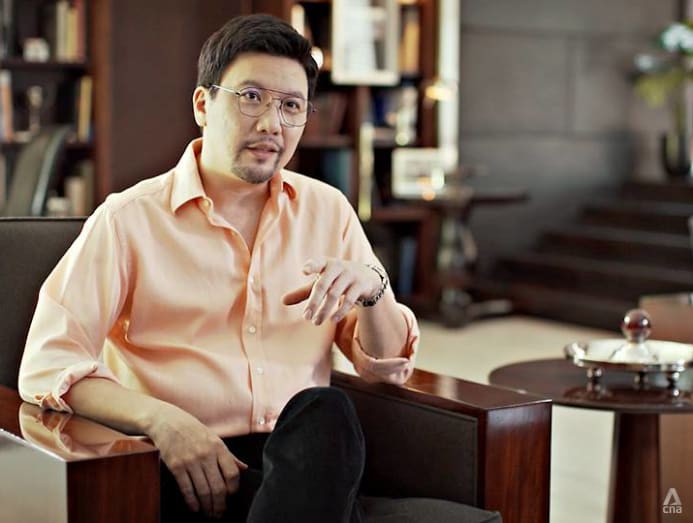 The communal areas of the house, from the living room to dining area, evoke vibes of a London gentleman's club with lush, mahogany tones, heritage-styled furniture and panelled walls with fabric-padded inserts.
As you head up to the attic, you'll find Teo's dressing room – what he calls his little man cave – reminiscent of an old English tailor shop built with dark woody interiors and leathery accents.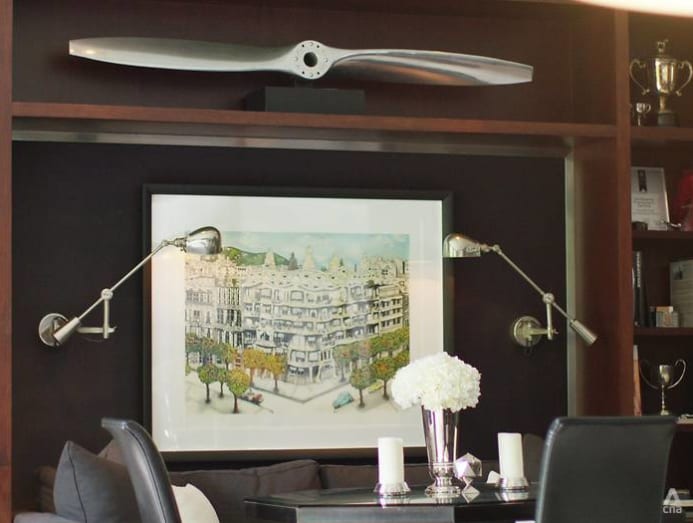 Teo's passion for automobiles and aviation is seen in the vintage collectibles displayed in the mahogany-lined library, which also boasts a strategically-placed window that reveals the silhouette of his vintage Aston Martin in the driveway.
One of his favourite pieces is a vintage Rolls Royce headlamp, now converted into a standing lamp. "In trying to bring back the old-world charm, I found myself in markets of Paris sourcing for old artefacts and came back with a little treasure trove of propellers from World War I and II," he shared.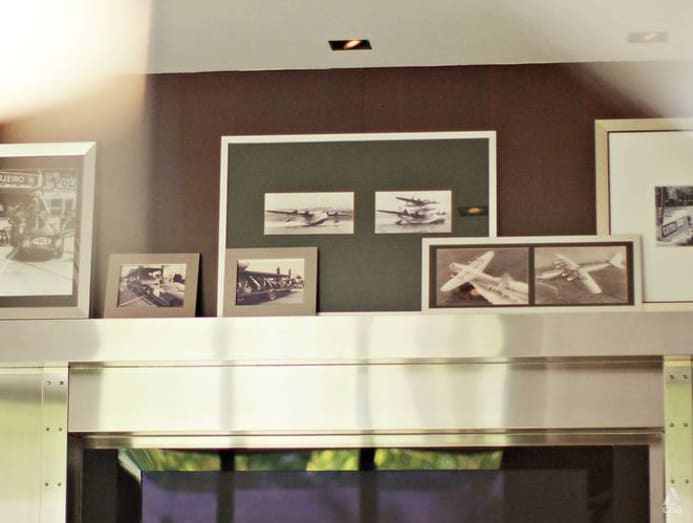 To improve cross-ventilation, all the living spaces seamlessly transition from the interiors to the gardens, resulting in a home that is one with nature. Teo added a lap pool as he believes that vapours rising from a body of water around the openings of a house lower the indoor temperatures naturally.
Even the blinds in the wet kitchen, inspired by the convertible tops of coupes, draw open to reveal the herb garden outside. "You're basically getting a lot of interaction with the garden and also the sun, and that's just marvellous," he enthused.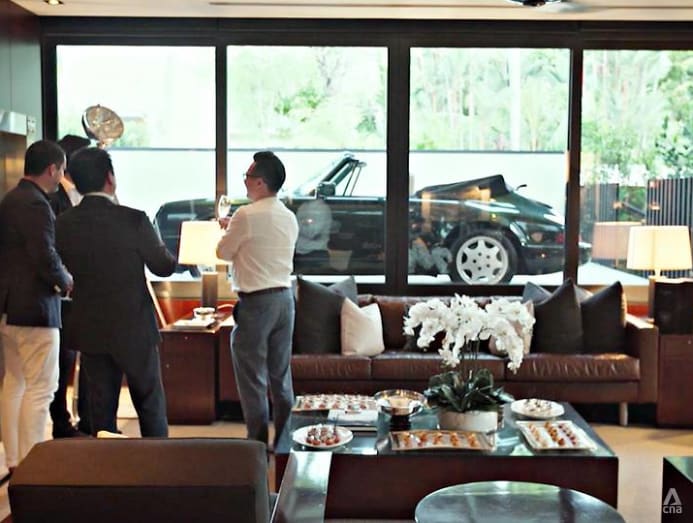 Teo hopes the house will also build lasting memories not just for himself and his family, but also for the next owner. "I enjoy creating homes that last. And that's why bringing things from the past substantiates it.
Adapted from the series Remarkable Living (Season 3). Watch full episodes on CNA, every Sunday at 8.30pm.
Disclaimer: This video was filmed before the COVID-19 pandemic.