The couple who gave up their legal careers to find happiness in Thai chocolate
Nuttaya and Paniti Chunhasawatikul of Kad Kakoa are award-winning artisan chocolate makers – the first to use single-origin cacao beans grown in right in Thailand.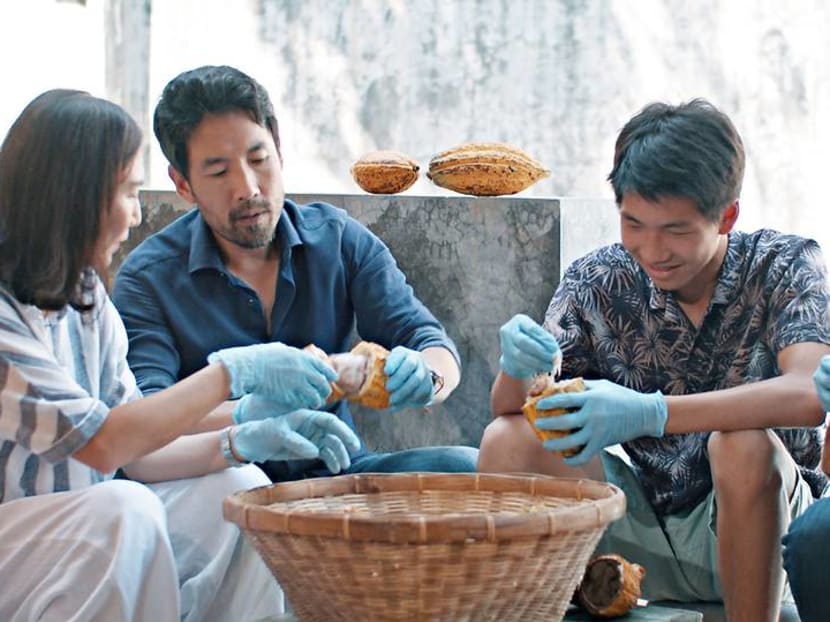 Sometimes all you need is a mid-life crisis to motivate a career switch in something totally out of the ordinary. Take this married duo for example, who left their flourishing careers as lawyers to fulfil a fantasy of making their own chocolate.
Founders of artisanal chocolate brand, Kad Kokoa, Nuttaya and Paniti Chunhasawatikul, traded a life in the courtroom for a career making chocolate, by first growing the beans locally.
Three years ago, Nuttaya and Paniti Chunhasawatikul, started making chocolate out of their kitchen with very little knowledge of the craft. Today, they are full-fledged owners of their own artisanal bean-to-bar concept cafe in Bangkok, churning out award-winning products that use single-origin cocoa beans grown locally at various plantations across Thailand, including their own private estate in Chiang Mai.
"When we looked back at what we used to do for a living … just suing people," uttered Nuttaya, "It made us feel like we needed to go back to the basics and do something more down-to-earth with our lives," continued Paniti.
"I took her on my bike and we rode around, until we found this piece of land in Mae Taeng, Chiang Mai. This area in the north is so beautiful, and growing something there would be very easy because the land is so fertile," he said. A local farmer suggested growing cacao – a low-maintenance crop – and that was all the fuel they needed to carve a career out of cocoa beans.
The couple learnt that Thailand had once produced cocoa for multinational corporations, but demand decreased as companies moved out of the country. So farmers turned to rubber and palm oil instead.
In the beginning, the couple knew nothing about growing cocoa beans or how to turn them into chocolate, so they set out on a globetrotting mission to learn the trade.
"We had no idea what tempering was, so our first tempering teacher was our friend in Singapore. Then after that, we decided to go to Hawaii and meet Nat Bletter, the owner of Madre Chocolate, who taught us how to make bean-to-bar chocolate," recalled Nuttaya. "After Hawaii, we flew to San Francisco to find out how to grade beans," added Paniti.
Upon their return, the couple commenced work on their Chiang Mai farm first to produce organic cacao. "To work well with the farmers, you need to build trust. We built our Chiang Mai farm as a collective where we give the farmer autonomy to work with us, produce the beans and supply them to us," he explained.
Today, Kad Kokoa acquires organic cocoa beans not only from its farm in Chiang Mai, but also the provinces of Chanthaburi, Prachuap Khiri Khan and Chumphon. The beans are quality-checked and nibbed in a workshop attached to its cafe, located in Sathorn district on Soi Narathiwas Ratchanakarin 17. Fun fact: As a nod to sustainability and conservation, Kad Kokoa's rustic chic cafe is also built from wood taken from the couple's Chiang Mai plantation.
On how they came up with their creative brand name: "The first farm we started planting cacao was in Chiang Mai, in the north, so it seemed apt to brand it Kad, which means 'village' in the northern dialect. We spelt cacao with a 'K' to make it appear more playful," enthused Nuttaya.
At the helm of the kitchen is Paniti, who blends single-origin chocolate into delectable bars for consumption. Each bar is named after the region it comes from, and sports chic graphic packaging inspired by Thai textiles. "The Chiang Mai Dark 70 per cent [chocolate bar] is my favourite because you have so many journeys in one bite. At the beginning you can smell honey, but at the end, you may get the aroma of dried fruits. And it also won me my first award from the competitive category of single-origin dark chocolate," she revealed.
Since then, Kad Kokoa has acquired many more awards for its other chocolate variants. And, no surprises, its raw chocolate is used by top hotels and patissiers in Bangkok, such as Chef Laurent Ganguilllet of Sukhothai Bangkok, who uses it in his dessert menu.
"The chocolate wowed me. I love acidity and I found exactly what I wanted. I consider it as being the first Thai-origin chocolate; that we can call real chocolate in Thailand," said the chef.
Running a social enterprise does not come without its struggles. "My mother would visit and say, 'Can you stop making chocolate? You see your friends in the corporate world, they still live the lifestyle you used to have'. Yes, we gave up the money that we used to earn, but now we gain the luxury of time and flexibility. The only setback is we don't get to fly business class anymore," he laughed. "But we will someday!" his wife attested.
"Deep down inside, this is my passion. I want this business, this social enterprise, to be able to scale up. It's a vision of what we would like to pursue and it gives us happiness. We are visionaries. What we are building is the new culture of Thai chocolate."
"We are visionaries. What we are building is the new culture of Thai chocolate." – Nuttaya and Paniti Chunhasawatikul
Adapted from the series Remarkable Living. Watch full episodes on CNA, every Sunday at 8.30pm.