Kicked out of home by his dad, this chef went on to earn two Michelin stars
When Yukihiko Tsuchisaka told his parents that he wanted to become a chef, his father disapproved and kicked him out. But Tsuchisaka stuck to his guns, and now helms two-Michelin starred Shunsaiten Tsuchiya.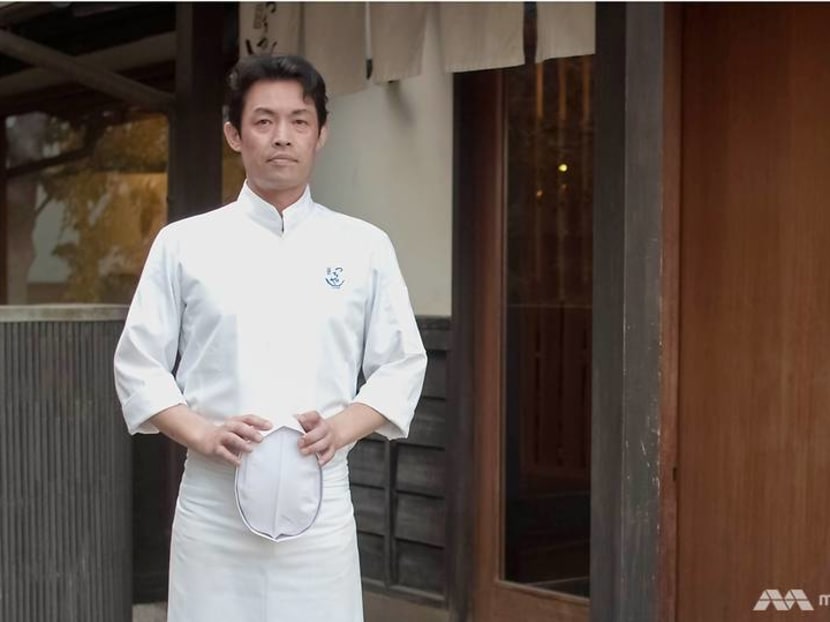 When in Osaka, a visit to the quiet residential area of Suita, where you'll find two-Michelin star restaurant Shunsaiten Tsuchiya, is a must. Located in a quaint nondescript traditional house of white stone walls and grey Kawara-tiled roofing, the zen-like architecture is matched by the warm, relaxing atmosphere inside.
When Yukihiko Tsuchisaka told his parents that he wanted to become a chef, his father disapproved and kicked him out. But Tsuchisaka stuck to his guns, and now helms two-Michelin starred Shunsaiten Tsuchiya.
At the heart of this 16-seater eatery is owner and chef, Yukihiko Tsuchisaka, who stands behind the bar counter creating elegant tempura courses and beautifully-plated kaiseki sets. Tsuchisaka designs his menu with seasonal ingredients and decides what to serve based on what is available at the market that day.
"Japanese cuisine has a harmonic flow and allows us to feel the seasons. I structured my menu with both – the softness of Japanese cuisine and the power of tempura," said Tsuchisaka.
According to him, the secret to perfect tempura is not just in the batter (which must be adjusted to suit different ingredients), but the temperature of the oil and timing in which the ingredients are fried.
"If you are a tempura chef, you should be able to detect the temperature of oil when you stand in front of oil. I do not use a thermometer but I sense the temperature with my body," he revealed.
While the cooking looks simple enough, the chemical reaction taking place is actually quite complex. By frying the ingredients in a batter, the ingredients lose moisture, but this heightens the umami and fragrance. However, if cooked too long, the ingredients lose umami and the texture becomes dry.
Achieving that fine balance of precision timing and perfect temperature to bring out the right amount of moisture, umami and fragrance is why Tsuchisaka maintains a consistent two-star rating, year on year.
"I fry the food in front of the guests and serve it right away. When they eat, the flavour of the oil, the flavour of the ingredients and its umami will harmonise in the mouth."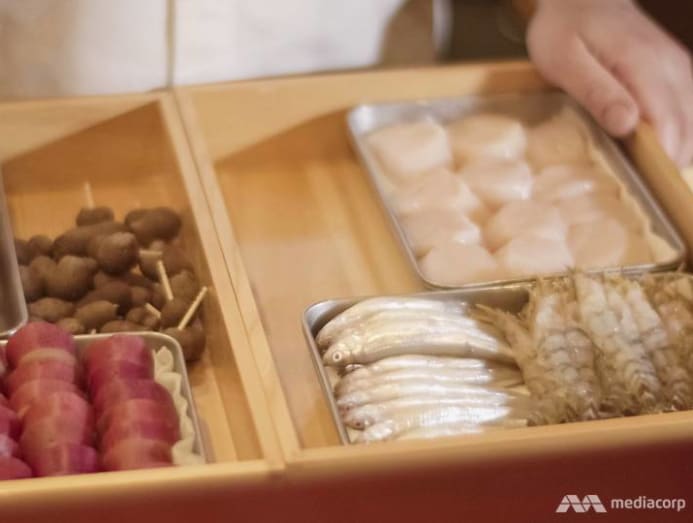 The other reason he prefers to cook in front of his patrons is to put on a show and give them a fully immersive dining experience.
"I want all the guests in this restaurant to pay attention to me. The counter is like a stage. I want them to see how I cook and experience my performance," he enthused.
The true essence in tempura boils down to the ingredients that Tsuchisaka uses. One of his favourite fishes to cook is pond smelt.
"I am from Shiga prefecture and there's a lake called Biwa. In the winter, we catch pond smelt which is a tasty fish. When I make tempura with pond smelt, it's fried as if it is swimming in the air. I think this is very unique," he said.
Tsuchisaka's road to success was not without its own set of difficulties. As a teen, he worked for a fishmonger and developed a vast knowledge of seafood. During that time, he met a sushi chef who impressed him with his knife skills, and that was when Tsuchisaka heard his calling to become a chef. However, his father was worried that his son would fail and disapproved of his ambitions.
Luckily, Tsuchisaka's mother supported his dreams and encouraged him to enrol at Tsuji Culinary Institute in Osaka after finishing high school. "When I left home, my father told me that if you go now, do not ever come back to this house. He threw away my rice bowl, chopsticks and futon. When I look back now, I can say I did not give up and survived my training period. It was because of what he did to me. I have to admit that I really appreciate my father," he confessed.
Tsuchisaka opened Shunsaiten Tsuchiya 12 years ago and despite its popularity, he doesn't have plans to open another restaurant. "My principle is not to expand my business but rather, keep it compact and with good service. I want our guests to love this restaurant, and in order to do that, I want to improve my skills to better serve the guests," he concluded.
Adapted from the series Remarkable Living. Watch full episodes on CNA, every Sunday at 8.30pm.