The Singapore-based interior designer who doesn't shy from colour or pattern
Minimalism takes a back seat in the home of interior designer Nikki Hunt, who loves to fill her living spaces with bold colours and prints.
If you're not familiar with Nikki Hunt, it's not too late to get acquainted. She's the founder of award-winning interior design firm, Design Intervention, and one-half of the design duo that hosted HGTV's home improvement series Come On In, along with former model and fellow designer, Andrea Savage.
Unlike most local designers who gravitate towards Scandinavian, Industrial or Minimalism styles, Hunt is all about a maximalist way of life, a design philosophy she wholeheartedly applied to her own home. "Maximalism is all about celebrating life, celebrating love. Celebrating everything that you like and that makes you feel good," she attested.
Minimalism takes a back seat in the home of interior designer Nikki Hunt, who loves to fill her living spaces with bold colours and prints.
She's quick to remind us that maximalism doesn't mean you can just throw everything in the pot and hope for the best. It must be done with taste, combining elements that work together well, even though they may seem contradictory. "Maximalism definitely isn't chaos. It's a finely-calibrated balance between competing elements that ooze fun. That's really what I try to do," she affirmed.
Like all great work, the maximalist style must be driven by a concept. For Hunt's recently refurbished home, tropical flora became the central theme of her house because of the lush vegetation that surrounds it.
"One of the concepts I've embraced in the design of this house is 'biophilia'. I love that word – it literally means 'love of life'!"
This was Hunt's third renovation since moving into the house 15 years ago – a project that she embarked on after her son and daughter left the nest to study overseas. The aim of this latest remodel was to update the look of the communal rooms, but keep areas like the entrance foyer, children's rooms and study room intact, so her kids can maintain a sense of familiarity when they return for the holidays.
"Because the house was so quiet after the children left, I really wanted to fill it with an energy and a life, and just a sense of vitality."
Venturing into the black-and-white mansion, your senses are sent into overdrive with a barrage of vibrant prints, bold colours and contrasting textures. Each room looks different, yet there is a purposeful cohesiveness thanks to the over-arching tropical theme.
The wallpaper in each room is the main differentiating factor. Her living room, for example, is adorned with Pierre Frey wallpaper that features a kaleidoscope of random brush strokes as if a mad painter was let out of an asylum. "I really like to take a multi-sensory approach, stimulating all our senses to different degrees," said Hunt.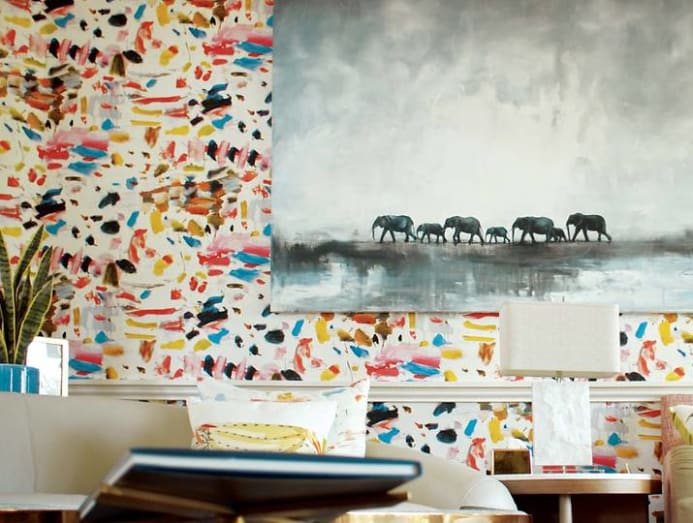 Her reception room – filled with sofas of various textures and prints, and juxtaposed against lime green drapes – is a whimsical masterpiece of excess that most certainly sparks joy. "When you have a room like this, where the proportions are so grand, I think the challenge is to make your guests feel relaxed. And one of the ways I do that is bring a bit of humour, bring in a bit of mismatch. Things that aren't so perfect, so that it just calms everything down," she explained.
Next to it is a verandah where you'll find her husband's private sanctuary that features a bar, informal dining and sitting area. It's dressed in floral-printed wallpaper to complement the view outside, and decked with his favourite sports memorabilia.
Hunt's favourite place to enjoy her morning paper and breakfast is the air-conditioned verandah next to the swimming pool, that features floor-to-ceiling glass doors. While the chairs and walls are emblazoned with leafy motifs, the ceiling is given some texture with a stretch of hanging satay fans. "I tried to put in local flavour and celebrate the best of Singapore life," enthused the British national, who has lived here for 26 years.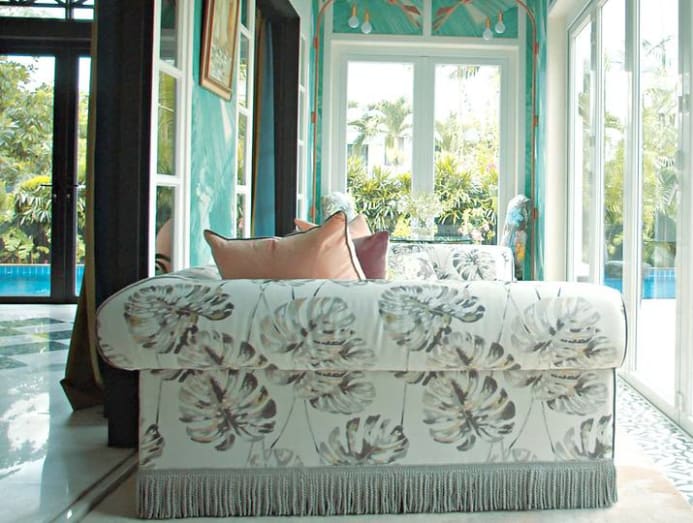 As you move upstairs, the colour palette quietens down with calming pastel hues. The master bedroom is awash in pastel yellow and pink, and softly accented with fluffy chairs and flowing linens. "I want this feeling of relaxation so we sleep better, and also a little bit of romance. Pink is such a delightful colour, and it makes everybody look better!" she quipped.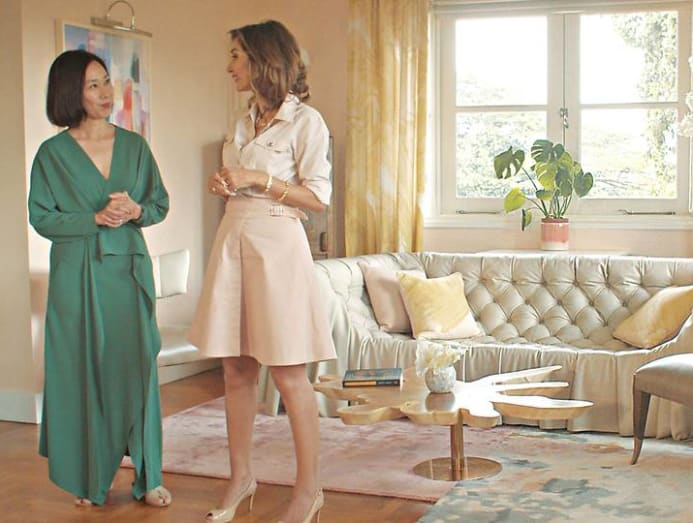 Her piece de resistance is her bathroom, where a bathtub sits in a little oasis surrounded by a tropical mural backdrop. It overlooks the outdoors through tall glass windows which she discreetly concealed with decals of palm trees. "It gives me the privacy I need and yet I still have that real feeling of bathing in the forest."