Transforming an opium factory in Shanghai into a buzzy co-working space
At Shanghai's WeWork Weihai Lu, architecture and design conspire to bring members together to make connections and socialise.
Jing'An is one of Shanghai's busiest business and commercial districts. Historically, it was a working class neighbourhood, but today, it attracts a young professional crowd drawn to its alternative workspaces, such as WeWork Weihai Lu.

One of Shanghai's largest co-working spaces, it sits in a 20th century building that was once an opium factory, and later, an artist residence. Since 2016, the historic building has been transformed by WeWork into a modern space for more than 1,300 entrepreneurs, designers and startups.

At Shanghai's WeWork Weihai Lu, opportunities abound for members to interact and socialise.
"The feeling when I came here… I still remember it pretty well. I just got to China and it was raining. I walked in and suddenly, I felt this energy and I saw things happening," said Luuk Strijbosch, community director of WeWork China.

"My favourite feature in this building is the atrium and the stairs. Because that combines the energy of the different floors. And when you walk in, you can see all the different members together and being part of the community," said Strijbosch. "You see people talking to each other. You suddenly get energy from the design, the colours, the way it was set up."

Indeed, the co-working space was intentionally designed to be welcoming to its members, and to encourage them to mingle easily.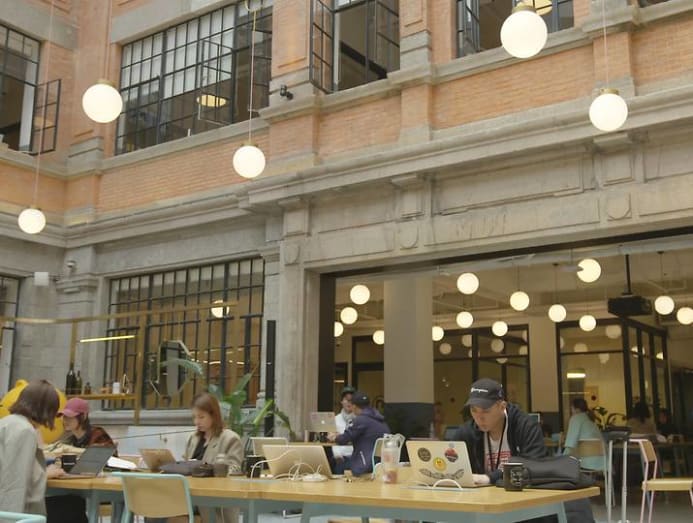 "One of the things we always try to do is find ways of [enabling people to] interact with one another. We really try to have that design, to make those connections happen. It starts the moment they walk in," explained Strijbosch, who moved to China from The Netherlands, and knows how challenging it can be for newcomers to settle in a foreign country.

Strijbosch elaborated further on the spatial layout of WeWork Weihai Lu: "You have the pantry right way so it's easy to grab a cup of coffee or tea. When you walk in, you're almost triggered to what we call the centre of gravity. You're already pulled towards that space where everybody comes together."

An ample supply of free snacks is provided in the pantry as well.

Other design elements, such as narrower staircases, also encourage people to talk to one another because "sometimes you need to ask people, 'hey, I'm very sorry, I need to go around'," said Strijbosch.

Weekly recreational activities such as fitness classes and business workshops are organised to provide opportunities for WeWork members to socialise.

CEO of startup Onedot, Chitoku Tosu, has been based out of WeWork Weihai Lu for the past two years. His company has since expanded to 15 employees from the initial five.

"It was very challenging for us to manage the administrative matters for a small team. Like how to connect to the internet, how to keep it secure. And also in China, sometimes we need to interact with government departments," said Tosu, of the administrative support that WeWork provides.

He also appreciates the diversity of workspaces at his disposal.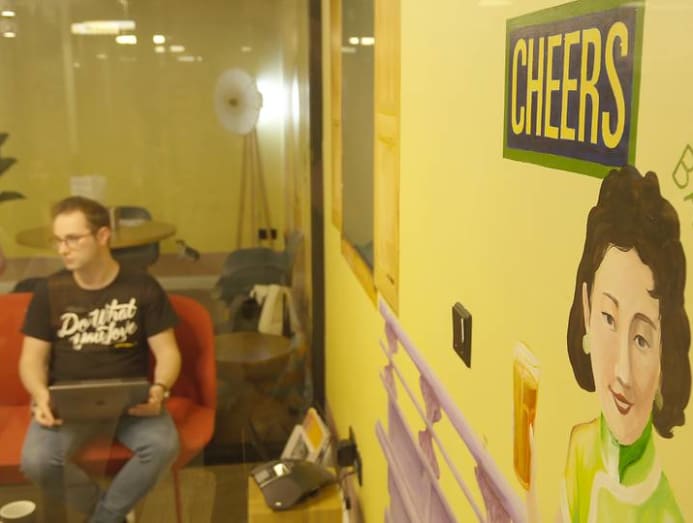 "Weihai Lu is a great mix of traditional and modern work styles; this kind of combination is really attractive for startups, and a global team like us. The biggest advantage is the open spaces, the flexible working areas. Of course, creative workers require a different kind of environment to focus. So they go outside the office. Sometimes they work in the small booths."

As community director, Strijbosch makes sure he embodies the convivial spirit of WeWork, often taking the time to personally interact with members by chatting with them, and going around to hand out snacks such an energy bars.

"It doesn't matter if you are one person or a company of 10. Whenever somebody comes to our building, we want to be there as part of a family. We want you to come 'home' to us and say 'hey, you're new here, we have breakfast on Monday and you can meet new people'," Strijbosch explained.

"The character of the building, its heritage style, is what drives people to want to be here. Then [those who work here] are telling their friends, 'hey, I'm in this super cool, amazing building'. And that personal feeling with this building and the story behind it, makes it even stronger," he concluded.

Adapted from the series Remarkable Living. Watch full episodes on CNA, every Sunday at 7pm.