In Osaka, how a family-owned ryokan and onsen is preserving its heritage
Yukiko Yamasaki and her husband Kazuhiro run Amami Onsen Nanten-en, a traditional ryokan in Osaka prefecture. Amid rapid modernisation, the couple are striving to preserve their authenticity, while showcasing true Japanese hospitality.
You haven't fully experienced Japan until you've stayed at a ryokan, the very essence of Japanese culture and hospitality, where you discover the true meaning of being zen.
If you're ever in Osaka, Yukiko Yamasaki and her husband Kazuhiro invite you to stay at their traditional ryokan, Amami Onsen Nanten-en – a tranquil piece of paradise that's just a 40-minute train ride from the bright lights and bustle of central Namba.
Yukiko Yamasaki and her husband Kazuhiro run Amami Onsen Nanten-en, a traditional ryokan in Osaka prefecture. Amid rapid modernisation, the couple are striving to preserve their authenticity, while showcasing true Japanese hospitality.
Surrounded by the forests and hills that mark the border with Wakayama Prefecture, Nanten-en's appeal is in its secluded location and verdant landscape, boasting a sprawling 10,000 sqm garden that lets guests experience the seasons.
"You can feel nature's four seasons in our garden – there are cherry blossoms in spring, fireflies in summer and leaves turning red in autumn," said Yukiko, the okami (chief female manager) of the inn.
For spa hedonists: The onsens (hot springs) in Amami are extra special as they contain radium-rich water, known to boost the immune system, relax muscles, lower blood pressure, raise the metabolism, soften skin, and much more. Nanten-en has separate onsens for men and women, and is open 24 hours a day.
The other unique feature of Nanten-en is the traditional architecture of the residence itself, which retains its original wood structure built 106 years ago by renowned architect, Kingo Tatsuno, who also designed Tokyo Station and the Bank of Japan.
Nanten-en's building was originally located in Ohama, Sakai City, as part of an entertainment complex. In 1953, the building was relocated to Amami by train to create an onsen destination for holiday-makers. After the second world war, Yukiko's father-in-law bought the building and started Nanten-en.
While it has been updated and upgraded several times throughout its history, the Yamasakis have always taken care to retain the atmosphere of the earlier years, which include paper sliding doors (shoji and fusuma), indoor verandahs (engawa), and traditional accents like tatami mats and paper scrolls. "We want to keep these old Japanese style elements as they are what makes us unique," assured Yukiko.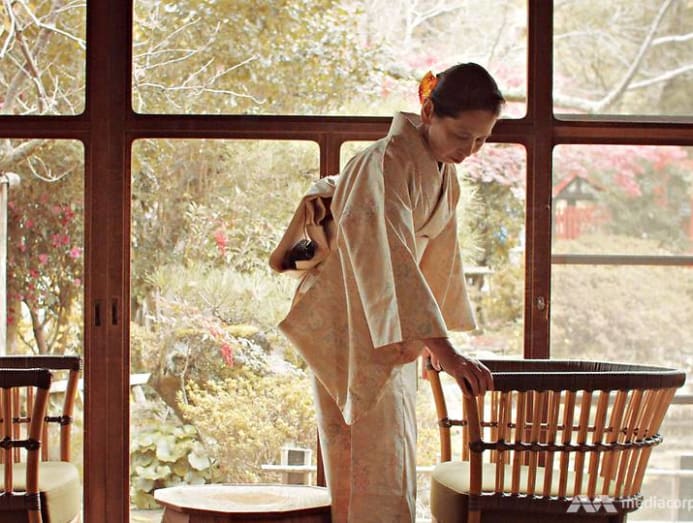 As the lady of the house – a role traditionally held by the wife of the ryokan's owner – it's Yukiko's job to handle day-to-day operations of the inn. "The okami is the face of the ryokan and supervises everything in order for operations to run smoothly, right down to the smallest detail," she explained.
Nanten-en's spacious accommodations and quiet nooks are conducive for a discreet getaway. "We want to give our guests their privacy and we keep our distance, but that doesn't mean we don't attend to their needs during their stay with us," she assured.
Kazuhiro looks after the business and cultural aspects of their guests' experience. An Ikebana master and renowned Omotesenke Tea Master, he is the one who handles all the floral arrangements in the rooms, and conducts tea ceremonies with guests.
As with most traditional inns, enjoying a beautifully-presented kaiseki meal in your room is part of the ryokan experience. Nanten-en uses seasonal produce from Amami for its sumptuous dishes, allowing guests to appreciate all the flavours of the seasons that are unique to the southern Osaka region. You meal will consist of everything from sashimi to tempura, and delicious stews and grilled meats.
Over the last few years, Yukiko and Kazuriho noticed a drop in local patrons and a sudden rise in overseas guests, likely due to Internet reviews and social media. To cater to this growing influx of tourists, the couple has introduced more communal areas for socialising, plus vegetarian and halal menus, too.
"We get people from all around the world who have different cultural backgrounds and food customs. Many things are different from what we used to deal with," revealed Yukiko.
But because of its new-found international appeal, Kazuhiro is hopeful that his ryokan – and Amami, in general – will become a popular destination. "Japan as a nation has a very unique culture. Because of foreign tourists, I feel like Japanese culture is being rediscovered," he quipped.
"We have to protect this traditional Japanese landscape. A place like this, that has a lot of history, is very important and we want the public to appreciate it too," affirmed Yukiko.
Adapted from the series Remarkable Living. Watch full episodes on CNA, every Sunday at 8.30pm.