How a Sydney hotel became a community for locals too, not just travellers
The Paramount House Hotel is a 1940s Art Deco heritage building, transformed into a lifestyle destination with a nod to its film studio history.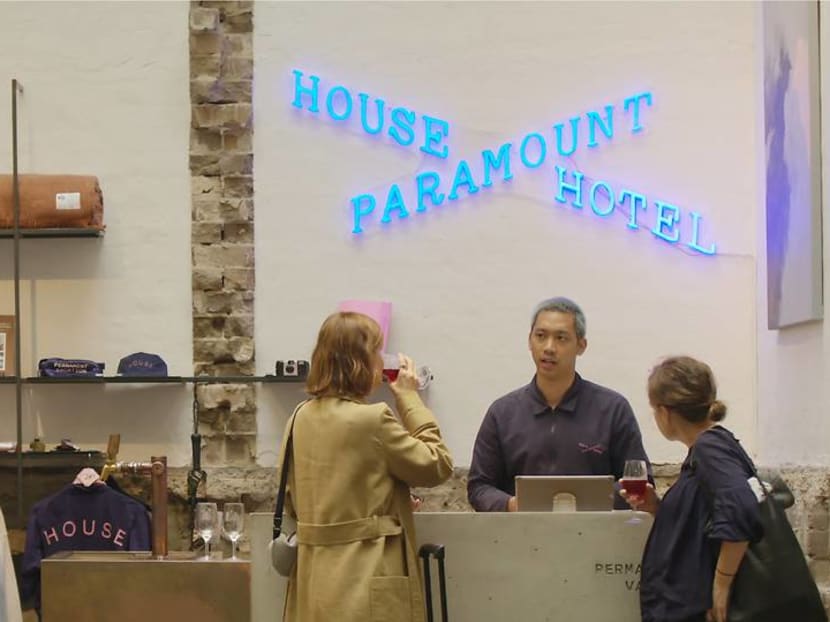 Known as Sydney's creative centre, Surry Hills is a trendy suburb well-served by a collection of buzzing bars, cafes, restaurants and creative enterprises.
"This area used to be referred to as Little Hollywood because it had the Paramount Pictures Studio warehouse, the headquarters and also 20th Century Fox," explained Aimee Bayliss, marketing and communications manager of Paramount House Hotel, which is located in Surry Hills, within a 1940s Art Deco building that was once the headquarters of Paramount Picture Studios in Australia.

After four years of restoration and renovation, the building's star turn from showbiz to hospitality (Paramount House Hotel welcomed its first guests in 2018) sees heritage features like the original timber beams and brick walls juxtaposed with contemporary elements, making for edgy yet elegant industrial chic interiors. Each of its 29 rooms is filled with made-in-Australia products.
"Without being rebellious, we really wanted to break the hotel corporate mould. Cookie cutter hotel white cotton sheets have been replaced with French linen, which are different in each room. Guests can leave their keys and change in a vide-poche, which is by an Australian designer, Henry Wilson. And the ceramics in the rooms are all designed by The Commons, a local ceramicist," said Bayliss.
Even the rooms' mini bars are stocked with a selection of local wine, beer and cheese. And in homage to the architectural style of the terrace houses located within this neighbourhood, each room comes with its own semi-enclosed terrace.
"The idea is that you go to sleep in a room and you wake up and know where you are," she said.
The hotel lobby is accessed, rather unusually, by walking through a popular cafe called Paramount Coffee Project. The cafe is specifically designed to be a truly communal space.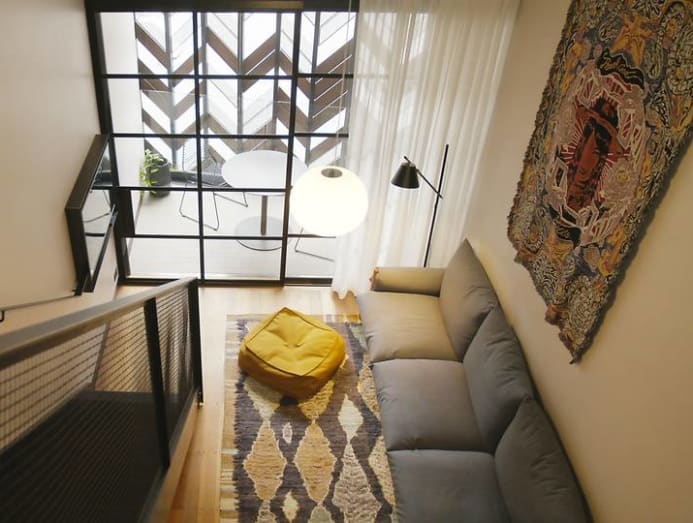 "It really encourages people to make friends," said Kobi Morris, cafe manager at Paramount Coffee Project. "Often, you'll see two people, two parties sitting next to one another, and by the end of their meal, they're having a chat."
In the hotel's basement is The Golden Age Cinema and Bar, a nod to the building's cinematic past. Films screened there cover a mix of cult classics, documentaries, and new releases.
Said Matt Lennon, brand manager of Golden Age Cinema and Bar: "I've seen countless films here and I think when I first saw it, I noticed the design first and foremost. And I just thought, 'gosh, they've done a great job or bringing it back to the era that it was originally built in'."
Like its neighbours, Golden Age Cinema is all about the community.
"We love to see people spending time in the bar before and after screenings, talking about what they've just seen. I remember a couple of seasons ago, we had a film about gardening on at the same time as a documentary about young skaters. So the crossover between these two audiences was just so unique," said Lennon.
Part of the drive in opening a hotel in the Paramount House building was to create a hub for people to congregate, work and play.
Bayliss recalled: "When I first moved out of my [parents'] home, my first house was in Surry Hills. It was a really broken-down terrace and there were five people that all lived together. But it was a very special time because I worked in fashion [then], and my boyfriend was in music. There was this art director and so it was just this real melting pot of emerging young talent and creative thinkers. The hotel in this area, for me especially, feels like a coming back to that feeling of excitement, of thriving."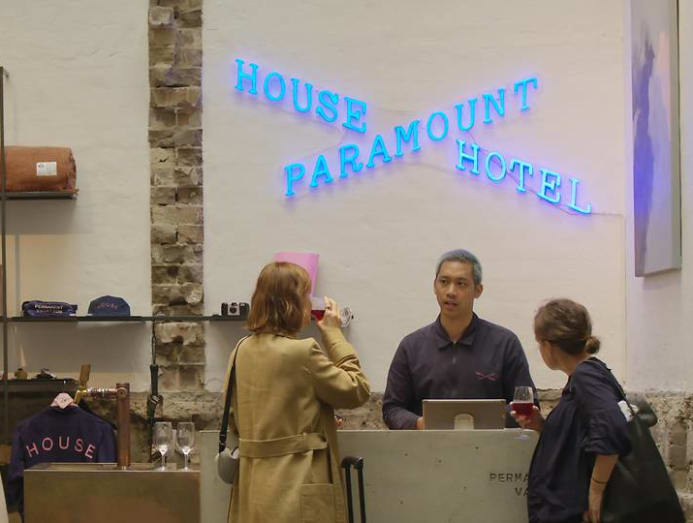 It took the owners 11 years to develop and find the right tenants for the building; more recent additions include a restaurant called Poly which is helmed by acclaimed Sydney chef Mat Lindsey; a co-working hub called The Office Space; and a rooftop healthy club and outdoor garden cafe called Paramount Recreation Club.
"The directors and owners have taken their time to curate it in a way that is very true to this neighbourhood," noted Lennon. "You know, I imagined it must have been very tempting to develop it residentially or put businesses in here which you know had the money to buy up the space, but may not have been true to the ethos and the vision that they initially had. And I think over the past five or six years, it's come to shape in a really beautiful and organic way."
Adapted from the series Remarkable Living. Watch full episodes on CNA, every Sunday at 7pm.