These sisters escaped their corporate lives to tell stories on silk scarves
With their label Rumi Su, Pinar Yegin and Deniz Yegin Ikiisik use whimsical illustrations to turn a traditional accessory into a form of expression for modern women.
As a line by the Persian poet Rumi (1207–1273) goes: "Let the beauty of what you love be what you do".
This is exactly what a pair of Turkish sisters, Pinar Yegin and Deniz Yegin Ikiisik, are doing with Rumi Su, an Istanbul-based accessories brand they set up together in 2011.
Inspired by their love for art and storytelling, Pinar Yegin and Deniz Yegin Ikiisik founded their own line of silk scarves, Rumi Su.
Both sisters studied and lived in the United States for more than a decade prior. Pinar read economics at Harvard and finance at Wharton, while Deniz studied fashion and design in New York, and designed women's apparel for several brands.
"Corporate life did not really suit me or satisfy me completely. I understood that I wanted art to be a bigger part of my life," said Pinar.
Their love for illustration and design prompted them to return to Istanbul and start Rumi Su.
"Rumi is our favourite mystical poet. His writing and philosophy of life motivates us and directs our lives," said Pinar. "We were both really into accessorising with scarves. So we said maybe we could try our prints on scarves, to bring those two together."
Every single scarf they create has its own story, characters, inspiration and colour mood, with a big dash of whimsy and humour thrown in – think a gang of dinosaurs fighting to be at the top of the food chain; a traditional Turkish wedding featuring lots of dancing and drum-playing – except that the guests are aliens; safari scenes; even humorous reinterpretations of Noah's Ark.
Each scarf has a unique character, such as a zebra or rhino, attached to its bottom right-hand corner, adding an element of fun. These handmade crochet charms are part of a social enterprise project run by the United Nations. "It's very playful, makes it pop," said Deniz.
It's also reminiscent of oya, or Turkish lace. Dating back as far as the 8th century BCE, oya is traditional female folk art, used on headdresses, scarves, undergarments and outer garments of Turkish women, and even on household textiles such as the edges of towels, napkins and tablecloths. The different styles include needle-made ones, crocheted ones, and even ones combining beads, sequins and other decorative pieces.
"Usually, ladies in Turkey wear very muted colours, but the only exception is this oya where they go crazy," explained Deniz, who collects oya, on the art form being used as a means of self-expression.
According to Wikipedia, "young girls, new brides traditionally convey their love, hopes, expectations and happiness through the oya they wore. Many motifs are inspired by nature, usually flowers and fauna found in the Turkish countryside". 
Growing up in a family of craftsmen, the sisters were always surrounded by art. Their parents ran a textile business.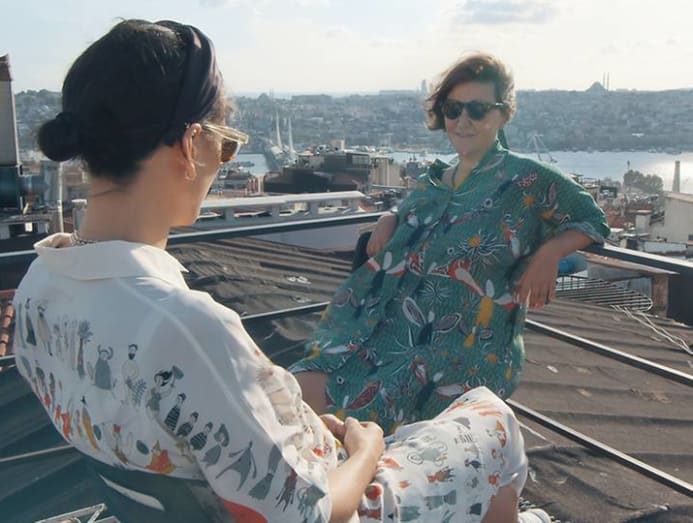 "We grew up with yarn and textiles surrounding us. My grandmothers were crocheting, and I kind of learned by watching them. Basically, during our childhood, the one thing that brought us together was sitting down and laying all the crayons out there and just drawing," said Pinar. "(Our scarves are) a great way to bring our art into someone's daily life. So they can be wearing our paintings around their neck or on their shoulders."
Their friend, jewellery designer Zeynep Mursaloglu, said: "When they first began, we didn't have any scarves or accessories like theirs with that much colour, and that many strong illustrations. Modern women in Turkey don't really use scarves as daily accessories. But after them, I see lots of young, modern women using their scarves as daily accessories everywhere."
"They always use positive colours. But when you look deeply into the scarves and illustrations, you start to feel the story. The stories are always about, for example, body positivity, and maybe their own childhood memories or horse-riding. They have really deep stories," added Zeynep.
"Anything could inspire us. One season, it was a book that we had read," said Deniz.
"We both read this book called Women Who Run With The Wolves by Clarissa Estes. It inspired our entire collection because there are incredible folk tales in that book. And the protagonists of the folk tales are always very strong female archetypes," said Pinar.
"Another season, it was a trip we took to Africa," recalled Deniz.
Moved by stories they had heard about orphaned elephants in Kenya, the sisters decided to create a scarf with designs of elephants on them. Some of the elephant orphans' names are also printed on the scarves. Part of the proceeds from their Sheldrick Wildlife Collection go towards helping to support an elephant orphanage in Kenya.
Rumi Su recently launched a line of ready-to-wear clothing featuring their distinctive designs. Their dream is to illustrate a children's book and to start a homeware collection.
"We don't target a specific group of customers. We just want to slowly widen our reach. We are happy to welcome anyone from any kind of background, age group, gender, to enjoy Rumi Su for as long as they like. But above all, whatever we do, our prints and illustrations and colourful approach will be in the centre of everything," said Deniz.