In Seoul, this butcher wants to start a Korean barbecue omakase beef culture
Jung Sang-won's boutique meat market, Born and Bred, not only offers the highly prized Korean hanwoo beef, but it also features an omakase-style barbecue bar with a multi-course meal featuring various cuts of said beef.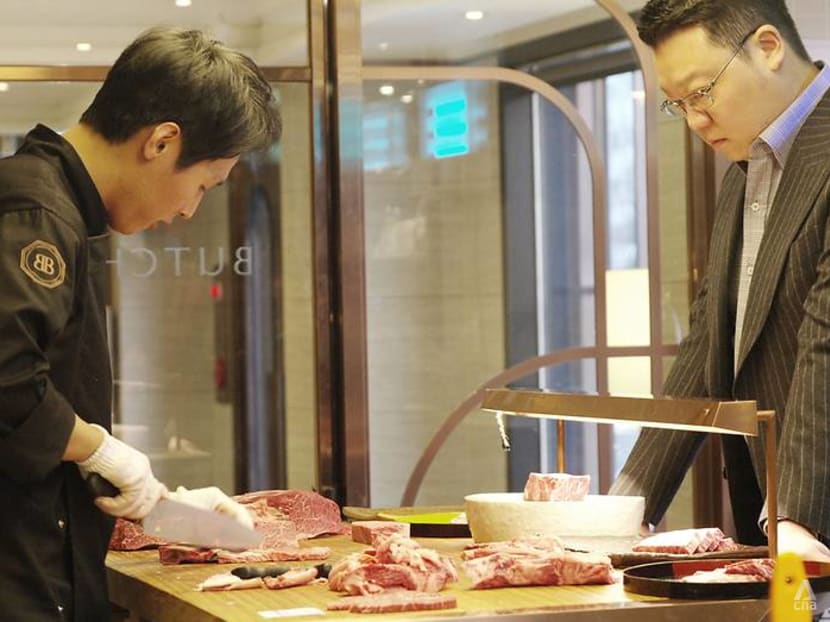 It's hard to fathom that a brand like Born and Bred, which sounds more like a cool denim label, is home to the most premium hanwoo beef in all of Seoul. And, possibly the only building in the world, where every floor is dedicated to pleasuring your palates with meat.
Decked out in Art Deco style with dark marble, tinted glass and bronze accents, the five-storey complex is a nod to the design ethos of the Roaring Twenties. It stands imposingly, albeit awkwardly, against a tired-looking streetscape of old landmarks, including the famous Majang-dong Meat Market.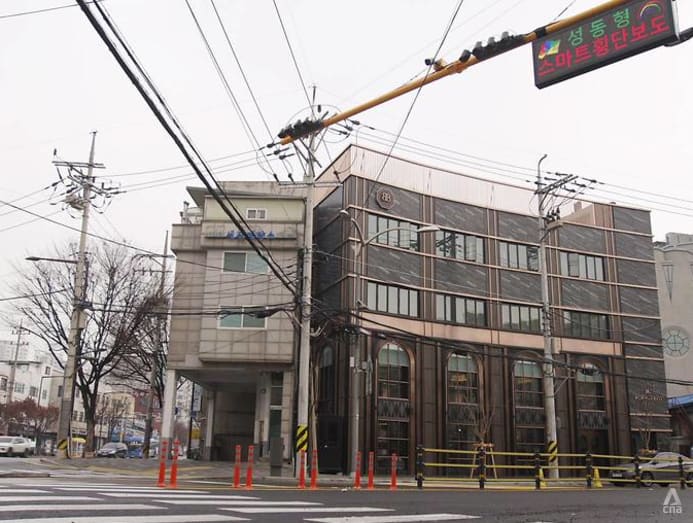 The man behind this boutique meat operation is Jung Sang-won, 37, who grew up watching his father sell beef at Majang-dong, famous for its meat market and slaughterhouses.
"My father has been doing business here for over 40 years. Since I was born and raised here, I aptly named the business Born and Bred," said Jung.
Jung Sang Won's boutique meat market, Born and Bred, not only offers the highly prized Korean hanwoo beef, but it also features an omakase-style barbecue bar with a multi-course meal featuring various cuts of said beef. Find out more in this video, filmed before the pandemic.
Majang-dong is also where Korean hanwoo is sold – a prized meat, highly-regarded for its marbling and flavour. "I love hanwoo not just for its rich flavours and buttery textures, but it brings me back to when my father would come home after work, always bringing back some meat in a bag, and I would grill it for him," he reminisced.
Growing up, Jung and his cousins treated the market like a playground, by having pellet gun- or water pistol fights. Those were good memories for him, but it was also frightful because there was blood everywhere, from the meat.
"Visitors who came to Majang-dong had the same feeling – that it was a scary place. I wanted to change this perception and show that it was possible to come to here and have a fancy meal in a boutique hotel setting," he shared.
Jung's father, on the other hand, wasn't keen on something so modern, as he felt it should retain the red neon lights that Majang-dong is known for.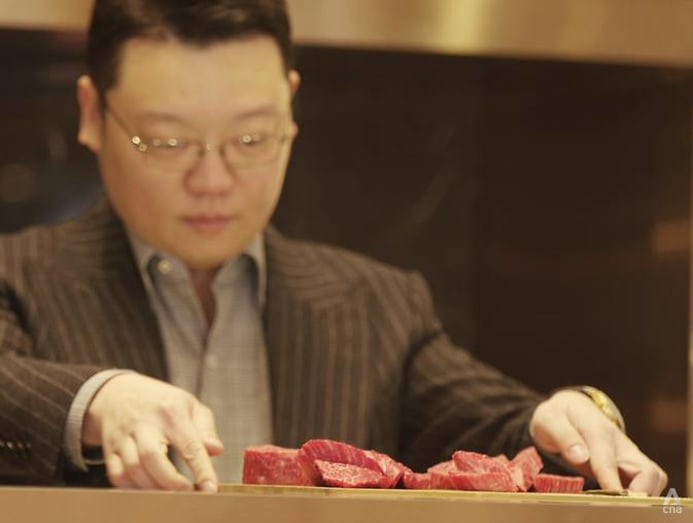 "Through my travels, I felt inspired by the aesthetics of boutique restaurants and bars that have a speakeasy quality, as well as the set design of the movie, Kingsman. So, I worked with my interior designers to recreate something like a gentleman's club. I personally feel we complement the timelessness and traditions of the neighbourhood," he affirmed.
Born and Bred challenges the perception of a traditional butchery by offering a one-of-a-kind space that features three dining concepts. The first floor, a chic butcher's lounge, showcases the best hanwoo beef in Seoul. On the second floor, you'll find a modern casual eatery that takes inspiration from butcher restaurants in the Majang-dong area. The hidden gem is the omakase barbecue bar in the basement, which offers a multi-course beef experience featuring various cuts of melt-in-your-mouth hanwoo beef. This is where you'll find Jung putting on a spectacular show behind a slick hemispheric counter.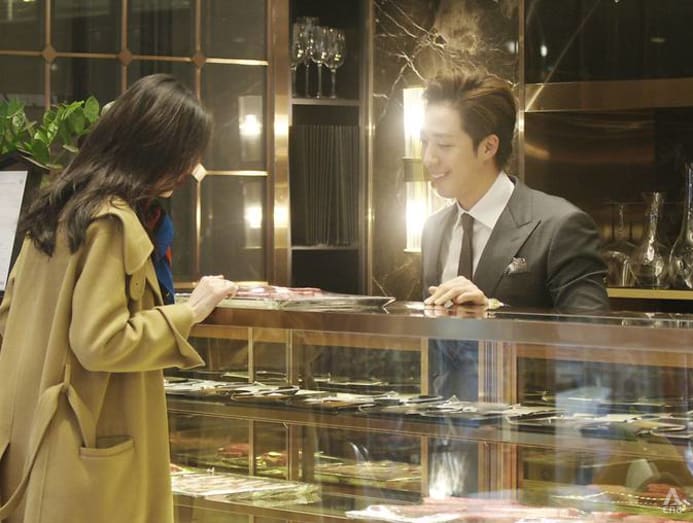 Born and Bred is the first restaurant in Seoul to offer a matkimcharim course that specialises in premium hanwoo beef. Matkimcharim, which means "trust me" in Korean, is akin to a Japanese omakase.
"I fondly remember my time at a Japanese sushi bar, where the chef was able to sense what type of sushi I wanted, without me having to tell him. I was really touched by the quality of service and decided that I had to try that with beef," he explained.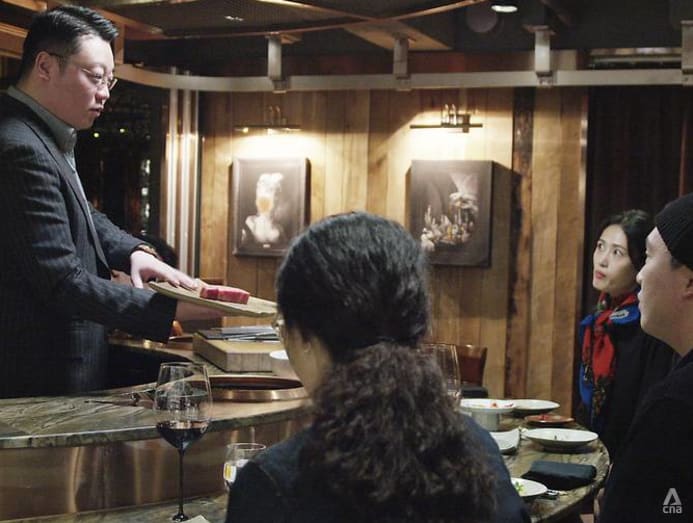 With access to the best beef in Korea, Born & Bred's high-end concept is the perfect showcase of what hanwoo has to offer. Jung reveals that his best cuts come from two-year-old female cattle, as they are softer and have a richer taste. According to him, the best part of the cow is the skirt meat, as it has the deepest flavours.
He assures that, even though the matkimcharim course will set you back at least US$300 (S$397), you will be getting your money's worth of beef, at least 600g, in a wide variety of cuts, all lovingly grilled over a smokeless charcoal grill.
It doesn't stop there. Like any traditional Korean meal, there are plenty of sides to savour, from picked vegetables to spring rolls, spicy noodle salads, katsu sandwiches, pho, and much more.
Jung strongly believes that matkimcharim dining will definitely raise the standards of hanwoo cuisine in Korea.
"Just like how people think of Japan when they think of omakase, it would be great to have people to suggest 'Ah, we have to go to Korea to have special Korean barbecue omakase beef'. This is my dream!" he enthused.
Adapted from the series Remarkable Living (Season 3). Watch full episodes on CNA, every Sunday at 8.30pm.
Disclaimer: This video was filmed before the COVID-19 pandemic.