Inside the home of the Singapore architect who built a love letter to his wife
Award-winning architect Edmund Ng, renowned for his visionary yet timeless work, takes us on a tour of a recent project: His own home with gallerist Jazz Chong.
"Spaces that evoke emotion and spirituality – I think that's what good architecture is all about," said architect Edmund Ng, principal of Edmund Ng Architects. His clean designs and artistic sensibilities can be seen in projects built in Singapore and abroad.

Award-winning Singaporean architect Edmund Ng, renowned for his visionary yet timeless work, takes us on a tour of a recent project: His own home.
Recently, Ng took on a project of particular significance – his own home. Using the narrow width of the land plot to his advantage, Ng deconstructed rooms and integrated functions to create a unique space.

"It's a house that is my work of art," said Ng, an art lover who has been married for seven years to Jazz Chong, an art collector and founder of gallery Ode to Art. "Of course, it's an extension of ourselves. Interestingly, there was no discussion [with my wife] about how the house should look like."

Thankfully, his wife's initial reaction to the space was a favourable one. "When she first walked through the door, I could see a big smile on her face. And that's the best reward that any architect building their own home can get. It fell into place, and everyone's comfortable," he said.

Ng embraces a Japanese design philosophy called wabi-sabi. "It means to celebrate imperfection as a form of beauty," he explained.

The bungalow features an austere facade that belies a warm, inviting interior designed to showcase their mutual obsession, art.

As such, the home's basement features an in-house art gallery that displays his wife's extensive contemporary art collection, which features an eclectic mix of paintings and sculptures. The gallery walls are made of fair-faced concrete, which Ng considers "the most perfect canvas whereby anything can be hung, removed, with nail marks that are not patched up, and it's still a form of natural beauty".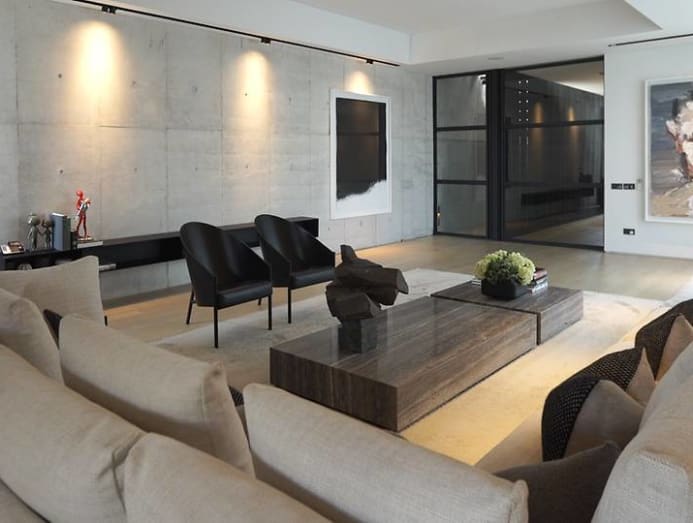 Unusually, the living room does not feature any large glass windows or sliding doors; instead, the only views come from two tiny slits of glass within a large concrete block which resembles a bunker. "It's a curated decision," explained Ng, "We wanted to frame the view, to look into a curated landscape of trees being planted. So this is an inward-looking sort of architecture."

He considers the dining room one of the most important spaces in his home.

"Dining is always one of the main activities in the house, and we do entertain quite a fair bit, so it has to be the main focus of the house," explained Ng, who enjoys cooking up a storm, and co-hosting large parties, with his wife. "And if you were to know my wife, you know that she's always in pants instead of skirts. Her persona is masculine, yet with a little feminine touch," he said.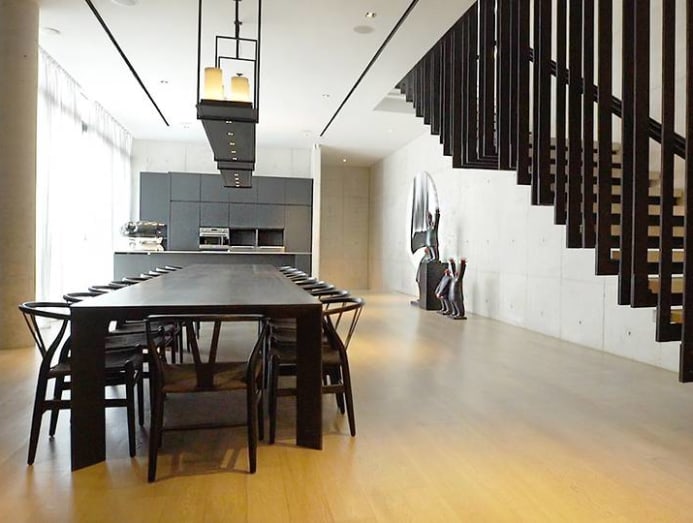 In order to reflect their tastes and personalities, the dining room was designed to be a masculine yet warm space. It is decked out with black metal overlays, light wood flooring and a candle chandelier. The overall effect is somewhat medieval, yet modern.

Elsewhere in the house, standout features include a staircase composed of floating concrete slabs, a most unusual walk-in wardrobe, a master bedroom that sprawls across 1,000 sq. ft., and a painting of his wife hanging above the bathtub, which Ng calls "his own Mona Lisa".

All in, this architectural ode to love is a home that speaks of a couple in sync with each other.

Adapted from the series Remarkable Living. Watch full episodes on CNA, every Sunday at 7pm.

Access is a partnership between CNA Luxury and Singapore Tatler.