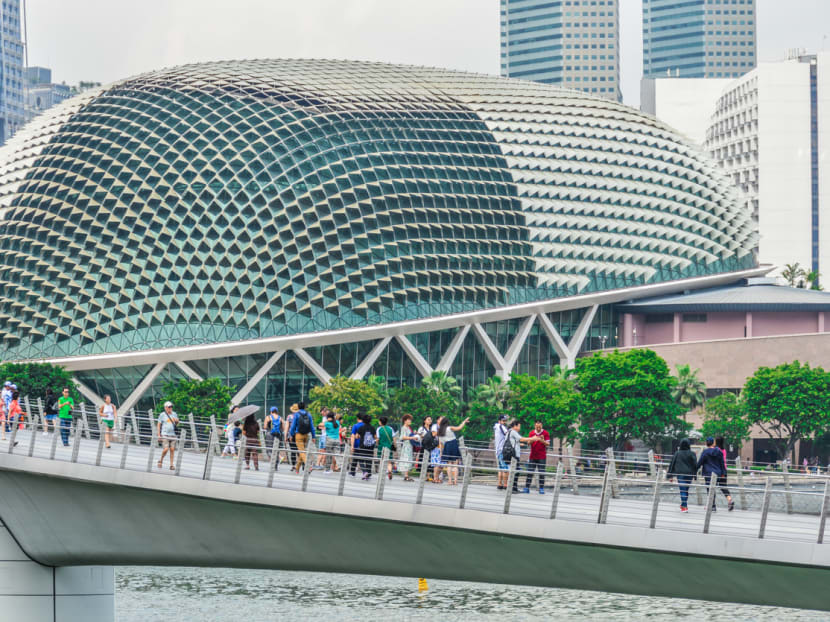 SINGAPORE: Capacity limits and zoning requirements for selected MICE (Meetings, Incentives, Conferences and Exhibitions), performance and spectator sports events will be eased from Monday (Nov 15) under a pilot scheme, announced the COVID-19 multi-ministry task force at a press conference. 
The ministry had earlier announced the intention to pilot greater allowances for activities involving those who are less vulnerable and are fully vaccinated, announced the health ministry in a separate press release. 
Among the events involved in this pilot are the Milken Institute Asia Summit on Nov 15 and 16, the Bloomberg New Economy Forum from Nov 16 to 19, and Industrial Transformation Asia Pacific 2021 from Nov 22 to 24. 
Singapore singer JJ Lin's two-day charity concert After the Rain on Nov 27 and 28, and a ONE Championship martial arts event in the coming months will also be included.
The respective event organisers will release more details on the requirements and safe management measures.
A maximum of 1,000 people are currently allowed to attend live performances, MICE events and sporting events if all attendees are vaccinated.
Individuals who wish to participate in these events will be subject to Singapore's new vaccine and test protocol, which was announced last week.
The polymerase chain reaction (PCR) or antigen rapid test (ART) results must be reflected on the TraceTogether app, or performed or supervised by the event organiser or venue operator, either in person or virtually, the press release stated. 
These pilots will be assessed before deciding how to expand the protocol to more events and settings, as part of Singapore's "broader plan to allow safe resumption of further activities", added the press release.
"With vaccine and test, we are not only limiting the participants to vaccinated persons, we are also requiring all of them to be tested beforehand. So it provides extra protection and safety," said co-chair of the COVID-19 task force Lawrence Wong.
"Based on the outcomes of these pilots, if they prove to be successful, we will then be able to extend this same protocol to more events and more settings. This is another way in which we can resume more activities in a controlled and safe manner."
Mr Wong added that Singapore will be taking a "step-by-step incremental approach" in easing our measures, and "not a big bang".
"As we have said before, it's done in a controlled manner. And each time we make a move we will monitor the situation for the next few days or one, two weeks and ensure that the overall infection situation is stable before we make the next move."
Watch the full news conference, including the Q&A session with journalists:
EVENTS BRING "SIGNIFICANT ECONOMIC BENEFITS"
Responding to questions from the media about the Formula One Singapore Grand Prix, Transport Minister and Minister-in-charge of Trade Relations S Iswaran said during the press conference that discussions are ongoing on a contract for a new term of the race in Singapore.
The race was cancelled for a second year in a row this year amid the ongoing COVID-19 pandemic.
"I think we all recognise that events, such as the Formula One, generate significant economic benefits and global branding value for Singapore. They invigorate Singapore's events calendar, they build our international demand and also support job creation of businesses," he added.
"So for all these reasons, as we gradually ease measures and reopen our borders, we are also working towards a phased resumption of such international events, with the essential safeguards which are informed by the public health risk assessment."