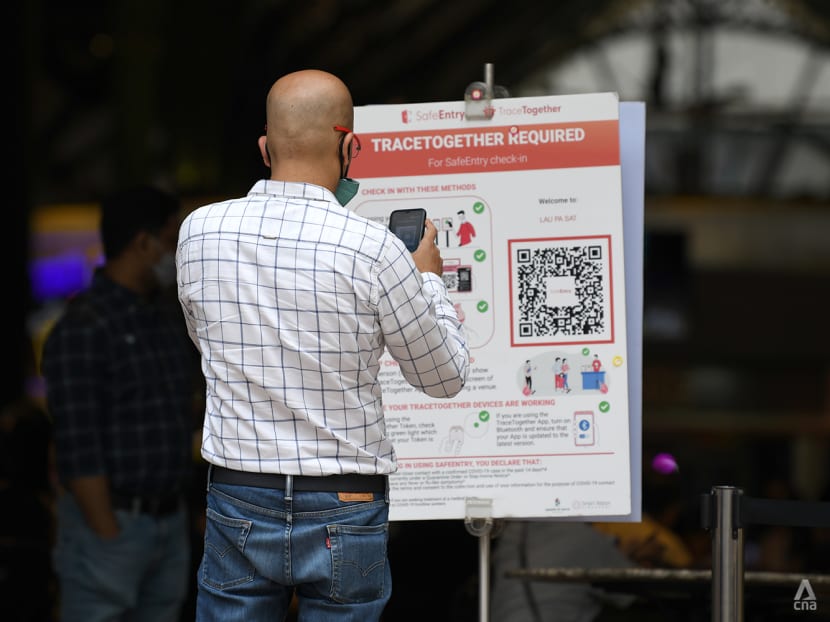 SINGAPORE: Singapore's daily COVID-19 infections are rising, but the number of severe cases and deaths should be lower than before, says a public health expert.
"We expect that the number of severe cases and deaths will be lower than it was historically prior to achieving high levels of vaccination in the community," said Associate Professor Ashley St John from the emerging infectious diseases programme of Duke-NUS Medical School.
This is because vaccinated individuals are more than 20 times less likely to land in hospital. More than 90 per cent of Singapore's eligible population are fully vaccinated and 57 per cent have had an  additional booster shot.
The Omicron variant has sparked another wave of infection in Singapore, with 5,469 new COVID-19 cases reported on Thursday (Jan 27). 
On when this wave will peak, she said that it will be difficult to predict: "But it's likely that COVID-19 will be with us for quite a while with periodic waves of cases."
Earlier, authorities had said that Singapore could see more than 15,000 COVID-19 cases a day.
The recent rise in cases also came after the Health Ministry changed how the daily numbers are reported. It now includes cases who tested positive on antigen rapid tests (ART), and are well or have a mild condition.
Of the more than 5,000 cases on Thursday, 3,571 were from ART and 1,898 from polymerase chain reaction (PCR) tests.
Professor Dale Fisher, who is professor of medicine at the NUS Yong Loo Lin School of Medicine, likened counting COVID-19 case numbers to counting common colds, with most diagnosed on ART over PCR tests.
Prof Fisher said that 99.7 per cent of cases reported are mild or asymptomatic and "a strategic change will be needed".
Assoc Prof St John said that the ICU utilisation rate is "probably more important now" than case numbers. There are now 611 hospitalised for COVID-19, and 12 are in ICU. Another 49 need oxygen supplementation.
At the peak of the Delta wave, there were about 80 to more than 100 people in ICU at any one time, and 200 to 300 more needing oxygen.
"With just 60 people in the country in ICU or in hospital requiring oxygen, the price of blunt broad restrictions seems disproportionate now," said Prof Fisher.
He said that managing the pandemic has always been a balance between health, social and economic consequences.
"The formula has shifted because of Omicron and high levels of immunity amongst Singapore residents," said Prof Fisher, who is also senior consultant at NUH's division of infectious diseases.
"Therefore, I believe we can expect to see more of a response to this shift."
He said that Singapore has eased many restrictions and simplified border movements but the country is "surely approaching a time for bolder easing".
He points out that the economic impact is still hitting the food & beverage sector, travel and tourism and others, while the inability to travel easily is seeing some foreign workers leave Singapore permanently.
"But it is easier said than done as easing restrictions needs to be paired with an easing of isolation or quarantine requirements," he said. 
"It won't work otherwise as with 20,000 cases per day, isolating and quarantining every case and close contact could mean hundreds of thousands are forced to stay home when they are quite well enough to be at work."
There should also be no mandated isolation for mild and asymptomatic COVID positive cases in the community but they must avoid crowds, wear masks throughout and avoid the vulnerable, he said.
"The emphasis should shift to protecting the vulnerable rather than broad restrictions on everyone. It will feel uncomfortable especially at the start. The reality is that eventually life will return essentially to pre-pandemic behaviours," said Prof Fisher.
But he added that Singapore's conservative approach to transitioning out of the pandemic has "served it well".
"With overseas hospitals being overwhelmed, we have seen social restrictions reintroduced, including mask mandates. This is frustrating for communities both socially and economically when people may not know, from one week to the next, if their business can stay open," he said.
"Singapore's stepwise graduated easing has helped people move on with their lives."