How might an Omicron wave develop in Singapore? Vaccinations, safety measures may 'wear impact'
SINGAPORE: A wave of COVID-19 infections from the Delta variant subsided late last year, but the emergence of Omicron has led to a surge in cases worldwide.
Here in Singapore, Health Minister Ong Ye Kung said on Wednesday (Jan 5) that the Omicron variant accounts for close to 20 per cent of local cases. Globally, it is becoming the dominant strain due to how transmissible it is.
Said Mr Ong: "It is a matter of time before it starts to multiply quickly. We must be prepared for that."
At its peak, the number of Omicron cases could be "a few times" more than the roughly 3,000 daily cases that the Delta variant was registering in October and November last year, Mr Ong said.
The Ministry of Health's director of medical services Kenneth Mak said COVID-19 infections in Singapore could reach 15,000 a day in a "worst-case scenario".
The daily number of new cases has spiked since Jan 3, and was at 813 on Thursday. Of these, 365 were Omicron cases. The weekly infection growth rate, the ratio of community cases in the past week over the week before, was 1.5.
Countries around the world are seeing daily case numbers spike. While Omicron appears to cause less severe disease than Delta, the World Health Organization (WHO) has warned that it cannot be called "mild".
"Just like previous variants, Omicron is hospitalising people and it is killing people," said WHO chief Tedros Adhanom Ghebreyesus.
"In fact, the tsunami of cases is so huge and quick, that it is overwhelming health systems around the world."
In Asia, a few countries have sounded the alarm with Indian cities like Mumbai registering a surge, and Thailand raising its COVID-19 alert level from three to four, which means restrictions may follow.
So will Singapore see its healthcare system strained again and possible restrictions amid another COVID-19 wave?
Professor Leo Yee Sin, executive director of Singapore's National Centre for Infectious Diseases (NCID), said that epidemic waves may appear differently in different geographical regions or even within the same countries, such as between cities and rural areas.
How the current Omicron wave affects Europe and North America may differ from how it affects Singapore, she said.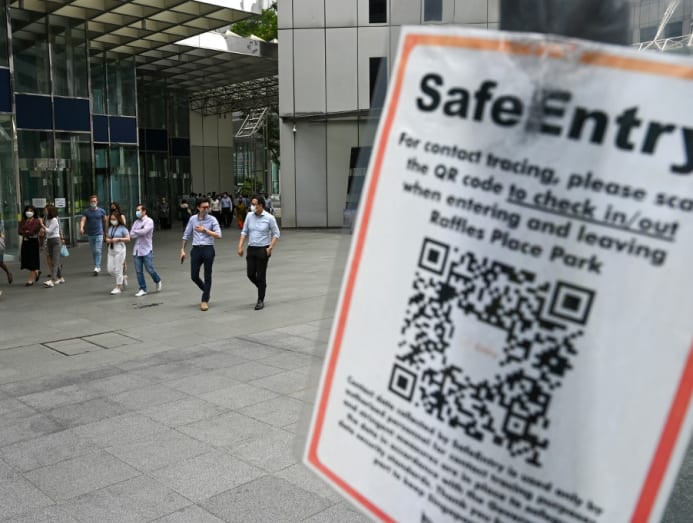 She highlighted a few key differences: "Firstly, in Singapore there is universal donning of surgical masks which has been proven to be effective and safe management measures are still in force.
"Secondly, we have high vaccine coverage and are actively embarking on (a) third (booster) dose to strengthen the population's immunity."
However, people in Singapore have less natural protection from prior COVID-19 disease. A fourth factor is that winter in Europe and North America could drive people indoors, which increases the chance of close human-to-human contact.
"Last but not least, we have a high degree of adherence to safe management measures locally," said Prof Leo.
"Although we anticipate a large wave owing to Omicron's changed properties that evade pre-existing immunity, has a shorter incubation period and more efficient transmission, we certainly hope that we can wear the impact with current practices."
OMICRON WAVE MAY BE SHORTER THAN DELTA WAVE
Associate Professor Natasha Howard from the NUS Saw Swee Hock School of Public Health thinks that Singapore can expect transmission rates to continue to be lower than in the UK or US.
This is because the country has "routinised and normalised effective safe management measures" since the start of the pandemic and also because of the "very high" vaccination coverage.
"However, transmission is increasing here as Omicron spreads and we can expect a period of transmission that is high by Singapore standards."
She added that data thus far suggest that an Omicron wave may be shorter than recent Delta waves, though this could change as we learn more about the variant.
South Africa experienced a steep rise in COVID-19 infections from late November, with new infections peaking in mid-December at an all-time record, but new cases have since fallen back, Reuters reported.
Infectious diseases expert Dale Fisher said that prior to Omicron and very good vaccination coverage, there was concern about severe COVID-19 overwhelming Singapore's intensive care capacity.
"However, this is less of a concern now because globally we are seeing a surge in cases which is not associated with more cases of severe disease and deaths," said the professor at NUS Yong Loo Lin School of Medicine.
The two new threats to the country's health system are healthcare staff infections, requiring a period of time furloughed from work, and "incidental" COVID-19 in patients admitted for other reasons, which could overwhelm the isolation capacity.
"We are seeing the first scenario play out in overseas hospitals where large numbers of staff are absent from work on (medical leave) at the same time for mild COVID," he said. 
"Further, if there is a lot of community transmission then patients admitted for heart attacks or trauma ... will coincidentally be found to have COVID-19 and therefore require an isolation bed, which are in limited supply."
Finance Minister Lawrence Wong, a co-chair of the COVID-19 multi-ministry task force, has said that Singapore may have no choice but to tighten measures if COVID-19 transmission is amplified by "unnecessary" risks.
But if hospital beds and ICUs are not overwhelmed, then Singapore will be able to "ride through this upcoming wave" based on current safe management measures, he said on Wednesday.
When asked if current safe management measures are sufficient, Assoc Prof Howard said she expects them to continue to be effective, with "allowances for ongoing flexibility" – such as work-from-home arrangements and group sizes for dining-out and social gatherings.
SHOULD I WEAR AN N95 MASK?
None of the experts recommended wearing N95 masks for protection from being infected.
"If you're already wearing disposable surgical masks, then N95 masks are more effective while being equally comfortable and probably no more harmful environmentally. However, if you're correctly wearing a good-quality reusable mask with high filtration capacity, then you can probably continue to do so," said Assoc Prof Howard.
Said Prof Fisher: "N95s should be fitted to individuals by qualified people and they are quite uncomfortable. I would not recommend them for routine community use."
And while border controls have likely slowed the introduction of Omicron into Singapore, it was "inevitable" that the variant would appear in Singapore. Once there is high transmission of Omicron here, border controls will have no role in controlling the pandemic situation, he said.
On the latest requirement to have three vaccine shots before being considered fully vaccinated, Prof Fisher said that boosters do have some role in slowing transmission but it is not long-lasting, especially for Omicron.
"Unfortunately though, it is one of our few tools to counter mass transmission other than harsh social restrictions and movement orders which no one wants," he said.
From Feb 14, those aged 18 and above will have to take a booster shot within 270 days of completing their primary vaccination series in order to maintain a fully vaccinated status against COVID-19.
Prof Leo said that although Omicron causes seemingly milder disease among those with pre-existing immunity, people should do their best to slow down its transmission to reduce the disruption to our day-to-day life, and protect human resources across all works of life "to sustain a healthy state".
"An infected person can transmit the virus to others and the most unwanted side effect is to pass on the virus to vulnerable persons at home or someone close. Besides, having more cases also allows the virus the chance to mutate," she said.