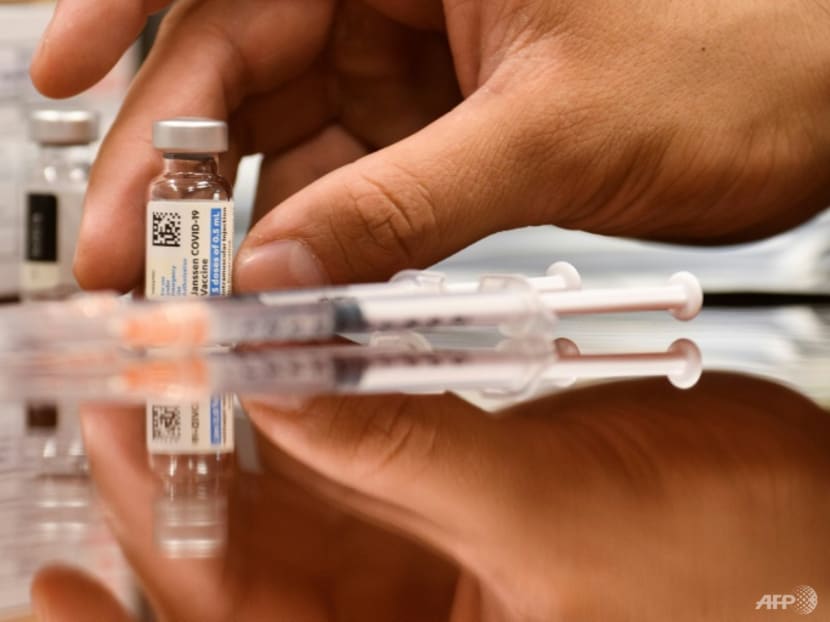 SINGAPORE: While a few countries, including Singapore, have plans for COVID-19 booster vaccine shots, the science on some important issues is still unsettled, experts told CNA.
Some key questions to answer are: Who should the booster shots be for, when they should be administered and which vaccine you should get for a third shot, said Professor Dale Fisher, senior consultant at the National University Hospital's (NUH) Division of Infectious Diseases.
"Many scientists believe that a third dose may help protect the very immune suppressed, transplant and cancer patients," he said.
"As for adding to the immunity of the general population we have to analyse the data carefully."
Here's what we know so far about COVID-19 booster shots:
SINGAPORE "VERY LIKELY" TO HAVE VACCINATION BOOSTER EXERCISE
Health Minister Ong Ye Kung said on Aug 19 that Singapore will "very likely" have a vaccination booster exercise.
Mr Ong said that Singapore will look to other countries which are starting booster shots before the Expert Committee on COVID-19 Vaccination can give its recommendations.
"These countries started vaccinations earlier than us, and we therefore now have the advantage of observing them and learning from their experiences," he said.
The Health Minister said there are two key things to consider: First, the incidence of adverse reactions, and second, whether the booster shot should be the same or a different vaccine.
He added that the committee is very clear on the need for individuals who were severely immuno-compromised at the time of their first two doses to get a third shot. These include cancer patients, people who have had organ transplants and those on immune-suppressive therapies.
WHICH COUNTRIES ARE HAVING BOOSTER SHOTS?
Israel was the first country to roll out booster shots for its population of 9 million.
After one of the fastest vaccine roll-outs in the world, Israel removed COVID-19 restrictions. But after the Delta variant hit the country in June, it went from single-digit daily infections to a record 12,113 cases on Tuesday (Aug 24), according to figures from Johns Hopkins University.
It has reimposed indoor mask-wearing, limitations on gatherings and ramped up rapid testing, Reuters reported. The country is hoping that it will not have to impose another lockdown.
On Jul 30, it began administering a third dose of the Pfizer-BioNtech vaccine to people over 60, the first country to do so. It has gradually lowered the age threshold and on Tuesday, it expanded eligibility to those above 30.
Reuters reported that the pandemic is abating among the first age group, according to Israeli health ministry data and scientists. Scientists said booster shots are having an impact on infections, but other factors like more cautious behaviour are likely contributing to the decline as well.
Hungary has already started distributing booster shots, with anyone eligible four months after they received their second dose of a coronavirus vaccine, said Reuters.
The United States has announced plans to offer booster doses in September to all Americans. Pfizer and BioNTech have already started the application process for the approval of its booster shot in people 16 and older, saying it spurs a more than three-fold increase in antibodies against the coronavirus.
The United Kingdom, Canada, France, Germany and Austria have also planned booster campaigns. A number of other countries have said they will give third shots to vulnerable and immuno-suppressed patients. 
In Asia, Indonesia started giving booster shots produced by Moderna to medical workers in July and is considering extra doses for wider use. Thailand is offering Pfizer-BioNTech jabs as a booster to medical workers who previously received two shots of Sinovac. Cambodia started offering AstraZeneca booster shots on Aug 12 to those who have received Sinopharm and Sinovac. South Korea said in June it plans to secure more mRNA vaccines to use as boosters next year.
COVID-19 booster shots should become available in China after the country vaccinates more people, a senior executive at a Sinopharm unit responsible for developing COVID-19 vaccines has told state media.
WHY IS THE WHO AGAINST BOOSTER SHOTS?
But there is no consensus among scientists and agencies that a third dose is necessary, and the World Health Organization is not recommending boosters at the moment.
If vaccination rates are not raised globally, stronger variants of the coronavirus could develop and vaccines intended as booster shots should be donated to countries where people have not received their first or second doses, WHO Director-General Tedros Adhanom Ghebreyesus has said.
Those whose immune system is compromised should get a booster shot, though they represent only a small percentage of the population, he added.
Associate Professor Hsu Li Yang, Vice Dean (Global Health) and Infectious Diseases Programme Leader at Saw Swee Hock School of Public Health, agrees.
"We will also have to keep in mind that the vast majority of countries have low vaccination rates, including all of our neighbours in ASEAN," he said. 
"In general, it may be better to ensure that other countries have completed their primary vaccination campaigns before we consider general booster doses for everyone in Singapore."
WHEN SHOULD ONE GET A BOOSTER SHOT?
Countries also have very different timelines for administering or for planned booster shots – from four months to eight or nine months. So, what is the recommended time to get one?
Assoc Prof Hsu said that at this point, there is not enough data to answer this question definitively.
The experiences from Israel and UK suggest that protection from infection – including mild symptomatic disease – wanes within six months post-vaccination, particularly with the Pfizer-BioNTech mRNA vaccine. 
However, protection against severe disease remains excellent at more than 85 per cent effective when compared with unvaccinated people, even for the elderly. 
"Will protection against severe disease wane over time? We do not know for sure at this point if and when this will happen, but it will certainly take a far longer period of time compared to protection against infection," he said, adding that this will also differ for different vaccines.
NUH's Prof Dale Fisher said that the key measurable is an increasing number of severe cases in fully vaccinated people. 
"We shouldn't get confused by increasing numbers of total cases or severe disease in the unvaccinated. These numbers do not reflect waning vaccine effect.  At the moment, severe disease is still very uncommon in the fully vaccinated. We need to watch the data in Singapore and overseas."
THE SAME OR DIFFERENT?
There's no definitive answer to whether one should get the same vaccine or a different one. 
Professor Ooi Eng Eong, from Duke-NUS Medical School's Programme in Emerging Infectious Diseases, said that preliminary data does suggest that the use of a different vaccine could be useful to expand the breadth of immunity against SARS-CoV-2 variants.
But clinical trials have been limited to evaluating the use of chimpanzee adenovirus vector vaccine (such as AstraZeneca) as the first dose followed by an mRNA vaccine as the second dose, said Professor Ooi. 
"Since most Singaporeans have received two doses of mRNA vaccines, there is as yet no evidence that booster vaccination with a non-mRNA vaccine would produce superior immune response to getting a third dose of mRNA vaccine," he said.
A UK study involving at least seven vaccines is ongoing and the results are due in September. 
Health Minister Ong Ye Kung has said there is "quite a sizeable group" of people in Singapore who took a first dose of mRNA vaccine and found out that they were allergic to it, before taking a second dose of Sinovac vaccine.
"The (expert committee) will be closely monitoring their immune response," he said.
SHOULD PEOPLE BE TESTED FOR ANTIBODIES?
Prof Fisher said that there is a lot more to the immune system than antibodies, which are proteins in the blood that recognise intruders like viruses and neutralise them. 
Prof Ooi said that the immune system develops memory cells that can produce antibodies on demand. It also produces T cells that would be able to detect and kill infected cells to prevent SARS-CoV-2 from spreading in the body of those who have been vaccinated.
"Measuring antibodies alone would thus miss all these different ways our immune system uses to protect us from COVID-19," he said.
Testing for antibodies would also add to the complexities of vaccinating large numbers of people, said Prof Fisher.
"On a population level, testing for antibodies is also challenging to implement because neutralising antibody tests by and large cannot be done commercially at scale," said Assoc Prof Hsu.