Digital transformation, sustainability among post-pandemic opportunities for Singapore: Gan Kim Yong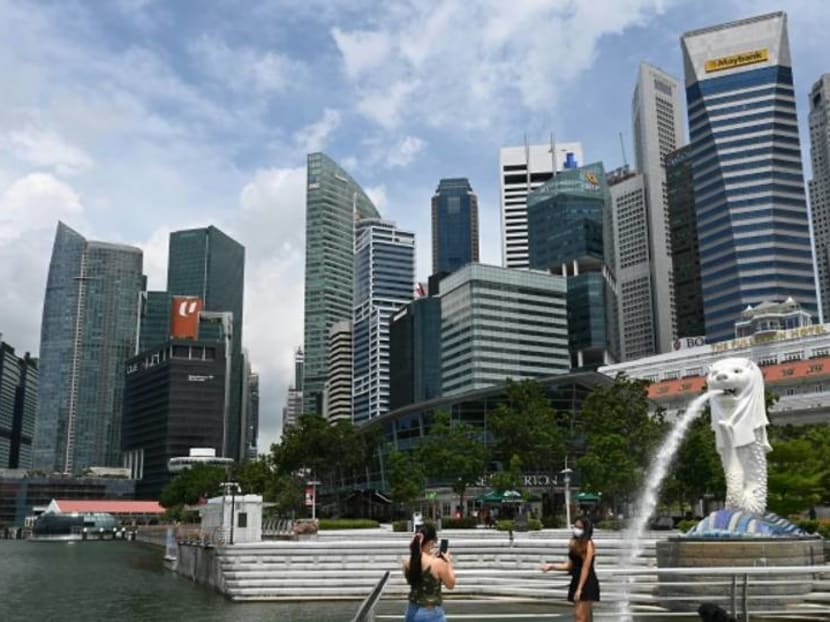 SINGAPORE: Digital transformation and sustainability are among several opportunities that have emerged from the COVID-19 pandemic and Singapore can take advantage of them to emerge stronger amid the "significant challenges" it faces, Trade and Industry Minister Gan Kim Yong said on Friday (Aug 27).
Speaking at his ministry's annual economic dialogue, Mr Gan noted that the pandemic has caused and accelerated several key shifts in the global economy such as a changing global balance, accelerating digital transformation and innovation, as well as an increased focus on sustainability.
These shifts present significant challenges for Singapore's economy but also offer new opportunities.
Digitalisation is one such opportunity as the pandemic emphasised the significance of the virtual realm. Singapore will need to create "new virtual frontiers" to transcend the constraints of its physical size and boundaries, the minister said.
For instance, a virtual marketplace of goods and services can be set up to allow businesses to enter new markets and reach customers from all over the world.
Sustainability and the green economy present the second opportunity, according to Mr Gan, who added that Singapore can "capture first-mover advantage" in areas such as carbon trading and services, low-carbon technologies, green financing and sustainable infrastructure.
It can also help existing industries transition to a lower-carbon economy, as well as help companies create new sustainable products and solutions.
The third area of opportunity lies in developing more home-grown "global champions".
Mr Gan said large enterprises make "disproportionate contributions" to the Singapore economy, be it in terms of gross domestic product (GDP), employment or productivity.
Several home-grown "unicorns" – a term for start-ups that reach a private valuation of US$1 billion or more – have emerged over the years, he added, citing the likes of Grab and Razer.
    
These large enterprises have the potential to expand further and compete in the global market, he said.
The challenge ahead is for Singapore to groom the next generation of future champions and soon-to-be "unicorns". This is an important area, the minister said, so as to provide Singaporeans with new and exciting opportunities for many years to come.
The Singapore economy shrank an unprecedented 5.4 per cent last year on the back of the pandemic, marking the country's worst recession since independence.
There have been "promising signs of recovery" this year, said Mr Gan, noting that the economy grew by 14.7 per cent year-on-year in the second quarter. This was much faster than the 1.5 per cent growth in the first three months of the year.
Policymakers have also raised the official growth forecast for 2021. The economy is now expected to grow between 6 and 7 per cent, compared with the previous projection range of 4 to 6 per cent.
Mr Gan said: "We expect the Singapore economy to continue to recover gradually in the second half of the year, given the global economic recovery that is under way.
"With our domestic COVID-19 situation remaining stable and our vaccination rates continuing to improve, we should also be able to progressively ease our border and domestic restrictions over the course of the year."
But recovery is to likely remain uneven as the impact of COVID-19 has differed across sectors.
For instance, tourism and aviation-related sectors are expected to see a slow and protracted recovery. Global travel restrictions remain in place and global travel demand is also likely to be sluggish amid the spread of more contagious virus strains, the minister said.
On the other hand, outward-oriented sectors such as manufacturing, wholesale trade and finance and insurance are set to record healthy growth this year, driven by the rebound in global demand.
"The COVID-19 pandemic has disrupted our lives, jobs, and the economy. But there are also bright spots and new opportunities for us to look forward to," Mr Gan said at the online dialogue.
"As long as we maintain our can-do spirit, remain nimble and adaptable, and embrace new ideas and innovation, I am confident that Singapore will continue to thrive."