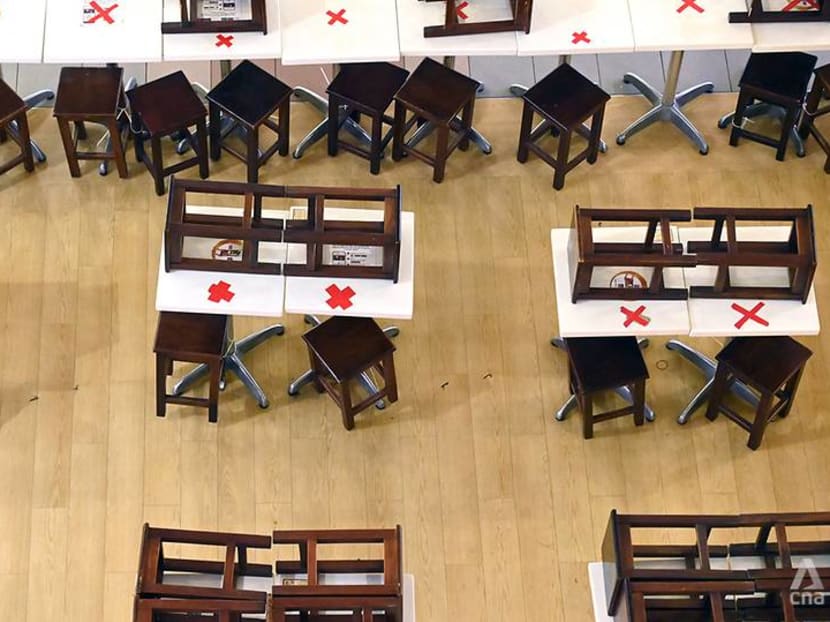 SINGAPORE: Dining-in at F&B outlets will resume from Aug 10, only for fully vaccinated people in up to groups of five as Singapore announced a two-step easing of COVID-19 measures. 
The current group size for social gatherings will also be increased from two to five from Aug 10, said the Ministry of Health (MOH) in a press release on Friday (Aug 6). Households will similarly be able to receive five distinct visitors per day.
However, people who are unvaccinated should remain in groups of no more than two "to reduce the likelihood of transmission and severe infection", MOH said.
Unvaccinated children aged 12 and below can be included in the group of five as long as all the children are from the same household, the ministry added.
The announcement follows a mid-point review of Phase 2 (Heightened Alert) measures, with restrictions to be eased from Aug 10 and from Aug 19 if the coronavirus situation remains stable, said MOH.
Apart from allowing dining-in for the vaccinated, measures will also be eased for this group of people for other higher-risk activities such as high-intensity sports with masks off, personal care services, as well as larger events like marriage solemnisations and worship services.
"Unvaccinated individuals with a valid negative pre-event test result or recovered individuals are of similarly lower risk, and may also join in such groups of up to five," said MOH.
HAWKER CENTRES AND COFFEE SHOPS
F&B outlets may only resume dine-in services if they are able to ensure that customers are fully vaccinated. Those that are not able to do so may only operate takeaway and delivery services.
Everyone can dine in at hawker centres and coffee shops from Aug 10 - regardless of vaccination status - but only in groups of two.
"Hawker centres and coffee shops provide convenient and affordable food services within the community. As these are open-air and naturally ventilated spaces, we will extend a special concession for both vaccinated and unvaccinated persons to dine in the hawker centres and coffee shops," said the Health Ministry.
Dining-in remains a high-risk activity because people are unmasked and in close proximity, noted the ministry, adding that entertainment like live performances, recorded music and TV screenings will continue to be prohibited. 
Responding to a question about how people can prove that they are fully vaccinated, co-chair of the multi-ministry task force Lawrence Wong said that a person's vaccination status is reflected in the TraceTogether app or in HealthHub. 
"All you need to do is bring your phone along when you go for dining, you can show the person at the restaurant the vaccine status, then they will be able to verify that," he added. 
For people who have been vaccinated overseas, they may have to bring hard copies of the relevant documents, as their vaccination status may not be reflected in the TraceTogether app or HealthHub, said Mr Wong. 
"For the most part, everyone should be able to rely on their phones to get their vaccine status verified."
LARGE EVENTS 
Event sizes and capacity limits for large events will be increased from Aug 10. This includes congregational and worship services, cinemas, live performances and spectator sports. 
If all attendees are fully vaccinated, up to 500 people will be allowed at such events. The limit will be increased to 1,000 from Aug 19 if the COVID-19 situation remains under control.
If attendees are not vaccinated, only 50 of them will be allowed without pre-event testing.
Unmasking and singing or playing of wind instruments at live performances may resume for vaccinated performers.
For marriage solemnisations in external venues - defined as those that do not take place at home or at the Registry of Marriages and Registry of Muslim Marriages - they can accommodate up to 500 people including the wedding couple but excluding solemnisers and vendors, if all attendees are fully vaccinated. This limit will go up to 1,000 from Aug 19.
Otherwise, only up to 50 attendees will be allowed without pre-event testing.
Wedding receptions will be allowed from Aug 10, with up to 250 people in groups of five attendees per table if all are fully vaccinated. 
The phase from Aug 10 will be called the preparatory stage, said Minister for Health Ong Ye Kung at the press conference.
"This is when we will make important adjustments to healthcare protocols, rules on social activities and travel, to prepare ourselves for a transition to a COVID-resilient nation," he said. 
The preparatory stage should last for about a month until early September, said Mr Ong, adding that by then, 80 per cent of the population is expected to be fully vaccinated. 
"And by then, we can continue to keep the number of severe cases, illnesses under control, and our healthcare capacity is not overly stretched, we will be able to move to the next stage, called Transition Stage A," he said. "This is when we will further open up our economy, social activities and travel. Then our lives will be more normal, livelihoods will be better protected. But when we do that, we must expect infection numbers to rise."
TEMPERATURE SCREENING
The requirement for temperature screening in public places will be removed from Aug 19.
"With high levels of vaccine coverage among our population, transmission among vaccinated individuals and disease severity in vaccinated but infected persons are likely to be substantially lower," said MOH, adding that Singapore also has the ability to pick up infections earlier through testing. 
These include self-test antigen rapid test (ART) kits and rostered routine testing with fast and easy tests (FETs) in higher-risk settings," said the ministry.
"With these other targeted public health tools, we will remove the requirement for temperature screening in public premises, together with the other relaxation of measures planned from Aug 19 onwards." 
Work-from-home requirements will also be eased from Aug 19, when up to 50 per cent of employees who can work from home will be allowed to return to the workplace.
The operating capacity of attractions and cruises will increase from the current capacity of 25 per cent to 50 per cent, said MOH. 
Museums and public libraries will also be allowed to increase operating capacity to 50 per cent.
The occupancy limits for shopping malls and showrooms will go up from the current limit of 16 sqm of gross floor area per person to 10 sqm per person, said MOH. 
While the current COVID-19 clusters are "under control", it has been more difficult to bring case numbers down compared to before because of the higher transmissibility of the Delta variant, said Mr Wong.
"But what's important is we have been able to prevent an exponential and uncontrollable surge in cases that could potentially have overwhelmed our healthcare system," he said, adding that the task force is "very concerned" about this scenario following the outbreaks in hawker centres and wet markets in the past month. 
"Fortunately, we have been able to avoid such a scenario. Overall hospitalisation and ICU cases remain low and stable, and importantly we have used this time to vaccinate many more people in Singapore, especially our seniors," said Mr Wong, who is also Finance MInister. 
"And that's why, after looking at the overall situation, we believe we are able to now ease some of the restrictions, especially for those who are fully vaccinated."