IN FOCUS: The challenges of preparing for the PSLE during the COVID-19 pandemic
After nearly two years of disruptions to their learning, Primary 6 students are about to sit for the Primary School Leaving Examination, viewed by many parents as a high-stakes event. CNA looks at how the pandemic has affected their preparations.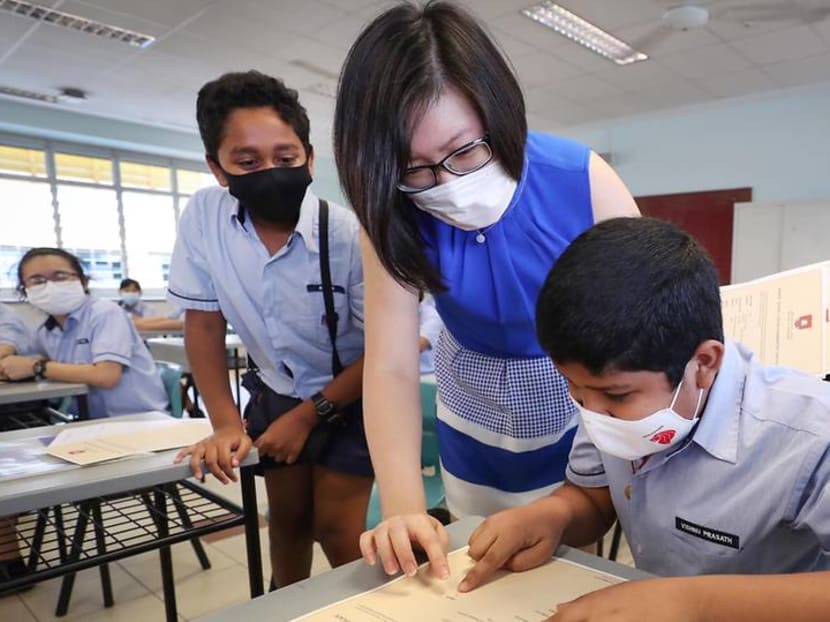 SINGAPORE: As Primary 6 students across the island gear up for the Primary School Leaving Examination (PSLE), they will undergo a rite of passage that has been made more stressful and uncertain with the spike in COVID-19 cases.
Over the past few days, daily cases have soared above 1,000 amid a new wave of infections Singapore is experiencing as it transits to living with COVID-19 as an endemic disease.
On Friday (Sep 24), the COVID-19 multi-ministry task force warned that if the numbers continue rising at the current trajectory, the country could expect to reach a daily count of about 3,200 in the next week.
In contrast, daily infections were only in the double digits during last year's PSLE season.
To minimise the risk of school-based transmissions, Primary 6 students have been put on a study break until the exams begin next Thursday. As an added precaution, other primary school students will be put on home-based learning from Sep 27 until Oct 7.
Primary 6 students who test positive for COVID-19, or are placed on quarantine order or stay-home notice, will not be allowed to sit for the PSLE.
A total of around 39,300 students will take the PSLE this year, said the Singapore Examinations and Assessment Board (SEAB). About 1.4 per cent, or around 550 students, were unable to take their listening comprehension exams due to COVID-19-related reasons, a spokesperson said.
The listening comprehension exams were held last week, ahead of the written papers.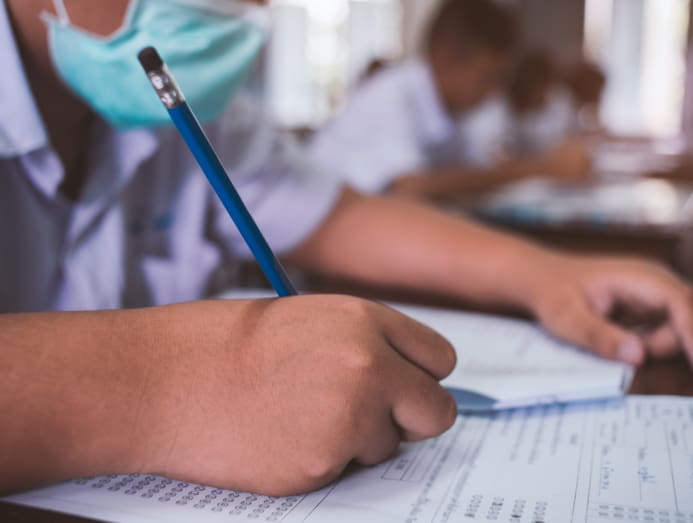 "One of my students was only given the green light to return to school the night before the listening comprehension exams, because the PCR (polymerase chain reaction test for COVID-19) results only came out after 9pm and we had to wait for official letters," said one Primary 6 English language teacher.
"I was so glad when it finally came and that we could tell the parents that their child could return to school to take the exams. But it did affect him and I really hope that it won't affect his results for that paper," she added.
Teachers quoted in this story are not identified as they were not authorised to speak to the media.
The Education Ministry said that students who miss their exams with valid reasons can apply for special consideration.
In awarding a grade for these affected candidates, the Singapore Examinations and Assessment Board will consider "multiple sources of evidence" to ensure a fair assessment. This includes the student's performance in other papers and the school cohort's performance in national and school exams for the affected subject.
Applications will be assessed on a case-by-case basis and subjected to a rigorous review process, MOE added.
With their children's academic performance hanging in the balance, some families have taken extra precautions to minimise any potential exposure to COVID-19.
"We don't really go out nowadays, at most only to the beach, cycling or swimming," said one parent who only wanted to be known as Mrs Zhou. "We don't want to take the risk because our children are not vaccinated and we also have an elderly at home."
For Ms Toh Ee Ming, whose younger brother is taking the PSLE this year, her family has also taken drastic measures such as pulling their children out of school and reducing social interactions.
"My parents would keep saying: 'Why do you need to go out? Now is the crucial week,' and when I wanted to invite some friends over, they said no and that everything must only be done after PSLE," said the 29-year-old Ms Toh.
"As for my brother, he has no life ... it's just school and home," she said. "He used to go for enrichment classes like art and kungfu but now, because of COVID, he doesn't go for them as often."
A 40-year-old parent who declined to be named said: "My son has already worked very hard and he is quite geared up for his PSLE ... if such things happen, I think it would dampen his spirits. Because this is the last lap and his last chance to do better than what he did for his prelims." 
"MOST AFFECTED" PRIMARY 6 BATCH: TEACHERS
Since the pandemic struck nearly two years ago, this year's graduating cohort has had to navigate numerous disruptions at a time where previous batches were preparing to hunker down and focus on the national exams.
Last year, students in all schools and institutes of higher learning shifted to full home-based learning (HBL) for a month during the "circuit breaker" period to curtail the spread of COVID-19.
The sudden move to HBL caused a scramble as students and parents rushed to come to grips with the practicalities of online learning.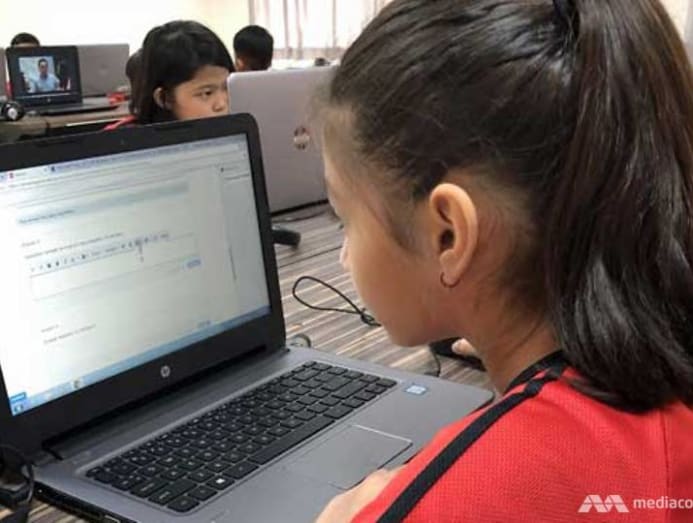 Since then, Singapore has implemented two more rounds of full HBL, one in May this year and another this month.
With their classes interrupted repeatedly, students lost "quite a bit" of curriculum time, teachers told CNA.
"One of the major struggles we faced whenever HBL ended and school reopened was that we had to do a lot to help the students catch up with the curriculum, on top of covering the remaining syllabus," said one Primary 6 English language teacher.
"But we couldn't just teach to cover the syllabus without paying attention to our students' mental well-being so, especially for the weaker classes, we had to really go slow and not expect them to be able to cover the syllabus fast," she added.
"So in terms of learning, this batch is the most pitiful because they really went through a lot last year and this year."
In June, MOE said that common last topics would be removed from the PSLE for the second year in a row.
These refer to a set of topics in the subject syllabus for graduating cohorts that all schools teach last, and can be removed from the national exams in the event of unforeseen circumstances that affect schools' abilities to finish teaching them.
While the announcement came as a relief to many Primary 6 pupils and their parents, some expressed concern over the removal of the topics.
"In some ways, it's good but it also has its disadvantages because if the students are weak in the topics that are being covered in the exams, the common last topics could have helped," said one parent who declined to be named as she is also a teacher.
With parents anxious to get their children back on track and make up for lost time, some tuition centres have seen a surge in last-minute enrolments and requests for extra face-time with teachers.
Sprightly Learning Campus, which already has 10 physical classes a week for Primary 6 students, said it plans to launch two more online classes to help students with their revision.
"We're seeing that parents are actually pretty lost as to how they can help their child and they are frantically trying to look for last-minute courses for them," said Ms Jolyn Low, co-founder of the centre.
"In the past, parents were quite specific about the help they needed. For instance, if their child wasn't strong in a particular topic, they would ask for relevant workshops or classes. But now it's different – they're saying 'just give me any lesson that will give my child extra time with the teacher'," she said.
Ms Low said teachers at the centre have also been offering consultations on their own time to help students.
"Many parents are also hoping to send their children for more classes each week, increasing the frequency to around two to three times a week, but we cannot because of our limited slots and time," said the 30-year-old.
Some parents are also "doubling up" on tuition, sending their children to different tuition centres for the same subject, said Ms Nicole de Silva, an English language specialist at Mrs D's English Enrichment centre.
"Generally, you do see some parents suddenly looking for classes for their children as late as Term 3 but this year, I'm seeing more parents who are telling me very openly that their children are already having classes for the same subject elsewhere," said Ms de Silva.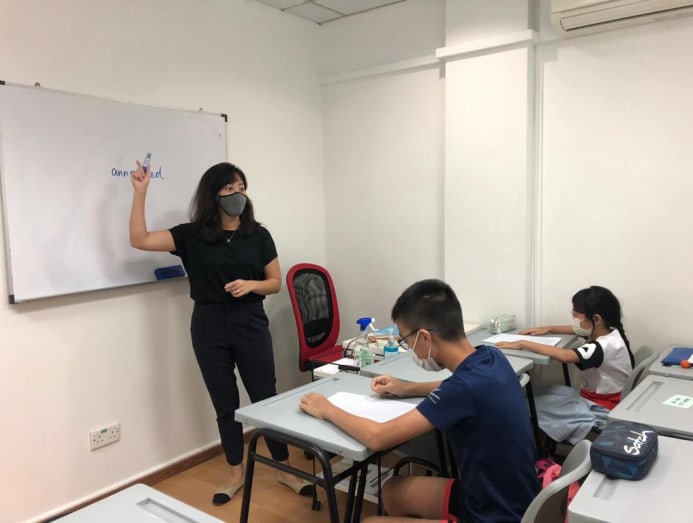 Mrs Zhou said she forks out nearly S$2,000 each month for her son's private tuition classes in English, mathematics and science.
"Previously, my husband and I would teach him, but we realised that he needed more help and we weren't really sure how to coach him for his exam papers because we aren't trained for this," said the freelancer in the real estate industry.
TREADING A FINE LINE
Beyond education, the pandemic has also affected students' mental health and well-being.
Sudden moves from classrooms to computer screens, as well as restrictions on children's social interactions, tested the importance of human connections for students like Mrs Zhou's son.
"Last year (Primary 5) was a big disaster year for us, because my son was feeling lost," she said. "Because of all the disruptions from COVID and the home-based learning, he just didn't see the point of studying.
"He felt like his life was just going to school and home to study because he couldn't play with his friends or meet them, so he was very lonely," Mrs Zhou added.
Recalling an incident last year, the 40-year-old said her son broke down and cried during a tuition class because he did not know how to answer a question.
"He was very stressed ... even though we've never said that he has to get full marks or a specific mark, and the teacher wasn't pushing him either, so from there we could see that he was very stressed," she said.
Students' morale has been low as the pandemic wears on, according to teachers CNA interviewed.
"We can see that they are really very tired and exhausted. But we have been trying our best to do what we can to support them emotionally," said one Primary 6 teacher.
Teachers have to be able to recognise signs and symptoms of stress and anxiety in children, and follow up with them sensitively, she said.
"We are giving the (Primary 6) students a lot of practice for their exams but at the same time, a lot of pep talks as well ... to be honest, we are not pushing them too much because they're going through so many changes in these challenging times," she said.
"Quite a number of them are facing issues at home such as parents struggling financially because they lost their jobs due to the pandemic. So we had to do a lot of background checks and check in regularly with the students to make sure they were okay."
"It is really triple the effort because we really have to support them emotionally, we have to look out for their well-being physically, doing visual screening every single day, checking their temperatures and their TraceTogether tokens," said another teacher.
"So all these are additional work that we have on top of the stress we face in helping them prepare for the PSLE," she added.
MORE UNCERTAINTY OVER NEW PSLE SCORING SYSTEM
Amid the uncertainties of the pandemic, this year's Primary 6 cohort will also be the first to take the PSLE under a new scoring system.
The new system,first announced in 2016, aims to make schools less differentiated based on cut-off points and remove benchmarking against other students.
What is the new PSLE scoring system?
Under the new system, each PSLE student will receive Achievement Levels (AL) of 1 to 8 for each of their four subjects, with 1 being the highest possible score and 8 the lowest.
Their final PSLE score will be the sum of these achievement levels, ranging from 4 to 32.
In the AL scoring system, a student's score is not linked to his or her peers' performance, unlike the previous T-score system, which is calculated based on how well a student did in relation to others in the cohort. Instead, the student will be scored based on their individual performance.
With only 29 possible PSLE scores, compared to the more than 200 possible aggregate scores under the T-score system, it means that schools will also be less differentiated based on cut-off points.
Indicative cut off points reflect the scores of the first and last student who would be posted into each school under the new scoring system, based on the 2020 cohort's results and school choice patterns. 
The PSLE score of the last student is referred to as the school's cut-off point.
If there are two or more students with the same PSLE score vying for the last places in the school, a tie-breaker will be applied in the order of citizenship, school choice order and computerised balloting. 
The score ranges for each school can be found on https://moe.gov.sg/schoolfinder.
While the new scoring regime was intended to ease the pressure students face in competing against their peers, parents and teachers CNA spoke to had mixed responses on whether it helped.
One teacher noted a "marked difference" with raised expectations and stress levels among higher achieving students.
"Under the old system, when the child gets A, parents tend to be fine with it. However, under the new system, parents and students themselves are not satisfied with AL3 or even AL4 (equivalent of A); they want to strive for AL1 or AL2," she said, adding that this would "inevitably" increase the level of stress among the students.
As for those who usually score between 50 and 60 for their exams, they might be less motivated to push themselves since the range for AL6 is very wide, the teacher added.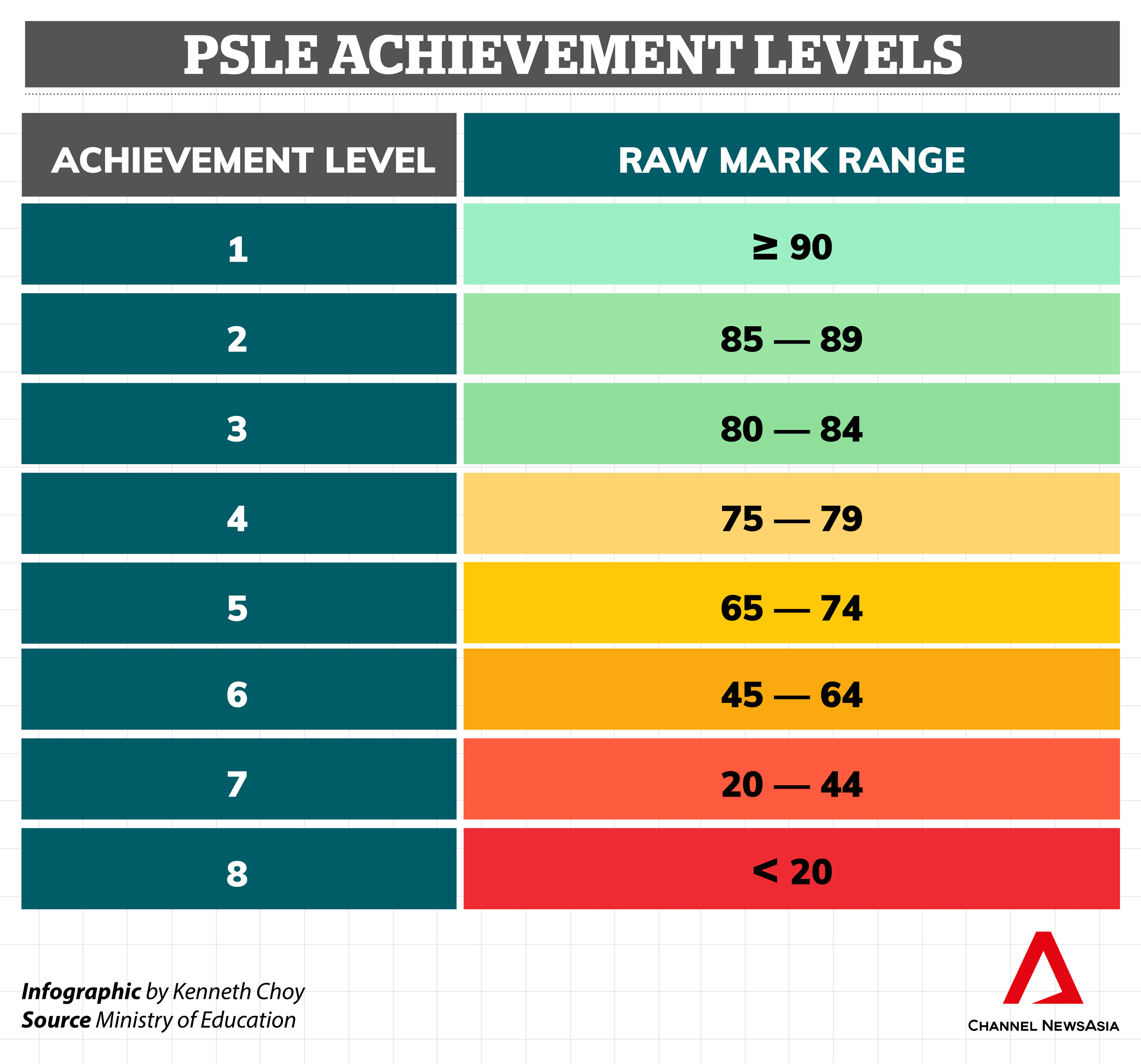 "In the old system, if they score around high 50s, they will push themselves to achieve better to get B. However, in the new system, there is little incentive to do so, it would not make much difference to their AL."
Another parent of a Primary 6 student, who declined to be named as she is also a teacher, agreed that while the system could reduce stress overall, this may not apply to all students.
"It really depends on which group of students you're looking at. For my case, I'm not so stressed because I know my son is weak academically. So under AL6, which has a raw mark range of 45 to 64, if he were to get 46 or 47, that's fine with me because he will still be in Band 6," she said.
With a smaller range of scores under the AL system, some parents have turned to the Direct School Admission (DSA) route for their children in hopes of securing a spot at the school of their choice.
"A lot of parents that I know applied for DSA for their children because under the new system, a lot of students might get the same banding," said Mrs Zhou.
"So in order for them to stand out, they must have something different from the others."
TOUGHEST CROP OF GRADUATING STUDENTS
Despite all the uncertainties, this year's batch of Primary 6 students have been extremely resilient and adaptable, teachers told CNA.
"The fact that this batch has gone through so much for the past two years is really not easy," said one Primary 6 teacher, who has around 17 years of teaching experience.
"But even amidst all these disruptions, my students never showed any sign of giving up and they were really giving it their best, which was really commendable," she added.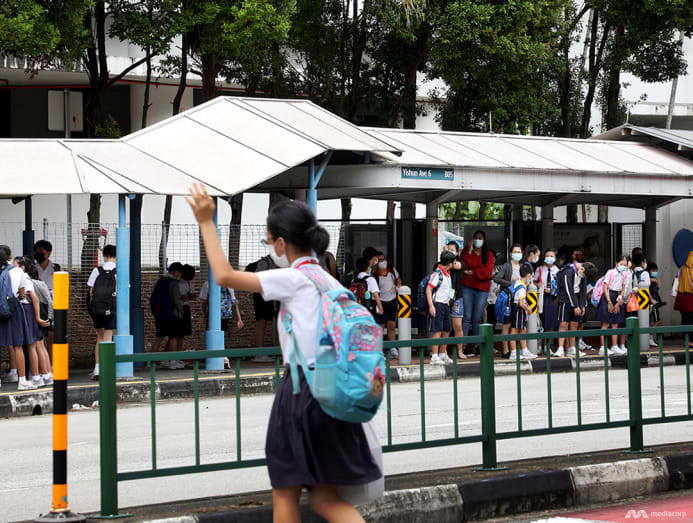 Another teacher said that many of her students showed improvements in their preliminary exams.
"Even though they had to go through HBL twice, they really bounced back very well, and put in a lot of effort to do well," said the Malay language teacher.
With just four days left to the start of the PSLE written papers, some students are already seeing the light at the end of the tunnel.
"I'm feeling quite prepared for the exams but I just can't wait for it to be over because I'm quite tired," said one student, who only wanted to be known as K. "Once it's over, I just want to rest at home, learn coding, but really, just catch up on rest."
Primary 6 student Lee Sheng Yang shared that while he was nervous and anxious about the exams, he also felt confident because he had done more work over the past two years.
"I'm most looking forward to playing games and less intense learning in class," said the 12-year-old.
As for Mrs Zhou, she said she's finally feeling at peace, after enduring nearly two years of sleepless nights and non-stop stress.
"I think we already did our best as parents and looking at my son, I can see that he's more focused and motivated now," she said.
"Looking at his prelim results, I could also see some improvement from last year and so I feel at peace now."