As quarantine measures ease for more travellers, hotels serving as isolation facilities adapt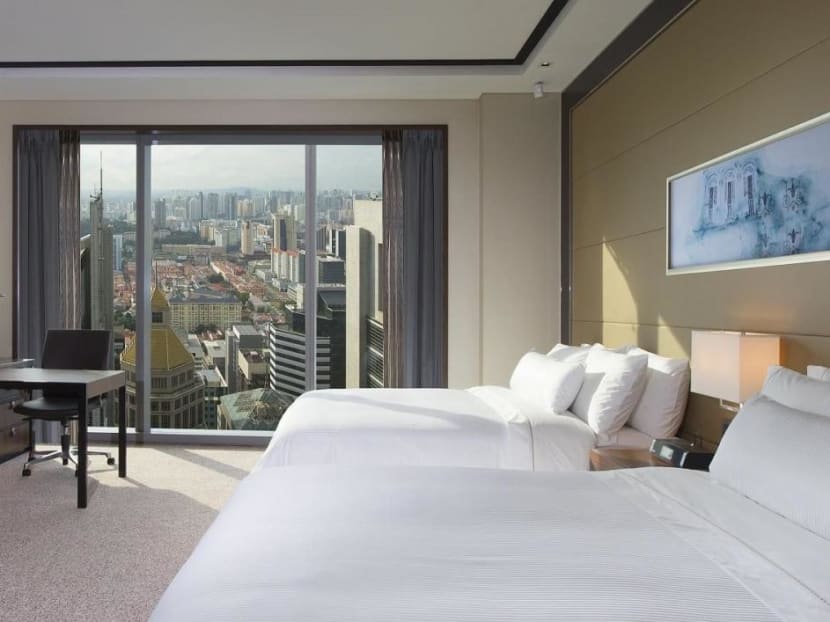 SINGAPORE: As travellers serve shorter stay-home notice periods and more are allowed to opt for home quarantine in Singapore, hotels that cater to these travellers say they are adapting.
Hotels CNA spoke to said they were not too worried about the effect on their occupancy rates. In fact, they said the easing of such travel restrictions is a step towards a broader reopening that will boost business.
As part of recent changes, the maximum stay-home notice period for incoming travellers has been cut from 14 days to 10 days. The option of home quarantine has also been extended to travellers from more countries, the latest of which include Malaysia and Indonesia.
More than 70 hotels have served as stay-home notice dedicated facilities (SDFs) since March 2020, according to the Singapore Tourism Board (STB). At any one point, there are typically 30 to 70 hotels operating as SDFs.
The system is flexible to allow capacity to be ramped up or lowered as required, said the Ministry of National Development (MND) in a written parliamentary reply in February.
"The contracts for facilities will be renewed, so long as they continue to be needed to manage the risk of imported cases," it said.
REOPENING AND TOURISM RECOVERY
The five-star Westin Singapore, which only houses guests on stay-home notice, told CNA that "well-calibrated, gradual" opening plans will allow the hotel to reopen in the near future and accept other bookings.
Millennium Hotels and Resorts, which runs properties such as Grand Copthorne Waterfront, Orchard Hotel and M Hotel, said dedicated facilities are still needed for travellers who cannot serve their quarantine at home.
This includes those with recent travel history to Category IV countries, such as Bangladesh and India, as well as other travellers who do not have a suitable place of residence to serve their stay-home notice.
The group has six hotels in Singapore, and four are being used as SDFs.
The Singapore Hotel Association, which represents 160 hotels, also said that the gradual reopening of Singapore's borders "signals a positive step towards tourism recovery and good cause for optimism in 2022".
International tourism contributed more than 90 per cent of hotel revenue in Singapore before the pandemic, said the association's president Kwee Wei-Lin.
"While Singaporean residents and permit holders may choose to serve (their stay-home notice) at home, most transient international travellers will continue to seek hospitality services that Singapore is renowned for."
DOES THE VTL SCHEME CHANGE THE GAME?
Earlier this month, Singapore also announced it would lift quarantine restrictions for fully vaccinated travellers from more countries under the vaccinated travel lane (VTL) scheme, such as South Korea, the United Kingdom and the United States.
Under the scheme, vaccinated travellers can enjoy quarantine-free travel between Singapore and 11 countries. 
Mr Kevin Wee, a senior lecturer at Nanyang Polytechnic's School of Business Management, said the VTL scheme is an important step towards the "normalisation" of travel.
"The numbers approved for VTL have been encouraging, with more than 2,000 on the first day of VTL applications – though more were longer-term travellers. However, VTLs cover both short-term tourists and longer-term travellers. The latter might not stay in hotels," he said.
"VTLs will re-energise hotels, as they now have the opportunity to re-activate their procedures, systems and protocols to prepare to welcome international travellers."
But it will take some time before visitor numbers recover to a level that leads to a meaningful improvement in hotel occupancy or to pre-COVID-19 figures, Mr Wee added.
The move away from stay-home notices for travellers will also give hotel staff "a bit of a morale booster", as they have been juggling multiple roles during the pandemic, Mr Wee said.
"The return to normalcy (or the semblance of which) will definitely be welcomed by the industry, and I believe these face-to-face interactions with tourists will refresh and rejuvenate hospitality staff."
DOMESTIC TOURISM AS A "LIFELINE"
For some establishments hard-hit by the COVID-19 pandemic, government contracts to house incoming travellers serving their stay-home notice can be extremely helpful.
But hotels that can still accommodate non-quarantined guests in separate areas, such as the Fairmont Singapore, said they have still seen "strong demand" for staycations, especially during public and school holidays.
The InterContinental Singapore said that before it pivoted to serving quarantined travellers, a "large proportion" of its guests were locals on staycations.
"We are prepared to shift back to welcoming leisure guests once again, should we no longer be a part of the (stay-home notice) programme," its spokesperson told CNA.
Mr Christopher Khoo, the managing director for international tourism consultancy Masterconsult Services, noted that this push towards domestic tourism and staycations has been a "lifeline" for hotels and attractions.
"Let's give the STB and the government agencies credit for their initiatives for staycations and domestic tourism ... It's given a lifeline to our hotels so it won't shrivel off and die," he said.
Still, the revenue from domestic tourism is not enough to replace that from tourists coming in before the pandemic, Mr Khoo said. 
"We just don't have the Singaporeans who can stay in hotels in adequate numbers to make up for all the tourists." 
Mr Wee said the "strong appetite" for staycations and the prospect of more tourists visiting Singapore can help hotels compensate for the fall in quarantined travellers.
But these hotels will need to pivot quickly.
"In general, I think many hotels will not have trouble, but those caught by both the loss of revenue as isolation facilities, and an inability to attract a good number of tourists to come stay at the correct price, might find it a little hard going for a while – until more VTL flights are approved," he explained.
DIFFERENT OFFERINGS
Hotels have also been thinking outside the box to find other ways to boost their business.
The InterContinental said it is focusing on its wedding packages and food and beverage promotions – such as takeaway afternoon tea sets and gourmet boxes for guests to create meals at home.
The Westin now offers virtual studios – "more advanced virtual meeting facilities" – which have received positive feedback from clients, said its acting general manager Kuljit Singh.
The company has also come up with meeting package deliveries that provide food and drinks for those attending virtual meetings.
Millennium Hotels said it offers "experiential packages" such as a staycation with a spin class by the Singapore River. It is also working on providing more in-room entertainment and will refurbish some of its hotels, such as Studio M.
Singapore Hotel Association's Ms Kwee said its members have taken advantage of the past 19 months during the pandemic to "reimagine guest experiences".
"When borders reopen, Singapore's hotels and our workforce will be in a strong position to deliver hospitality excellence that is expected by post-pandemic travellers," she said.
Ms Kwee said she has been heartened by the "remarkable resilience and creativity" shown by the hotel industry as it learns to be nimble with "every curve ball thrown our way". 
"The only way out of this tunnel is to keep walking towards the light," she said.