Jurong Fishery Port: Singapore's biggest COVID-19 community cluster closes
The cluster had grown to more than 1,000 cases in about two weeks.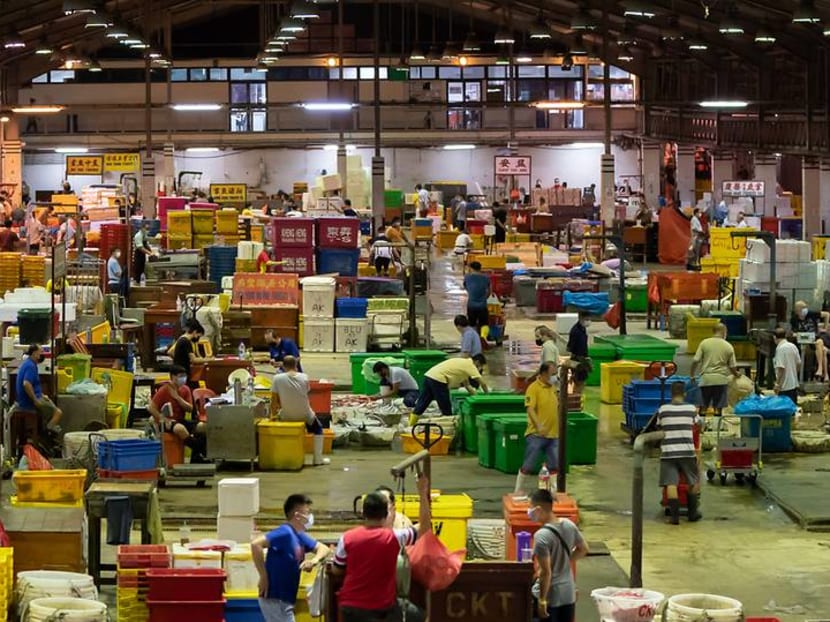 SINGAPORE: The COVID-19 cluster at Jurong Fishery Port was closed on Tuesday (Sep 7) after no new cases were added to it since Aug 15, data from the Ministry of Health (MOH) showed.
The cluster, which was first announced on Jul 16, had 1,155 COVID-19 cases linked to it before it was closed. It was the largest community cluster in Singapore. 
According to MOH data, the Jurong Fishery Port cluster has seen no new cases linked to it since Aug 15. At its peak, more than 100 cases were linked to it daily.
FIRST CASES DETECTED
On Jul 16, COVID-19 cases were found among people who worked in or visited Hong Lim Market and Food Centre at Upper Cross Street and Jurong Fishery Port. 
Both were closed to all members of the public from Jul 17 to break the chain of transmission. People who worked at the port between Jul 3 and Jul 16 were placed on quarantine, and mandatory testing was conducted for all visitors to the market and the port.
A day later, fresh fish and seafood stallholders at markets managed by the National Environment Agency (NEA) were ordered to stop operations. They received an SMS health risk warning from MOH, requiring them to undergo a polymerase chain reaction (PCR) test.
All of them were told they could not continue operations until they tested negative.
On Jul 19, Health Minister Ong Ye Kung said the Jurong Fishery Port cluster and KTV outlets cluster were "linked". A total of 116 new COVID-19 cases were added to the cluster, growing it to 179 cases in total.
The infections were genetically different from the virus variant seen in other local clusters. 
"Genetically, they differ from the Delta variant that infected Tan Tock Seng Hospital and Changi Airport, but are closer to what we have detected in imported cases from Indonesia," he said. 
MOH's director of medical services Kenneth Mak said during a press conference that there was no evidence to suggest the COVID-19 transmission occurred through contaminated fish. 
Phylogenetic testing done on the first group of cases detected at the port found that the Delta variant is the cause of the COVID-19 infection in the Jurong Fishery Port cluster. 
"The identified variant of concern has features that are similar to what we have seen in other cases that we have picked up in imported cases from Indonesia," said Assoc Prof Mak.
"So we believe that COVID-19 infection in this cluster has been introduced perhaps via a sea route into the fishery port, likely from Indonesian or other fishing boats that have brought fish into the port."
RETURN TO PHASE 2 (HEIGHTENED ALERT)
Daily cases linked to the Jurong Fishery Port cluster hit a peak on Jul 20, with 142 cases added. Haig Road Market and Food Centre as well as Chong Pang Market were closed to the public.
Mr Ong said the growing cluster at the port meant Singapore had to return to Phase 2 (Heightened Alert) from Jul 22.
"Unfortunately, while our fishmongers and stall assistants were going about earning an honest living, they got infected at the port," said Mr Ong, adding that as the workers went to work at various markets around Singapore.
Many more cases in the community were seeded as a result. The following day, 130 new cases were linked to the port cluster. 
Popular markets at Clementi central and Whampoa Drive were shut for deep cleaning, while self-test kits were handed out to visitors and some were asked to go for PCR tests.
Minister for Sustainability and the Environment Grace Fu told Parliament on Jul 26 that the "humid and laborious" environment made it uncomfortable for workers to wear masks for prolonged periods of time. 
"This meant a higher propensity for workers to adjust their masks or take them off momentarily," said Ms Fu. 
She added that the workers could have also taken off their masks during their breaks and socialised with each other. Jurong Fishery Port being a marketplace also meant that workers and traders mixed "freely" throughout the facility. 
JURONG FISHERY PORT RESUMES OPERATIONS
The daily number of cases added to the cluster stayed above 50 as Singapore moved back to Phase 2 (Heightened Alert) – dine-in was not allowed and group sizes were reduced to two.
But even though testing unveiled more infections, daily caseloads fell. Less than a week after the new measures were introduced – on Jul 27 – the number of new cases daily fell below 40.
Markets that were previously clusters started reopening for business, with regular testing for stallholders.
But it has not been smooth sailing for some of them. One stallholder at Chong Pang Market told CNA he has seen business drop by about 90 per cent.
"Everyone is scared to come to the market," said stallholder Yap Ching Liang, adding that he had to throw away his stock when the market closed, and lost about a few thousand dollars. 
Another stallholder at Chong Pang Market, Mr Ang Peng Cseow, said business was "going down, not up".
Jurong Fishery Port resumed operations on Jul 31 with new COVID-19 measures introduced to reduce the risk of another viral transmission. By then, there are more than 1,000 cases in the cluster – about two weeks after it was identified.
All authorised entry pass holders were required to undergo testing before entry, before transitioning to a seven-day rostered routine testing regime. 
Access into the marketplace was also restricted, with the number of seafood traders limited within the premises. Tenants and workers were also segregated into groups, as well as separate toilet facilities, meal and smoking areas to reduce intermingling. 
Cases linked to the port cluster quickly fell, and by Aug 8, it dropped to below five a day. On Aug 12 – nearly a month after the cluster was first detected – no new cases were linked to the cluster.