SINGAPORE: Queues formed at the entrances of some shopping malls on Wednesday (Oct 13) as checks on people's COVID-19 vaccination status began.
Under the new rules, those who are unvaccinated will not be allowed to enter malls and large standalone stores.
Provisions will be made for unvaccinated people who work there, as well as those who need access to medical and childcare-related services in shopping malls, but they need to show proof.
The measures were supposed to kick in on Wednesday, but a one-week grace period was later announced. 
When CNA visited three malls, staff were on hand to check the vaccination status of customers. 
There was a smooth flow of traffic at some entrances, while queues and hold-ups were observed at other places.
At NEX shopping mall in Serangoon, there were some delays at the entrance linked to the MRT station. At times, the queue stretched towards an escalator, causing a squeeze. 
Two staff members were seen checking customers' vaccination status using a device. Visitors had to open their TraceTogether app and tap their phones on the device, which then displayed their vaccination status. 
At another entrance, a security guard made sure that people had checked in, while another staff held a device that automatically registers most of the visitors' vaccination status. 
Interior designer Steven Leng, who was at NEX for a haircut, said that when he was entering the mall, there were a few students in front of him and he had to wait a "short while". 
"I expected it and I'm willing to do so. That's the procedure so we have to follow it," he told CNA, adding that the staff members were "patient" in guiding shoppers. 
At Bugis Junction, the same automatic method of checking vaccination status was used at one entrance, with staff directing people on what to do. At another, two security guards were manually checking both their check-in and vaccination status. 
Signs were put up at the entrance, informing shoppers of who will be exempted from the rules. These include people who are unfit for vaccination, food and other delivery workers, as well as contractors working in the mall. 
While the flow was seamless when both security guards were around, the situation became slightly confusing when it was left to just one of them to control the crowd and conduct checks, as people appeared unsure which lane to take.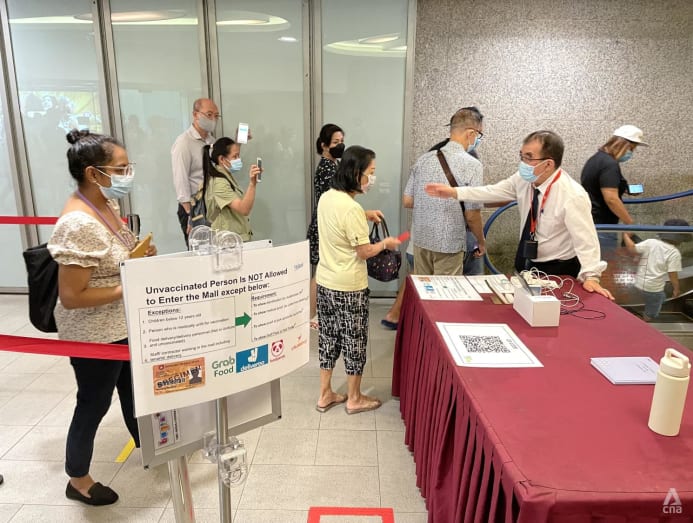 Auditor Levina Aw, who was at Bugis Junction with her colleagues to take away lunch, had a little bit of trouble when she was entering the mall. 
"There were only four of us and it was quite slow," she said, adding that those who were manning the access point appeared to be familiarising themselves with the system of checking vaccination status. 
However, Ms Aw said the checks will not stop her from returning. 
Ms Helena Junaidi, who was out with a child in a stroller, had a different experience.
"There was a very short queue but it was fast. We tried to make it faster by checking in before it was our turn," said the 33-year-old operations manager. 
Checks were similarly being done at City Square Mall, where crowds were relatively thinner than at the other malls.
MALLS FOLLOWING GUIDELINES
A spokesperson for City Square Mall said the team is "working closely" with agencies such as Enterprise Singapore (ESG) to implement the vaccination-differentiated safe management measures from Wednesday "in accordance with the latest advisory guidelines". 
"During the one-week grace period, City Square Mall is providing full support to allow tenants and members of the public to familiarise themselves with the new processes and checks for a smooth transition," the spokesperson said. 
The team has also engaged tenants, including childcare operators and clinics, to ensure that they "continue to receive ample support and guidance during and beyond the grace period", she added.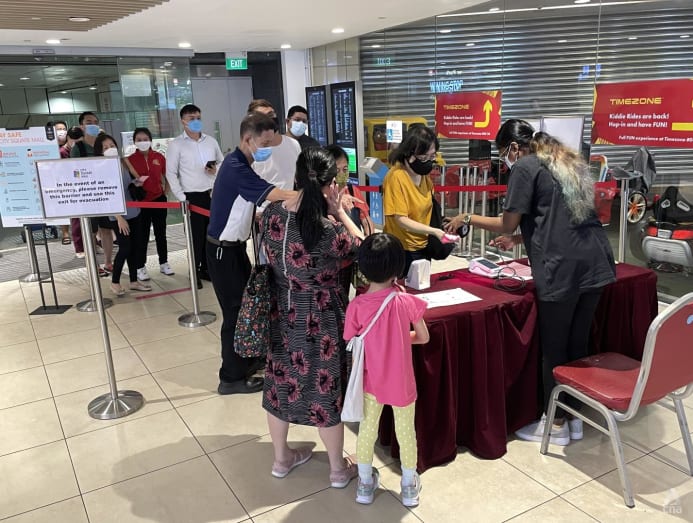 A spokesperson for CapitaLand, which manages malls like Bugis Junction, Plaza Singapura and Raffles City, similarly said that the company "remains guided" by the authorities' vaccination-differentiated safe management measures starting on Wednesday.
"Our staff are on ground to verify the vaccination status, test result and relevant identification of visitors when checking in with SafeEntry through the entry and exit points," she said. 
NEX shopper Mr Leng said that although he found the experience "reasonable", he will likely visit the mall less frequently. 
"I may not come as often as before because it's better to stay home," he said.